Cadillac House
Source: archpaper.com
Location: Jin Qiao, Pu Dong, Shanghai, China
Architect: Gensler
Type: Commercial
Status: Built
Year: 2019
Size: 25,000 sqft – 100,000 sqft
Designed by Gensler architectural firm, Cadillac House is a contemporary museum and cultural center that is specially constructed for Cadillac. It represents an important embassy for the luxury brand in the entire global market. Its jewel-shaped building designs, cutting-edge architecture, and unique design elements make it outstanding from the rest of the structures. 
Source: retaildesigninstitute.org
This place is for you if you love to experience a luxury brand's lineup, century-long heritage, and futuristic technologies. Let's know more interesting things about this incredible place. 
Source: assets.archpaper.com
At the opening ceremony of this building in 2019 in Shanghai, Mary Barra, chairman and CEO of General Motors, said, "This sophisticated setting represents another important chapter for Cadillac." He further added, "Cadillac is fully determined to affirm its status as the pinnacle of luxury and technology."
Source: retaildesigninstitute.org
From lavish exterior spaces to innovative interiors, every corner of the Cadillac House is uniquely designed, where innovators, creators, and the curious can find a ton of inspirational ideas. It also has interactive museum-like displays and displays of the latest Cadillac vehicles.
Source: retaildesigninstitute.org
This amazing building is equipped with durable solar panels, with a sustainable conversion from sunlight to electricity. In addition, many skylights are intentionally designed to penetrate the inside light.
Source: retaildesigninstitute.org
The whole exterior facade is made from 7,000 rectangular stainless steel plates, which look absolutely stunning. There are also the ribbons of LED underneath the metallic husk that twinkle brightly.  The Cadillac brand sign emits beautiful light at the entrance. This structure will mesmerize you by its beauty at night, and your heart will say 'what a glittering site!'.
Source: architectureartdesigns.com
There are three floors in total in Cadillac House, which beautifully represents the linear arrangement of 'past-present-future.' Every floor has a fixed theme in a way that the 'future' is on the middle level and the 'past' is on the top floor.
Source: retaildesigninstitute.org
There is an extremely gorgeous "Guggenheim-inspired" staircase that connects the 8-meter-high Cadillac Gallery on the second floor with the third floor. This staircase is one of the most attractive points in the entire structure. 
Source: retaildesigninstitute.org
There are café and lounge, a company store, and a 360-degree theater on the ground floor, where you can watch short films about Cadillac. A timber-and-concrete spiral staircase connects the ground level to the first level, where you can experience both tactile and digital design elements. It also includes a 3D badge timeline wall, a music library, digital storytelling totems, and a car materials tunnel.
Source: retaildesigninstitute.org
The same spiral ramp goes to the third level; here, you'll find a double-height art gallery hosting a rotating display from local artists. Also, there is an exclusive lounge, boardroom, and reception area for partnership events, VIPs, and client-facing efforts on the same floor. 
Source: retaildesigninstitute.org
Elevators have been constructed so that cars can be driven into and move onto various levels. Customers can watch the breathtaking views from a scenic spot on the top level of the building. Simultaneously, their new cars are driven onto the reflecting pool's center platform to celebrate with an illuminated water show.
Source: shangyexinzhi.com
Source: soujianzhu.cn
Source: imgix.net
Source: homeworlddesign.com
Source: retaildesigninstitute.org
Source: retaildesigninstitute.org
Source: worldarchitecture.org
Source: soujianzhu.cn
Source: stackpathcdn.com
Source: ws.126.net
Also Read: China's Mesmerizing Wuhan Greenland Center – An Incomplete Storey
The Bottom Line
We all know that Cadillac has been a leading luxury auto brand since 1902. Now, it is growing rapidly and globally; that's why Gensler wanted to create a high profile luxurious platform for Cadillacs to showcase their specialties and latest technology. All these things can be seen in every part of the Cadillac House.
Andreas Schaaf, Cadillac China's vice president, said, "Cadillac House provides customers an unmatched opportunity to learn about the technology, craftsmanship, cultural influence, manufacturing capability, and quality of the brand." he added, "It will help Cadillac stand out among luxury brands and bring the essence of the New American Luxury experience to the emerging base of luxury vehicle buyers in China."
I hope you like this wonderful structure in china; for more architectural gems like Hard Rock Guitar Hotel, Tempe Center By Architekton, click on the link to read our blogs.
Keep coming to Architecturesstyle for the latest architectural updates. 
Related posts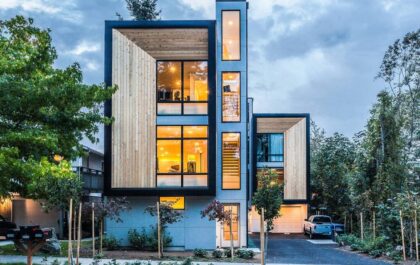 27+ Stylish & Modern Townhouse Designs for Urban Living.
The townhouse's first impression is normally too small, too compact, too narrower, and the list is endless. Well, let us…