Do you like spending your maximum time in the kitchen, whether preparing meals or enjoying new dishes? If yes, you will agree that kitchen wall décoration is equally important as any other room decor. Its interiors and functionality go side by side. However, the basic key for a stylish kitchen is properly decorating the walls. Wall décor is essential as it adds a unique vibe welcoming everyone to enjoy delicious meals and spend quality time with family. In addition, kitchen wall art helps to make the space cozy and personalized. Another function of wall décor is to hide mistakes and amend imperfections in the interiors. So, below are some mind-blowing ways to decorate the kitchen walls:
Bring the Restaurant Feel with Wall Art
Source: elephantstock.com
Canvas food art is one of the best ways to decorate the kitchen walls. They make the kitchen interiors eye-catching and spice up the kitchen walls with food prints of yummy food items. The appealing food display and bright colors of canvas paintings convey freshness and bountifulness. So, check out the best wall art for a kitchen to add instant characters to the kitchen walls.
You can either hang an oversized artwork to create a focal point or create a personalized collage of different art pieces. Apart from food pictures, you can also display paintings of famous restaurants or quotations.
Inject Depth and Warmth with Color
Paint a feature wall or mural to give a welcome dose of depth and warmth to a plain kitchen. Use a bold and vibrant color while painting. It would be best to paint the feature wall opposite the kitchen window. The sunlight coming from outside will make the shade of the wall look more vibrant. You can add subtle elements like green painted window frames or pale green blinds to ensure a harmonious look.
While filling the ample vertical space in the kitchen, consider mural painting for easy recreation. Mural adds bistro vibes in the kitchen. It is a perfect option for high-end or suburban kitchen décor. They help you create a scenic effect or incorporate moody vibes with delicious food or restaurant painting.
Display Boards
Source: elephantstock.com
Some people like different types of chopping boards. So, if you have an impressive collection of chopping boards, display them on the kitchen wall to create a fantastic stand-out wall décor. In addition, it will save a lot of storage space on cupboards or kitchen surfaces.
Use transparent plastic hooks to hang smaller boards and screw fitted in wall plugs to display heavier ones. You can also use brass nails in place of plastic clips to showcase chopping boards. Experiment with their orientation to create a whimsical and stylish display.
Curate a Gallery Wall with Unique Signs and Images
A gallery wall is the familiar element of a living room or hallway décor, but it also looks perfect in kitchen wall decoration. Make sure to display pictures or signs to create an art gallery with a common theme. For example, hanging cute coffee, kitchen, or welcome signs and food-related quotes can spruce up a modern kitchen.
You can also add a personal touch on kitchen walls with family photos or photos of you enjoying delicious meals or different cuisines. These pictures add a comforting feel to your cooking room. Give a perfect backdrop for printed pictures showing fun or travel memories.
Shabby Chic Mirrors
A mirror creates an illusion of a larger space; therefore, it is perfect for decorating small areas like the kitchen. So, hang a shabby chic mirror on the kitchen wall to add an artistic effect. Mirrors with wooden frames look vintage and stylish. In addition, they bring in simplicity and farmhouse vibes.
Display Food Containers and Cookbooks
Source: elephantstock.com
If you have a shortage of storage space, it would be best to put the food containers on display. You can decant spices and ingredients in matching containers with handwritten labels and place them on open shelves. Do not worry if you don't have matching jars, as nothing is more important than giving a clean look.
You can also display beloved cookbooks that hold your favorite meals or healthy recipes. They are a great piece of wall décor. You can stack them on an open shelf or put them on a book ledge. In this way, you can easily reach for them when you want to look for any recipe.
Frame the Fake Fruits
Try something colorful and unique during kitchen decor. For example, frame the fake fruits and hang these boxes on a kitchen wall. They will instantly add color and bring a foody vibe to the space. You can frame fake oranges, apples, grapes, lemons, or other fruits. You can mix and match these fruits or display them in groups.
Chalkboard Paint
A fun and practical way to decorate the kitchen walls is to paint the chalkboard wall. Color the wall with a dark color to nicely contrast with the light-colored kitchen cabinetry and worktops. Chalkboard paint gives the perfect surface for writing inspiring quotes, weekly menus, recipes, or jotting down a shopping list.
Vibrant Wallpaper
Kitchen-themed wallpaper is a beautiful way to cover and enhance the plain walls. It is available in different patterns and vibrant prints of food, utensils, and many more. These wallpapers add plenty of texture and style to the kitchen space.
You can paste standard wallpaper on the walls away from the cooking area or sink. But if you want to paste wallpaper that is mostly used in kitchen areas, go for Teflon coated options. They are durable and easy to wipe and make the kitchen look clean.
Final Words
While finding a backdrop complementing the kitchen walls, make sure it is not overwhelming. You can showcase natural elements, offbeat artworks, or kitchenware collections to make a stylish statement. Turn the cooking area into a pleasurable corner with bold colors.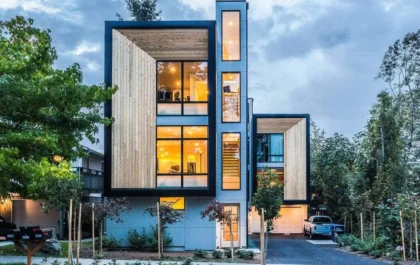 27+ Stylish & Modern Townhouse Designs for Urban Living.
The townhouse's first impression is normally too small, too compact, too narrower, and the list is endless. Well, let us…