Architecture is a combination of art and engineering and is one of the most popular jobs in the world.
Along with the aesthetical aspects of a building, architects should pay attention to the technical problems of the building.
Building facilities and systems are an integral part of residents' everyday life. So as an architect, you have to consider these requirements in your designs.
Many students and architects might think that this is not their task to take care of mechanical and electrical features. If you're one of these students, you'll probably face troubles in your future career.
There are many things about building facilities, including the plumbing system, that should be considered in the phase of architectural design. If you don't take these matters into account, the manufacturing procedure will be really difficult for builders.
That's why we've gathered some tips to help you learn what an architect should know about plumbing systems.
Familiarize Yourself with Some Plumbing Regulations
Source: blogspot.com
Plumbing needs careful attention and meticulous design, which should match with the architectural aspects of the building.
Your design, as an architecture, must comply with plumbing standards of local, national, and also international authorities.
For example, certain codes will dictate how many units are coupled to a certain fixture. Other building rules handle ventilation and drainage, pipe diameter, and stormwater treatment, among other things.
Considering these rules in your design will make your work stand out among other designers.
Make sure you're up to date on your local construction codes for safety, water and energy saving, and also environmental impacts.
Before any plumbing work can begin, most local building authorities demand pre-approval of draft designs. Nothing will be omitted or drawn up wrong if a rigorous planning procedure is followed.
So, as an architect, you need to familiarize yourself with important rules in plumbing.
Consult with an MEP Designer
Mechanical, Electrical, and Plumbing designers can greatly help you in your design.
This way, you can spot any concerns they may encounter during the installation and also maintenance procedure.
As you know, one of the most important concerns of MEP designers and plumbers is the conflict between architecture and plumbing designs.
The better you collaborate with them before designing, the fewer problems will emerge. So try to collaborate with a professional plumbing company like R & Z Plumbing to avoid any issues.
One of the advantages of this approach is making sure of correct plumbing sizes. Making enough room fr plumbing fixtures is also a critical issue in building that, with a bit of study and collaboration with plumbing designers, can be resolved.
Using BIM software programs like Revit can be of great use in this regard.
Consider Energy and Cost
Source: group.ru
A good architect should pay attention to energy saving in their designs. You might ask what you have to do with energy.
For example, the distance between the water heater and kitchen and also the bathroom is really important. In fact, the longer the hot water takes to reach the consumer, the more heat will be wasted. Apart from the energy, more material should be used in these situations, which puts a high cost on the owners' resources.
As another example, consider the type of HVAC system and ask yourself if your internal design is efficient in terms of air circulation and natural ventilation. In fact, with a good indoor design, you can reduce the need for mechanical ventilation.
So the architect has a central role in reducing the energy consumption in the building.
Be Creative and Think About Decorative Aspects of Plumbing
Although all the components of your plumbing system are supposed to do a specific job, they can also be used as decorative items.
Although today's systems are usually hidden in the wall, there are still some components that are considered eyesores.
Sometimes these visible pipelines or other items can work miracles. With a bit of creativity and without much cost, you can convert them into decorative objects.
For example, some designers consider hanging vases with plants to refresh the room air and make it more beautiful.
Some others try to cover the pipes with wooden decorates to make the room appear more traditional. This is more suitable for rural villas and cottages, although some people with artistic attitudes are also interested in these designs.
Conclusion
Designing the plumbing system is not architectures' concern, but it's essential for them to learn some basics about these systems. There are certain regulations that should be considered when designing bathrooms, kitchens, and other spaces with plumbing items. If you don't pay attention to these rules, you'll have a lot of problems with your job. So try to have some basic studies in this regard.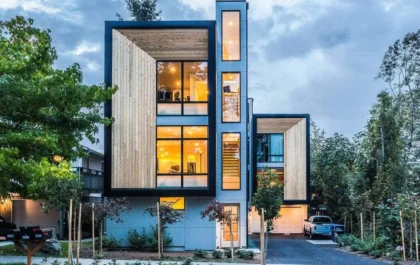 27+ Stylish & Modern Townhouse Designs for Urban Living.
The townhouse's first impression is normally too small, too compact, too narrower, and the list is endless. Well, let us…