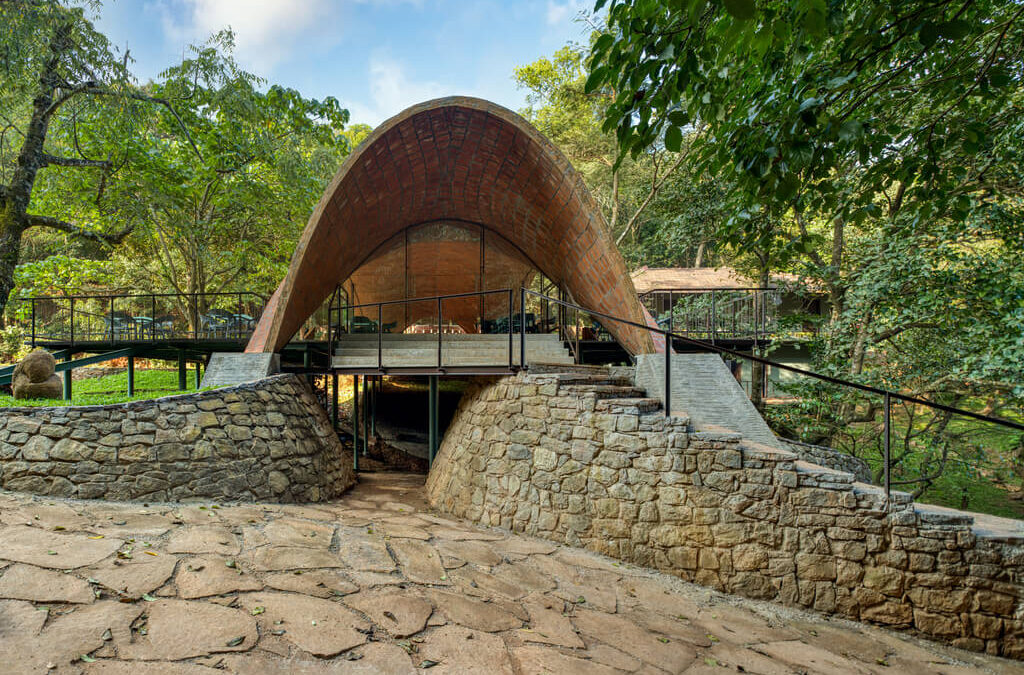 Project Specifications:
Completed: 2021
Area: 240 sqm
Client: Sentinel Adventures
Architectural and Interior Design: Play Architecture, Bangalore.
Photographs: Bharath Ramamrutham, Pathrik AK, Design Capture
Structural Design: Play Architecture
Lighting Design: Lighting Spaces, Anusha Muthusubramanian
Construction Company: ASB & Co.
Foundation Consultants: ISA Studios
Principal Architect: Senthil Kumar Doss
Design Team: Senthil Kumar Doss, Periyasamy P S, Shivani Saran S K, Harish Thirugnanam, RalbinVeniel, Nila Bharathi
Landscape Designers : Nivedita Manjunath, Satish Babu
Partners: Satish Babu, Rupendra Rao, Harish Babu, Ramesh, Krupa Satish Babu, Rathana Rupendra Rao
Project Coordinators: VijuAntony, Pathrik AK, Shambu Murthy, Krupa Satish Babu
Timbrel Vault Research Platform: Play Architecture, CARE School of Architecture, Utsav Mathur
City: Agani
Country: India
Play Architecture was founded in the year 2005. Their architectural work is renowned in the design industry for its innovative, sustainable, and efficient design. They have been experimenting with combining research and practice, which has been recognized with several Indian prizes and publications in international journals.
Source: adsttc.com
DevaDhare dining space is designed at Sakleshpur, Karnataka. Sakleshpur is a small town in the Karnataka state, its economy thrives because it is bordered by a surprising amount of coffee, tea, and spice plantations. Apart from that, the recent growth in tourism in the area has attracted a lot of architectural development.
Source: adsttc.com
DevaDhare dining space's site is abutting the adjacent lake and is surrounded by rich vegetation and fauna. This gives the visitor an immersive experience around the site while dining. The calm setting within a deep valley and peaceful lake that's constantly nourished by constant rain evolves into a dazzling stream. On a 10-acre site, an organically evolved homestay has been converted into a resort, which required a dining room where the user can dine and wine in peace.
Source: adsttc.com
The structural vaulting has its evident performance over the site. For DevaDhare dining space, two separate structural solutions are aimed to be more cost-effective and efficient. The deck slab is made of 32 mm thick locally available granite supported by thin recycled steel columns. The concept of using thin steel columns was to blend in with the existing trees in the forest.
Source: adsttc.com
A 150 mm thick doubly curved timbrel vault roof is constructed with 5 layers of 15 mm thick ribbed clay tiles. This vault roof spans 16.5 m, independently from four corners over RCC columns. Timbrel vaults, which are made of interlocking layers of brick, rely on the compressive strength of masonry. As a result, they're incredibly efficient. In this structure, a thin vault can support unexpectedly heavyweights. These vaults are simply built from low-cost, and locally sourced materials.
The vault and the slab design of DevaDhare dining space help overcome the challenge of the existing terrain and create a sense of airy and floating structure. Further, this is advantageous for interiors, it allows for a column-free layout making the interior play more flexible in terms of the function and the furniture arrangement.
Source: adsttc.com
One can see that steel formwork is further reused into the function via–furniture, railing, and other building components. The use of brick as building materials helps it be energy efficient as it interacts wonderfully with passive building design to harness natural sources of energy. Clay's natural density and thermal insulating properties decrease building temperature while lowering energy consumption rates, by giving warmth in the winter and cool in the summer resulting in year-round comfort and savings.
Source: adsttc.com
The eating room can easily accommodate up to 50-60people. DevaDhare dining space is made up of a square-shaped deck with a hovering roof that covers two-thirds of the floor surface and the rest is left open to the sky. The vaulted roof smoothly weaves and intersects into the surrounding natural landscape. This helps the designer to preserve the existing terrain and equally preserve the fauna.
Source: adsttc.com
According to the designers, the dining environment is inspired by nature's geometry and forces. This concept further helps the structure to smoothly connect the interior to the outdoors and eventually merge and become one with it.
On the west, an open deck is positioned to overlook the lake, while on the north and east, a rear deck connects the DevaDhare dining space to the existing facilities. The space beneath the deck forms a unique, casual environment for exploration and peacefully connecting with nature.
Source: adsttc.com
Also Read: Grand Morillon Student House by Kengo Kuma & Associates
Unique Design Feature About Devadhare Dining Space by Play Architecture
Instead of designing a high-tech, trendy, 'iconic' sculptural piece for the dining space that is out of context with the setting. Play Architecture proposes something that is both familiar to its habitat and yet stands out.
Source: adsttc.com
About Play Architecture
Play architecture is known for its sustainable designs that cater to the local needs and are one of its kind like twin farmhouse, ranga's residence, culture center at Senegal, and ABQ motor car showroom.
Source: adsttc.com
Source: adsttc.com
Source: adsttc.com
Source: adsttc.com
Source: adsttc.com
Source: adsttc.com
For more information about the latest architectural development, keep coming to Architecturesstyle.
Also, do follow us on our Instagram page, Architecturesstyleideas, to get daily updates.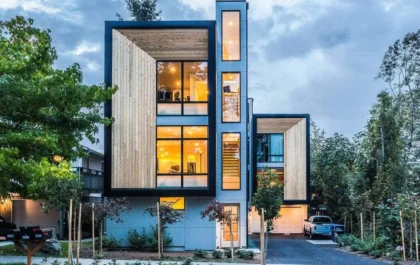 27+ Stylish & Modern Townhouse Designs for Urban Living.
The townhouse's first impression is normally too small, too compact, too narrower, and the list is endless. Well, let us…