Let's go on a world tour… When… Now…How? By closing your eyes… hahaha funny!! But we are not joking because today we are going to take you on a virtual tour to the famous towers in the world. This trip includes a free visit to the Eiffel Tower, Tokyo Sky Tree tower, the leaning tower of Pisa, and many more.

We have collected the most famous towers around the globe and made a list of all of them. They are not only very pleasing to the eyes but also have unique stories and facts.

So are you ready to take a virtual trip with us? If yes!! Then grab a drink and snack and sit back on a comfy chair… In short, get comfortable because this ride is going to be very interesting!!

So, let's start…
1. The Eiffel Tower
Architect: Stephen Sauvestre
Year: 1889
Location: Paris, France
Type: Observation Tower and Broadcasting Tower
The Eiffel tower, a romantic place where everyone dreams of going! It is a symbol of love, a representative of Paris. This french beauty is about 324 meters high, which kinda same to an 81 story building in the city. It's enthralling beauty that captures your heart and hypnotizes your eyes, and you just can't take off your eyes from it, that's why it is also the world's tallest artificial structure.
"Today it has more than 7 million visitors per year."
2. Burj Khalifa
Architect: Adrian Smith
Year: 2009
Location: Dubai, UAE
Type: Mixed-use
Dubai is famous for 3 things- the grand Burj Khalifa, the gold and the lifestyle of the prince. From golden toilet seat to lions at their pets, you' all see bizarre things in Dubai. Burj Khalifa is 830 Meters tall with around 163 floors!! Pretty amazing right? You can just imagine the breathtaking view from the top floor.
"It is the most popular destination among tourists in Dubai, it has around 1.86 million visitors per year."
3. Tokyo Skytree
Architect: Nikken Sekkei
Year: 2012
Location: Tokyo, Japan
Type: Broadcast, Restaurant, and Observation Tower
The world-famous architecture firm Nikken Sekkei, designed this incredible tower.
This tower has a height of 634 meters, which makes it the world's second-tallest structure. After all, Japan is one of the countries which amazes us in terms of technology, and this tower is the perfect example. It is the world's tallest broadcasting tower.
"This is the hot newest landmark in Japan as more than 30 million people are visiting this site in a year."
4. Leaning Tower of Pisa
Architect: Bonanno Pisano
Year: 1372
Location: Italy
Style: Romanesque
Who doesn't know about this falling tower? Of course, everybody does! It took around 177 years to build it and that because it is done in 3 stages!! Shocking and fascinating? But it's 55.86 meters tall structure said it all, it is one of the oldest structures that is still a center of attraction for the people. It is open to the public since 2001, take a visit to this tower but be ready for some leg exercise because it has around 296 stairs to the top floor!
"About 1 million tourists around the world visited this tower in one year."
5. CN Tower
Architect: WZMH Architects
Year: 1976
Location: Toronto, Ontario, Canada
Type: Mixed-use: Observation, Telecommunications, and Restaurant
CN represents the Canadian National in CN Tower, which holds the record for the tallest tower in the world for almost 32 years. But in 2007, it was surpassed by Burj Khalifa, which is still the world's tallest building.
"1.5 million people visit this tower every year, and the numbers are still increasing."
6. The Space Needle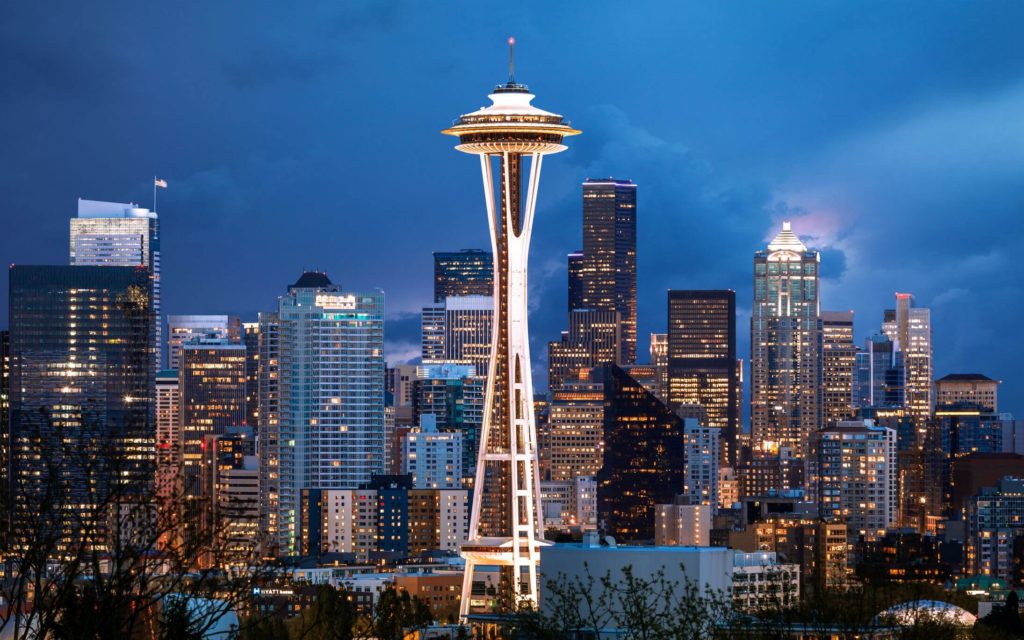 Architect: John Graham & Company
Year: 1962
Location: Seattle, Washington, USA
Type: Observation tower
The Space Needle is one of the most famous towers in the world. It's 184 meters in height, 42 meters wide and weighs about 8,660 tonnes. Unbelievable? It is designed in such a way that it can even withstand winds up to 200 mph and earthquakes of up to 9.0 magnitude.
"It has 2 million visitors every year."
7. Canton Tower
Architect: IBA: Mark Hemel & Barbara Kuit
Year: 2010
Location: Guangdong, China
Type: Mixed-use: Restaurant, Observation, and Telecommunications
Canton Tower is built by the Guangzhou New Television Tower Group, and it is a well-known landmark in China. It is approximately 604 meters tall with 39 floors in total.
"It is the second tallest free-standing structure in the world and has up to 1.5 million tourists every year."
8. Ostankino Tower
Architect: Nikolai Nikitin
Year: 1967
Location: Moscow, Russia
Ostankino Tower is the 11th tallest structure in the world, so it's very obvious that it is the main center of attraction for the people in the city. It is a radio tower that erects 540 meters in height and is owned by the Russian Broadcasting and Television Network. And it is designed in such a way that its lifetime is 300 years.
"Another interesting fact is that it only takes 58 seconds to reach the observation deck at the top, which is also known as " Seventh Heaven."
9. Macau Tower
Architect: Craig Craig Moller Ltd.
Year: 2001
Location: Macau, China
Macau Tower is 338 meters high, and Its observation deck offers a restaurant, cinema with the most stunning views of the city. It also provides the world's highest bungee jumping at 233 meters. So, next time when you visit Macau you must go to this place.
"Currently, Macau has more than 110,000 visitors per day, and up to 2025, this ratio will become 40 million per year."
10. Tashkent Tower
Architect: Y.P. Semashko and I.N. Terziev-Tsarukov
Year: 1985
Location: Tashkent, Uzbekistan
Type: TV-translation, Radio-translation, and hydrometeorological research
Did you know that Tashkent Tower will remain the 3rd tallest tower in the world from 1985-1991? It's constructed started in 1978 and took around 6 years to complete the tower.
"It is the tallest structure in Central Asia and the world's 11th tallest tower in the world."
11. Kuala Lumpur Tower
Architect: Kumpulan Senireka Sdn. Bhd.
Year: 1994
Location: Malaysia
Type: Telecommunications, Islamic Lunar observatory, Adventure (base jump), Tourism, and Cultural.
Kuala Lumpur Tower is commonly known as Menara Kuala Lumpur, which is a magnificent tower situated in Malaysia. This is one of the famous towers in the world Did you know this tower has an antenna that extends the tower height from 335 to 421 meters?
"Kuala Lumpur Tower has around 800,000 local and foreign visitors every year."
12. Liberation Tower
Architect: Electrowatt Engineering Ltd.
Year: 1993
Location: Kuwait
The Kuwait Telecommunications Tower is the real name, but after the invasion of Iran in Kuwait, it was renamed to Liberation Tower, which represents the liberation of the country from Iran.
"It is the 39th tallest building in the world."
13. Fernsehturm Tower
Architect: Hermann Henselmann
Year: 1969
Location: Berlin, Germany
Type: Television tower, Restaurant, Observation tower
This year this tower completes its 50th anniversary, which is quite remarkable. All these years it stands perfectly in shape and size, which is actually difficult for a tower with 368 meters.
"You can imagine its popularity by that just after opening, within 3 years more than 4 million people had visited this place."
14. Oriental Pearl Tower
Architect: Jiang Huan Chen, Lin Benlin, and Zhang Xiulin
Year: 1991 to 1994
Location: Shanghai Shi, China
15. Milad Tower
Architect: Mohammad Reza Hafezi
Year: 2007
Location: Tehran, Iran
16. Tower of Tianjin
Architect: Goettsch Partners
Year: 1991
Location: Tianjin, China
Conclusion
Now, how do you feel after an energetic tour of the world and knowing about famous towers in the world? Your mind inevitably gets a high dose of architectural designs after reading this blog. That is pretty obvious because we give a virtual tour to all these places. If some of the towers are located in your city or country, then make sure to take a trip to these awesome places.
For more information: