From Instagram decor pages, Pinterest pinboards to famous interior sites, dark interiors are everywhere. You must have also noticed that these days more and more black interiors and exterior houses are being built. So, what's the reason for the popularity of black exteriors? Why are people going crazy with black homes? Let's see black brick house.
This is because black interiors and exteriors look really sophisticated and luxurious. Black brick houses or houses with black exteriors, in particular, can be commonly seen all over the world. Dark colors like black, grey, and charcoal are rich and expressive. These black brick house exteriors offer a neutral and sophisticated backdrop which also goes perfectly with modern designs.
Are you planning to renovate your house exteriors? Or you don't like the existing brick exterior and want to paint it? There is nothing better than Black! Yes, whether you just want to paint it or update your whole exterior, a fresh coat of black paint will do the job perfectly.
Today in this blog, we've gathered some of the latest and stylish black brick house ideas for you. Black bricks are the perfect way to overhaul a boring or dated home and transform its look. So are you ready to update your home's exteriors? Let's go.
Top 10 Black Brick House Exteriors Ideas in 2023
You may have seen a red brick house with black trim, but having a completely black brick house is so fascinating. We've compiled a list of some of the best black brick exterior house ideas to inspire you. We've included black brick houses of every type and style from traditional, victorian to modern mansions and villas.
Let's have a look at them.
1. Modern Black Brick House
Source: dwell.com
Source: dwell.com
Located in Polska, Grunwald (area of Poznan), this gorgeous house was designed by Easst architects for a family of four. The total site area is around 290 square meters, and the architecture was built in 250 square meters. This house features five bedrooms, a kitchen and four bathrooms, and some outdoor space.
Its overall architecture design is spectacular. However, the most eye-catching thing about this home is its remarkable black exteriors. Architects wanted to create facades that are durable, easy to maintain, and have unusual colors. The owners of this building didn't want a solid black color; that's why designers have picked the black facade brick that is combined with woodwork in natural oak color.
External blinds have been used in the windows, and some parts of this black brick house facade are covered with wood. A stretch backlit ceiling has been used to provide a feeling of daylight even in the middle of the night. The composition of the blocks for this black brick house with wood was specifically reduced to simple, economical in geometrical forms. So if you want a simple house design with attractive exteriors, you can go with these kinds of facades for your residence.
2. Hoddle House
Source: archilovers.com
Source: adsttc.com
Hoddle house is specifically designed to fulfill the changing needs of a young family over time. Designed by Freadman White, this house is spread over an area of about 250 square meters. This Australian home features spacious areas with a high degree of flexibility.
This was not completely new construction, but there were some new additions added to the existing structure. The owners of this building need additional space for their young children to play and explore. That's why they had asked for a rumpus room, living, kitchen, and terrace.
The new part of the construction is built with black bricks, which looks beautiful and appealing. These thick brick walls with windows provide formal, shading, thermal, and cost benefits. A hipped roof with the additional exterior roof form has been used, but it is hidden from view. Overall, the interiors and exteriors of both the new and old parts of this black brick house complement each other and make a statement.
3. YA VSESVIT
Source: adsttc.com
Source: wixstatic.com
YA VSESVIT by akusha Design & Architecture Studio is actually a creative working space. It is designed for all kinds of design-minded communities, including architects, fashion designers, visualizers, stylists, photographers, and copywriters.
With its sleek and modern design style and monochromatic color palette, it is one of the most popular buildings in the city these days. Constructed in 2018, this architecture exemplifies the clean and modern effect of black brick. The total area of this office space is 180 square meters that consist of an architectural studio, a lecture hall for 80 seats, a design gallery, and a modern co-working space.
You can see that the black bricks have been used not only in the exteriors or outdoor parts but also in the interiors as artworks. With the solid black bricks, other materials like stone have been used to add coarseness. The most complex element of the interior is the delicate tectonics of the brickwork. If you want, you can also include these kinds of black brick interiors or brickwork and artworks in your interiors to a dramatic effect.
4. Hollande Bethune Social Housing
Source: imgix.net
Source: adsttc.com
Located in France, Hollande Bethune Social Housing is one of the city's most eye-catching buildings. Designed by FRES Architectes, this structure consists of unique material. Any guesses? Yes, beautiful black bricks!
The entire building has a black facade with yellow window frames and doors. Through the contrasting colors, textures, and design, the structure creates a visually interesting exterior. It is situated in a good location, and it is intentionally implanted along the two roads. The structure has four floors, plus two extra on the angle of the two boulevards.
When you enter the building, you'll notice that there is a large colored window over the public space. Architects have added this part to create a strong contrast between its transparency and the opacity of black bricks. Pretty interesting, right?
5. The Classic Black Brick House
Source: beautifullife.info
Source: beautifullife.info
This house was designed by Michal Nowak, an architect who is known for his creative projects on art platforms. This architect studio is based in Wrocław, Poland. Their recent project, Classic black brick house is a topic of talk for quite some time. As you can see in the pictures that the house is beautifully built with sharp edges and a unique stacked structure.
It has two levels, and the upper level features large windows. They have been specifically built so that plenty of natural light can come in. with that; a flat rectangular chimney is also built. The protruding chimney from the home's roof implies a warm hearth in its interior.
6. Black Brick House with Wooden Accents
Source: imgix.net
Don't you like the extremely dark exteriors? If yes, then instead of going all black, combine other materials like stone and wood with the black bricks. You can also go for a softer black shade instead of matte black if you're planning to paint your walls.
Look at the above brick house painted black; here, a slightly softer but still deliciously dark black shade has been used for the outer walls. This tone beautifully complements the rich, wooden accents of the home. You can also experiment with the color of your window trims and get a modern and sleek look. Don't be afraid to try combination colors with other materials to get a modern ambiance.
7. Aperture in the Woods
Source: stavbaweb.cz
Source: adsttc.com
Renovated by architects Takero Shimazaki and Charlie Luxton, this house is an amazement in itself. It was originally a 1960s house located in Amersham, Buckinghamshire, London. Now named Aperture in the Woods, the total site area of this property is around 2015 square meters.
This old house had been vacant for three years and was desperately in need of repairs. The homeowners Jonathan and Ana Maria Harbottle wanted a modern structure but wanted to keep the house's original charm.
Architects have designed this a modern home that features black-painted brickwork, large windows, and a new angular roof. To hide the junctions between new and old, new brickwork was added. After this, the entire building was then painted black. Now, this newly built residence is often used as a shelter for music events, gatherings for local families and children, as well as a quiet retreat for the family.
8. House Embracing Sky
Source: adsttc.com
Source: googleapis.com
"House Embracing Sky" is a residential building located in Mang Dong, South Korea. Designed by ArchiWorkshop, this project was their second residential project in Seoul.
Completed in 2016, this building features bold black exteriors and large windows. The total land area was 108.9 square meters, but the site's border was invaded by its neighbors' buildings. This allows only building coverage ratio of the site 50%. This means there were only 56 square meters to build for architects.
You might be wondering about its incline facade design. It was specifically made to follow the building codes, and it was turned into a mirror Facade. This mirror embraces the sky and captures a change of scenery without being too noticeable.
Also Read: The Brady Bunch House Renovated For a New Reality Show
9. Black Brick House With Black Roof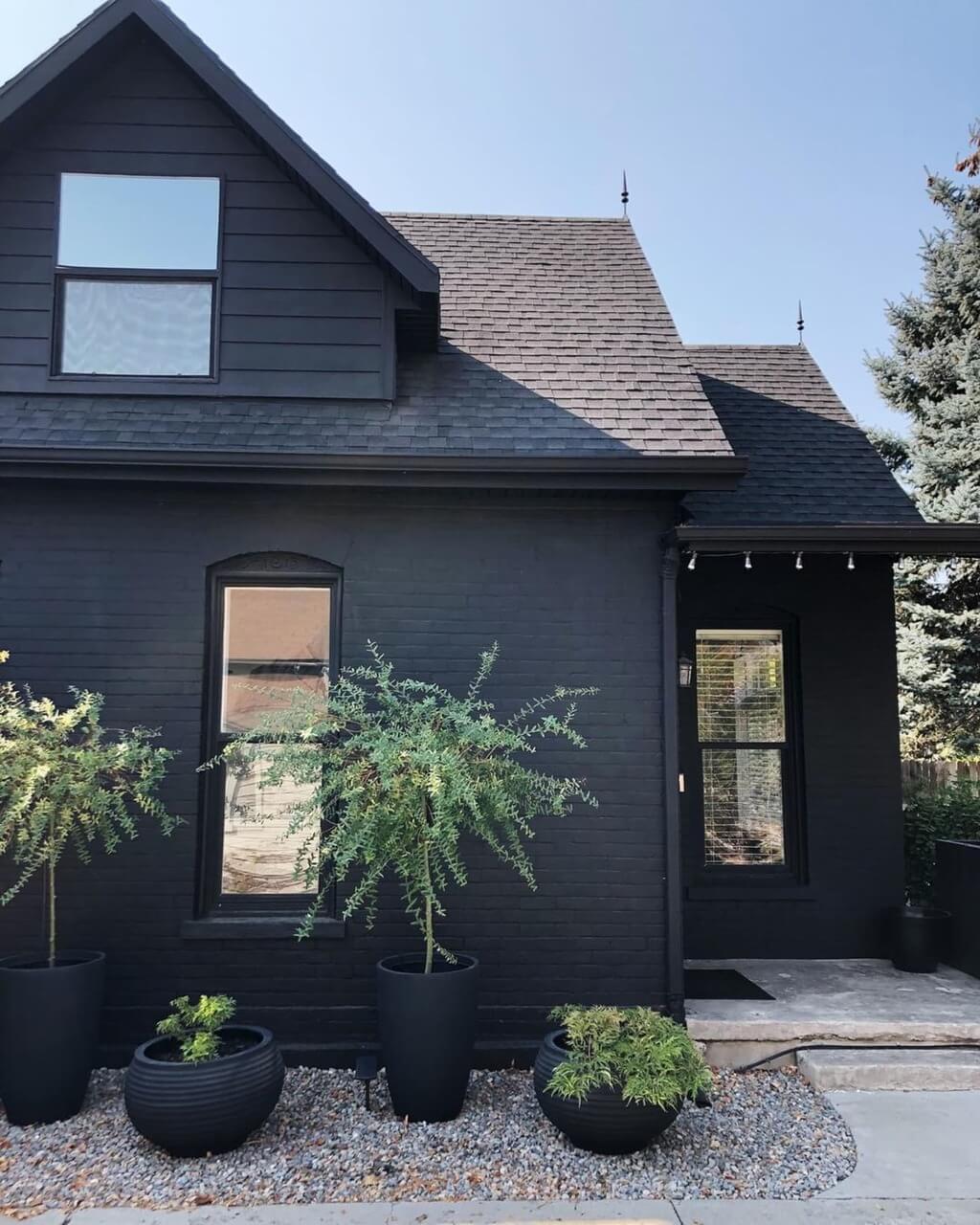 Source: apartmenttherapy.info
This year, try something different and unique and make your exteriors look the center of attention. We're talking about painting your exterior and roof in completely black color. Many materials and shades look good with the black facade, but there is something so special about black on black on black.
Look at the above matte black brick house. Here the homeowners have painted their bricks in black. Along with it, the roof and trims are also in the same shade. Black gutters on brick houses create a monochromatic theme which makes this house stand out from the rest of the houses in the neighborhood. Add plants to amp up the drama and keep your home with all-black exteriors looking sleek and uniform.
10. A Black Victorian Brick Mansion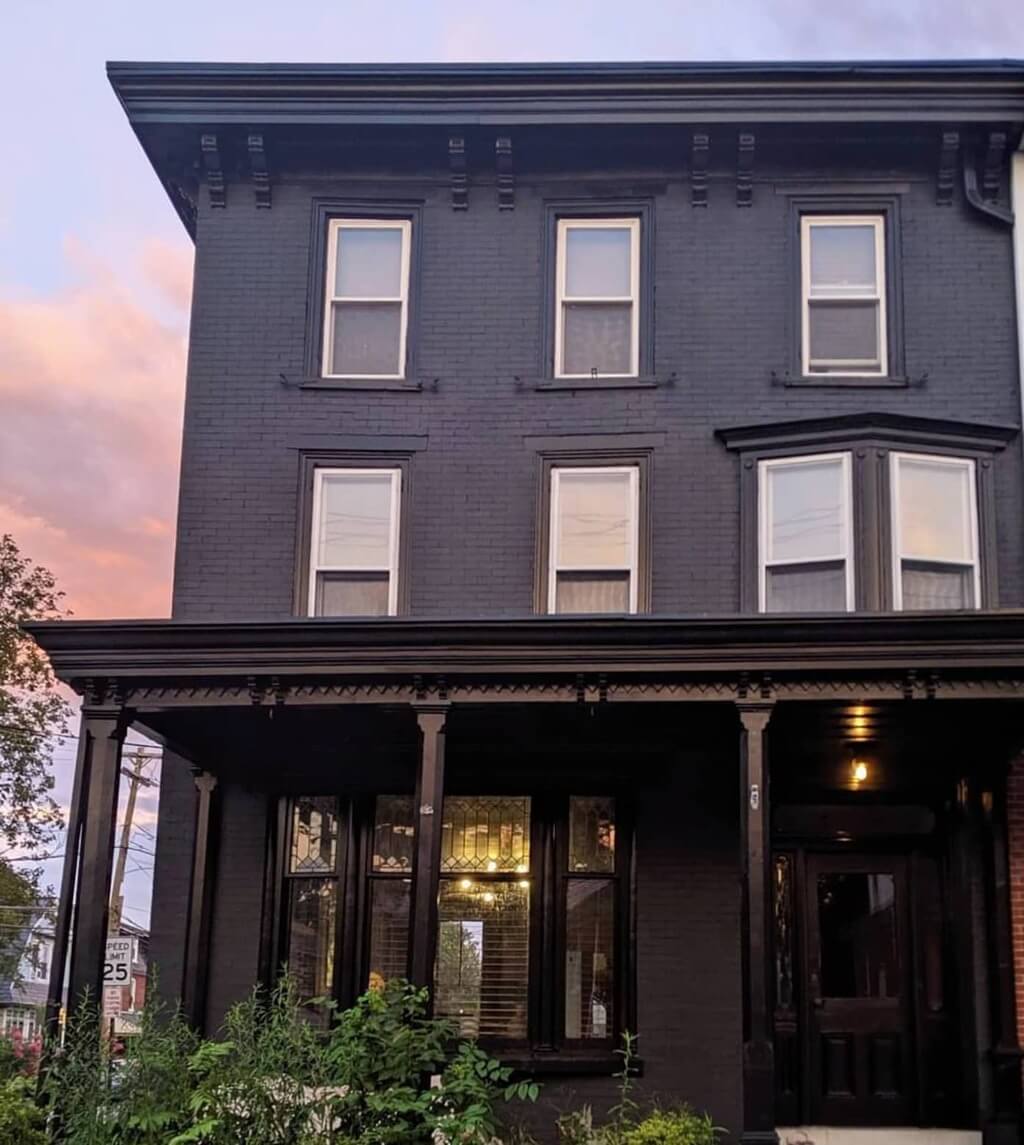 Source: apartmenttherapy.info
Another architecture house style that looks absolutely stunning with black exteriors is the Victorian homes! After reading about the combination of black paint and a Victorian home, don't start imagining those haunted houses shown in movies and shows. Well, that's not the case with this home. Look at the above house; is it looking scary?
Aly and Adam, the owners of this Victorian black brick house, chose to go with the all-black theme. To create a different and whimsy kind of vibe, the white windows are placed on the upper floor, and black windows have been used on the lower level. So, if you want to create an ultra-chic dwelling reminiscent of the bygone era, go with black exteriors.
Here are some more traditional and modern black brick house exteriors ideas and inspiration for you:
Source: amazingarchitecture.com
Source: homedsgn.com
Source: pinimg.com
Source: remingtonavenue.com
Source: hzcdn.com
Source: generalshale.com
Source: beautifullife.info
The Bottom Line
So, what do you think about having a black brick house? Black color is a classic and timeless color. Most importantly, this shade works with every style and type of architecture. So, whether you have a traditional Spanish ranch or a modern villa, black brick exteriors will look spectacular.
So this is all about the Black brick house. I hope you find this blog helpful and informative. Share it with your family and friends who are looking for some beautiful black brick house exteriors ideas and designs.
For more information about the various types of architecture and home construction techniques and styles or decoration ideas, explore Architecturesstyle.
For daily updates about architectures, don't forget to follow us on our Instagram page, Architecturesstyleideas.
Himadri Shakya
Himadri Shakya is an enthusiastic Content Writer and Editor. She loves to create creative, engaging, and SEO-friendly content. Through her extensive research skills and practice, she has been generating high-quality and informative articles, and blog posts for over 4 years.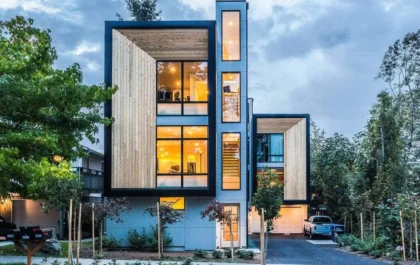 27+ Stylish & Modern Townhouse Designs for Urban Living.
The townhouse's first impression is normally too small, too compact, too narrower, and the list is endless. Well, let us…