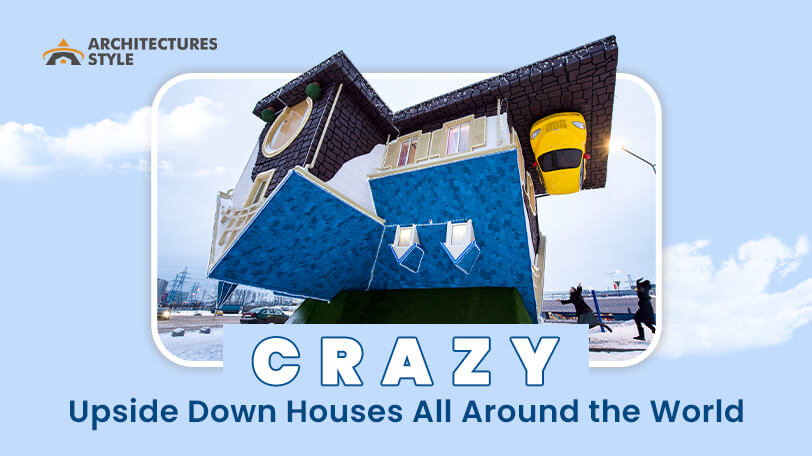 10 Crazy Upside Down Houses All Around the World  
archistyladmin ,

Updated on 24th March, 2022
8 min

read
3578
When traveling, you may come across upside down house that you wouldn't usually see in your neighborhood, city, or country. It seems like there's always something that makes you halt in your tracks— that makes you scratch your head in amusement. Count the number of times you've passed an upside-down house while walking down the street. And that's what we're talking about here.
Some of the most innovative architects in the world have created bizarre homes built upside down. An unexpectedly large number of structures worldwide are made on their sides. If you're fortunate enough to enjoy the breathtaking landscape just outside your front door, you'll likely want to take advantage of it as much as possible. The upside down house design ideas may be the best option for framing your site's beautiful surroundings if this is the case.
The bedrooms are positioned on the first story, while the living areas are on the second floor, creating an upside down house design. As a result, vistas of rolling countryside, shimmering beaches, or the brilliant lights of a metropolitan region may be enjoyed from the kitchen and reception areas of the hotel. A sloping lot might be challenging to build on, but this design can benefit some situations.
In addition to a tranquil sun patio on an upside-down fire station or a rural chameleon home, these 10 upside-down designs demonstrate the unique possibilities that the upside down house may provide.
10 Amazing Upside Down House
1. Niagara Falls, Ontario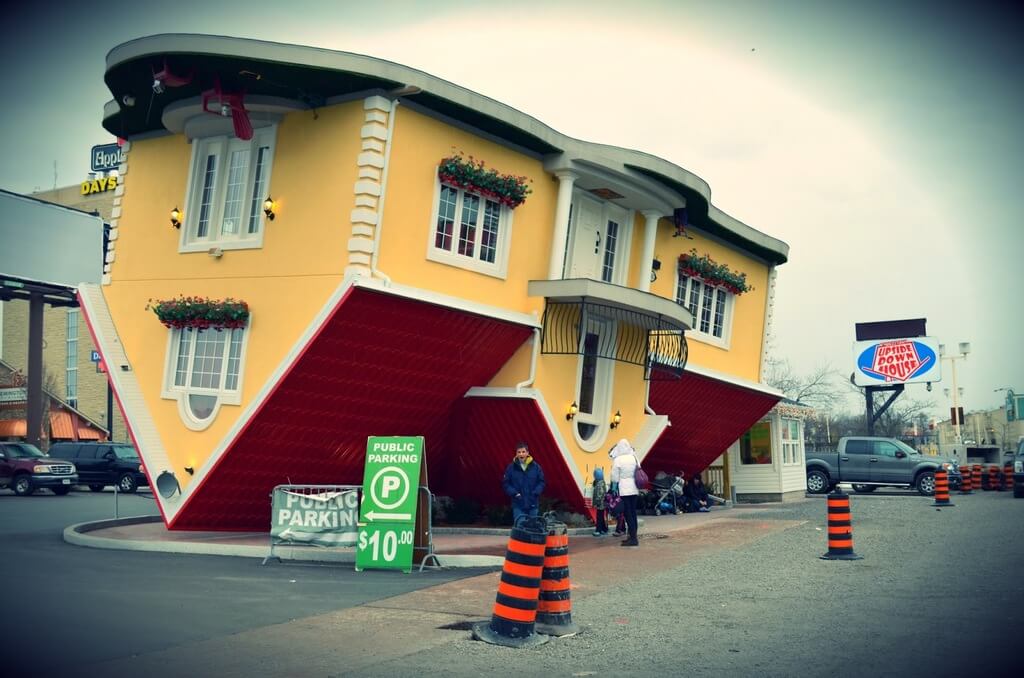 Source: blogspot.com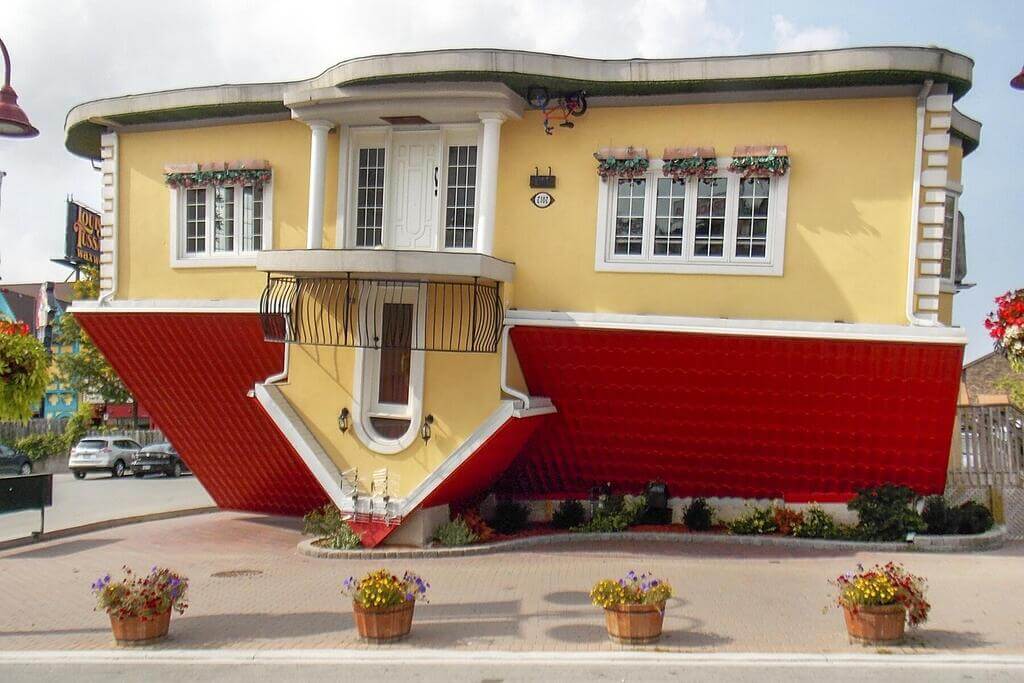 Source: ynetsolutions.net
While Niagara Falls is a major attraction, the Upside Down House on the Canadian side is a pleasant diversion. With potted flowers on every window, the house is yellow with a red "roof."
When you stroll through this dizzying location, you'll find that it's both flipped and crooked, with all the furnishings included. The Master bedroom, bathroom, kid's room, and kitchen are all included. As you try to maintain your balance, the floor will keep you guessing as to how much you need to tilt.
2. Petersburg, Russia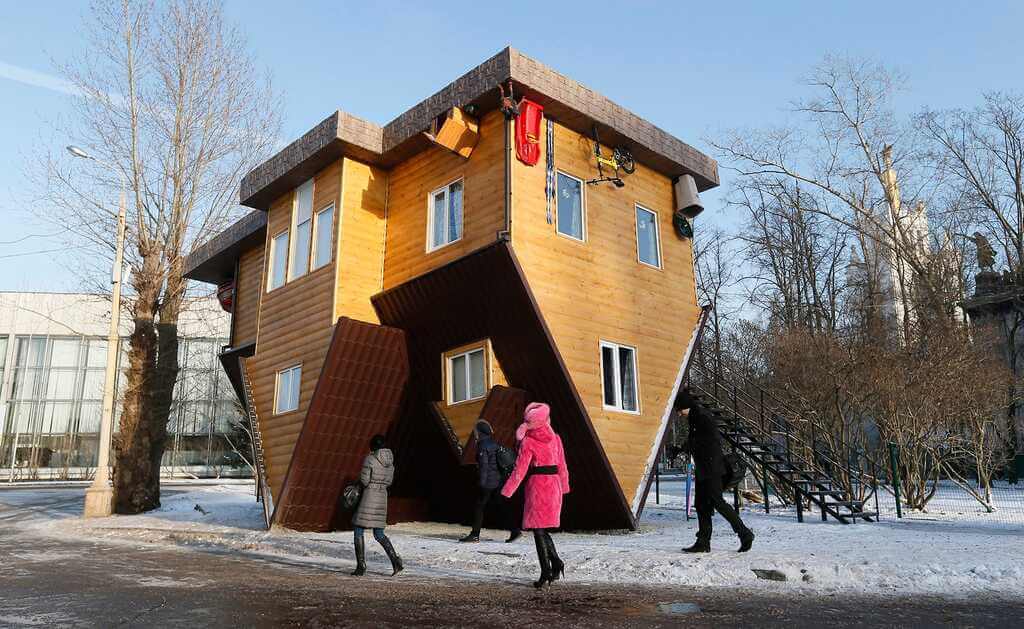 Source: gannett-cdn.com
You can visit an upside down house museum in St. Petersburg. Playing with a PlayStation and toys, or other fun activities, can be done while you're standing upside down. The ceiling is adorned with all of these artifacts. When you're standing on something, it's hard to look down.
3. Wonderworks, Florida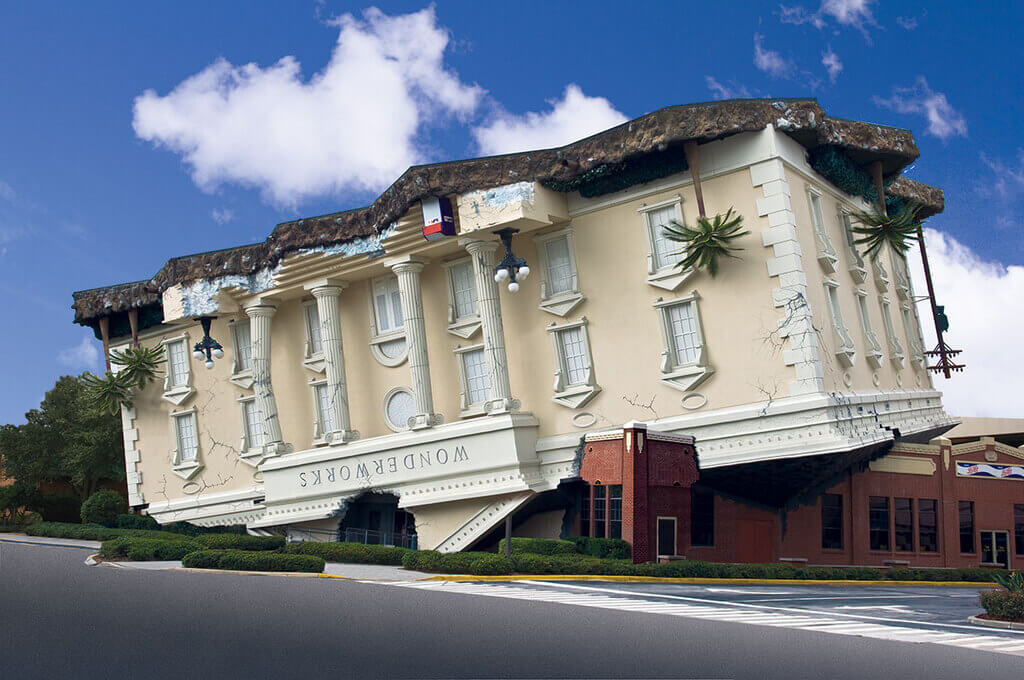 Source: myparktickets.com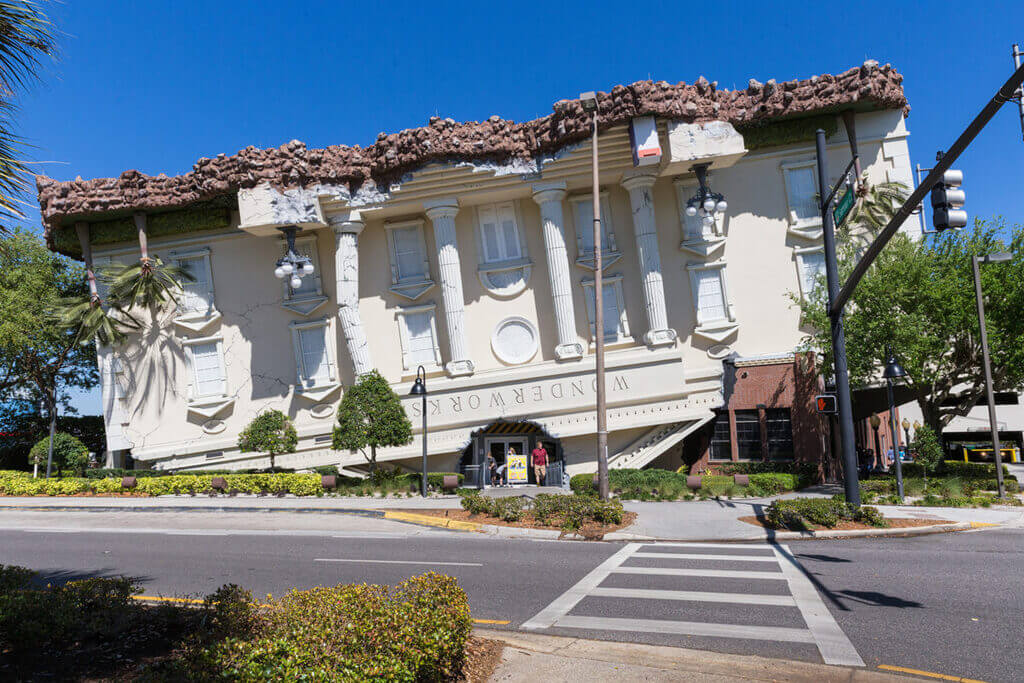 Source: tipsforfamilytrips.com
A place full of wonders, that's what WonderWorks is all about. This tourist attraction, designed more like an amusement park, welcomes visitors from all over the world to participate in various activities and educational experiences.
WonderWorks is based on a fictional story about a top-secret laboratory on a Caribbean island. When Professor Wonder accidentally unleashes a tornado while working on an experiment, the home is pulled from the island and flips over in the Florida Panhandle.
Earthquake simulators, a bubble lab (and an LED ropes course) are all part of the attraction that's upside down. You can find a comparable interest in upside down house orlando, as well as four other cities across the country.
4. Affoldern, Germany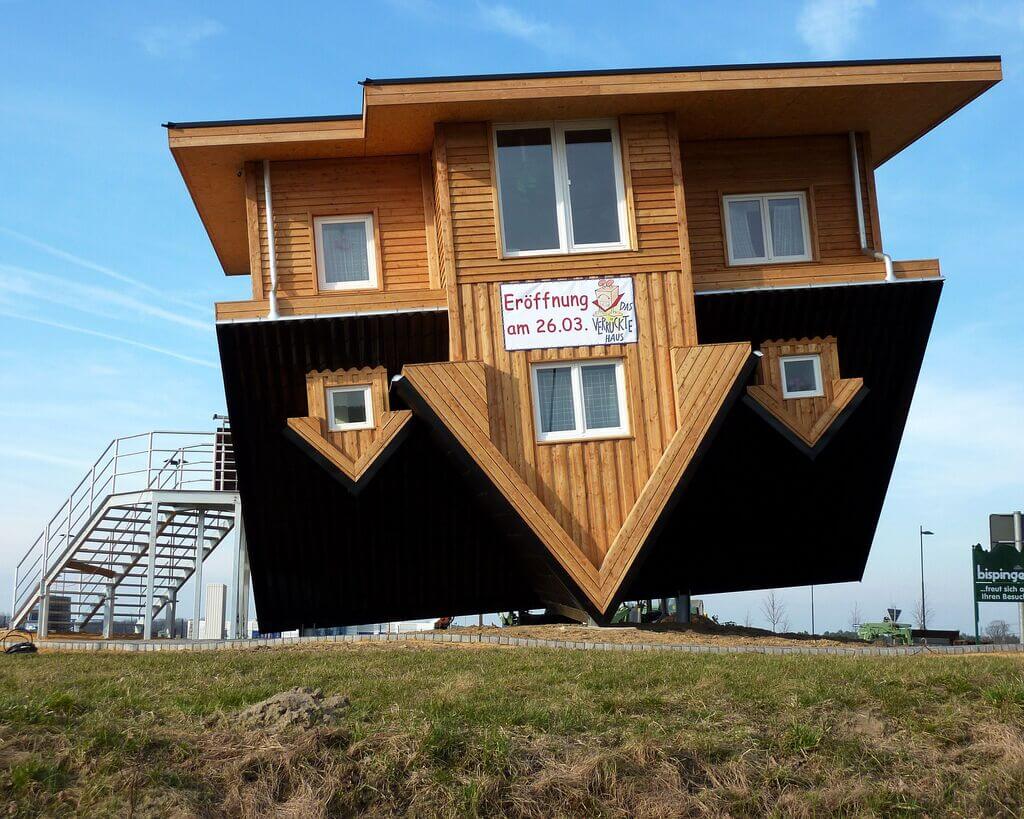 Source: pinimg.com
You'll see a crimson two-story home flipped upside down as you drive through the community of Affoldern. A little cafe close to the Toppels Haus, or "Crazy House." A flight of steps leads to an attic window from the house's angled roof. There is also an automobile dangling from the ceiling. The living room is filled with a green-and-white-tiled open space. There's also a kid's room and bathroom here.
5. Trassenheide, Germany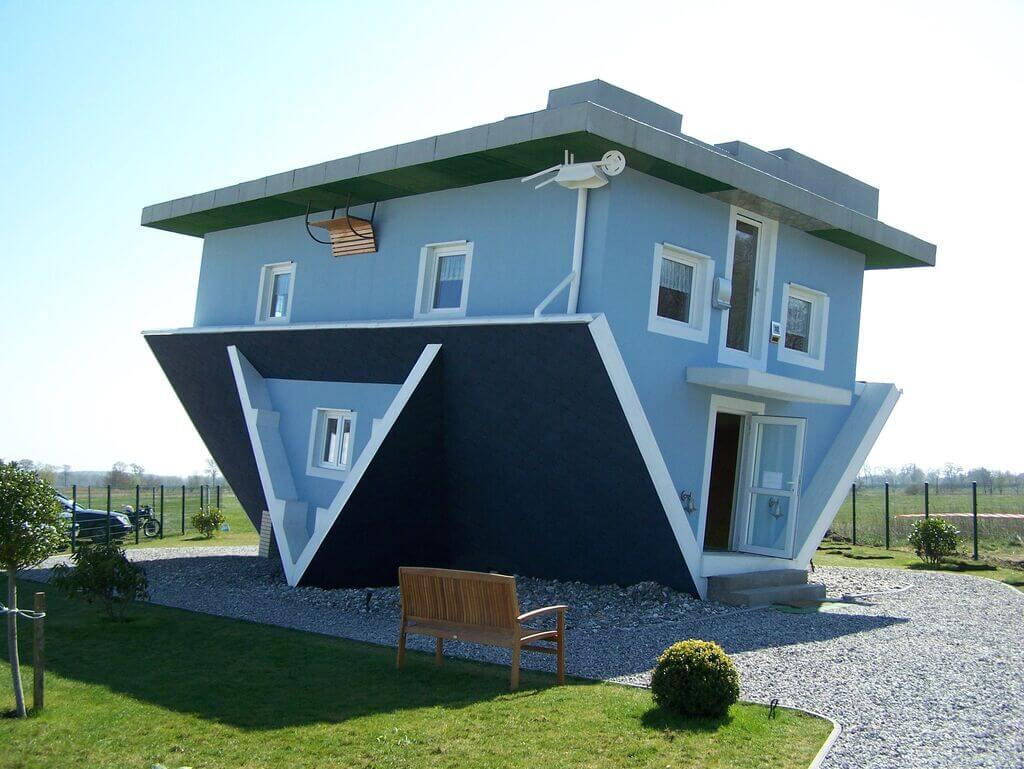 Source: pinimg.com
A sky-blue house is perched precariously on its side in a German community. It was the country's first-ever topsy-turvy design.
One of Poland's best-known architectural projects, "Die Welt Steht Kopf" ("The World Turned On Its Head"), was designed by Klaudiusz Golos and Sebastian Mikiciuk in 2008. The goal is to get people to look at things in a new light by providing a unique vantage point. The house appears to have fallen from the sky when it is fully furnished in an ideal manner. 
6. Phuket, Thailand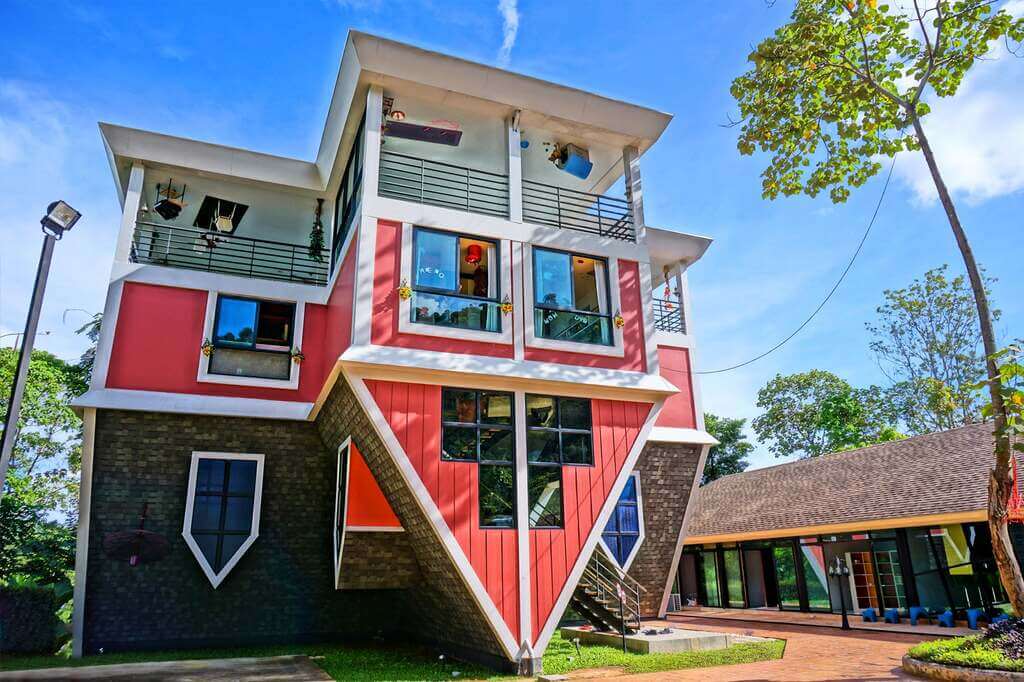 Source: cdn-hotels.com
Phuket, Thailand, is home to this three-story, upside down house. An escape room, a giant maze in the garden, and a coffee shop are all part of the park's more extensive, Camellia-pink-painted structure. Tourists may enter the newly remodeled house from the attic and walk about the repurposed space.
7. Wisconsin Dells, Wisconsin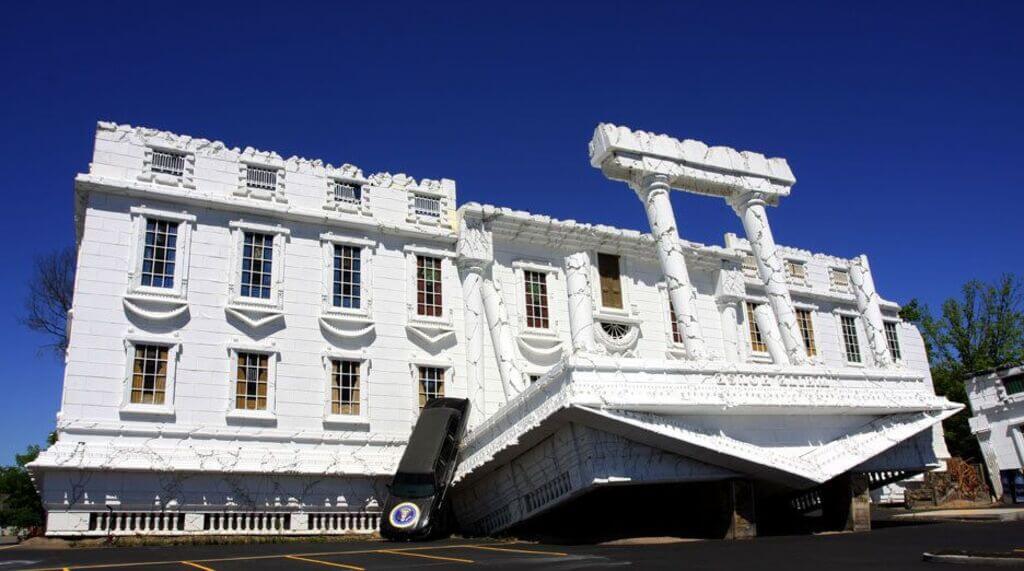 Source: pinimg.com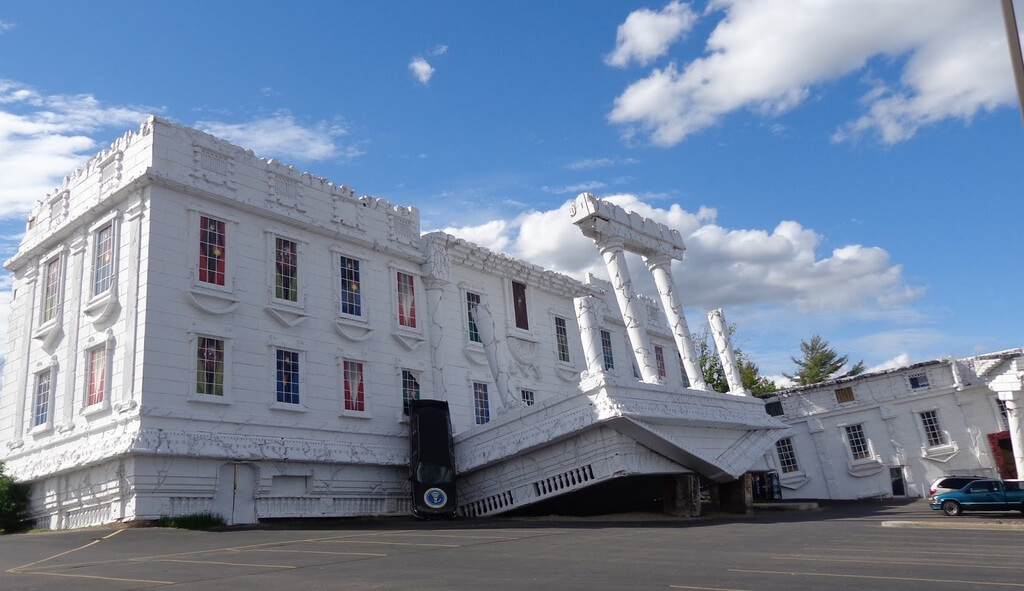 Source: blogspot.com
The upside down house here is meant to represent an extension of the White House in Washington, D.C. A creepy tourist attraction known as Top Secret leads visitors into the 
"White House basement," where all sensitive material is kept. Visitors may now see it and other enigmatic chambers and dimly lighted corridors. Everything from what the government knows about Area 51 to whether or not UFOs exist may be found in the information available. This amusement park in Wisconsin Dells provides answers that are fun and thought-provoking.
Also Read: 10 Most Expensive Houses In The World!
8. Szymbark, Poland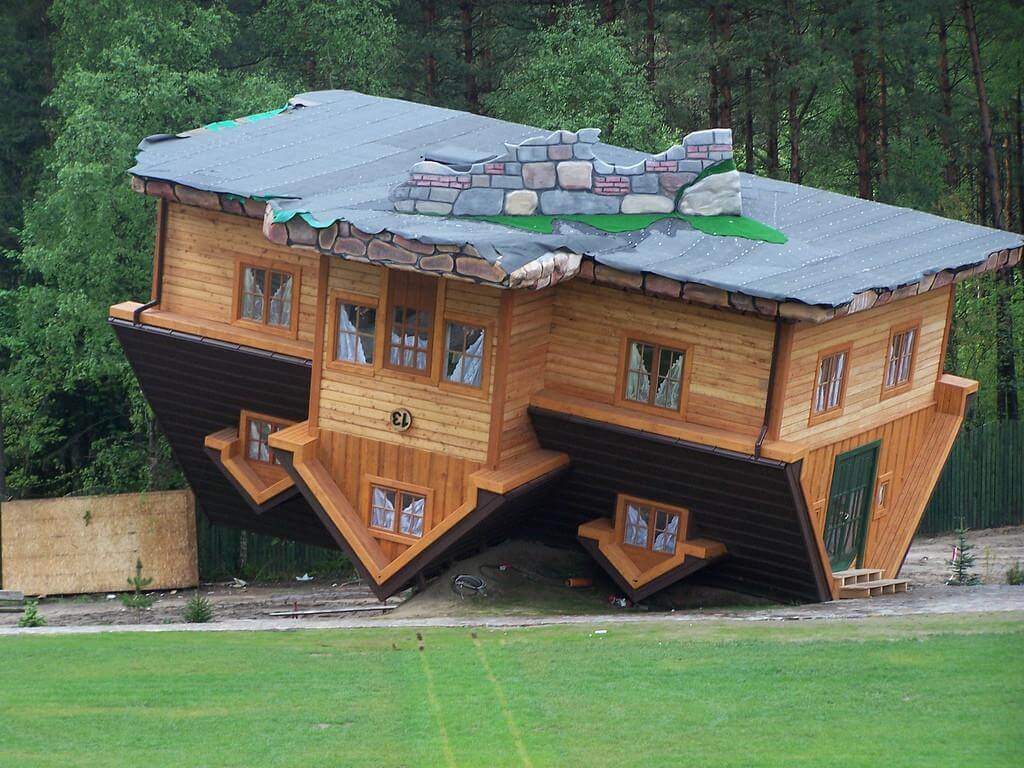 Source: decoratorist.com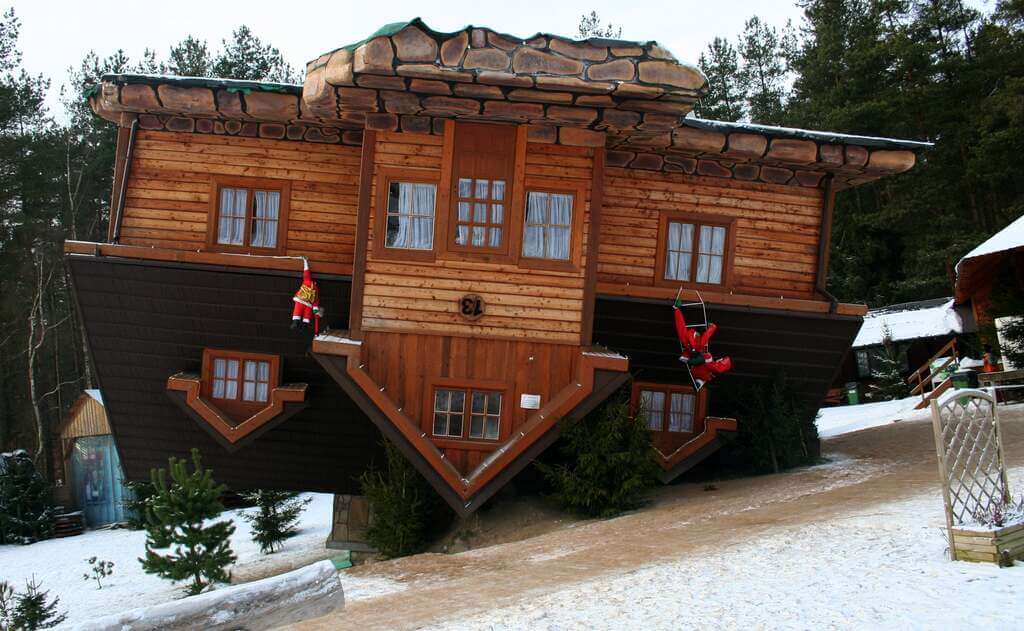 Source: redd.it
This home in Szymbark, Poland, is the first in Europe to be flipped upside down.
This strange-looking log cottage, built-in 2007 at the foot of a hill, was intended to illustrate the unpredictability of life in the country during the communist era. 
Guests may explore the residence by strolling on the ceiling after climbing via an attic window in the slanted two-story building. The 1970s-themed interior is a nod to communism in Poland at the time. An aspect of the learning process.
9. Tartu, Estonia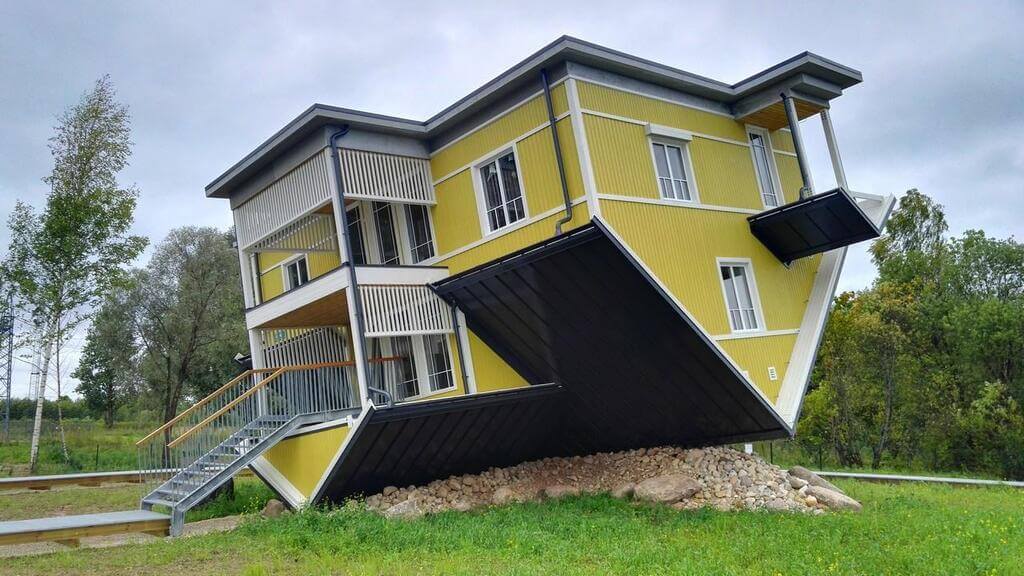 Source: decoratorist.com
This brilliant yellow upside down house is a dazzling spot in the daytime. Home to Tartu in Estonia, this is one of the less luxurious residences in the European city. Because it's upside down, it's the lone anomaly.
10. Kuala Lumpur, Malaysia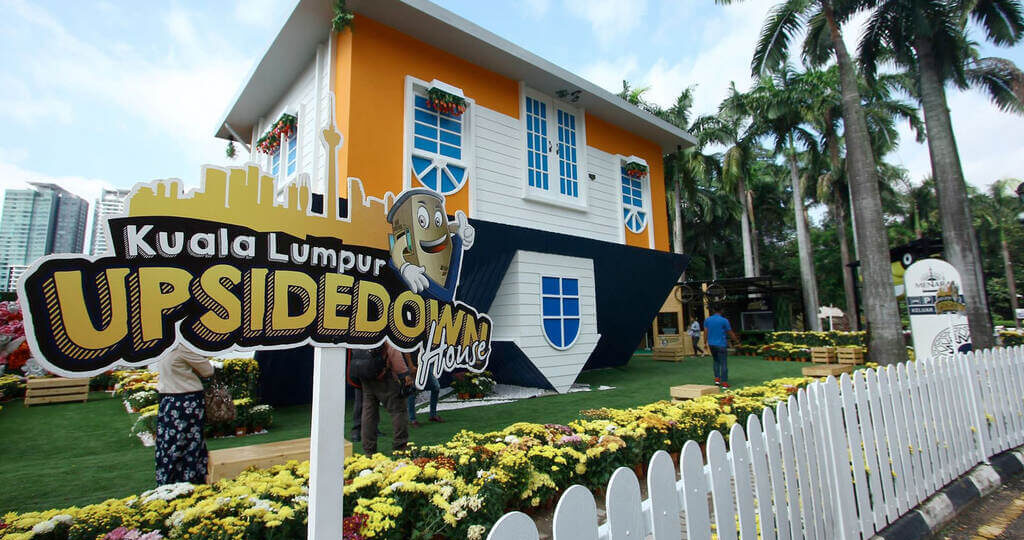 Source: walkandtravels.com
The KL Tower, the world's seventh-tallest building, is just a few blocks away from this typical upside-down house in Kuala Lumpur. From the moment you step foot inside the orange house, you'll notice how well decorated it is. Nothing was overlooked, not even the photo frames or  toys in the children's room. The flower gardens on the property add to the illusion that you are floating above the earth. Birthdays and other family occasions are frequently held at home.
4 Benefits of Upside Down Living
1. Views
You should honestly evaluate the views from your home's top level(s) to see if the work to alter the typical floor plan is worth it to you. A geodetic survey of your property, including aerial film taken with a drone, might verify whether or not your property has excellent views, and if so, from where.
2. Mobility
Does anyone in your family suffer from challenges with mobility? As a result, a home raise may be something to consider while designing your home. Your family member will be able to access the primary living areas of your house securely while at the same time ensuring that your property is future-proofed.
3. Convenience
At least two flights of steps would have to be climbed if your kitchen were located on the upper floor of your home. Do you have the fortitude to deal with the inconvenience? A home lift or elevator be included in your plans to address this issue
4. Safety
If your living space extends to a veranda or balcony, be sure that your architect has put safety measures in place to reduce the danger of tripping and falling.
4 Out of Curiosity FAQs
1. Are Upside-Down Houses Real?
In Poland, the 'Upside Down House' is a one-of-a-kind building on its roof. You used the socialist style of the 1970s in the decoration. The entrance is through the roof, where guests may wander about on the ceilings and see 1970s-era furniture and design components.
2. Which Country Has the First Upside-Down House?
Located in Szymbark, Poland, the Upside Down House was erected by a Polish businessman and philanthropist, Daniel Czapiewski. This mansion was more than just a strange tourist attraction; it drew tens of thousands of visitors.
3. What Exactly Is an Upside-Down House?
It's better known as the upside down house since it has all the furnishings facing the wrong way. An "optical" illusion is created by the building's 5 degrees left and 5 degrees backward inclination.
4. How Long Do You Spend on an Upside Down House?
Generally, for a public building upside down house, you can spend up to 15-20 minutes at a single time.
End Note
Have you ever thought what it would be like to live in a house that is turned on its side? It is possible to witness this little 'Alice in Wonderland' notion in real life as well.
These constructions throughout the world, ranging from works of art to tourist attractions, demonstrate that upside down houses are a possibility, although a quirky potential. We hope you get to know about some of the interesting and unique upside down house design from all over the world.
For more information about the latest architectural development, keep coming to Architecturesstyle.
Also, do follow us on our Instagram page, Architecturesstyleideas, to get daily updates.
Related posts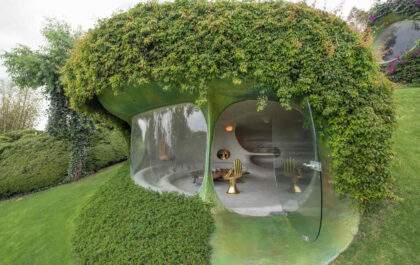 Javier Senosiain's Organic House: A Unique Architectural Wonder 
Project Credits: Project name: Organic House Architecture firm: Javier Senosiain Location: Acueducto Morelia 26, Vista del Valle, 53296, Naucalpan de…