One of the best and easiest ways to improve your curb appeal is to replace that old and rickety garage door.

When it comes to home improvement, people often focus on exterior house paint and leave the garage door as it is. This simple mistake can bring down the resale value of your house.

If the door is old and broken, you need to replace it. But how much does garage door replacement cost?

It can be anywhere between $500 and $5,000. On an average, the door costs around $1,250. This cost is for professional garage door replacement.

In this article, we are going to discuss in detail garage door replacement costs and the different factors that may affect the price.
Factors Affecting Garage Door Replacement Cost
The cost of replacing your garage door is not standard, as it depends on many factors. You can either change the entire setup or just some part of it. People with limited budgets can also opt for garage door wraps, to give their old garage a makeover. Here are some common factors that may affect the overall cost:
Type of Garage Door:-
The biggest cost factor is the type of door you choose. This is the first step you must take when considering a garage door replacement. Doors for your garage come in different types and price ranges. Here are a few common kinds of garage doors with price details:
1. Sectional Garage Door
The sectional garage door is the most common type of door you see around. It consists of small panels that slide within the roof once you open it. This door is good for tight spaces, and you can also add an automatic opener.
2. Tilt-Up Garage Door
The garage door is a solid, one-piece door that hinges out when you open it. It's mostly opened manually and is usually employed for secondary garages and sheds.
3. Carriage House Garage Door
For a classic, upscale look, consider this type with arched tops and windows.
4. Roll-Up Garage Door
Common in storefronts and storage units, these doors slide into channels. Though not luxurious, they are highly durable.
5. Glass Roll-Up Garage Door
It is a deal for a modern, industrial look in your home. This type of door rolls upwards in segments and can be used in pool houses or guest houses.
6. French Garage Doors
The French garage doors work great for farmhouse-style architecture and custom homes. They are on the pricier side.
7. Walk-Through Garage Doors
These are standard-sized doors enclosed in garage doors for pedestrian entry. It is useful if your garage lacks a wall opening for a separate entry door.
| Garage Door Type | Cost |
| --- | --- |
| Sectional Garage Door | $500 to $1,800 |
| Tilt-Up Garage Door | $400 to $1,600 |
| Carriage House Garage Door | $1,200 to $8,000 |
| Roll-Up Garage Door | $600 to $3,000 |
| Glass Roll-Up Garage Door | $1,000 to $7,000 |
| French Garage Doors | $2,000 to $6,000 |
| Walk-Through Garage Doors | $700 to $6,000 |
Garage Door Materials:-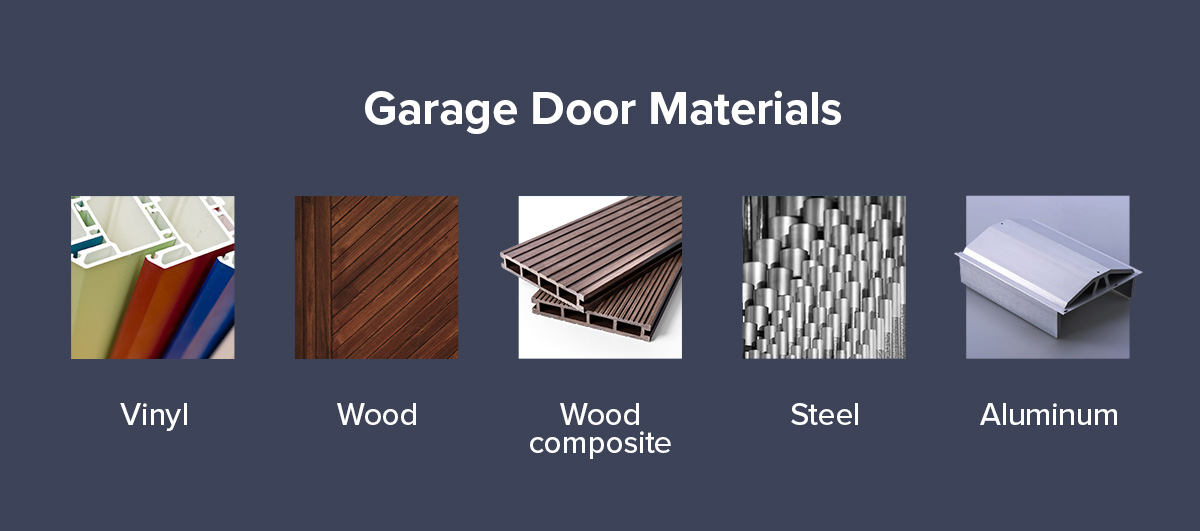 For garage doors, you have different material options to choose from. Standard materials comprise fiberglass, steel, aluminum, wood, and faux wood. The most budget-friendly choices are aluminum and steel.
They are easy to maintain and appropriate for different weathers. In contrast to that, faux wood is the priciest option, offering a wood-like charm without having high upkeep.
Here's the cost of a garage door, depending on the door material:
| Garage Door Material | Cost |
| --- | --- |
| Steel | $600 to $2,000 |
| Aluminum | $700 to $2,100 |
| Faux wood | $950 to $4,100 |
| Fiberglass | $1,000 to $2,100 |
| Vinyl | $1,000 to $2,600 |
Style of Garage Door:-
The replace garage door cost also depends on the style of the door. The price range for a basic garage door typically falls within the range of $800 to $1,500. However, if you're interested in unique, high-end doors, be prepared to pay quite a bit more.
Garage Door Size:-
When it comes to garage doors, you have choices to match your garage's size. In most American homes, a typical one-car garage door is usually around 7 to 8 feet in height and 7 to 10 feet in diameter.
1-car doors are very cost-effective as they use less material.
2-car doors can be a single, double door, or two different doors.
3-car doors can be a single door and a double door or three separate doors.
Here's how the cost varies depending on the dimensions of the garage door you want:
| Garage Type and Style | Cost |
| --- | --- |
| One-car garage | $500 to $3,000 |
| Two-car garage with double garage door | $800 to $5,000 |
| Two-car garage with two single garage doors | $1,200 to $4,900 |
| Three-car garage with a single and extra door | $1,400 to $7,000 |
| Three-car garage with three single doors | $1,700 to $7,200 |
Garage Door Brand:-
The cost of garage door replacement also depends on the brand of the door. Choosing the right garage door brand can be a tough decision for homeowners.
Each brand has its unique benefits, like warranties or different styles. Here are some of the popular brands to consider:
| | |
| --- | --- |
| Door Brand | Cost |
| Amarr | $500 to $1,500 |
| C.H.I. Overhead Doors | $600 to $2,000 |
| Clopay | $700 to $3,500 |
| Overhead Door | $750 to $4,000 |
| Wayne Dalton | $800 to $9,000 |
Design of Garage Door:-
Design is another factor that influences the garage door replacement cost. If you're going for custom designs, expect to pay more.
The door design can also impact how it opens. For example, solid wooden doors don't roll up like others. And if you're trying to keep costs down, choose a tilt-up garage door. It is generally more budget-friendly than a sectional one.
Garage Door Wiring:-
Many homeowners prefer automatic garage doors for convenience. These doors are operated by garage door openers. However, they need wiring service, which can increase the cost.
When choosing an automatic garage door, you need to add an extra budget of around $200 to $1,300. The pricier ones often include intelligent app-controlled garage door openers.
The customization to an automated door is considered worthwhile for the additional security and comfort it brings, and it can boost the resale value of your house.
Labor:-
The typical cost of getting a garage door installed by professionals is around $300. However, it can vary from $200 to $500 based on your location and how many doors are being installed. The material of the door doesn't impact these labor costs. Instead, it is determined by the time needed to complete the installation.
Additional Costs to Factor In Garage Door
Apart from the normal garage door replacement cost, there are some additional costs to consider when you install a new door. Here are some additional costs that can add up during the process:
1. Garage Door Removal
Check with your installation provider to see if they offer complimentary removal of your old door. Some do! If not, you might pay around $50 to $200 for the service. This usually includes removing the old door, its hardware, and tracks.
2. Decorations
If you want special touches on your door, like decorative fringe, custom-made wood layouts, frosted glass, or unique hardware, it may raise your project expenditure. These customizations can range from $500 to $10,000.
3. Restoration Work
Sometimes, you may need extra repair work for garage door replacement. Some common garage door repairs include fixing or replacing springs, cables, tracks, rollers, sensors, etc. It may also include repairing windows or the door opener.
4. Tipping
While not necessary, tipping garage door installers is common. If you're dealing with a smaller company where the proprietors are doing the installation, tipping might not be expected. However, for larger companies or retailers, it's more common. A typical tip ranges from $15 to $50 per person.
5. Permits
Most garage door replacements are considered minor home improvements and don't require permits in many areas. However, if your project involves altering your home's structure, like expanding a wall or changing the door opening, you might need a permit.
The cost of a permit typically falls between the range of $40 to $120. The service provider can often help you obtain the permit if needed. Always check your local codes to ensure compliance.
Cost to Replace Garage Door Yourself
When it comes to garage door replacement, you can either do it yourself or hire a professional. If you want to save funds on labor charges, DIY is a good option.
But you should only attempt it if you have any experience in carpentry. In a DIY project, your primary expense is just the cost of the door you choose. You might also have to cover local fees for getting rid of your old garage door.
DIY vs. Hiring a Pro:-
You might have noticed that big hardware stores sell garage doors. The prices they offer might make you think about saving money by going for a DIY garage door replacement.
But here's the thing: installing a garage door isn't like some other DIY projects, such as cleaning or organizing. Garage doors can be super heavy, going upwards of 300 pounds. That's why many homeowners prefer to hire professionals.
Whether it's a DIY project or not, never install a garage door by yourself. Ask for help, just in case. The springs in garage doors are tricky to manage. If you're not experienced, it can lead to accidents. DIY garage door replacement often leads to common mistakes. Failing to properly plan the layout of your garage is one.
It's usually a better idea to let professionals handle the installation of a new garage door. They have the right training and experience to get the job done safely and quickly. This way, you won't leave your home exposed to the weather or unwanted pests during the installation process.
Garage Door Replacement vs. Repair Cost
When it comes to fixing your garage door, people always get confused between repair and replacement. If there is a minor damage, repair is the cheaper option. But if your door is highly damaged, replacement might be cheaper.
Replacement
Garage door replacement is generally the more expensive option. A new garage door costs over $2,000. The cost depends on factors like the type of door, size, and additional features.
Repairs
Repairs are usually a much more budget-friendly choice. They typically range from a few hundred dollars to repair specific issues. If there is not much damage, it is best to repair the door to save money.
| | |
| --- | --- |
| Repair Type | Cost |
| Dent repair | $100 to $300 |
| Cable repair | $90 to $350 |
| Opener repair | $125 to $350 |
| Spring repair | $150 to $350 |
| Track repair | $125 to $400 |
How to Save Money on Garage Door Replacement Costs?
Here are some tips to help you save money on garage door replacement costs:
1. Buy the door yourself
Get the door directly from the manufacturer to save on costs, then hire a skilled contractor to install it for you.
2. Go for a simple design
Instead of fancy windows or custom features, opt for a basic garage door style. Any working door is better than a damaged one for your home's appearance.
3. Skip extra features
Decide which add-ons you truly need, like automatic or insulated options, and skip the ones that don't fit your budget, such as smart technology or extra-strong materials.
4. Check the warranty
Look for a door that comes with a warranty to avoid potential issues down the line. Some warranties also offer discounts on repairs from the installation company.
5. Keep up with maintenance
Regularly maintain your garage door to prevent unexpected repairs or the need for replacement in the near future.
How to Hire a Professional?
Here's how to choose the right professional to install your garage door:
1. Check for a warranty
Look for installers who provide a warranty. It's always good to be prepared for unexpected issues. Companies that offer a warranty with their installation give you peace of mind in case something goes wrong.
2. Licensed and insured
Make sure the installer is licensed and insured. Garage doors are heavy, tricky to handle, and may involve electrical systems. If the company has proper licensing and insurance, you're protected in case of accidents or damage to your home.
3. Full-service offerings
Find out if they offer a full range of services. Do they handle the disposal of your discarded door when installing the new one? Will they be there for repairs if you encounter problems in the future?
FAQs
What is garage door spring replacement cost?
It can cost you anywhere between $150 and $300 to replace the door spring. 
How often should a garage door be replaced?
The average lifespan of a garage door is 30 years, but you can replace it sooner or later, depending on its actual condition.
What is the cheapest way to replace a garage door?
Choosing a steel door is one of the cheapest ways to replace your garage door.
Conclusion
Replacing your old garage door is a great option for home improvement. It will help you to get a better price in the market. There are many door options available that can fit your budget. The garage door replacement cost depends on many factors but can cost you anywhere between $500 and $5,000. It is best to hire a professional to avoid any injuries or risk of faulty installation.
Explore Further