Do you feel drawn to the mesmerizing contemporary house designs? Modern contemporary houses have clean lines, irregular shapes and wide-open floor plans. If you want to understand contemporary architecture – look at the construction and design elements.
Here we are talking about a masterpiece that is created by a famous architect- Frank Gehry. He was awarded many prizes and people admired him for his spectacular work in modern architecture.
Nowadays, most of the architects prefer lavishing residential complexes, penthouses, and condos. But Frank Gehry is not one of these architects. Instead of designing the house entirely, he prefers to design the interior makeovers which express his personality. Frank Gehry bought a house back in the '70s to move along with his wife. Neighbors thought it would be a typical family to live in the neighborhood, but Gehry proves them wrong.
Frank Gehry is not like an average person to settle down in the ordinary-looking house. In 1978 he completely transformed the place, and soon it becomes the symbol of deconstructivism. No matter how much the neighbors hated him, but this house is a piece of art with fantastic use of modern architecture.
Let's take a look at a timeless modern contemporary house of Frank Gehry:
The Gehry Residence
Architects: Gehry partners
Location: Santa Monica, United States
Project Year: 1978
Floor: 2
Facade: Deconstructive
This beautiful house is located on 22nd Street and Washington Avenue in Santa Monica, California. It took around two years to completed this project (1977- 1979). Tall trees surround this site, so it gives complete privacy to the residents of the house. Gehry house is remodeled in phases and has intricate designs. It holds a sense of minimalist design with full of expressions. The overall palette is to use low-cost technology with visual appeal. Architects creatively use materials like wood, glass, and aluminum in the various areas of the building.
History
Originally this house has a Dutch colonial style, which is built around 1920, but Frank Gehry changes it to create a modern contemporary style home. No wonder neighbours hate this house after Gehry remodeled this house because this is not a regular house.
The Gehry residence is not a new home but a modification of an existing house.
Architects change the shape and extend it a little bit more by adding new materials that completely change the appearance of the building. It features glass planes, corrugated sheets, bare studs and walls that are at odd angles.
Materials
Mr. Gehry says " There can be beauty in such harsh elements when they are carefully wrought and precisely put together, that they can create a new kind of order which can yield as much physical ease and comfort as a conventional house."
The Gehry house has the most unconventional materials. Architects beautifully create the overall look of the home by elements such as fences with trellis, glass inner wire, and wood framing at different levels. They also use raw materials like corrugated steel sheets and plywoods to support the whole structure.
This house is a two-story building with unthinkable architectural elements such as pink tiles, metal mesh, and glass wire. The kitchen floor is covered with asphalt and make a path to the outside area.
Structure and Designs
Accomplishing all the wishes of the clients sometimes seems impossible, but when you're a client of yourself, then it is good and bad at the same time.
Gehry built the new house around the existing house to keep it intact. First, it was repaired then its interior design is modified.
On the ground floor, the design is to wrap the house around in three directions. The house is kind of extending towards the street, and the exterior of the home has remained untouched.
The interior of the first two levels has a lot of changes such as at some places it was stripped to reveal the links and wood studs. The kitchen, a living room, two bedrooms, and a backyard are on the ground floor. On the first floor, there are a master bedroom, dressing room, bathroom, and a beautiful terrace.
After modification, this house beautifully shows the new and old elements. For evident, the walking area of the house has both new doors places by Gehry and also original ones.
Renovations
The architect reinvented the house twice. In 1991 due to family growth, Gehry expanded the house. For better family privacy and requirements, the second renovation started in 1992. He turned the garage into a guest room and added a new area known as the game room and also add an outside pool in the house. Frank Gehry wanted to create a " ghost of cubism" so, you feel like you're trapped in a cube. There are two wired glass cubes to connect the old part of the house to the new layers. He used sheets of corrugated metal to create windows and skylights. These windows create an illusion of a larger space. Also, he builds new walls at add angles.
The architect explains: "… Armed with very little money I decided to build a new house around the old and try to maintain a tension between the two, making one define the other, and making them feel that the old house was intact within the new, from the outside and the inside. These were the basic objectives… "
A Walk Towards Deconstructivism
Do you like Gehry's approach towards deconstructivism? The Gehry Residence is the perfect example of modern and traditional elements in one place. This house is a symbol of Frank Gehry's contribution to the history of architectural design.
Final Words
It is a significant landmark in architectural history for more than two decades since its construction. In 2012, The American Institute of Architects awarded the prize to Gehry House for completing 25 years. This was all about Gehry Residence and Contemporary Architecture!
Also Read: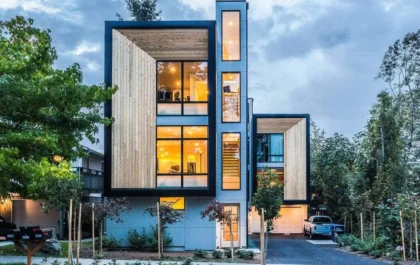 27+ Stylish & Modern Townhouse Designs for Urban Living.
The townhouse's first impression is normally too small, too compact, too narrower, and the list is endless. Well, let us…