Do you find yourself drawn to french colonial houses? These houses are lovely, which have simplicity with purpose. You'll see buildings and residential homes everywhere in the world that are inspired by French colonial architecture.
French colonial is one of the primary domestic colonial architectures styles. Dutch colonial, Georgian colonial, and Spanish colonial styles are other architecture styles. When the architecture style is derive from a broad range of styles and sources, then it is know as eclectic. French colonial architecture is kind of similar to Spanish architecture and also a mixture of several forms of architecture. This mixed style of architecture is famous, especially in southeast Asia.
This architecture started in North America around 1604. You'll see this type of architecture in the western hemisphere countries like the Caribbean, Guinea, Canada, and Louisiana. But after the 19th century, Asia and the Pacific regions are also influence by French colonial architecture. Many of the french buildings are declared as UNESCO heritage sites.
Here are all the things you want to know about the french colonial houses:
Styles And Materials Used
You'll see varieties of styles in French Colonial architecture. These styles are:
Chateauesque Style:
French architecture has houses that look like French castles. These mansions have large towers that are build with red bricks to create a french castle-like effect.
Huguenots Style:
Huguenots are the french protestants, who built stone houses. It is a combined architecture style of native France and the neighborhood countries. Mainly the dutch architecture is combined with French architecture.
Creole Cottage Style
In this cottage style, the wood frames are in square and rectangular shapes. Houses have extended side gable roofs with beautiful iron cantilevers and braces. There are four rooms in each corner of the house with two main entry doors.
Wood is mainly used as a primary building material in colonial houses. The heavy timber frame of logs is installed vertically to support the roof. Infill of lime clay or mortar is mixed with pierrot(Small stones are known as pierrot). Sometimes people also use a mixture of mud and animal hair known as Bousillage to stack up the space between the logs. But later it was replaced by bricks.
General Characteristics Of French Colonial Houses
All french colonial architecture has the same things in common. You can identify a french colonial house by these elements:
Raised Basement
A basement is a neccessary thing in a French colonial house. These houses have a slightly raised basement to support the floor.
Windows
The French colonial houses have beautiful tall windows on the second floor with decorative trim on the top. These houses have doors, and dormer-shaped windows and also have board shutters that are vertically hung to cover windows.
Exterior Stairs
There are stairs present in the outside area of the house. These exterior stairs will connect the two or three storey. French colonial buildings have elaborated iron balconies and exterior staircases.
Hallways
A full-length veranda is present after the entrance door. Sometimes, this area is call as a porch or gallery. Every room has access to this gallery and a beaded soffit covers these sidewalks.
Roofs
French houses have steeply pitched or hipped roofs and overhanging eaves. These eaves cover the porch area and are support by wooden columns. All French houses have tall ceilings to enhance the natural air circulation. When a tower is in a more angular shape, then it is top by a pyramid-type roof.
French Doors
people are still crazy about french doors. They look very luxurious and grand. All french houses have narrow and arched shaped decorative front doors. Colonial houses usually have a large number of openings of windows and doors with a transom. They also crown molding on fascia and friezes. Old colonial houses also have gable vent covers or shutters for doors.
Stucco Exterior Walls
Similar to Spanish colonial houses, french houses also have thick exterior walls covered with a cement known as stucco.
Iron Balconies
Iron balconies are also a signature style of a French colonial house. All these houses have iron railings on each of the windows that are on the top floor.
Interior
Some french houses have a victorian inspired interior and have rustic and farmhouse vibes. You'll see most of the french houses painted in white color or in light to a medium color palette.
These homes are decorate with plain and sparse exterior decor. The exterior of the house is make with bricks and surrounded by balustrades. All furnishings were well polish and arrange in a very neat manner. They mainly have rustic and cottage-style furnishings. Simple Furnishings are make with pine and birch wood, whereas high-end ones are make from cherry, maple, and walnut woods.
French Colonial Houses Around The World
Colonial architecture was start around the mid-1600 in Canada. American history is full of colonial houses. It is to believe that this style is influence by the architecture of Canada and Caribbean countries. Caribbean Countries have houses known as creole homes. All Caribbean houses have some Caribbean elements like full front porches with high gable roofs that are run across the street. You'll also see many buildings inspired by French architecture in Brazzaville city of Central Africa.
New buildings that are construct at the theme of french colonial houses are know as the French colonial revival. Many countries still have old and new styles of french colonial architecture. Even today, the new generation also embraces the beauty of French colonial architecture in their homes with open arms.
There are so many beautiful French colonial homes and buildings around the world. Let's have a glimpse of these beauties:
In case you missed it: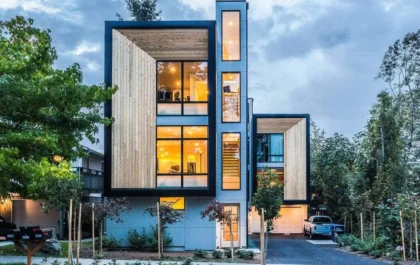 27+ Stylish & Modern Townhouse Designs for Urban Living.
The townhouse's first impression is normally too small, too compact, too narrower, and the list is endless. Well, let us…