A safe and secure home is essential for peace of mind and the well-being of you and your loved ones. With the increasing number of burglaries and home invasions, it's more important than ever to make sure your home is protected.
To help you get started, we've compiled a comprehensive checklist of basic home security measures that every homeowner should consider.
Invest in a Home Security System
Source: rates.ca
A home security system is an invaluable tool for protecting your property and loved ones. Depending on your needs and budget, options may include:
A professionally monitored system that alerts authorities during a break-in or emergency.

A DIY system with various sensors, such as door and window sensors, motion detectors, and cameras.

Smart home security features, such as remote access to cameras and the ability to arm or disarm the system from your smartphone.
A combination of multiple security measures to create a comprehensive and customized security solution – for example, no contract alarm monitoring can help you identify any attempted unauthorized access to your property.
Secure Your Doors
Source: colnevalleywindows.co.uk
The first step in any home security checklist is to ensure that all entry doors are properly secured. This includes:
Installing deadbolt locks on all exterior doors, with a minimum of 1-inch throw for added security.

Reinforcing door frames with strike plates and using long screws to secure them.

Ensuring sliding doors have a security bar or dowel to prevent them from being forced open.

Replacing weak or hollow doors with solid wood or metal doors.

Installing a peephole or door viewer to identify visitors before opening the door.
Lock Your Windows
Source: woodbridgehomesolutions.com
Windows are another common entry point for burglars. To secure your windows, consider the following:
Installing window locks or sash pins to prevent them from being forced open.

Adding window security film to make the glass more difficult to break.

Installing window sensors or glass break detectors to alert you if a window is tampered with.

Using window bars or grilles to deter intruders while still allowing for ventilation and emergency exits.
Illuminate Your Property
Source: houselogic.com
A well-lit property can deter potential intruders from targeting your home. Make sure to:
Install outdoor lighting around your property, focusing on entry points, pathways, and dark areas.

Use

motion-activated lights

to conserve energy and startle intruders.

Install timers on indoor lights to create the illusion that someone is home, even when you're away.

Replace any burned-out bulbs promptly to maintain a well-lit exterior.
Secure Your Garage
Source: locksmithsinmelbourne.com
Your garage can be an easy target for burglars, especially if it's attached to your home. To secure your garage, be sure to:
Keep your garage door closed and locked at all times, even when you're at home.

Install a garage door sensor or alarm to alert you if the door is opened unexpectedly.

Use a physical lock or padlock to secure your garage door when you're away for an extended period.

Store valuable items, such as tools and bikes, out of sight or in locked storage cabinets.
Maintain Your Landscape
Source: googleapis.com
A well-maintained yard can make your home less attractive to intruders. To improve your home's security through landscaping, consider the following:
Trimming bushes and trees to eliminate hiding spots for burglars.

Keep your lawn mowed and free of debris.

Installing gravel or other noisy ground covers near windows and doors makes it more difficult for intruders to approach silently.

Planting thorny or prickly plants near windows and fences to discourage intruders.
Get to Know Your Neighbors
Source: arrowexterminators.com
Building a relationship with your neighbors can contribute significantly to the overall security of your home and community. By getting to know your neighbors, you can:
Create a sense of community and a mutual understanding of watching out for each other's homes.

Share information about suspicious activity, break-ins, or other security concerns in the neighborhood.

Establish a neighborhood watch program to monitor and report suspicious activity.

Ask trusted neighbors to keep an eye on your home when you're away and offer to do the same for them.
Also Read: Indoor Staircase Lighting Ideas That Add Style and Function
Be Mindful of Social Media
Source: bobvila.com
Sharing your whereabouts and plans on social media can inadvertently make your home a target for burglars. To minimize this risk:
Avoid posting about vacations, weekend getaways, or other extended absences until after you've returned home.

Adjust your privacy settings to limit the visibility of your posts to only trusted friends and family.

Be cautious about "checking in" at locations or events, as this can alert potential intruders that you're not at home.
Conclusion
Taking the time to assess and implement these basic home security measures can make a significant difference in the safety of your home and your loved ones. While no security solution is foolproof, a proactive approach to home security can greatly reduce the likelihood of a break-in and give you invaluable peace of mind. Remember, the key to a secure home is consistent vigilance and a commitment to implementing these practical security measures.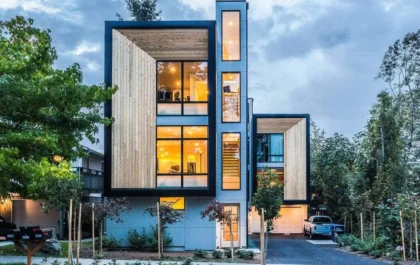 27+ Stylish & Modern Townhouse Designs for Urban Living.
The townhouse's first impression is normally too small, too compact, too narrower, and the list is endless. Well, let us…