Whilst no one can 100% guarantee that they won't be a victim of theft or a break-in, there are certainly some simple steps you can take to drastically minimize the chances of burglary.
Some of them are simple habits, others might mean spending some money on upgrades. If you're worried about protecting your home, it's definitely worth looking into everything that you can do.
Here's a checklist of ways to secure your home…
Use Lights
Source: jppadmin.com
Different times of day and year could affect your chances of suffering from a burglary. Dark evenings in winter, as well as nighttime all year round, give cover that allows thieves to strike. Whilst it's perfectly possible for break-ins to occur during the daytime when you're out at work, installing some motion sensor lights may help to deter criminals when it's darker.
Make It Look Like You're Home
Source: zeve.au
As well as motion sensor lights, using your interior lights to make it look like someone is home, even if you're out in the evening, can also act as a deterrence. Just having one light on will do, but if you're worried about electricity bills, try installing a timer feature so that lights automatically switch on and off at the times they are needed.
If you're going away for longer periods of time, ask someone to collect your mail for you. A buildup of packages or letters left on your porch or letterbox can be a signal to thieves that the house is empty.
Be Careful with Your Keys
Source:
Source: businessnewsdaily.com
Storing your spare emergency keys in classic places such as in the plant pot or under the mat is a massive risk. Instead, give a set of spare keys to a trusted neighbor or nearby relative. If neither of those is an option, try a key safe.
A key safe can be mounted to a wall, so try to have it installed in a discreet location. You can store and then access your spare keys using a combination code.
If you manage to lose your keys and lock yourself out, don't panic and try to break in, instead, you can call an emergency locksmith to safely get you to access back into your property without causing damage.
If you are worried about someone finding the keys and using them to gain entry to your home, you can also get your locks changed.
Upgrade Locks
Source: build-review.com
Along with changing locks in the event of lost keys, you should also consider lock servicing to upgrade your locks if they are older. Certain types of locks can be victims of exploits, so try identifying your locks and searching online to see if they are up to date.
Smart Devices
Source: cloudinary.com
Not only can you upgrade locks, but you can try smart devices to completely overhaul your security…
A smart door handle, for example, could eliminate your need for keys, instead of using your fingerprint or phone to access your home – you already might use your phone as a contactless credit card, so why not a key too?
Other smart devices include security camera systems, even just having a smart doorbell with a camera could put off a potential robbery.
Thieves will go for the easiest target in the neighborhood, so as long as you appear as though you have a good home security system in place, you'll increase your chances of staying protected.
Also Read: Keeping the Home Safe with Door Alarms
Don't Neglect Your Shed, Garage, or Outside Storage
Source: build-review.com
Sometimes people leave their outside areas less protected, focusing only on the home, but you should still make the effort to keep your shed and garage locked up properly. All it takes is a few padlocks, you can get a pack of 3 or 4 combination locks for a reasonable price.
Use Noise, Plants, and More
Source: hearstapps.com
It might sound strange, but the details outside your home could also have the advantage of scaring off burglars. They may avoid driveways that have gravel stones as it creates too much noise that could get them caught out. So if you have a gravel stone driveway, keep it topped up.
You could also consider using dense or thorny hedges, planting them around the outside of your house, so it's harder for anyone to get past them.
Keep Valuables Out of Sight
Source: gensecurity.com
And finally, remember to not leave your valuables on display. Make sure people can't easily see into your home, put up some blinds/curtains, and store smaller valuables in a drawer or even a safe when not in use.
Keep Your Home Safe
Source: digitized.house
With these tips, your home stands a better chance of staying safe, but don't forget, you can always ask professionals such as locksmiths and other security experts for help and advice.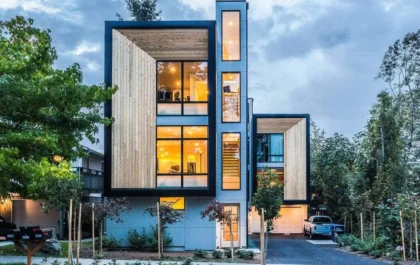 27+ Stylish & Modern Townhouse Designs for Urban Living.
The townhouse's first impression is normally too small, too compact, too narrower, and the list is endless. Well, let us…