When it comes to soundproofing your home, there is no one-size-fits-all solution. While some people may prefer sound-dampening foam or insulation, others may opt for soundproof curtains to keep noise out. Soundproof curtains can be an effective and affordable option, but choosing the right type can make all the difference.
Choosing the suitable soundproof curtains for your home depends on several factors, such as the amount of noise you're trying to block out and the type of space you are soundproofing.
Here are a few tips on How to choose the right soundproof curtains for your home.
7 Tips to Help You Choose the Best Soundproof Curtains
Source: recordingbase.com
Choosing suitable soundproof curtains for your home can be a daunting task. There are many factors to consider, such as size, material, and noise reduction capabilities. Here are seven tips to help you make the best decision for your home:
1. Measure Your Windows
Before you purchase any soundproof curtains for windows, you must measure your windows accurately. This will ensure that the curtains fit correctly and provide maximum coverage. Make sure to measure the width and length of each window before making a purchase.
2. Consider Noise Reduction Capabilities
Different soundproofing curtains have different levels of noise reduction capabilities. Look for curtains with high STC (Sound Transmission Class) ratings that indicate how well they block out sound from entering or leaving a room. The higher the rating, the better the noise reduction capabilities of the curtain will be.
3. Choose the Appropriate Fabric
The type of fabric used in soundproof curtains is also necessary to consider when making a purchase. Heavy fabrics like velvet or suede are good choices for blocking noise, while lighter fabrics like cotton or linen may not provide enough protection from outside noises.
4. Check Insulation Properties
Many soundproof curtains come with insulation properties that help keep rooms cooler in summer and warmer in winter by trapping air between their layers of fabric. This helps reduce energy costs and makes them more environmentally friendly than traditional curtains without insulation properties.
5. Look at Color Options
Soundproof curtains come in various colors and patterns, so you can find something that fits your existing decor scheme without sacrificing noise reduction capabilities or insulation properties.
Darker colors tend to absorb more light while lighter colors reflect it, so choose accordingly based on what kind of lighting you want in your room throughout the day and night.
6. Research Different Brands
Not all brands offer the same quality regarding soundproofing materials and construction techniques, so it's essential to do some research before deciding which brand suits your needs and budget constraints.
Read customer reviews online to get an idea of how satisfied people have been with different brands' products over time before deciding which one is right for you and your home environment needs.
7. Consider Installation Options
Some soundproof curtains require professional installation, while others can be hung easily by yourself using essential tools like a drill or hammer, depending on what type of hardware they come with (e.g., grommets). If you don't feel comfortable installing them yourself, it may be worth investing in professional installation services so that everything is done correctly and safely!
Categories of Soundproof Curtains
Soundproof curtains are a great way to reduce noise from outside your home. They come in various styles, materials, and sizes to fit any budget and space. Here are some of the most popular categories of soundproof curtains available:
Moondream Noise Reducing Curtains
Source: moondreamwebstore.com
Using innovative technology (U.S. Patent No. 9475260), Moondream noise-reducing curtains are designed to absorb maximum amounts of sound to reduce the level of noise inside your home.
These curtains are perfect for blocking out loud noises, such as traffic or neighbors, and can be found in various colors and sizes to fit any window or door.
Amherst Velvet Noise Reducing Curtain
Source: media-amazon.com
The Amherst Velvet Noise Reducing Curtain is made with heavy-duty velvet fabric that blocks light and sound while providing insulation from heat and cold air. The curtain is also equipped with grommets for easy installation on any window or door frame.
RYB Home Soundproof Divider Curtains
Source: wp.com
RYB HOME Soundproof Divider Curtains are designed with three layers of blackout material that block out light and sound while providing thermal insulation for your home. These curtains come in various colors and sizes to fit any window or door frame, making them perfect for dividing rooms or creating privacy in shared spaces.
Acoustic Curtain Soundproofing Curtain
Source: nycityblinds.com
The Acoustic Curtain is a soundproof, blackout curtain that blocks unwanted sound from nearby traffic and neighbors. This curtain is STC-rated up to 25 decibels, making it one of the most effective sound-dampening solutions. It also has an adjustable rod pocket top for easy installation on any window or door frame.
Quiet Curtains Soundproof Curtains
Source: nycityblinds.com
Quiet Curtains offer one of the few proper protection from noise and sound available on the market today. Their unique design features two layers of acoustic foam sandwiched between two layers of blackout fabric, effectively blocking light and sound while providing insulation from heat and cold air.
The Quiet curtain also has an adjustable rod pocket top for easy installation on any window or door frame.
Also Read: 5 Best Ideas For Upgrading Your Interior With Curtains & Blinds
Conclusion
Soundproof curtains are an effective and affordable solution for reducing noise in your home. With the wide variety of styles, sizes, and materials available, you will surely find a soundproof curtain that fits your budget and aesthetic needs.
Be sure to research brands carefully before making a purchase decision and consider installation options if needed. With suitable soundproof curtains, you'll be able to create a peaceful and quiet home environment for you and your family.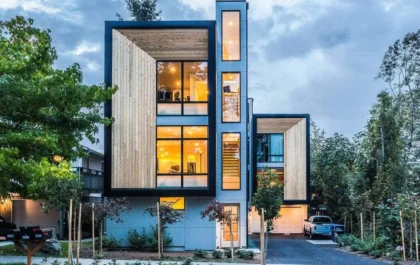 27+ Stylish & Modern Townhouse Designs for Urban Living.
The townhouse's first impression is normally too small, too compact, too narrower, and the list is endless. Well, let us…