During revamping your living space, you might think about replacing your window treatments or bringing some change to them that looks trendy and cool. Talking about today's trend, a combination of sheer and blackout is becoming increasingly popular. This style of curtains not only creates a modernized appearance but also adds comfort to every home space.
However, layering up these curtains to create a stylish look can be a tricky task, and if not done correctly, it can diminish the overall decor of your home. In order to provide you with ease, we have got some professional tips mentioned in this post that you can count on for pleasing outcomes.
People usually like this combination because sheer curtains can create an airy atmosphere, while blackout curtains can create a comfortable environment. With these tips and tricks, you can easily and perfectly layer up sheers with blackout curtains, thus adding comfort to your interiors while enhancing the entire furnishing of your space as well.
Expert's Tips to Layer Sheer Curtains with Blackout Window Treatments
With the perfect combination of sheer and blackout curtains, you will not only enhance the aesthetics of your home but will also get yourself facilitated with a lot of other benefits. These tips and tricks by Wall Curtains will help you out in installing these curtains in a perfect manner so that your living space can look adorable while you can also have complete privacy and control over sunlight.
1. Select the Right Curtains
Source: spiffyspools.com
First things first, the selection of the right curtains is crucial whether you are going to layer them up or not. When you are going to opt for both sheer and blackout curtains, it is important to get your hands on curtains that can complement each other so that the overall decor looks attractive.
Sheer curtains come in various fabrics including silk, cotton, linen, etc., while blackout curtains are usually made up of heavier fabric like velvet or polyester. For layering purposes, you should always go for the thinner sheer curtains that are lightweight and can easily filter out the light. In contrast, get your hands on the blackout curtains that are thicker and more substantial.
2. Decide on the Layering Order
The next step is to decide on the layering order of these curtains, i.e. How you want to hang them. Typically, sheer curtains get hung first as a base, and then blackout curtains get installed as the top layer, creating a luxurious appearance.
But if you want to go for something unique, you can reverse the order and can use the blackout curtains as a base in the layering. Sheer curtains on top of blackout window hangings will look absolutely gorgeous. So, this decision completely depends on your personal preferences and how you want to make your windows look.
3. Choose the Right Curtain Rod
Source: realsimple.com
The very next thing to do in this entire process is to choose an ideal curtain rod for these window curtains. The curtain rod plays an important role in layering sheers with blackout window treatments. For this combination, you must select a rod that is sturdy and robust, and also it will be better if you go for a double curtain rod.
So that it could hold both curtains in place and your window will achieve an attractive appearance after the curtain installation. Just make sure that the curtain rod should be long enough to adjust the extra fabric of layering curtains.
4. Check on the Length of Both Curtains
Next comes the length of both curtains, i.e., sheers and blackouts. You must consider the length of both curtains so that you can create your desired look and make your area look admirable by all means. Ideally, sheer curtains should be longer than blackout curtains so as to look appealing look.
Sheer curtains longer than blackout will work perfectly if you are going to use them as a base and hang the blackout curtains on top of them. This way, both curtains will complement each other and create a beautiful layering effect.
5. Hang the Curtains Properly
Source: homedecorbliss.com
If you have decided to go for a typical stylish look, i.e., hanging sheer as a base and blackout on the top, then hang the sheer curtains first on the rod. After that, install blackout curtains followed by sheer window hangings. It is important to hang the window curtains perfectly in order to make your windows look alluring.
Hang the blackout curtains closer to the windows and always leave a 3-4 inches gap between the sheers and blackouts. That gap will allow the sheer curtains to move freely, creating a really beautiful draping effect. This way, you can perfectly make your casement frames a focal point that will attract the attention of your guests.
6. Go for the Right Curtains Hardware
Last but not least, accessorizing your curtains is another important factor to take care of so that this combination can get a proper finishing and look adorable in every way. In order to create a cohesive look, choose the hardware that complements both sheer and blackout curtains. This curtain hardware includes curtain rings, finials, and tiebacks. You can go for the matching accessories and can add a decorative touch to your window dressings.
Most homeowners are likely to opt for some pretty tiebacks to hold the blackout curtains back and create a deluxe appearance in their living space. This way, the curtains can be easily kept in place, especially if you want to allow natural light to enter your space during the day.
In Conclusion
Layering sheer curtains with blackout window hangings can ideally enhance the entire decor of your living space while facilitating you with so many benefits, such as blocking out the natural light and providing complete privacy. By following these tips recommended by experts, you can perfectly layer these window curtains and can upgrade your living place excellently.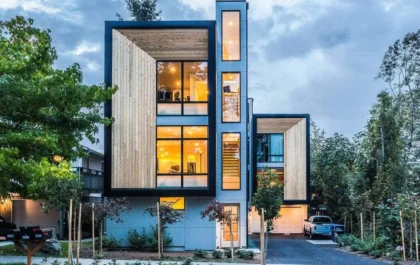 27+ Stylish & Modern Townhouse Designs for Urban Living.
The townhouse's first impression is normally too small, too compact, too narrower, and the list is endless. Well, let us…