Project Specifications
Project Name: Kowhai House
Project Architect: Rafe Maclean Architects
Project Location: Dunedin, New Zealand
Project Area: 140 sq. m
Project Year: 2018
Project Builders: Stevenson & Williams Ltd.
The Kowhai House by Rafe Maclean Architects is set atop a native-clad slope viewing the Leith Stream in Dunedin, New Zealand. The house is named after an existing local Kowhai Tree that has now become a central view from the living area. The structure was planned to be basic in shape for easy constructability due to the site's poor soil conditions and restricted access. The home is shaped like a gabled rectangle, however, one roof side slopes up from the ridgeline rather than downwards, allowing for interior mezzanine beds.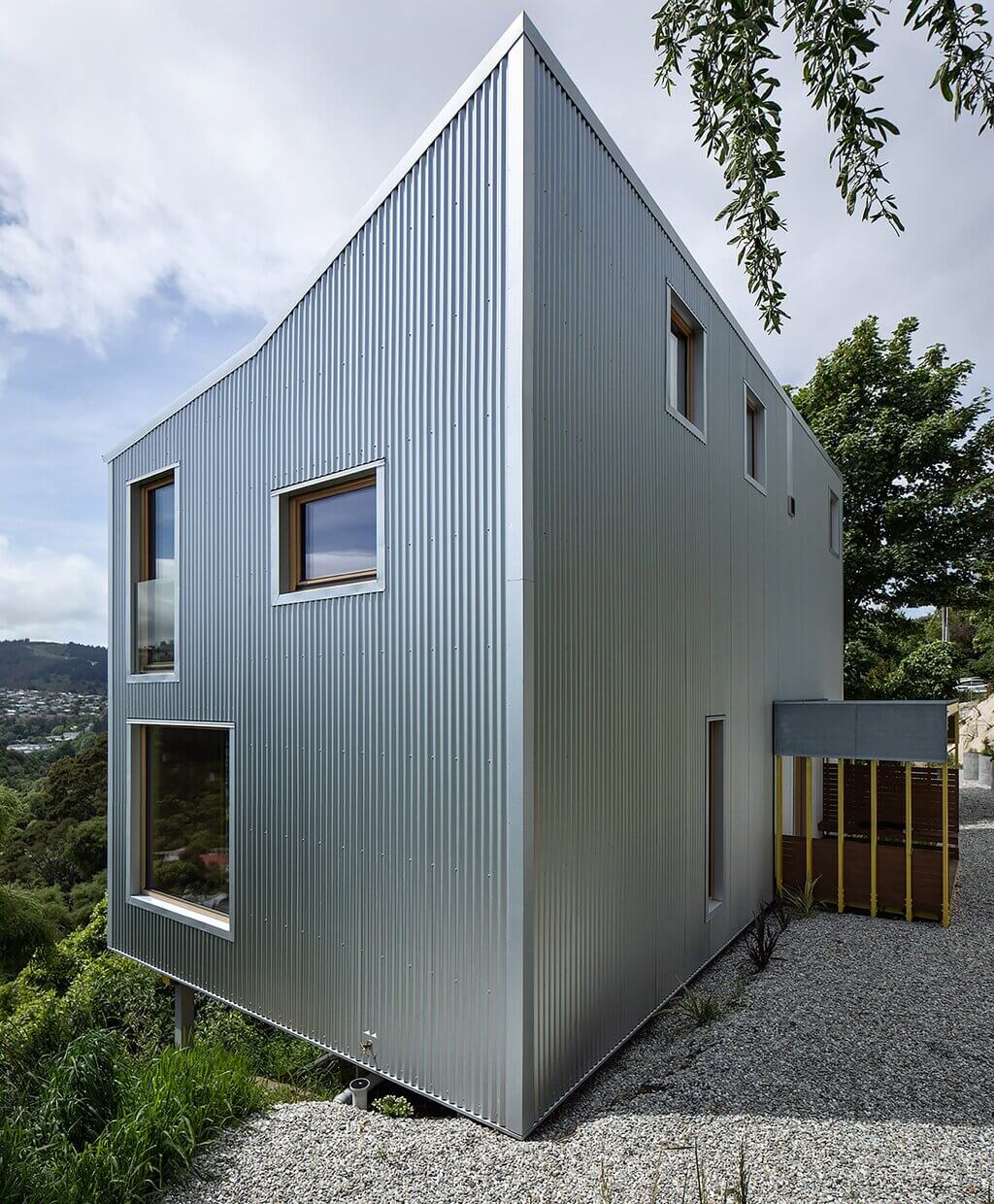 This purely internal dwelling, situated on a hilly and remote site, achieves its goal of becoming an urban refuge. The modest residence, which provides compact but pleasant housing for four members, is a modern effort for adequacy and resource and opportunity optimization.
For four people to live jointly, the spatial configuration had to be functional but pleasant, with each individual having their own privacy. The house isn't large, expansive property; it's more of a cozy haven away from the city's harsh environment.
The home was planned as a warm cocoon, but it also functions as a treehouse, connecting the larger perspective and more immediate surroundings, particularly the Kowhai tree by which it is titled, through its intelligent location and finely framed vistas.
The external facade is wrapped in zincalume corrugate, which creates a sharp contrast with the greenery. The golden accents on the outside and inside pay homage to the Kowhai tree blossom. With significant use of New Zealand's pine plywood, kowhai flower accents, and clean white flooring, the interior finishes of Kowhai House prove to be warm and welcoming.
Service lines (water/ventilation ductwork) are carefully covered below a partially floating ceiling coordinated with inside cabinetry to add greater height to the area beneath it. There is enough space within the compactness and a well-established indoor-outdoor relationship. The quietness, warmth, and magnificent views make Kowhai House Dunedin stand out.
The three-bedroom, double-height home's shape was kept simple to aid in increasing thermal efficiency. The smart design maximizes the little footprint. The geography of the location, as well as access to it, were both difficult. Construction on the steep hillside required the use of piles, and prefabricated structural insulated paneling (SIP) helped to cut down time on-premises.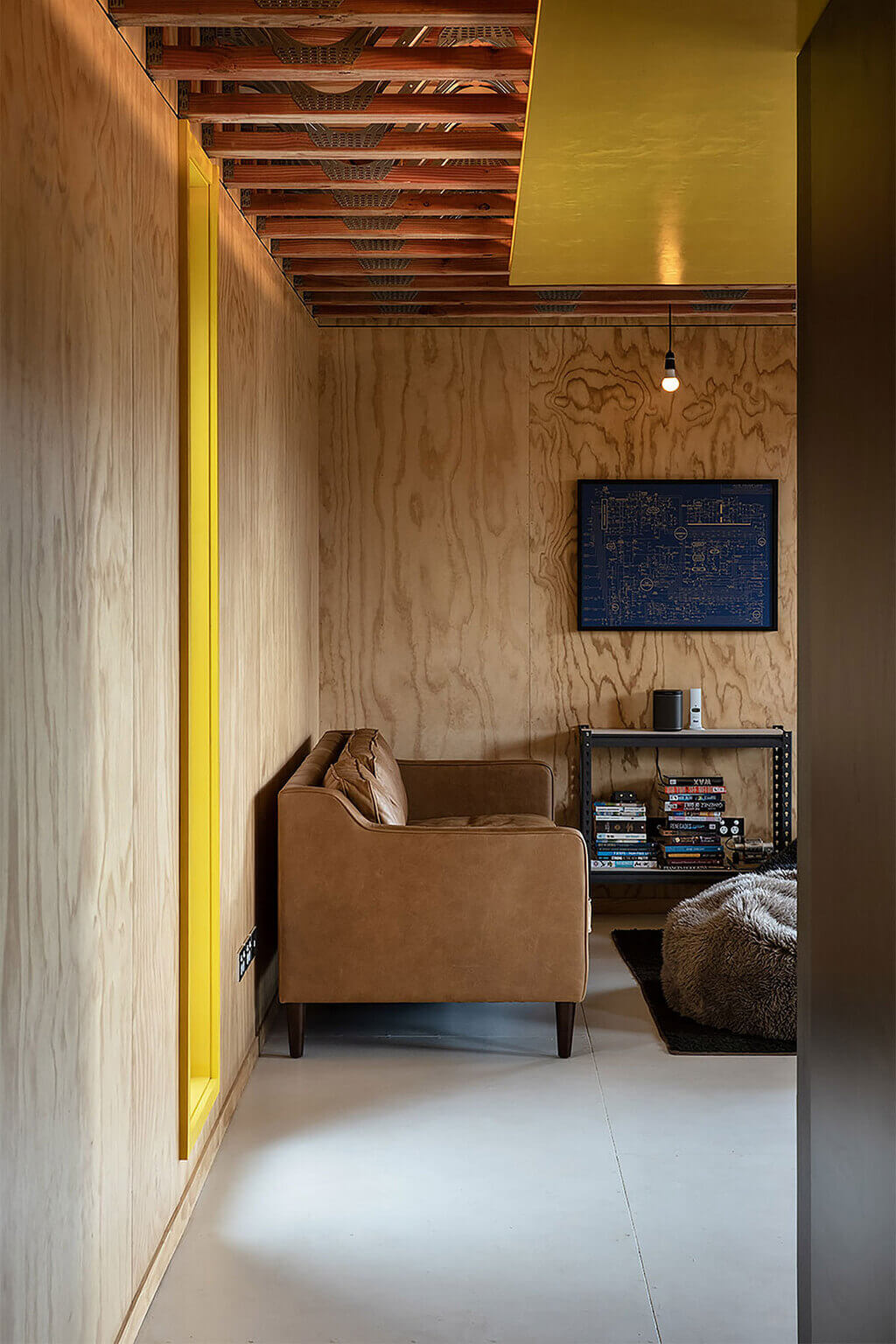 Rafe Maclean, a Dunedin-based architect, had earlier developed Passive Houses for others, but this was his personal home. Since several members of the family suffer from the disease of asthma, a pleasant, clean, and healthy living environment was the main priority in design. The home is a fascinating exercise in self-experimentation- a small box of built-in bliss.
A challenging steep site is converted into a modest yet efficient layout and cost-effective architecture to provide joy and pleasure for the owner's family. The design features robust cladding with metal, clever fabrication of everyday materials into appealing utilitarian parts, and a bright color driven by the local Kowhai tree. The Passivhaus concept's integrity and efficiency include an extremely insulated building envelope and a smartly disguised ventilation system.
Kowhai House by Rafe Maclean Architects focused on creating aesthetically designed building solutions via the creative use of unusual materials. The architect's work and concepts are lighthearted and easily readable, with sensuous, long-lasting, and well-crafted craftsmanship. Rafe Maclean Architects specializes in modest commercial and residential projects.
A steep contour site dropping around 50 m from the top needs a smart and bold approach in designing. One of the major site challenges along with the unevenness of land was the 5m wide municipal council's wastewater line running through the sole level section with flat land.
Kowhai House New Zealand makes the best of the challenges and opportunities present on-site. The team of architects recognized a set of possibilities where others only saw drawbacks. The land was facing northeast, it was close to the kids' high school, and an experience of more than 20 years as a practicing architect had equipped him to manage the site's issues.
The simplicity of design offers lesser exterior surface area by which the heat may exit as compared to a more complicated design with many edges. The house is tiny, with 70 sq m on both of the two stories (including walls), yet large enough to offer each family member his comfort and private zone.
The zincalume corrugate on the facade stands out against the greenery, while yellowish accents added in both interiors and exteriors pay homage to the Kowhai that blooms outside the living room in the springtime. The internal finishes are warm and comforting, with a pastel-painted floor and liberal usage of pine plywood.
The use of prefabricated structural insulated panels/ SIPS offered adequate insulation and allowed constructors Stevenson & Williams to spend less time on the job site. A tiny utility room houses the mechanical heating and ventilation unit, which delivers fresh, pre-warmed air.
The Kowhai House by Rafe Maclean Architects is planned in such a way that on a cold day, the household needs a heater with a power rating of little under 1kW. They have installed two-panel heaters, one upstairs and one below, to keep the house warm. The yearly heating consumption per square meter is 15.4kWh.
The efficiency of passive homes may be properly simulated before construction using linked spreadsheets that are based on climatic data for each region. The site location normally requires greater sunshade and insulation. While the passive dwelling concept is generally optional, an increasing number of cities and municipalities are making it a requirement for all new construction.
"I think eventually all new buildings will have to be a passive house or something similar but it's just a matter of time and education. It's pretty exciting but very glacial in take-up speed," Rafe mentioned. Because the buildings use much less energy, it is one way to achieve climate change targets, he added.
The passive house norms, introduced in Germany and applicable to various types of structures, not just houses, result in residences that consume roughly 90% lower heating energy than other existing buildings and 75% lesser than typical new construction. Kowhai House by Rafe Maclean Architects is not only designed to achieve energy efficiency levels but also to offer pleasant and quiet interior spaces with enhanced air quality.
Although not everyone constructing a sustainable home will seek full passive house accreditation, which necessitates third-party inspections, consulting a passive house expert, employing some of the approaches, and conducting internet studies can make their homes far more environmentally sustainable and energy-efficient.
"We've got to step out of the 'build cheap, sell, build cheap again' mentality because it's very hard to change the buildings' construction once they're built and the next generation is inheriting those buildings. There is an extra cost to building a passive house but long term, it's an investment. It's good for your health, good for your energy bills, and good for the next generation," stated the architect.
Draughts are eliminated, and heating demand is reduced, owing to the very airtight building shell. Tightly sealed construction, which includes the seals around door and window openings, prohibits air from passing through the structure of the building. It minimizes heat gain in warm summers and reduces heat escape on cold days by reducing air (both warm and cold) moving through the building structure.
Thermal bridges – where heat overpasses or travels across structure – were found and planned out by thorough detailing of infrastructure connections and pre-construction computer simulation. It was crucial to strike the perfect mix between allowing solar heat in but not that much, while still preserving vistas and natural sunlight.
The day spaces are placed on the lower level and are designed as open-plan room layout with a relatively high height due to the choice to remove the false ceilings in a larger portion of the floor, showing the steel and wood framework of the flooring, which have become an aesthetic aspect of the area.
Just one stretch along the facade has a yellowish false ceiling, which conceals the house's major equipment. Its hue, which can also be found in the indoor and outdoor carpentry, is a homage to the surrounding environment, resembling the color of the blossom of the nearby local tree that lends the home its identity.
Kowhai House by Rafe Maclean Architects follows thoughtful planning to tackle the existing obstacles on site. The architect took into consideration the neighborhood context, natural elements, and sustainability measures while designing the most comfortable dwelling unit.
A house design for members with respiratory issues calls for a careful approach. The efficient ventilation systems installed in this house cater to those demands and make the environment healthier and pleasant for all the family members.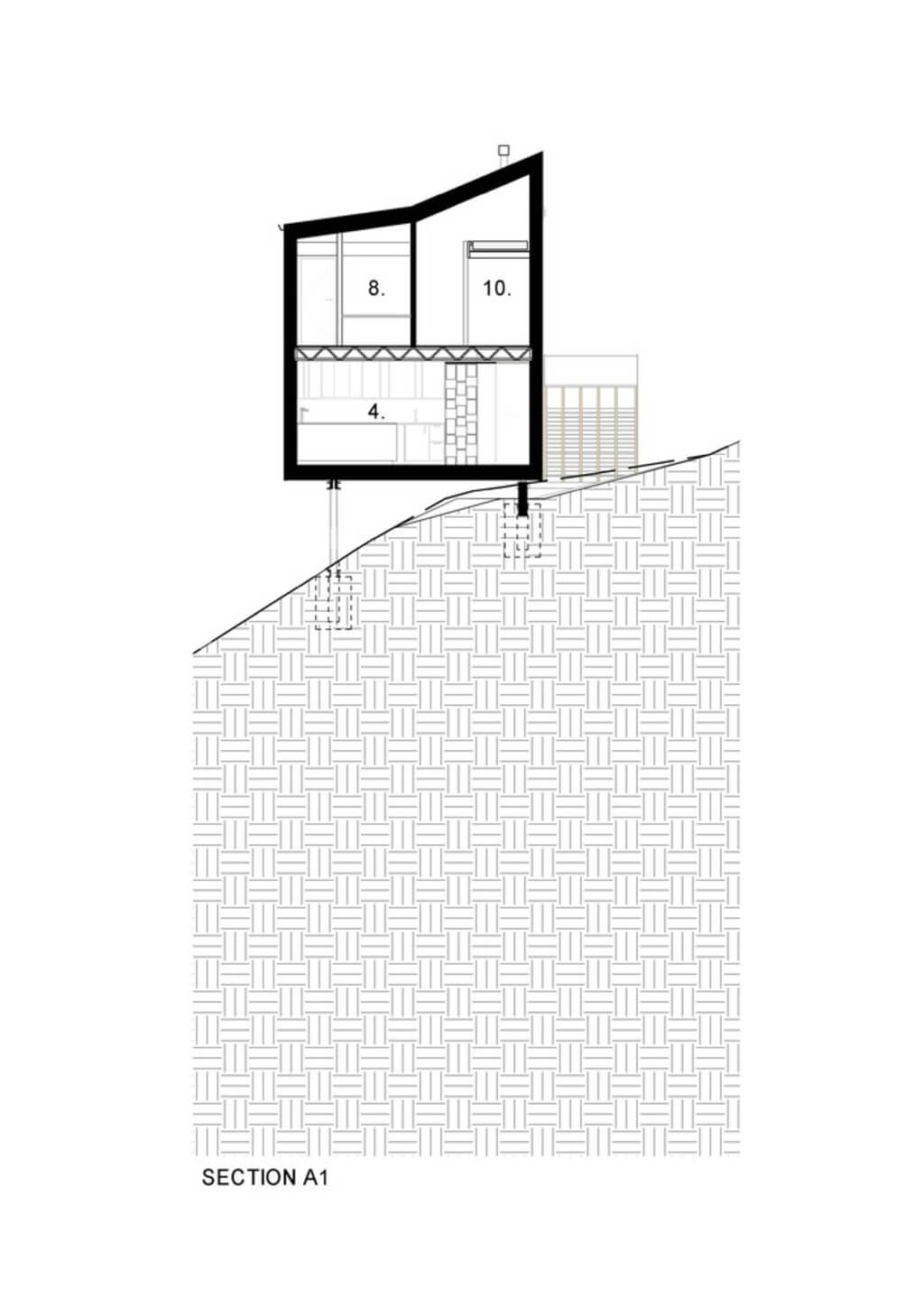 Conclusion
Kowhai House is an inspiration and a step towards sustainability in the daily living offering utmost aesthetics and comfort for users.
For more blogs like this, read our previous posts like Famous Towers in the World, Glass House Architecture, Pole Barn House, and more.
Search Out More