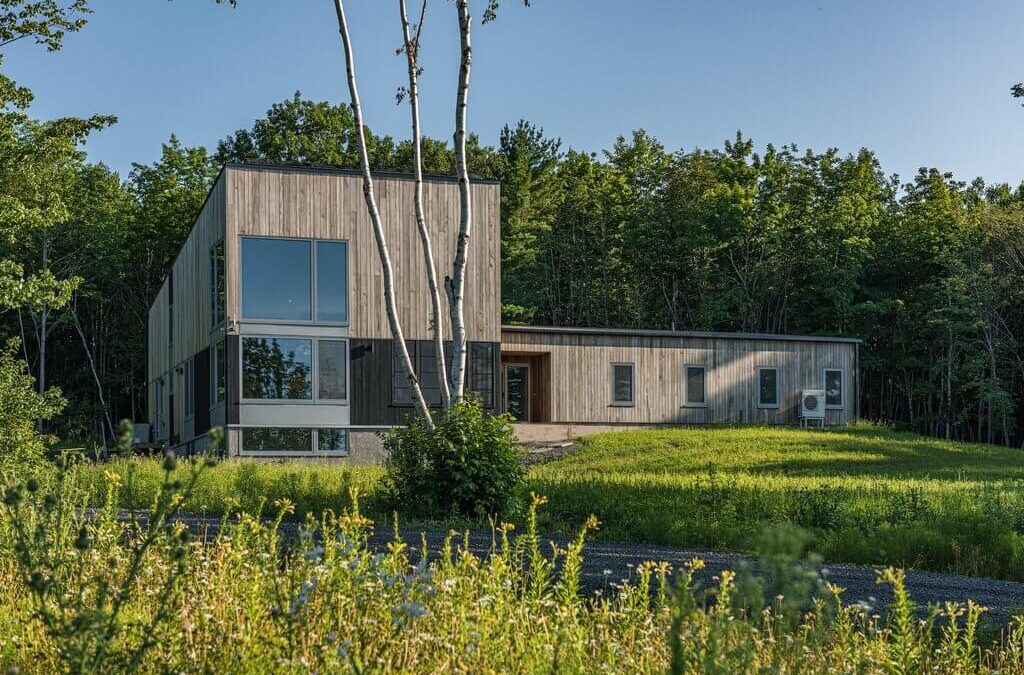 Project Specifications
Project Name: Two Rocks House
Project Location: Gaspereau Valley, Nova Scotia, Canada
Firm Name: Habit Studio
Project Type: New Passive House Construction
Project Year: 2021
Project Area: 4571 sq. ft
Building levels: 3
Builder: Bentley Built Homes
Design Team:
Lead Designer: Judyann Obersi
Passive House Design: Lorrie Rand
BIM: Isabelle Gosselin
Structural Engineer: Sandy Dewar
Key Products Used:
Windows and Doors: Vetta
Charred Cedar: Blackwood Siding
Millwork: Decoste Kitchens
Metals: G Venoit Metal
Solar Panels: Solar Ascent
Photography: Chris Dickson
Located amidst a lush green meadow at the edge of a forest, lies the two rock house habit studio. This Net-Zero Passive House overlooks the Gaspereau Valley of Nova Scotia and the Minas Basin beyond. The home is designed with a sustainable and aesthetic approach reflecting beauty along with sustainability. 
The technical objectives followed were indoor air quality, extreme comfort, energy efficiency, and the use of natural, durable, and eco-friendly materials. Aesthetically, the aim was to design a unique, modern home that gives warm, cosy, and comfortable vibes and is rooted in the land.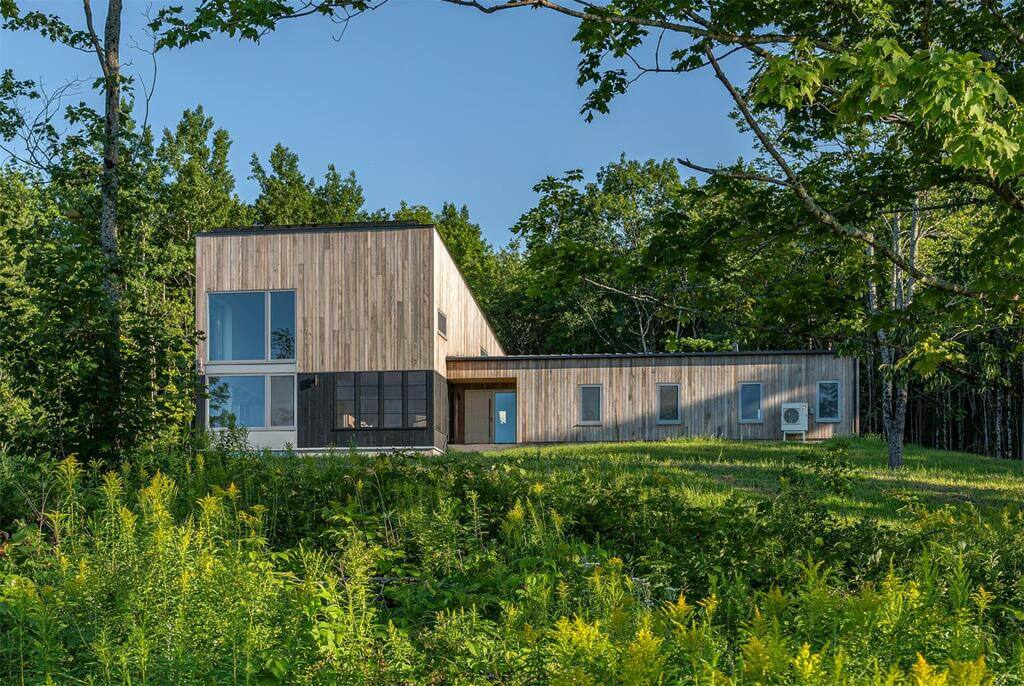 Source: gavindesign.com
The Habit Studio was founded in 2016 by Judyann Obersi and Lorrie Rand. Habit studio is a studio working on residential projects, specializing in customized passive homes and sustainable house renovation projects across Atlantic Canada. 
The designers here aim to achieve spaces that embody a sense of timelessness. They design spaces paying careful attention to the amount of light, material palette, and borrowing views. This helps stimulate the senses overall. They are committed to sustainable design practices. They consider it their responsibility to design houses that contribute to the health and well-being of homeowners.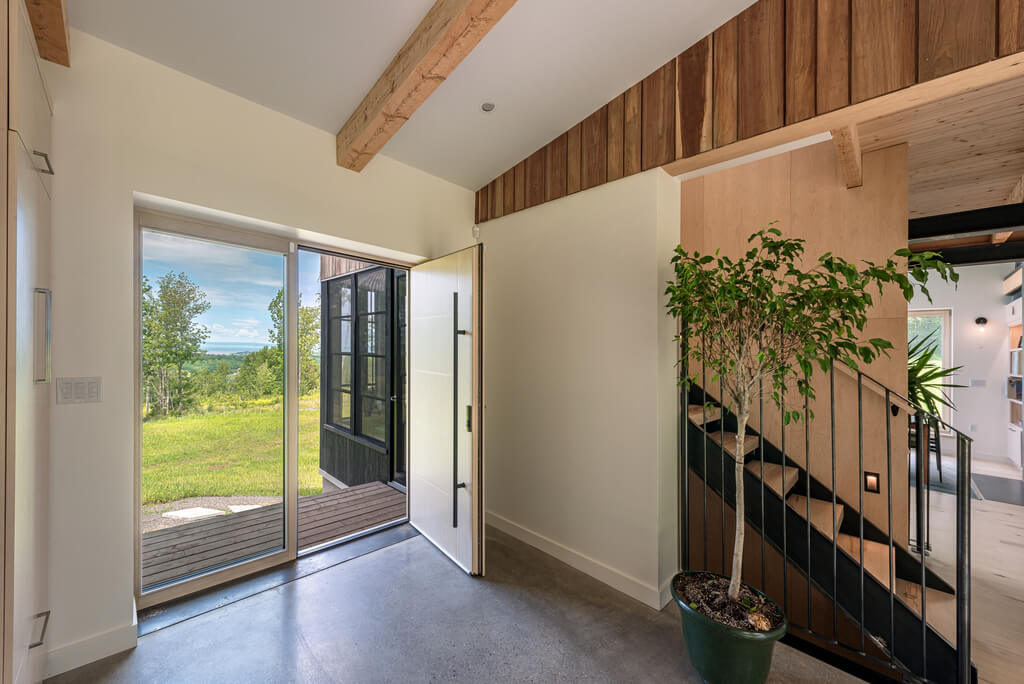 Source: adsttc.com
Their vision is to leave the world a better place, with homes that are sustainable, meaningful, transformational, and exceptional.
The clients are a doctor and food writer and their two lovely kids. They were mesmerized by the fertility and tranquillity of the property. They are planning to develop the land as a small-scale farm having fruit orchards, exclusive vegetables, and herb garden.
Planning of Two Rocks House Wolfville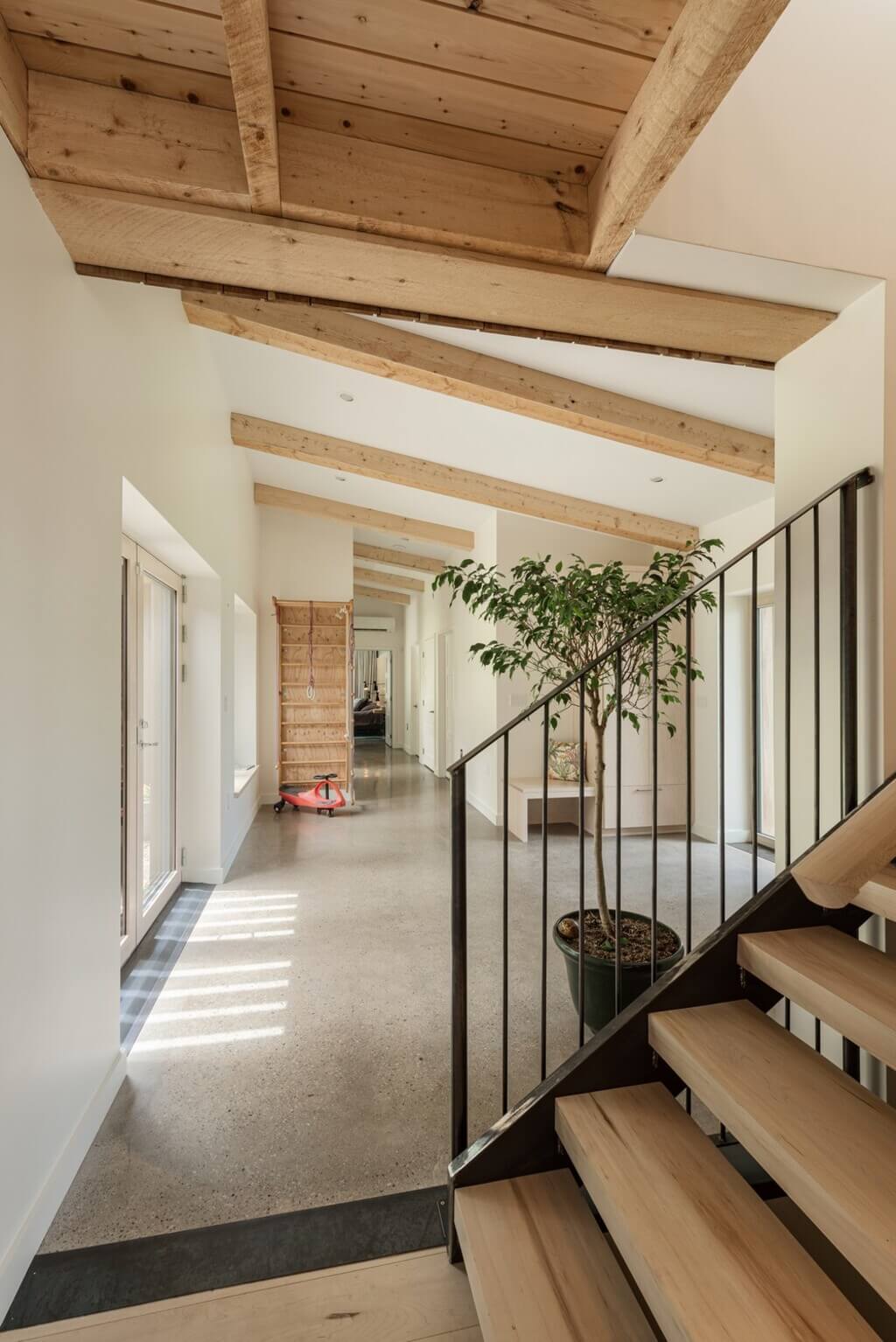 Source: e-architect.com
Allured by the soothing and restfulness vibe of the property, the homeowners desired an open concept living space that would offer an extensive view of the valley. The cosy and intimate bedrooms are oriented to overlook the acres of private wooded forest.
The home is organized in two distinct wings: public spaces opening to a big valley and private zones focusing on the woods. Thus it allows the occupants the flexibility to enjoy both connection and privacy without compromising each other.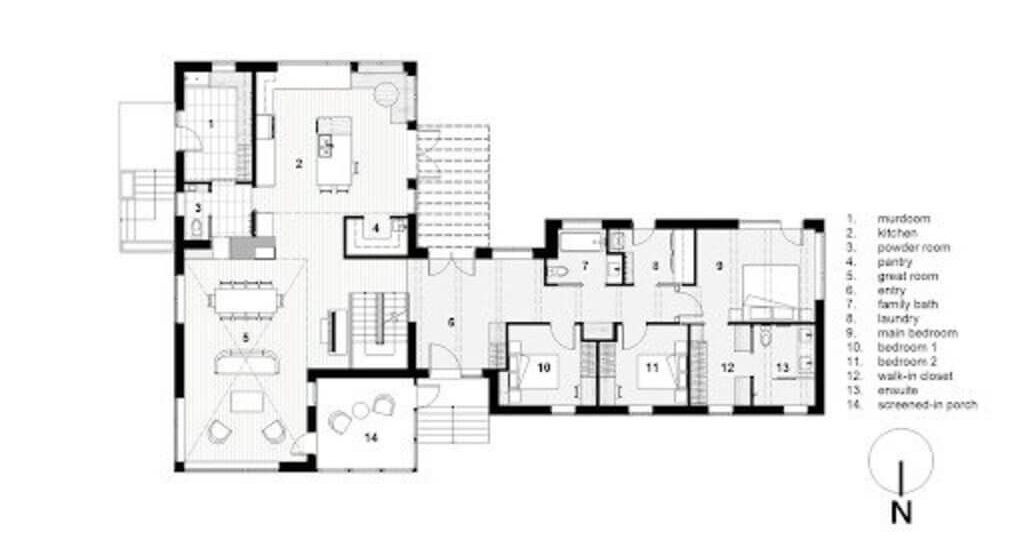 Source: googleusercontent.com
The main entrance to the Two Rocks House Habit Studio lies at the intersection of these two zones. The principal bedroom and ensuite, child bedrooms, family bath, and laundry form the private zone.
The kitchen is spacious and functional supported by storage units. There is a comfortable recreation room that is utilized for family movie nights, and a fully equipped bar to host the odd poker game.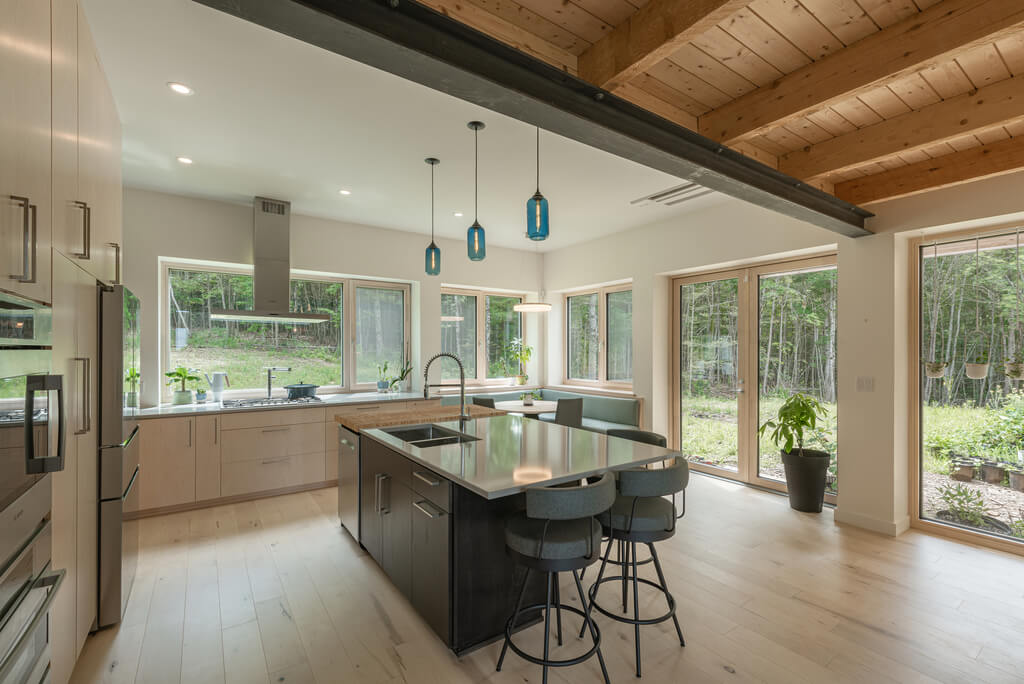 Source: adsttc.com
The public space in this Two Rocks House Wolfville is massive, consisting of a double-height great room that is overlooked by a loft area comprising an office, library, and yoga area. Along with the living room, the ground floor also consists of a sunny kitchen with an extensive pantry and a built-in breakfast nook, a west-facing three-seasons screen room for enjoying sunset views, and a mudroom with a doggy bath area and an adjacent half bath.
The lower level houses a guest bedroom and bath, a rec room with a bar, a games room, and cold storage for homegrown products. This home is the epitome of design for both relaxation and play.
Sustainable Features Used in Two Rocks House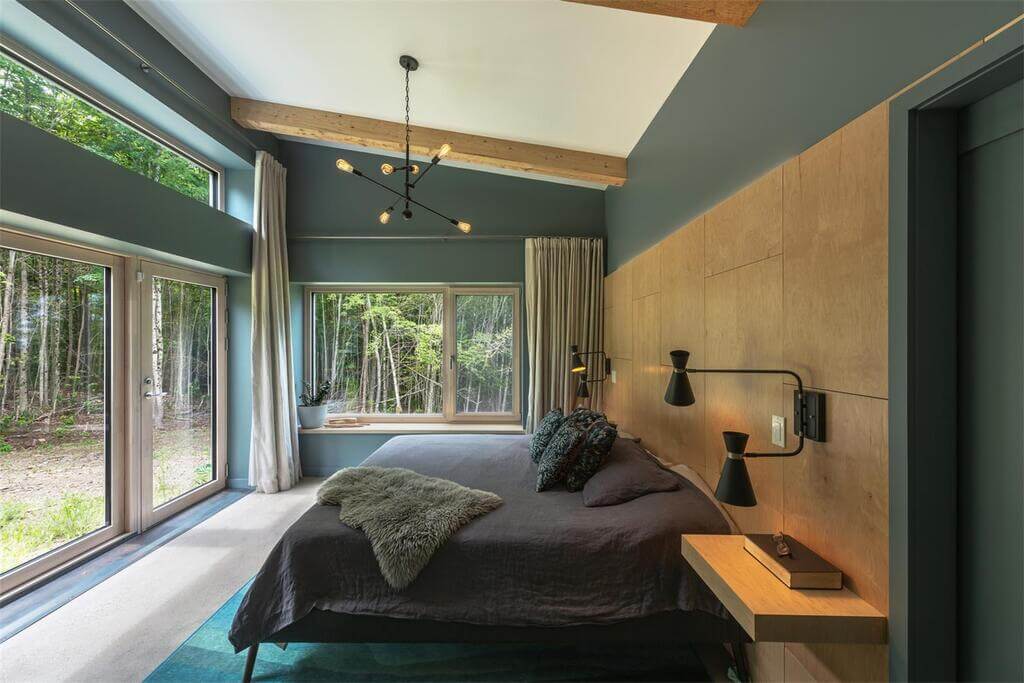 Source: gavindesign.com
The Two Rocks House Canada being a net-zero passive house has exceptionally well insulated and airtight wallings. The European-made windows are triple pane and aluminium clad wooden windows sourced from Vetta. The insulation R-value is different for distinct elements, such as for floor slabs, it is R-43, walls is R-50, and the roof is R-82. 
The house also encourages the use of solar panels. It possesses a 26kW photovoltaic array covering the south-facing half of the roof.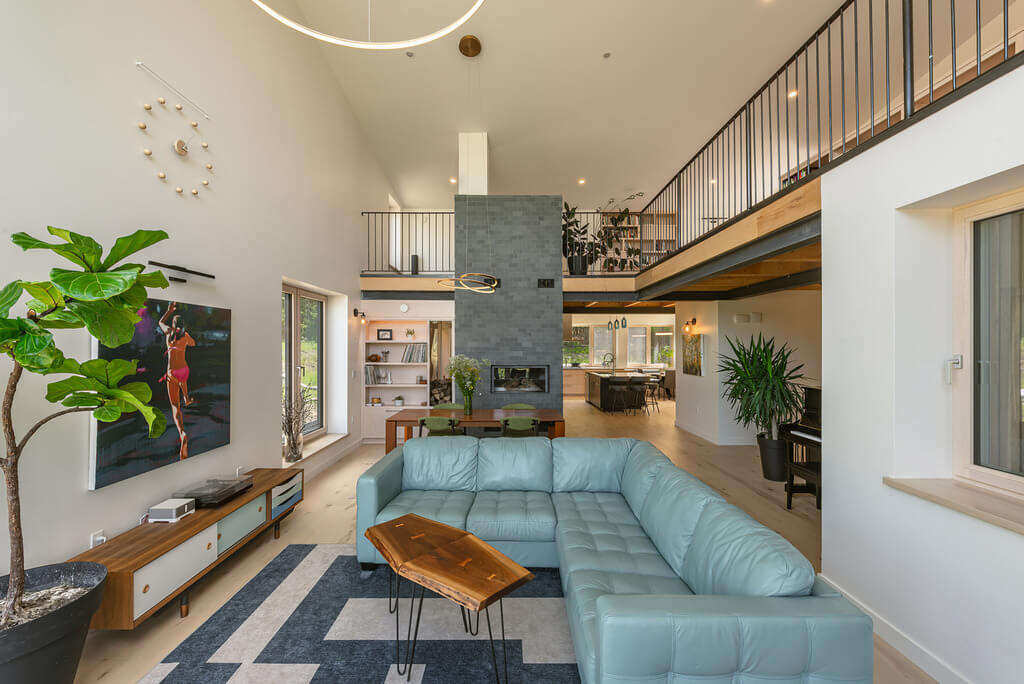 Source: adsttc.com
The exterior material palette was designed to act as a textural compliment to the varied tones and textures of the surrounding meadows. The external walls are clad in locally mined pine planks along with charred cedar accents giving it a warm and protective vibe. The roof is built up from a durable and standing seam metal that can withstand the intense weather of Nova Scotia.
The interior material palette consists of low-maintenance natural finishes. A tactile material palette is chosen for this house to stimulate the senses. Biophilic design features are used to enhance its connection with mother nature. Every part of the house enjoys ample amounts of natural light, indoor-outdoor seamless connection, and flawless connection to nature.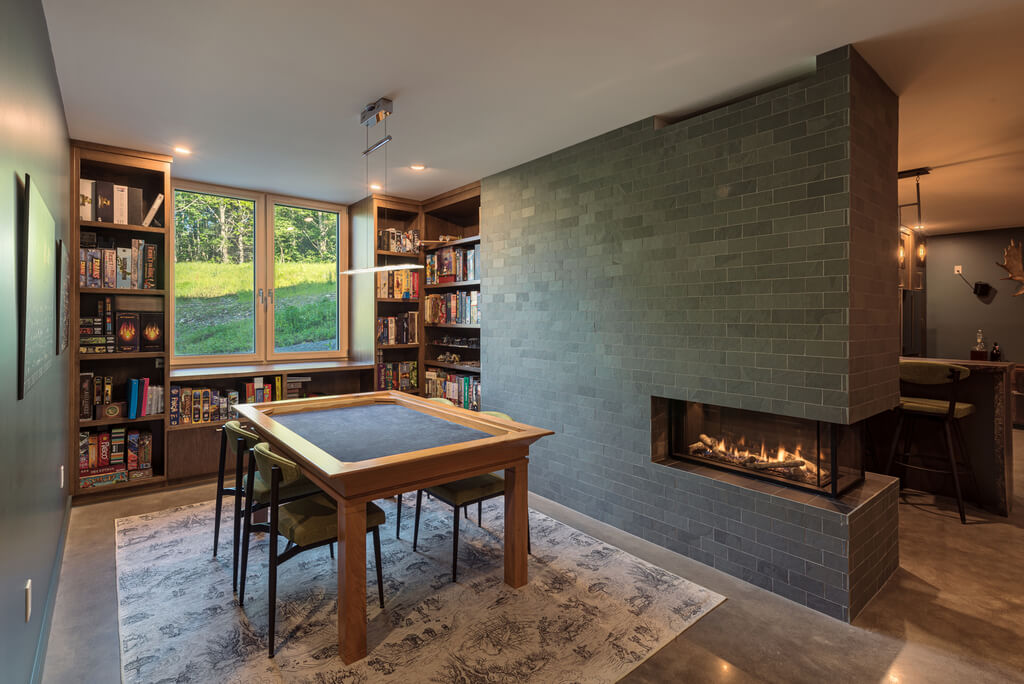 Source: adsttc.com
Materials that form a patina, such as polished concrete, wood cladding and floors, and raw steel, create a space that experiences textural shifts, similar to the surrounding meadow it rests within.
The flooring is created from polished concrete and plain whitewashed maple. The stair also has a maple finish and the stair walls are lined with maple veneer. The exposed loft structure is supported by raw steel beams and the railings of the loft are also made from steel.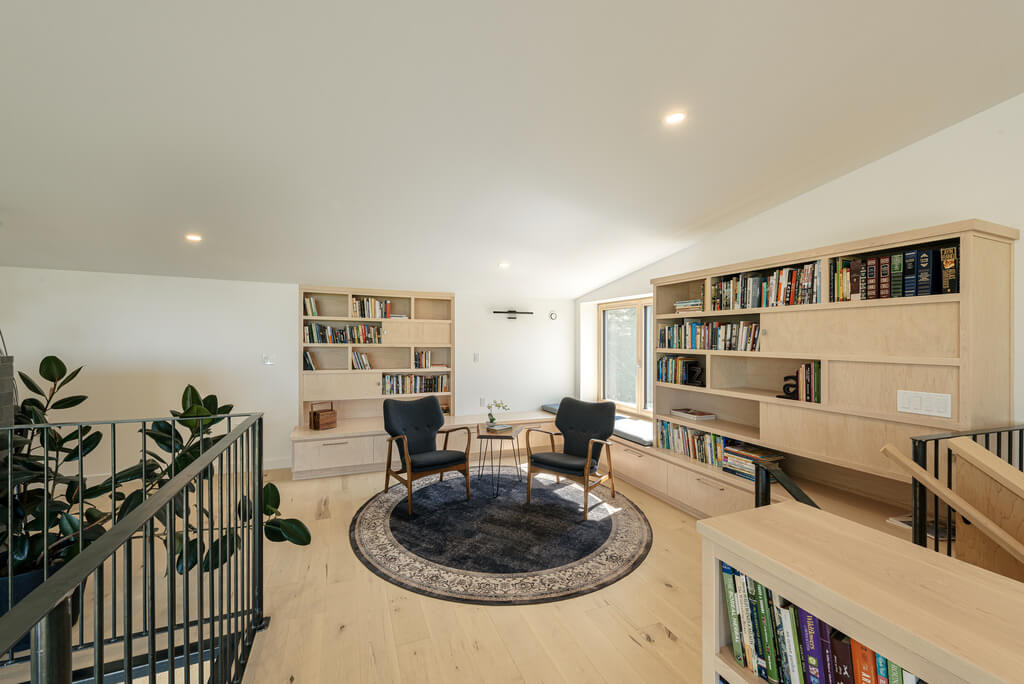 Source: dingyue.ws.126.net
The walls of the main living area are white, as the true colour in this house is provided by the oversized windows allowing the lush exterior landscape indoors. The hexagonal tile pattern for flooring and richly speckled aggregate simulate natural patterns.
The interior palette is cohesive, yet subtle differences reinforce a sense of restful and quiet vibe in the bedrooms and a playful and energizing vibe in the living spaces.
Also Read: Pink House by 23o5Studio: Interaction with Nature and People
The Two rocks house habit studio has large areas of south glazing and minimal north glazed spaces, however, the owners desired to showcase the stunning north view of Cape Blomidon. Moreover, the property comprises acres of forest, and thus the homeowners asked for a wooden fireplace to burn site sourced fuel.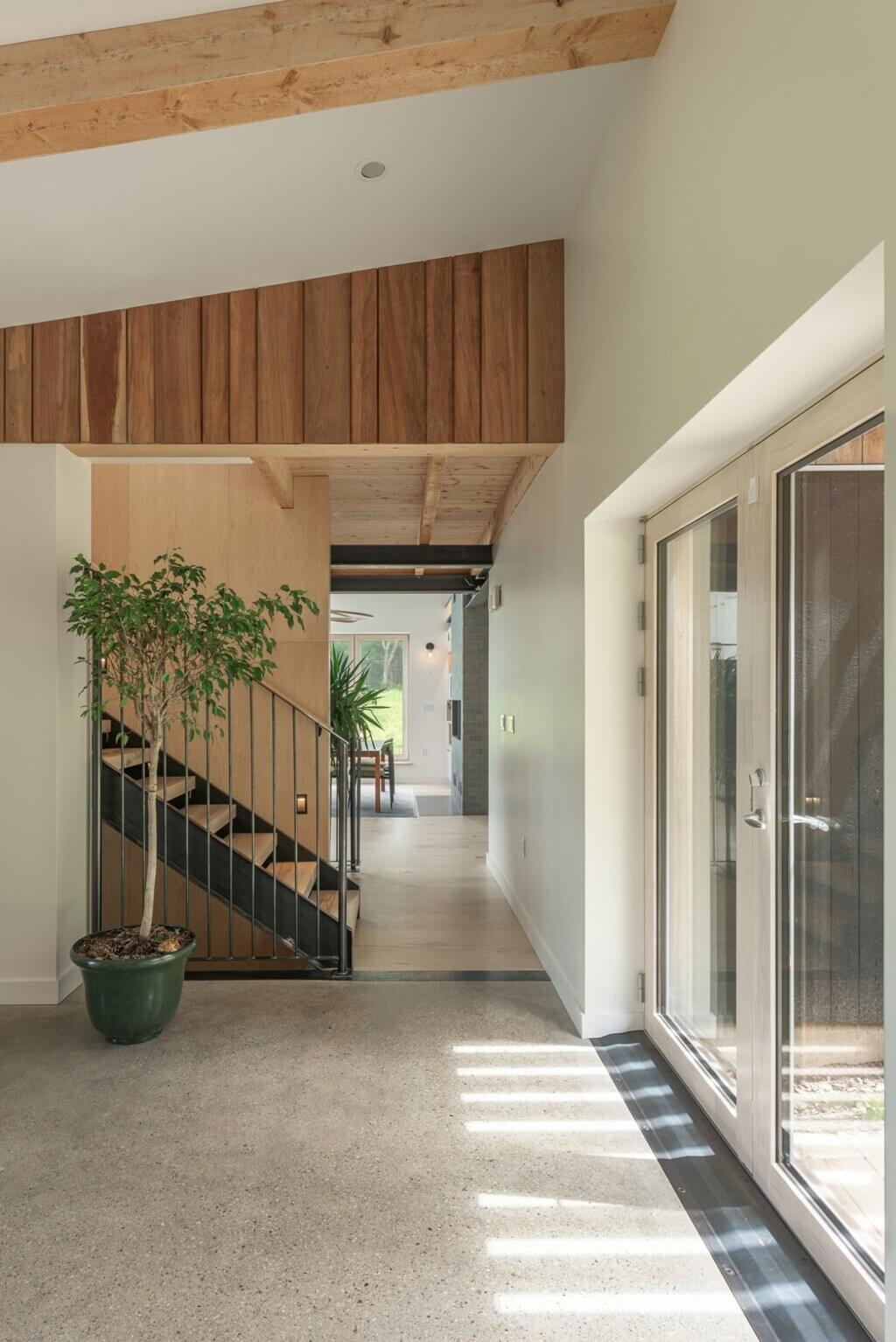 Source: e-architect.com
However, it was not ideal to have a wood fireplace in a Passive House due to its high level of insulation and airtightness as it will get too hot indoors.
With the help of energy modeling, design optimization showed that with European Passive House windows, the desired window openings would work well with minimal compromise to the performance target. Now, the striking north view would cost them $28 per year but it was well worth it. 
Locating the fireplace near the bigger windows would ensure the limited impacts of overheating.
Sometimes they may get too hot but the fire and the windows would cancel each other out effectively. Moreover, a low output model fireplace with a dedicated air intake was selected.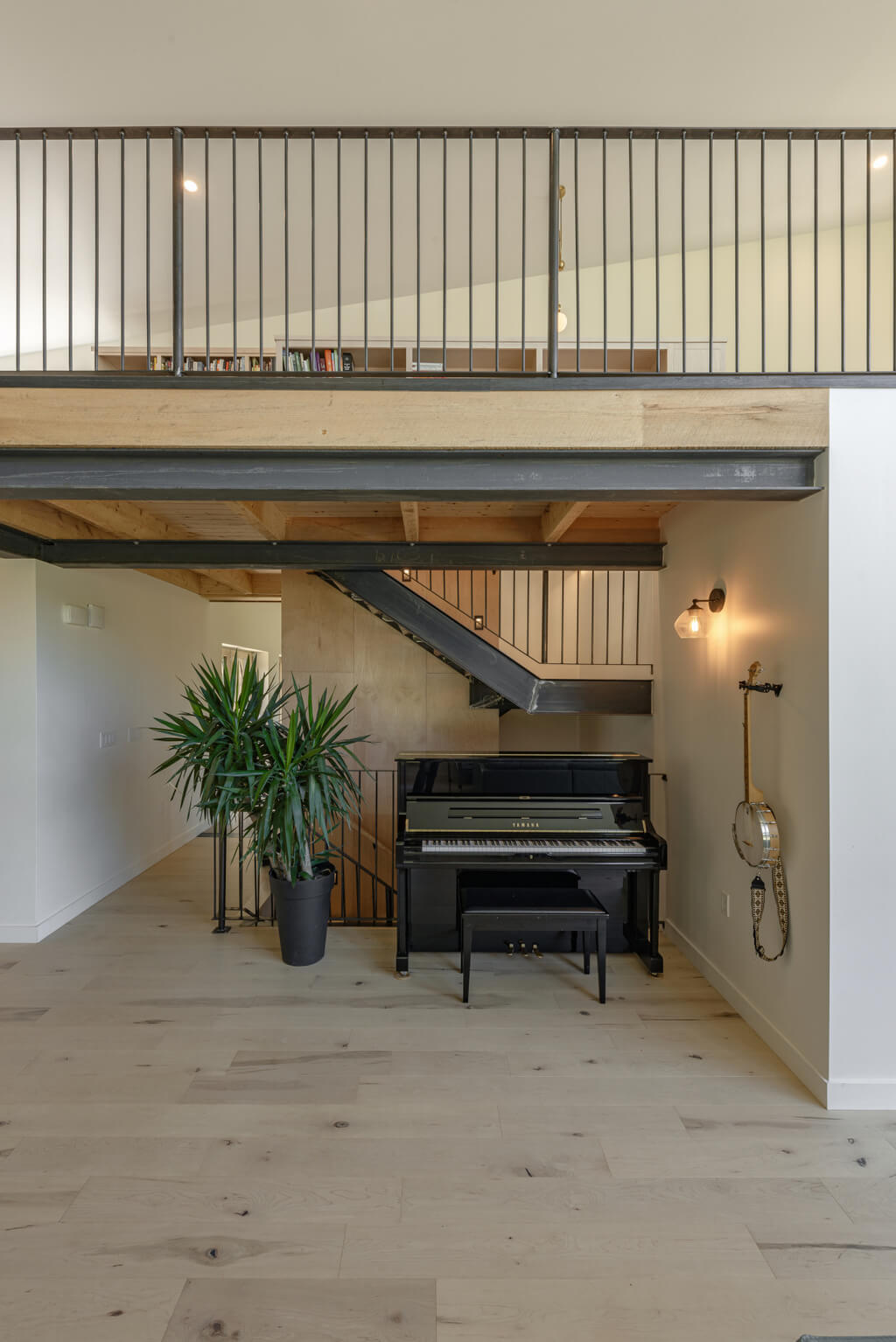 Source: byteimg.com
The Two Rocks House by Habit Studio is a very good example of a net-zero passive house. It has incorporated various sustainable features to achieve an environment-friendly design. Along with sustainability, it has also focused on the comfort and aesthetic elements thus ensuring a calm and relaxing vibe throughout the house. Two rocks house habit studio is the best house to see.
For more information about the latest architectural development, keep coming to Architecturesstyle.
Also, do follow us on our Instagram page, Architecturesstyleideas, to get daily updates.
Related posts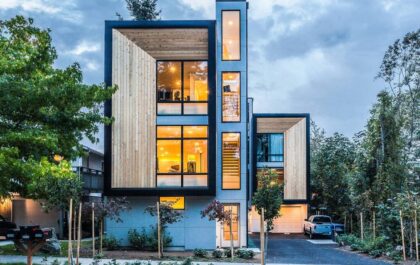 27+ Stylish & Modern Townhouse Designs for Urban Living.
The townhouse's first impression is normally too small, too compact, too narrower, and the list is endless. Well, let us…