'Land' has been a pricey commodity in recent years. Many people who desire to spend less on land may look at other possibilities such as portable houses or modular buildings. Also, the millennial generation believes in an open lifestyle, preferring to travel rather than being confined to one geographical location. Technological advancements such as the internet and virtual reality will enable us to do so. This will drastically change the way we look at housing and real estate in general.
We have listed down 15 Portable houses that will let you live a vagabond lifestyle.
15+ Portable Homes That Are Making Way for a Dynamic Future:
1. Coodo:
Source: byteimg.com
It is every traveller's dream to own a house cum truck that has water and electricity connections. You drive it to a new location and then settle in for a few months before driving the truck to the next location.
Coodo houses are vacation homes that represent a new way of life that might become a norm in the future. The mobile dwelling offers a novel viewpoint and depth on how we work and live. Coodo's architects are tapping on the recent development in slow tourism.
2. LoftCube:
Source: skalice.ru
The LoftCube is designed to explore the possibilities of abandoned spaces. This modular home company has a variety of solutions for a diverse clientele that may be utilized in nearly any place. For instance, if a high-rise structure has an empty void or an underutilized flat roof, LoftCube offers a module that fits perfectly.
These tiny homes have a very low carbon footprint, making them an enticing alternative for ecologically conscious tenants and homeowners. The expenses begin at $74,000 and are a simple alternative for anyone who wants to own a self-sustaining home.
3. Pod Vending Machine:
Source: dezeen.com
Japan is known for its high living costs, with Tokyo being one of the most expensive places in the world to live. The Pod Skyscraper is an attempt to meet Tokyo's housing demand. Residents may acquire a prefabricated modular house on the top level of the skyscraper. These are 3D-printed houses that may be placed in designated positions by using cranes.
The developers are trying to create new housing as a service model for the future. This massive frame building was built to resemble vending machines and is home to several modules with minimal amenities for both residential and retail purposes.
4. Container Like Home by Cannatà & Fernandes
Source: humble-homes.com
Cannatà and Fernandes designed these container-inspired prefabricated modular homes, which measure 3x3x9 m and can be easily transferred by vehicle to the desired location. The interior features a living area, bathroom, kitchen, and even a collapsible bed.
The overall colour palette and materiality and feel of the container have a vintage sense to it. An opening at the end of the container lets in natural light.
5. UFO:
Source: cnn.com
Why should we be confined to land? The Unidentified Floating Device is a house designed to float on water and move around using a tiny motor affixed to the vehicle. UFO has an underwater master suite with stunning vistas of marine life. The structure is powered by wind turbines and solar panels. People who want to have a self-sufficient and electric travel lifestyle by the sea at their leisure should consider getting their hands on one of these UFOs.
6. Apple Self-Driving Homes:
Source: inhabitat.com
Techgiant, Apple has unveiled a design for an electric, self-driving small home. The iHouse will have a 350-mile range and new assets such as patents that convert the automobile into a portable house equipped with a bed, kitchen, shower room, and even a gas stove. All of these can be controlled by Apple's built-in voice control.
If the idea is successful, we will no longer have to worry about where to park our trailers or travel long distances to our permanent homes. You may now contact your home and have them drive you somewhere to your desired location.
7. BaleHouse:
Source: pinimg.com
BaleHouse is the ideal combination of sustainability and technology. ModCell, a company that specialized in prefab housing, designed this house. The straw bale walls of this house are mould resistant, warm, and robust.
Straw and wood are used in the design to build sturdy prefab wall panels with good thermal insulating characteristics. Furthermore, building waste is delivered to farms and utilized as fodder.
8. The Blob:
Source: pinimg.com
DMVA Architects created this whimsical sculptural house that resembles an abnormal extraterrestrial egg. The company wanted to design a transportable dwelling unit that could be built anywhere without the hassle of acquiring a building permit.
This office for Xfactoragencies is equipped with a bed, storage shelves, a kitchen, a shower, and a porch. It may be used for a variety of purposes, including a garden house or an office suite space.
9. Casa Invisibile:
Source: cloudinary.com
Casa Invisibile is a prefabricated wood home that may be installed completely anywhere. The adaptable house may be built at the factory and transported to the chosen place. However, its capabilities do not end there. The users may select the texture of the facade as per their taste.
The most unique facade option is the reflective design which is insulated on the inside. The rustic wood interiors include a hearth and a transparent wall that allows residents to enjoy the landscape. The key aspects of its design concept are optimum mobility and spatial quality.
10. Freedomky:
Source: newatlas.com
Freedomky is an adaptable and versatile modular house with several tailor-made applications. The contemporary rectangular design has a wooden facade highlighted by a sliding glass door. Plug-in modules can be connected and merged as required.
A sustainable home can be assembled in a few months and expanded with additional modules. These modules come in a variety of sizes and with an option for customizable furnishings.
11. APH80:
Source: behance.net
ABATON designed the APH80 series as a two-person house that is easily transportable by road and can be installed in practically any place. The dimensions are the product of extensive research to ensure that the different sections are distinguishable and that the impression within is that of a permanent house.
It is a basic yet substantial design constructed of materials such as grey cement wood board to give both luxury and symmetry. The wood is sourced from regulated forests.
12. X-Float:
Source: pinimg.com
The River Kwai's boat homes are even more alluring thanks to X-Float, a whole new model with a luxurious aesthetic. The one-of-a-kind accommodation was built as an expansion to the Project X2 River Kwai Resort. These units were manufactured elsewhere and only transported in for assembly after they were completed.
Visitors staying in this accommodation should not experience motion sickness due to the proper balance of the load and water. This is the key concept that keeps X-Float afloat.
13. Toybox Tiny Home:
Source: wixstatic.com
The 140-sq.ft Toybox tiny home has a tri-cube structural design that is complemented by quirky external finishes. There are three practical and adaptable spaces within the cubes, including a spacious seating space, kitchen, sleeping loft, and bathroom.
The ceiling is protected by aN energy-efficient thermoplastic roof plane. Toybox tiny home was developed around the core idea of creating a pleasurable place with a sustainable material palette.
14. Moonriver:
Source: cinemaitaliano.info
Moonriver is a magnificent and eco-friendly house on wheels. The house is ideal for residing in a scenic region of your choice. It features three skylights through which you can watch starry nights and a sleek glass door. Moonriver is one of a series of luxurious dwellings that received a Compasso d'Oro Award for industrial design.
According to strict environmental compatibility standards for recycling, reusing, and reversibility, the projects have been approved as Class A ClimateHouses.
15. Fincube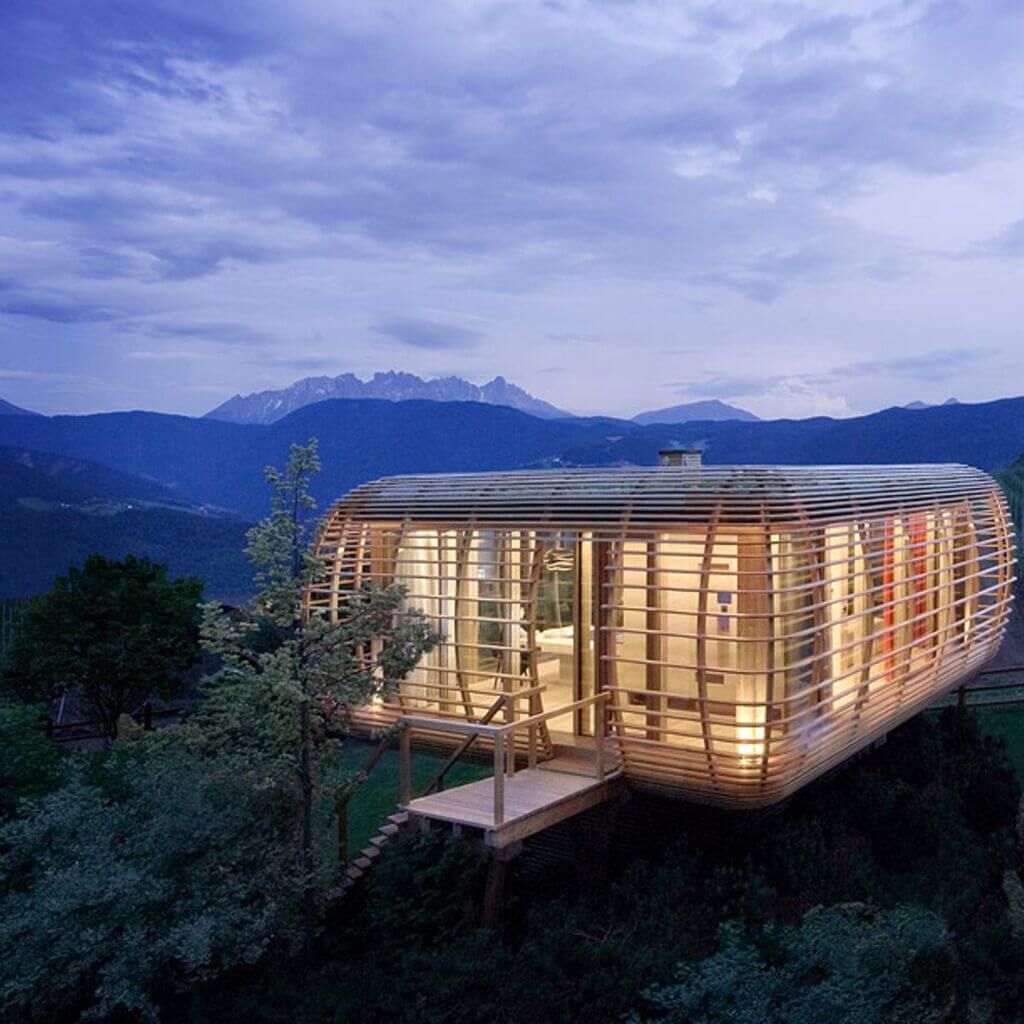 Source: geo.de
Fincube is a unique modular, eco-friendly, and portable housing design. The low-energy housing is enveloped by thin horizontal ledges sourced from local forests. Fincube has a minimal built area of 47 square feet and a bulging form that adds to its spaciousness. The interior is made of a mix of pine wood, with the supporting structure made of larch.
Are You Ready to Discover the Endless Possibilities of Mobile Living?
Source: arch2o.com
The demand for portable houses has lately risen to address issues such as the high cost of purchasing or renting a house in a city and breaking away from the monotony of everyday life. Designers are exploring beyond prefab homes and caravans. All the modern portable houses are trying to use sustainable principles in their design, making them far more affordable in the long run!
Source: wowowhome.com
Source: trendir.com
Source: trendir.com
Source: wayfarertinyhomes.com
Source: adsttc.com
Source: pinimg.com
Source: inhabitat.com
Source: wowowhome.com
Source: cloudinary.com
Source: 3blmedia.com
Source: eboss.co.nz
Source: squarespace-cdn.com
Also Read: Amazing Futuristic Houses Ideas That Actually Exist On This Planet!
FAQS
1. What Exactly Is a Portable House?
Portable mobile homes are one that is intended to be moved and installed, instead of being permanently built.
2. How Much Do Movable Dwellings Cost?
The cost of Portable houses starts at approximately $10,000 without any extra amenities. But when you include all of the required features of any high-end apartment you will probably pay around $50,000.
3. Can You Live in a Tiny Portable House Permanently?
Portable houses on wheels must be built with longevity and durability. While prefab moveable houses use materials that meet international building codes.
4. How Does the Plumbing System Work in a Portable House?
Plumbing in a mobile house runs beneath the floor. The bottom board, also known as the insulated belly board, is where your pipes are installed.
For more information about the latest architectural development, keep coming to Architecturesstyle.
Also, do follow us on our Instagram page, Architecturesstyleideas, to get daily updates.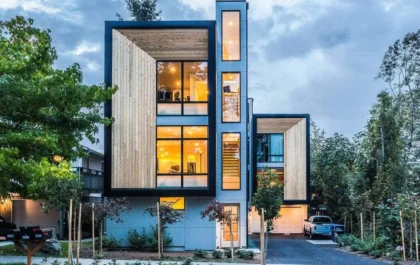 27+ Stylish & Modern Townhouse Designs for Urban Living.
The townhouse's first impression is normally too small, too compact, too narrower, and the list is endless. Well, let us…