Do you want to change the look of your house's exterior?

One of the best and easiest ways is to Paint!

However, picking the right shade of paint is not as easy as we think! Whether to go with a neutral color scheme or try bright and bold colors, the process is quite challenging!

We're here to ease this trouble!

Today we've come up with some of the best modern grey house exterior color schemes.

Grey is such a sophisticated and versatile color option. You may have seen that grey has been used widely in so many different ways from the past few years. From grey walls and ceilings to interior decors and furnishings, gray is one of the famous options for people.

And now, grey has taken over the exteriors! So if you're planning to transform the overall look of your property, consider this paint idea!

Grey is a classic and timeless color that looks absolutely amazing with colors and shades. So if you're still in confusion, don't think much and choose grey! That's because you'll never go wrong with grey exteriors.

Grey is one of the most popular colors of the year, so utilize this opportunity to transform the overall curb appeal of your home and maximize its resale value.

The best thing about this color is that it works with almost every house style, design, and architecture. So, whether you live in a craftsman cottage or reside in a rustic farmhouse or modern hillside villa, you can paint your exteriors grey without worrying much!
Grey House Exterior Color: Tones & Shades
If you think there are not so many options in grey color. You're wrong! There are a ton of options available in grey color including shades and undertones.
You can categorize the grey into three basic categories:
Dark Grey

Medium Grey

Light Grey
You can take these three as a basic reference and get the grey color in one of these tones.
Top 7 Popular Gray Paints For Exteriors
Here's the list of the most popular gray color of the year that you can use for your houses' exteriors:
Benjamin Moore: Storm

Sherwin-Williams: Gray Screen

PPG Paints: Slate Pebble

Farrow & Ball: Cornforth White

Benjamin Moore: Stonington Gray (Historical Collection)

Valspar: Gravity

Olympic: Swirling Smoke
30+ Latest & Modern Grey Exterior House Colors of the year
Do you think that grey is just a medium shade that we get by mixing white and black paint? That's not true at all!
Just like black or any other color, grey also has so many undertones and shades. Grey has a wide range from nearly white to almost black! From greige to brownish-gray and there's also charcoal grey, there are various grey paint options available in the market.
All you need to do is to find the right shade of grey that works perfectly for your home exteriors. From bright combinations like Modern grey and red house exteriors and grey and orange to subtle like grey and black, there are many colors that you can use with grey.
Let's start with the list of grey house color schemes:
1. Grey Mountain House
Located in New York, this rustic mountain-style house is something that we all love to live in. Just at first glance at the exteriors, you'll notice two things: dark grey cement fiber siding and white trim.
The traditional design and brilliant choice of the exterior color scheme make this house cozy and inviting as a living place. The siding of the house is done with fiber cement in a way that looks pretty similar to wood. On top of that, the dark grey color makes everything go well together. The white trims on the doors and windows are the highlight of the exteriors.
Apart from this, there is another little detail. Did you notice that another tone is used in the exteriors? Yes, the designer has brought the orange shade through the door, wood beams, and posts. This tone makes the exterior color scheme even more attractive.
2. Two-Tone Scheme Grey Color Scheme
Don't like the monotonous look of the exteriors? Don't worry; you're not alone! Many people don't like to paint their house exteriors in a single paint color. The best solution for this problem is to go with a two-tone color scheme!
Yes, along with the grey color you can add another contrasting color. This will not only break the monochromatic look but also make the outdoors look more striking. Look at the above home, here the owners go with a similar color scheme with charcoal grey and cherry red. Dark charcoal grey gives the house a modern look, while cherry red adds a contrasting effect.
3. Modern Gray House Exterior
Get the modern house outdoors with this grey house exterior color scheme. This is a simple but effective way to make eye-catching exteriors. In this color palette, you have to add a bold pop of color along with the grey. You can go with any color as it will work with most of the grey shades.
Look at the above home as a reference. Here designers have used Benjamin Moore's Kendall Charcoal on the siding and Sherwin Williams' Shoji White on the trim. And for the burst of color, they have used a Benjamin Moore's Wasabi on the front door. The combination of these three colors gives the outdoors a dramatic and creative aesthetic.
4. Gray Siding With Black Shutters
Are you confused about what color combination looks good with grey?
Go with the classic color combination of all time: gray house with black shutters, white trim, and a black front door.
To work this combination, you just have to pick the right shade of grey. We're suggesting going with the light to mid-tone grays as it will make your exteriors look shiny. You have to get the grey siding in a way that it sits exactly between white and black. These three elements stand out on their own but also look great as a whole.
It's best to select the siding in a lighter grey to create a dynamic look as it will become a contrasting element in between the siding and black becomes more prevalent.
5. Gray-on-Gray House Exterior Ideas
I know it sounds really unattractive but just take a look at the pictures above, doesn't the houses look great?
If you don't want something too crazy and contrasting, you can go with a monochromatic color palette. All gray color combinations look really good if you select the right shades of greys.
You'll get a simple and subtle look that's why it looks great on houses with symmetrical designs. So if you love the minimal theme and neutral color theme, you can definitely try this exterior idea and create a tone-on-tone look.
6. Deep River Siding with Revere Pewter Brick and Trim
We're talking about the different facets of gray. As we already told you earlier in this post that apart from its three basic shades (light, medium, and dark).
In the above home, Benjamin Moore's Deep River shade is used. It is one of the popular shades of grey with blue undertones. The intensity of the grey is perfectly complemented by the warmth of the Revere Pewter brick.
7. Transitional Modern Style House Exteriors
Even at the first look, you can understand that this is a mid-century modern house. How? Because of its sloped rooftops!
The house outside is painted in two different but modern shades of grey. This makes this property a great example of the transitional modern style, which blends classic and modern design.
8. Mansion with Blue Gray Siding & Stone Veneer
If you're one of those people who feel that gray house color schemes are hard to design, this exterior idea is for you.
Large houses like these can be a bit tricky to design. You have to pick the shades that not only create a contrasting effect but also balance the overall exterior theme. That's why a balancing material is required.
You can try incorporating colors like brown and earthy, natural shades as they go really well with the grey. You can also use real stone veneer with white trims and coffee brown highlights to create a sense of balance and to add some depth.
9. Try Canary Yellow + Soft Gray
You may have seen many modern homes with neutral tones, but have you ever seen a house like this?
The saturated yellow exterior of this home is the statement factor. Valspar Golden Yellow and Valspar Voyage have been used on the exteriors. Here the gray covers most of the front exterior, and yellow is used in smaller doses, but still, it makes a striking effect.
10. Gray House Color + Different Materials
When you pick the right shade of dark grey and execute it properly, you'll get exteriors that are dramatic and full of life.
And to take this on another level, a mix of materials is necessary with the exterior house colors. You can add various elements like dark wood and real stone veneer. With these, add white trims on doors, windows, and pillars. This will add some character and contrast to the space. This will also break things up and draw attention while creating a sense of balance.
11. Deep & Dark Suburb Gray House
The above stunning home is located in an affluent suburb in Seattle. Built in 1921, this property was recently renovated and upgraded. With a 6,350 sq. ft, it features 5 bedrooms and 3.75 bathrooms. It also includes an outdoor basketball court and an amazing interior.
Apart from all these wonderful indoor things, its exteriors are something that you won't get enough of. The extremely dark grey modern house exterior with white trims are something that makes this home stand out among the neighborhood.
12. Natural Brown Tones with Grey
If you are bored with the same combination of grey exteriors with white trims, you can try this idea. This is a brown color palette!
You can see that natural brown tones and shades work really well with the modern grey house exterior color schemes. You can try this; just make sure that you use the colors in an international and organized manner.
Love all these ideas, want to see more?
Keep scrolling down to get more inspiration on modern grey house exterior color schemes: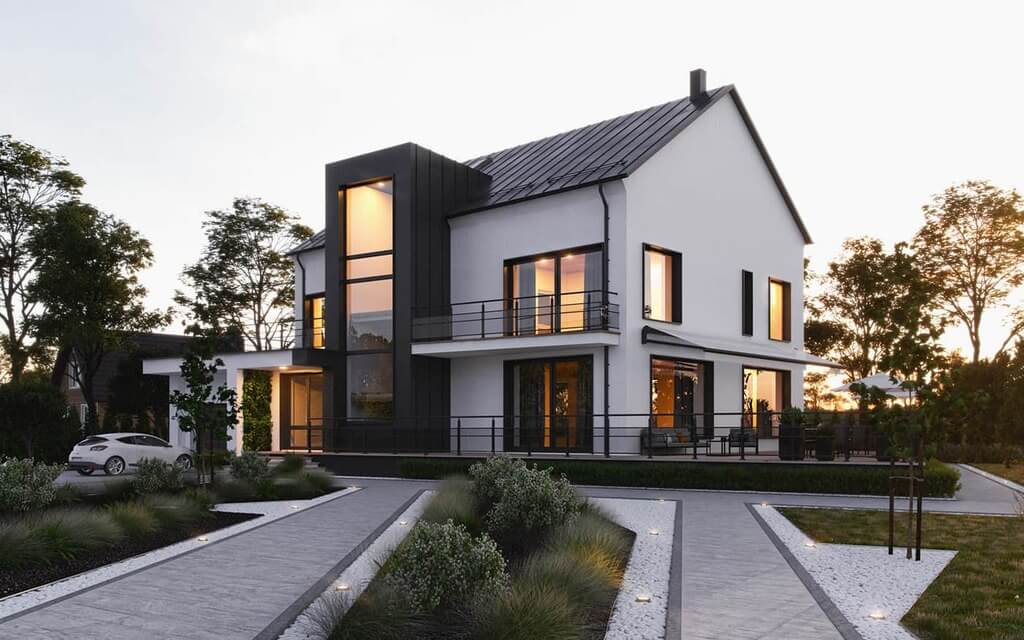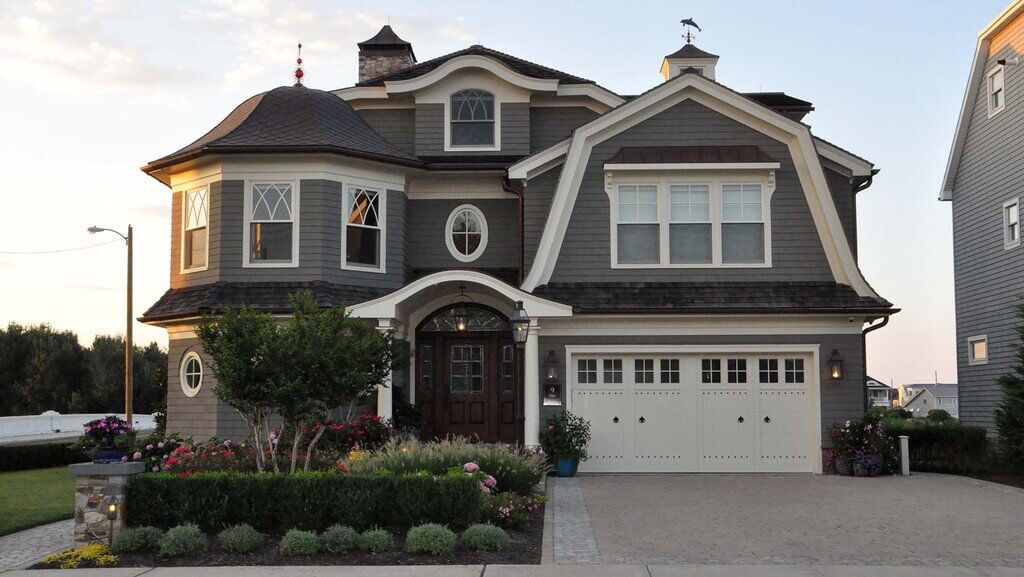 All The Magic Lies in Grey!
So which modern grey house exterior color scheme do you like the most? With so many beautiful shades and tones options, sometimes it is challenging to find the right shade of grey. Not only you can use various shades of grey together but also combine other materials like wood, stone, and colors to create unique and personalized house exteriors.
Grey comes in between black and white; that's why it holds the same power as these two powerful colors. So take the challenge, try these wonderful grey exterior ideas, and give a stunning makeover to your outdoor walls.
So, this is all about modern grey house exterior color schemes. I hope this blog has given you some ideas and inspiration to transform your house exteriors. If you find this blog on grey house exterior ideas helpful and informative, share it with your friends and family members.
Want to know more about house exterior ideas and designs? Read our previous blogs on Modern House Design Single Floor Ideas, Sage Green House Exterior Paint Colors, White House Black Trim, Black Brick House, and many more.
Discover More