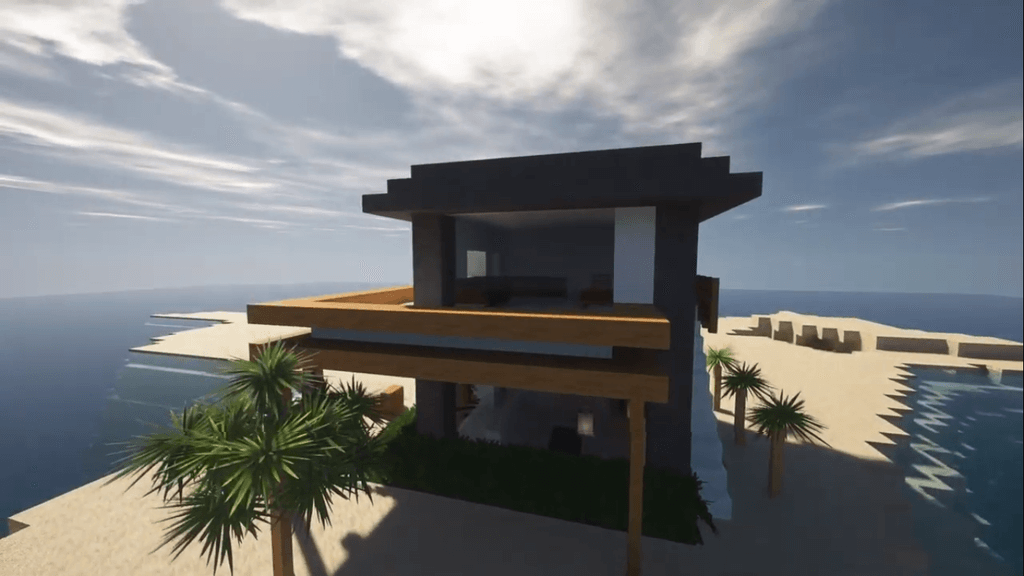 Hello, all my Minecraft fans! How's your Minecraft construction going on? If you are bored with building the same type of original Minecraft houses, Today, we've brought you another interesting house designing idea: Minecraft Beach House! Nowadays, these types of beach villas are very popular in Minecraft. 
They look extremely luxurious, modern, and they're also quite simple to build. Today we'll be showing you how to build a beach house in Minecraft within 15 minutes or less! This structure isn't too demanding, and also, you don't need too many resources; still, it will look really ravishing and Captivating. 
If we talk about the overall theme, it is quite similar to the typical American-style beach houses, but it will also have more cool-looking features. Keep reading this step-by-step Minecraft house tutorial to learn more. In this blog, we're going to tell you how you can make your dream beach villa in just ten simple steps.
How to Build a Simple Beach House In Minecraft?
This incredible small beach house is created by a Youtuber, Curtis (Channel name: CursingWithCurtis). This home in Minecraft is situated right side of the beach on the sand and looks aesthetically impressive. This house has a simple base with lots of posts, and it features an outdoor balcony, two-floor of living space, and modern exteriors. We have also put the complete tutorial link so that you can watch it to get more information. So are you ready to build your small beach house Minecraft?
Let's get building,
Step 1: Layout and Materials Needed
First, let's talk about the materials you'll need for the construction of this beach house. Below is the complete list of materials, so gather all the materials in a good amount if you build want to build this house for survival: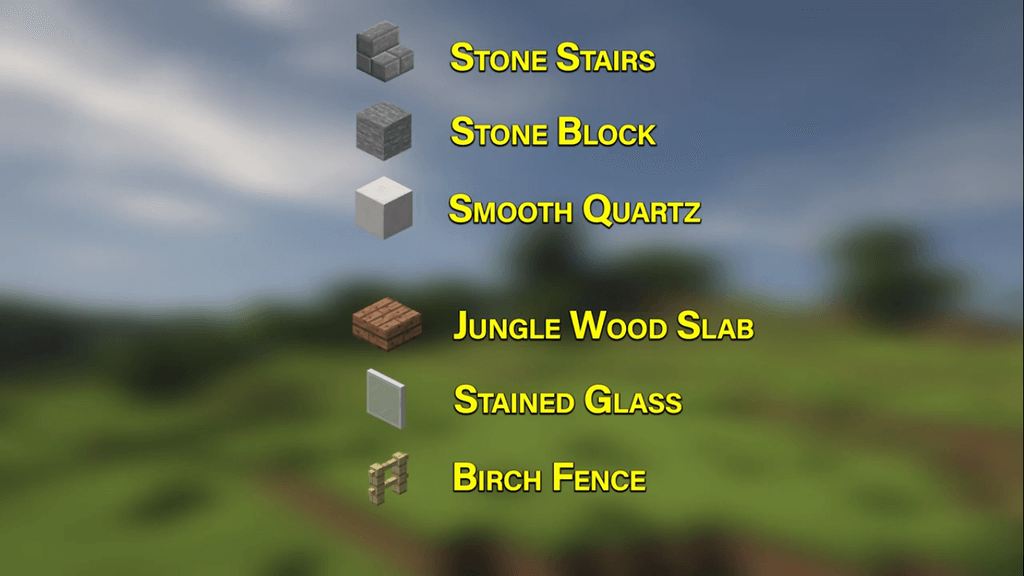 Source: youtube.com
Stone Stairs

Stone Blocks

Smooth Quartz

Jungle Wood Slab

Jungle Planks

Stained Glass (For windows)

Birch Fence

Doors

Lanterns, Torch, and Lamps

Bush and Jungle Leaves
Step 2: Find a Nice Flat Place

Image Source: redd.it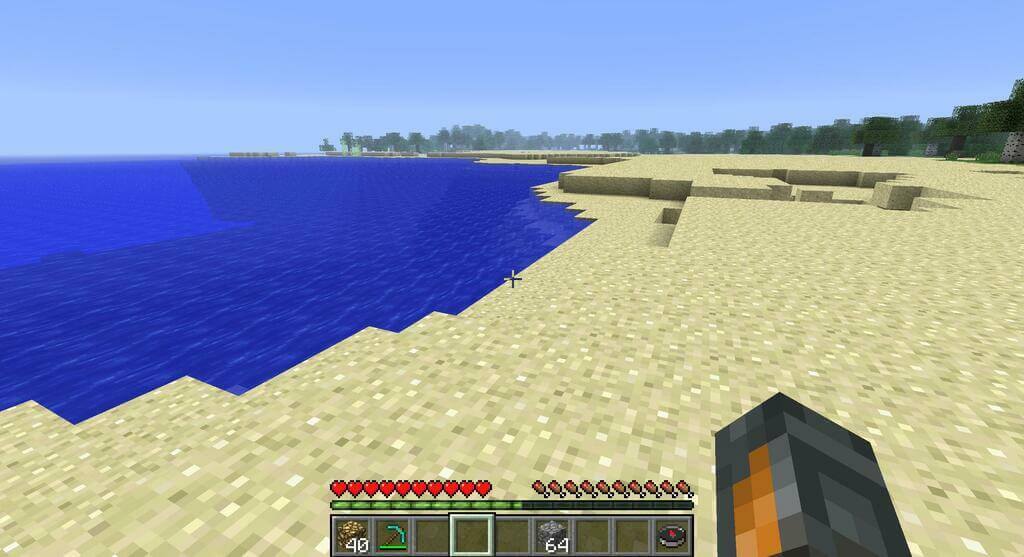 Source: imgur.com
The very first thing that you have to do after collecting your materials is to find a beach. It doesn't necessarily have to be sandy; it can be built on an island as long as there's water around. 
So once you've discovered such a place, you can start the construction process.  
Step 3: Build the Foundation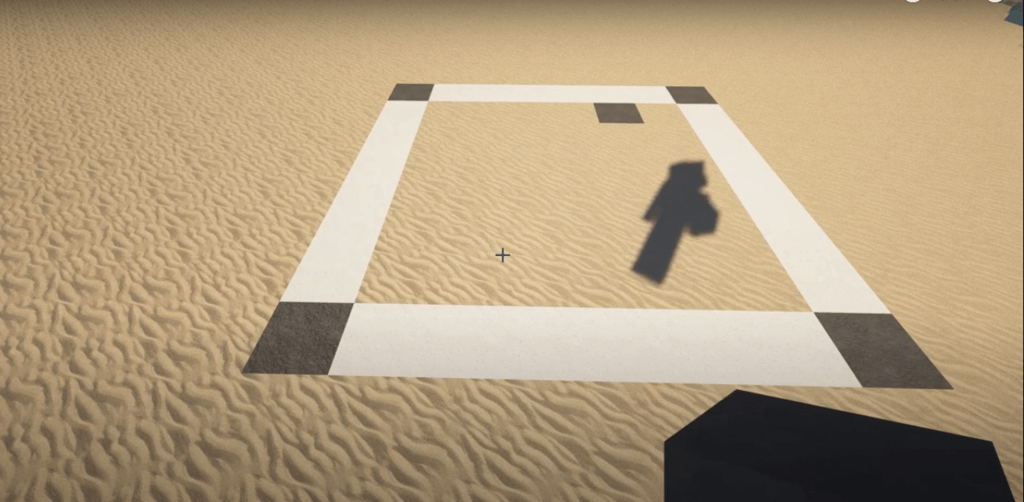 Image Source: youtube.com
Now you've found your desired land or location; you can start executing the next steps. The first step is to make a strong foundation as it is an important part of any structure. So, let's make this first. Here we'll be going to build the foundation of 8×8 blocks, which means its length and breadth are the same (square). We have chosen a square layout because it is super easy to construct, and you'll need only a few materials. For this, you'll need stone blocks and smooth quartz stones. 
First, take the stone blocks and place them on the corner of the foundation. After this, raise them high up to nine blocks. Then fill all four sides of the walls (gaps) with smooth quartz stones. Then raise the walls also up to the level of the cornerstone blocks (nine blocks). Now, your structure will look something like this: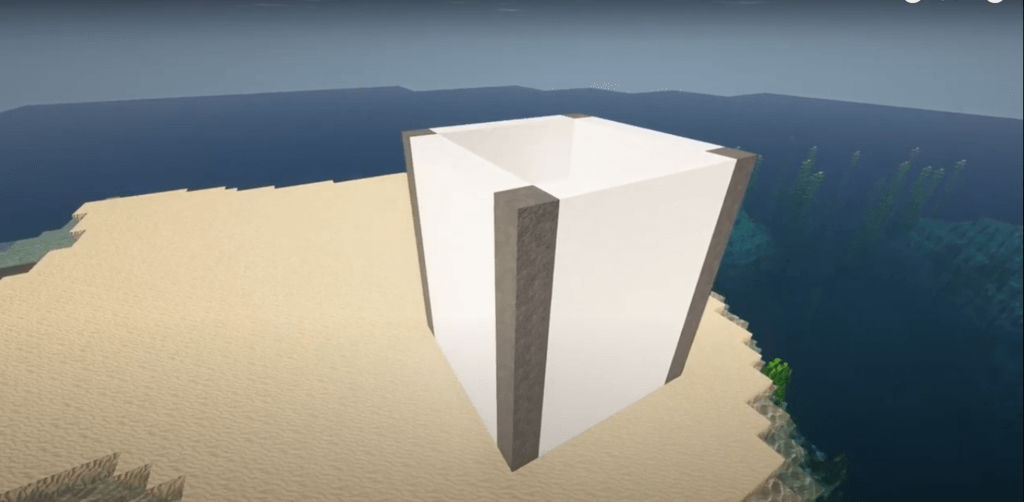 Source: youtube.com
This is a small base, which is enough for open plan living or open plan concept. You can use this room as your bedroom or as a small room. Now, go inside and put on two torches, so your home gets enough light. 
Note:  You can also make some secret chambers/observatories underneath a living room. You can easily create it by digging the sand and making a tunnel all the way out to the ocean or secret room.
Step 4: Add the Flooring & Ceiling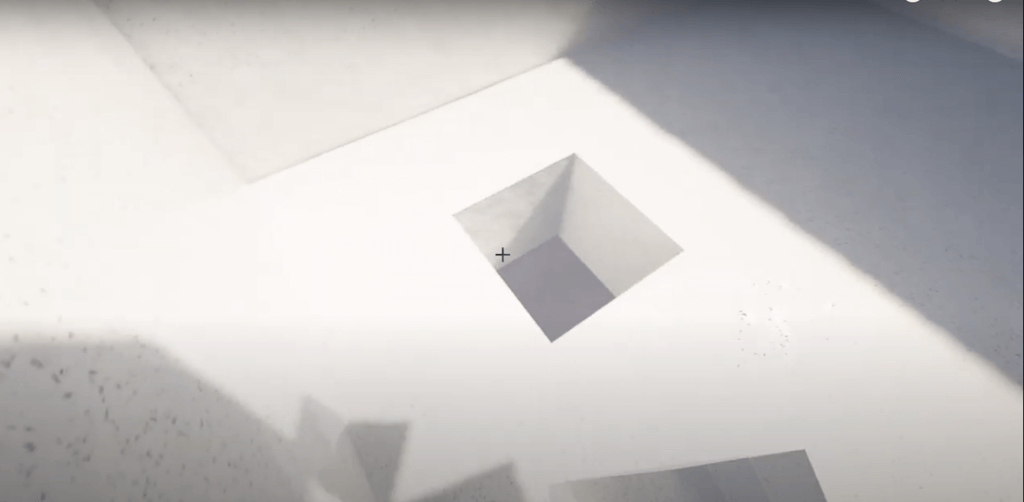 Image Source: youtube.com
After this, let's make the floor with some stones. To make the ceiling for the first floor, start placing stone blocks exactly five blocks high. This will separate the living area (on the first floor) from the bedroom (on the second floor). Don't worry; we'll also build the stairs to connect the levels.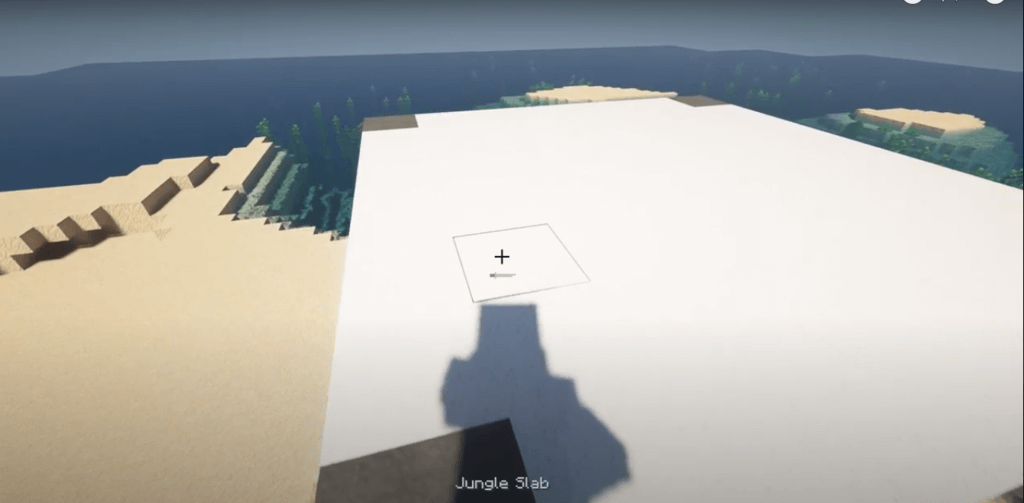 Source: youtube.com
After this, immediately start creating the ceiling for the second or the top floor. As this is a small structure, you don't have to put a lot of things. And after all, this is a 15-minute build project, so you have to keep things simple and fast. But if you have time and materials, you can always make the structure bigger and add other details. 
Go inside and again put on some torches because there is nothing worse than building a house without lights because a spider or creeper can come into the house in the dark. 
Step 5: Build the Roof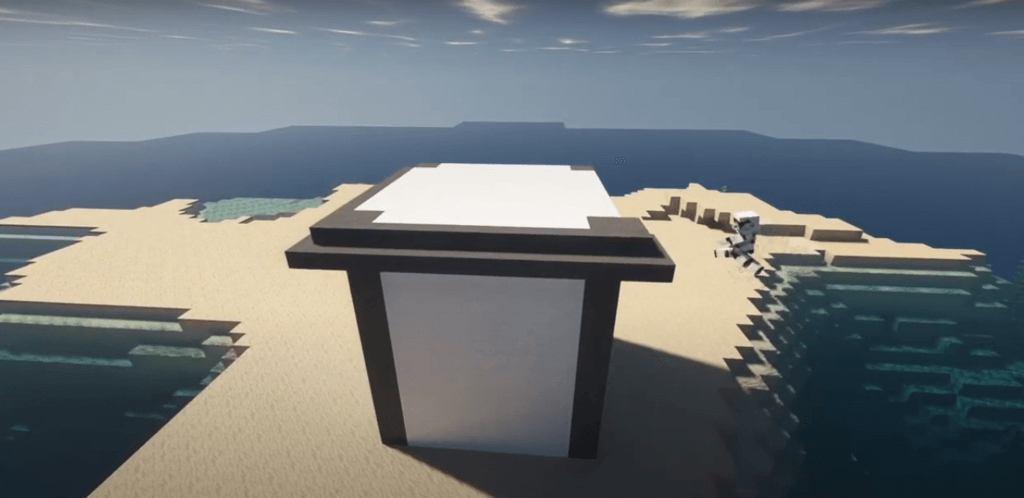 Image Source: youtube.com
Now let's come to the roof. In all the other Minecraft projects designing the roof is the most challenging job, but in this construction, the roof is the simplest part. You'll need some stone stairs and stone slabs to build the whole roof. 
Don't raise the roof up to two to three tiers high as it's a beach house, and a high roof will ruin its theme and its look. So all you need to do is place one layer of stone stairs and then put one layer of stone slabs on top of it. It doesn't need to be massive. And that's all you need to do. It was easy, right? If you want, you can change the design of the roof, but, believe us, this roof will look so much better and suits this entire structure.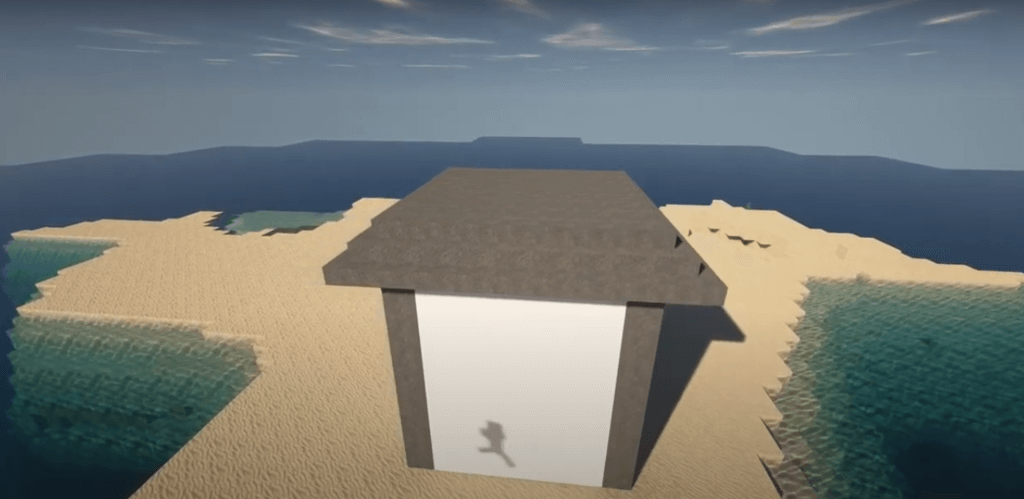 Source: youtube.com 
Step 6: Build the Stairs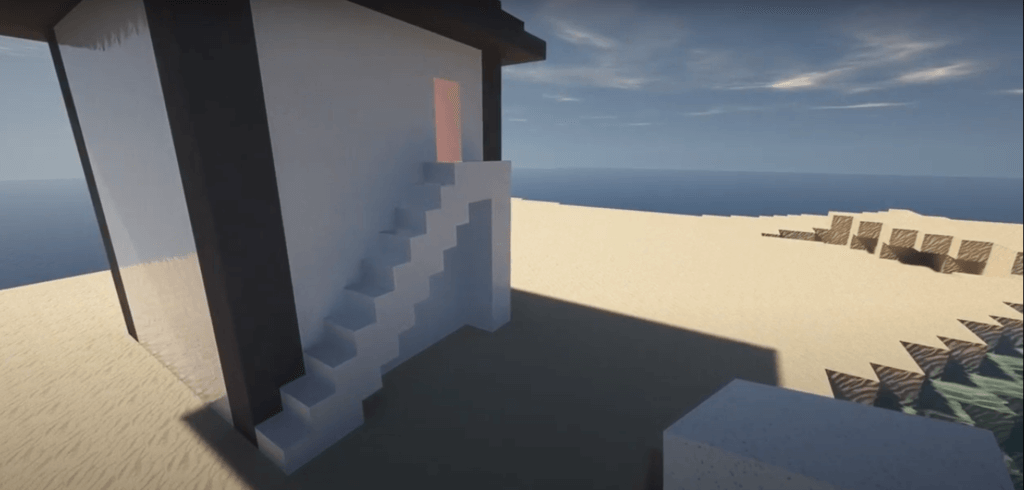 Image Source: youtube.com
Yes, it's time to build some stairs leading into the house. For that, go five blocks high, then break some stones and make space for a door. After that, go outside and start building the stairs up. So start placing stone blocks on one another in the shape of stairs until you reach the door or the fifth block.
After that, add a pillar from the top of the stair block to the ground level. It will look realistic, and also it will support the stairs. If you want, you can also put a fence around the door and stairs. 
Step 7: Add Balcony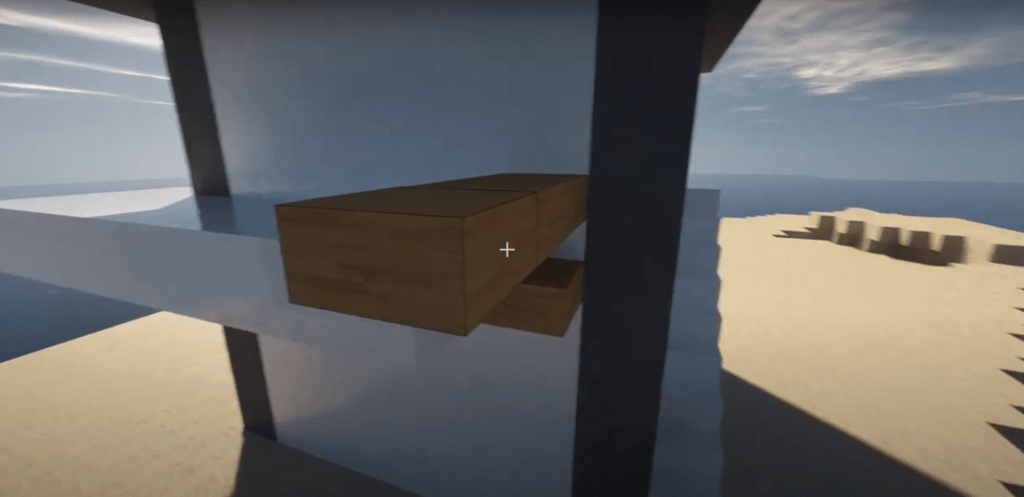 Source: youtube.com
After you're done with the stairs, it's time to build the balcony (my favorite part). It will be a great addition to the house. You can hang around and enjoy the sun on your balcony. You can make a balcony on any side of the house, but here we'll build it on the wall exactly opposite the stairs. 
So here, you'll also need a door to access the balcony, so break two or three blocks. Start putting stone blocks on the side of the wall. Here the balcony is all around the house but if you don't like this style, just make it only on one side of the house. Use two blocks, and it will be the balcony's width. Of course, you can add or modify some little changes if you want.
After you're done with blocks, start putting jungle planks all around the balcony. This will create a little separation from the house and give that real balcony effect. Now take your jungle fence and use them as support pillars for the balcony.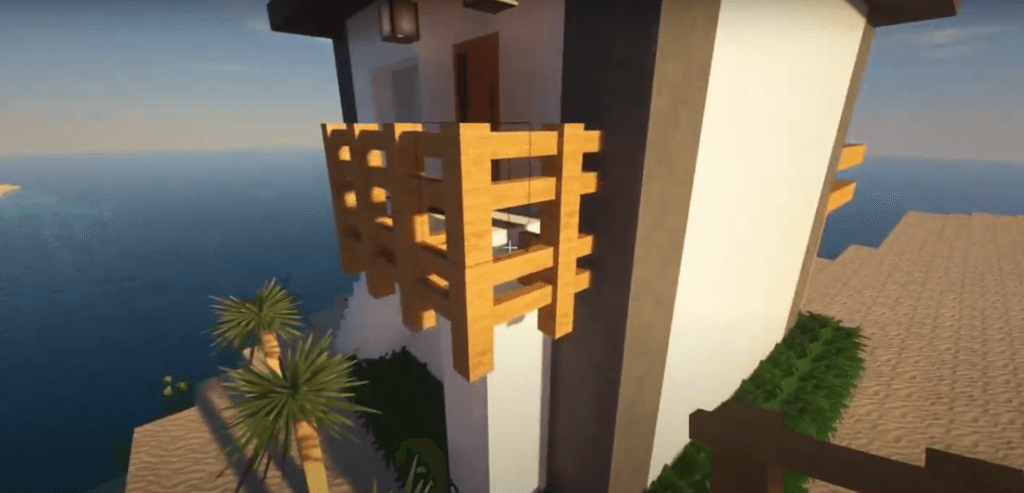 Image Source: youtube.com
Step 8: Add Windows & Doors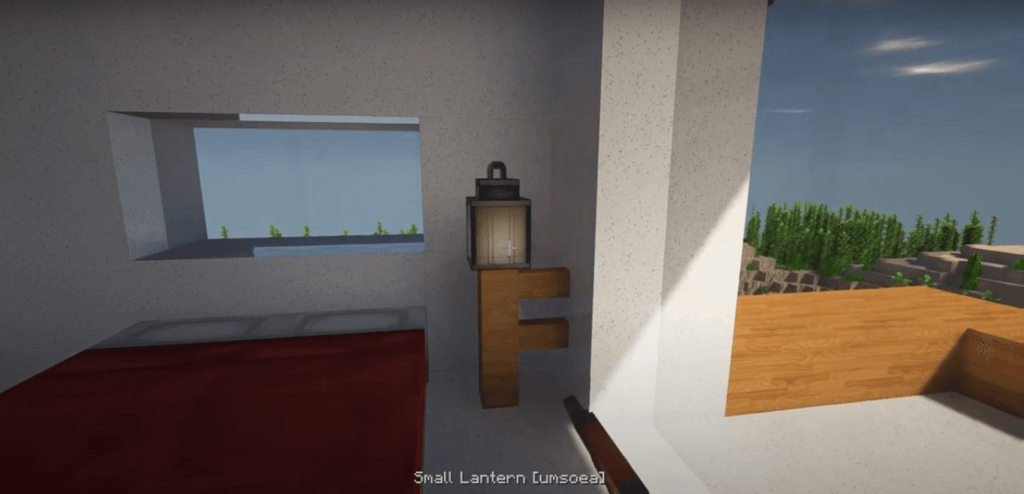 Source: youtube.com
We're now at the few last steps of completion of your house. In this step, we're going to make some windows. Here we'll not be making any regular windows but the huge ones because all the beach houses have only these kinds of windows. You can enjoy the views and the ocean from these massive transparent windows. 
First, break some stone blocks (around four or more). Here we're going to create three big open windows (one on the top floor and two on the first floor) that'll be facing the ocean and a few small windows. Because these types of windows will look really great on beach houses. Then put stained glass in the gap and fill it completely.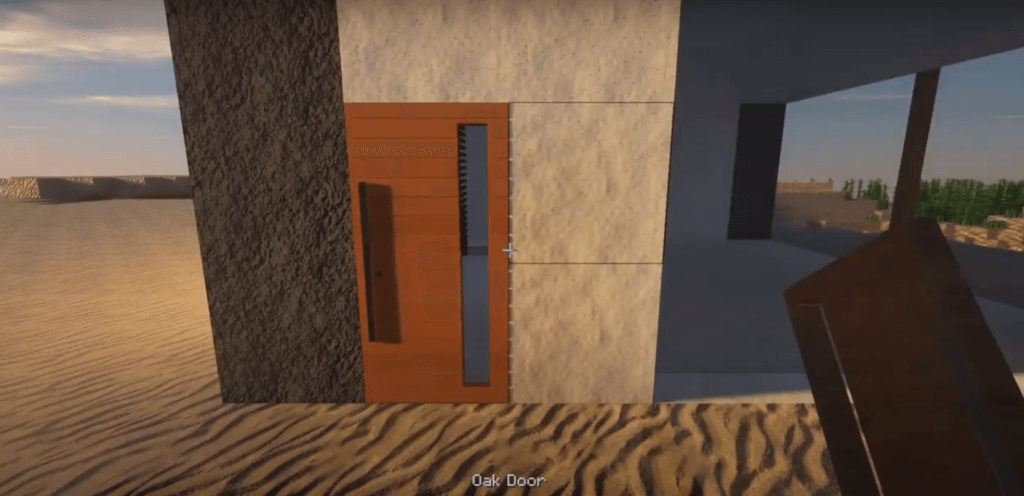 Image Source: youtube.com
When you're creating the second big open window at the ground level, do make space for the door. Also, don't forget to put the doors on the empty spaces that we left earlier. 
Note: People who have built the underground chamber can place the ladder to access the various levels. Also, don't forget to put on some torches as it will be pitch dark.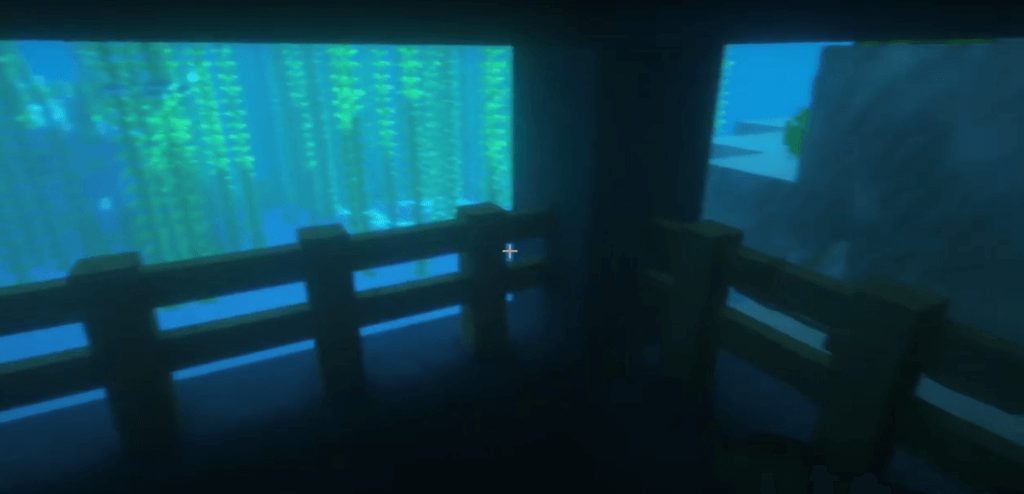 Source: youtube.com
Step 9: Design the Interiors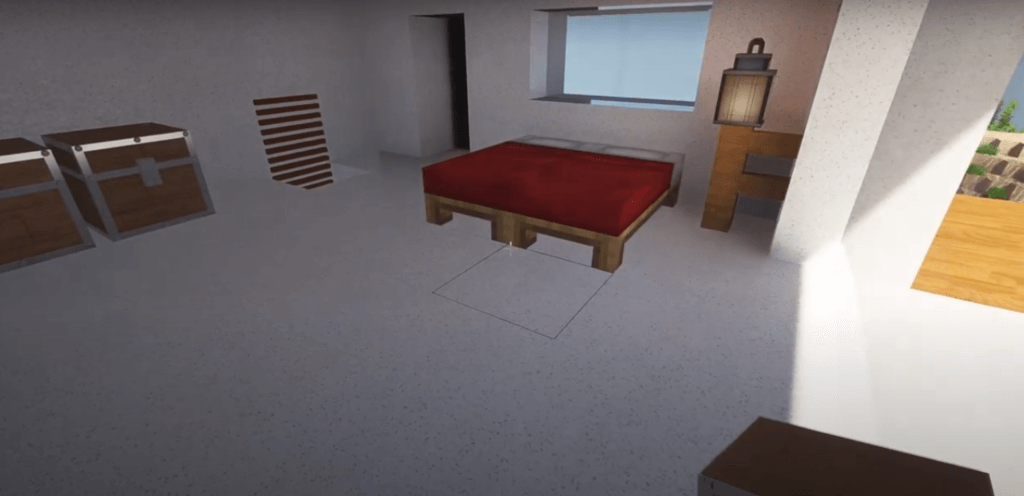 Image Source: youtube.com
After you're done with all the constructions, it's finally the time where you can start designing your interiors. Minecraft beach house interior design totally depends on you how you want to decorate and furnish your house. As this is a Minecraft beach house easy tutorial, we'll use basic necessities and a few decorations. 
Start with the upper floor and start putting a double bed, a bedside table, and a lamp on it. You can also place some basic stuff like bookshelves and chests.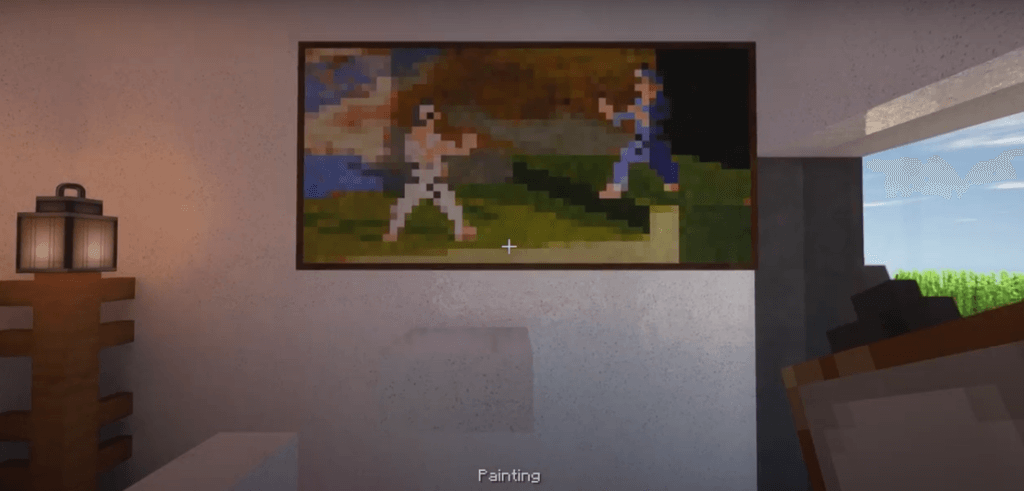 Source: youtube.com
Now let's move onto the ground level or our living area. To decorate this room, use some stairs blocks and create a sofa. Here we're creating an L-shape couch, but you can make whatever design you like. 
Make two side tables from the fences and then place a lamp on each one. They'll give a warm glow in the living room. Put a slab on one plain wall and above that put a big TV. You can also add some floating shelves, plants, pots, and flowers.
Also Read: Minecraft Medieval House Tutorial: How to Build a Simple Survival House?
Step 10: Finish the Outside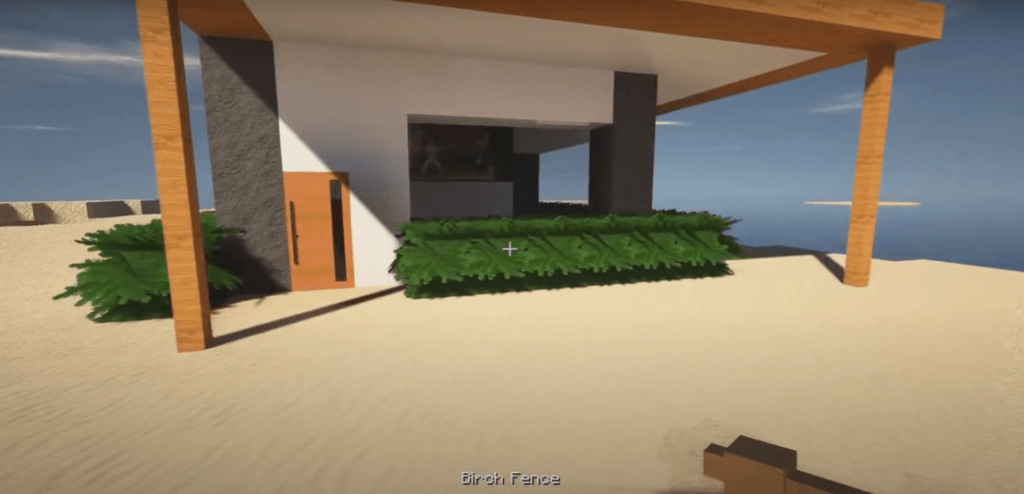 Image Source: youtube.com
The last step in the whole beach house construction is to decorate the outdoors. Our beach house will not be completed with decorating the outdoors, or we can say that it'll not look pretty.
So take a bush of your choice and start stocking bushes around the home. I know we don't see bushes around beach houses, but we're doing it here for the aesthetic looks.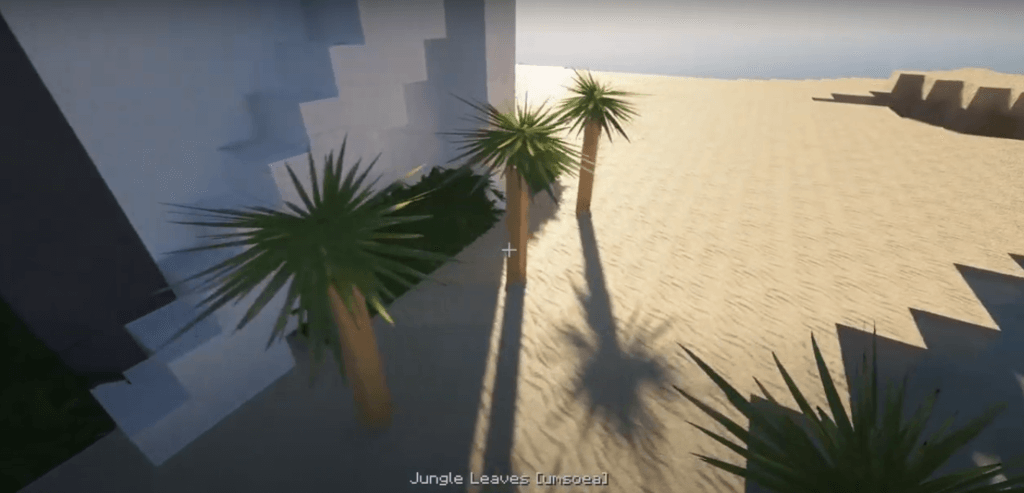 Source: youtube.com
Here we're also going to show you how to grow palm trees. So first take some birch fence and on top place some jungle leaves. Don't make them too high because they'll not look good. You can make medium ones by placing two birch fences, and some jungle leaves on the top. 
For more decorations, put some deck chairs and lamps, lanterns on all the doors because the more bright the house will be, the more it will look great, and you'll also stay safe!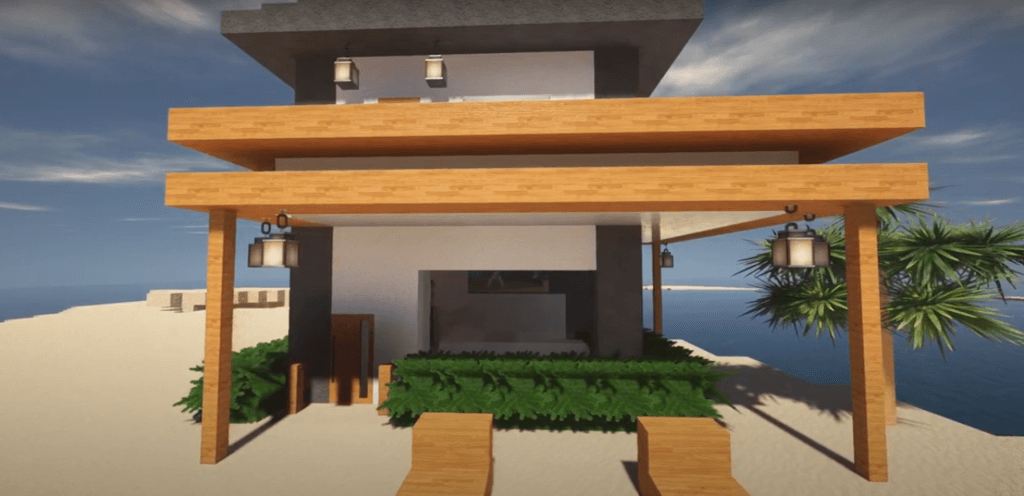 Image Source: youtube.com
So, this is the final look of your exotic Minecraft beach house. Doesn't it look modern and elegant?
This is just a small decorative survival beach house; you can take more Minecraft house ideas or inspirations from our previous blog on Cool Minecraft House Ideas. 
14 Minecraft Beach House Ideas
1. Seashore House

Source: i.ytimg.com
2. Beach Cabin

Source: i.ytimg.com
3. Tropical Island Beach Home

Source: i.ytimg.com
4. Easy Fishing Hut

Source: i.ytimg.com
5. Beach Hut

Source: i.ytimg.com
6. Modern Beach Mansion

Source: preview.redd.it
7. Small Beach Home

Source: i.ytimg.com
8. Boat House

Source: i.ytimg.com
9. Modern House

Source: i.ytimg.com
10. Starter Seashore House

Source: preview.redd.it
11. Modern Home with Pool

Source: i.ytimg.com
12. Survival Beach Home

Source: staticg.sportskeeda.com
13. Fishing Shack

Source: i.redd.it
14. Exotic Beach House

Source: blocksandmining.com
15. Island Beach House

Source: static.planetminecraft.com
Here are some more brilliant Minecraft beach house ideas: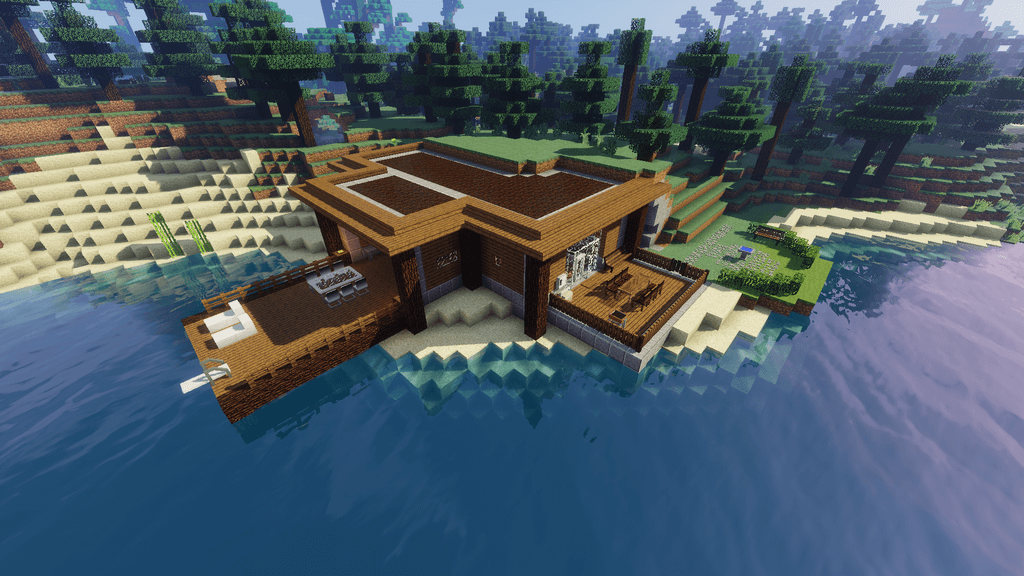 Source: redd.it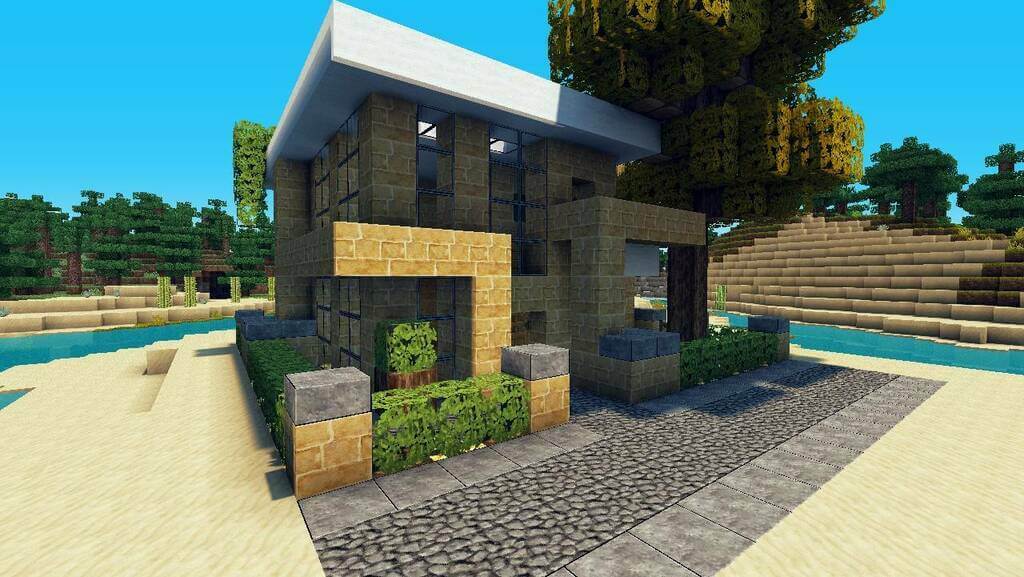 Image Source: jhmrad.com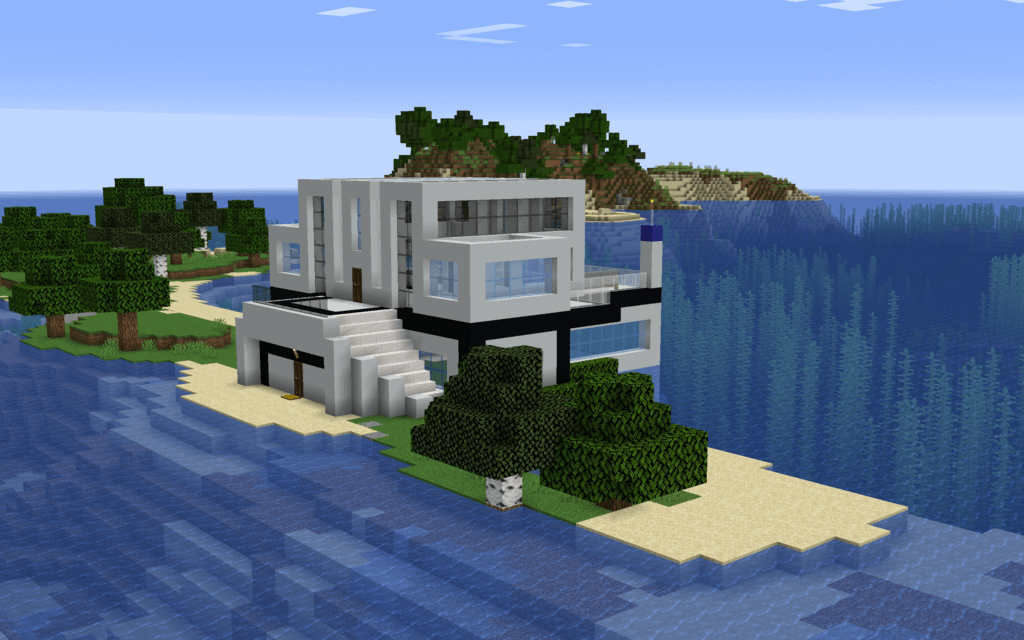 Source: redd.it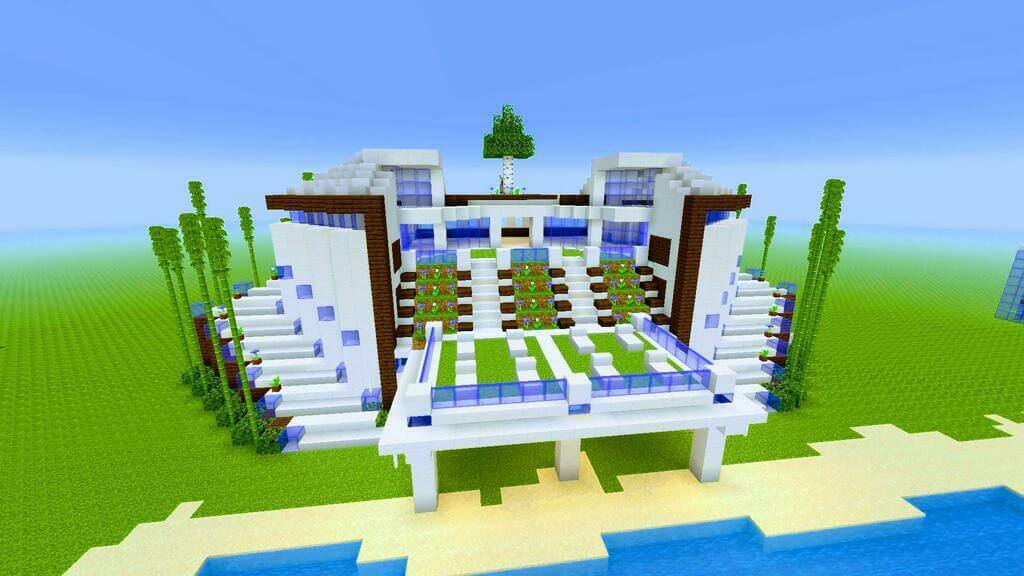 Image Source: redd.it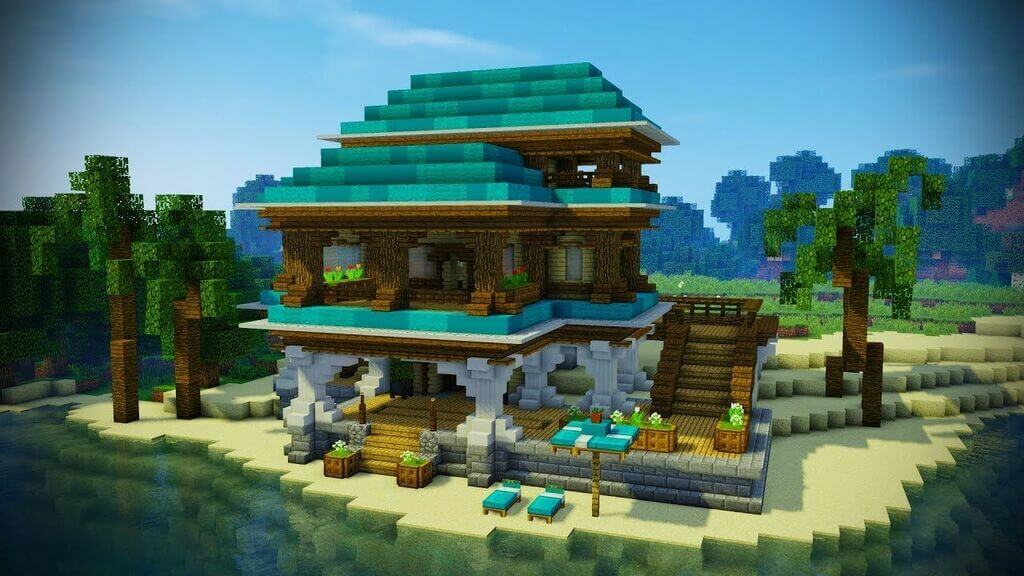 Source: pinimg.com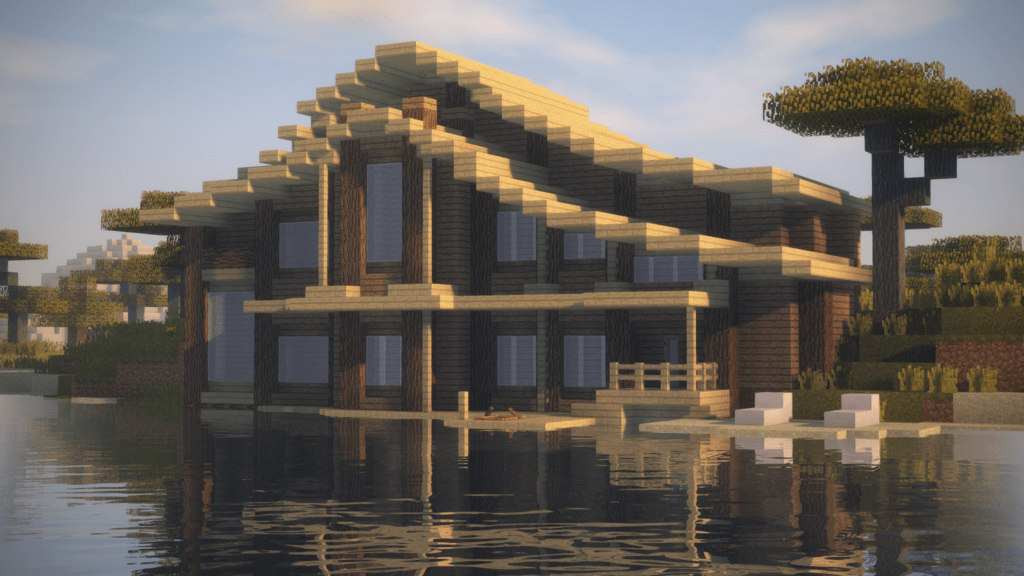 Image Source: redd.it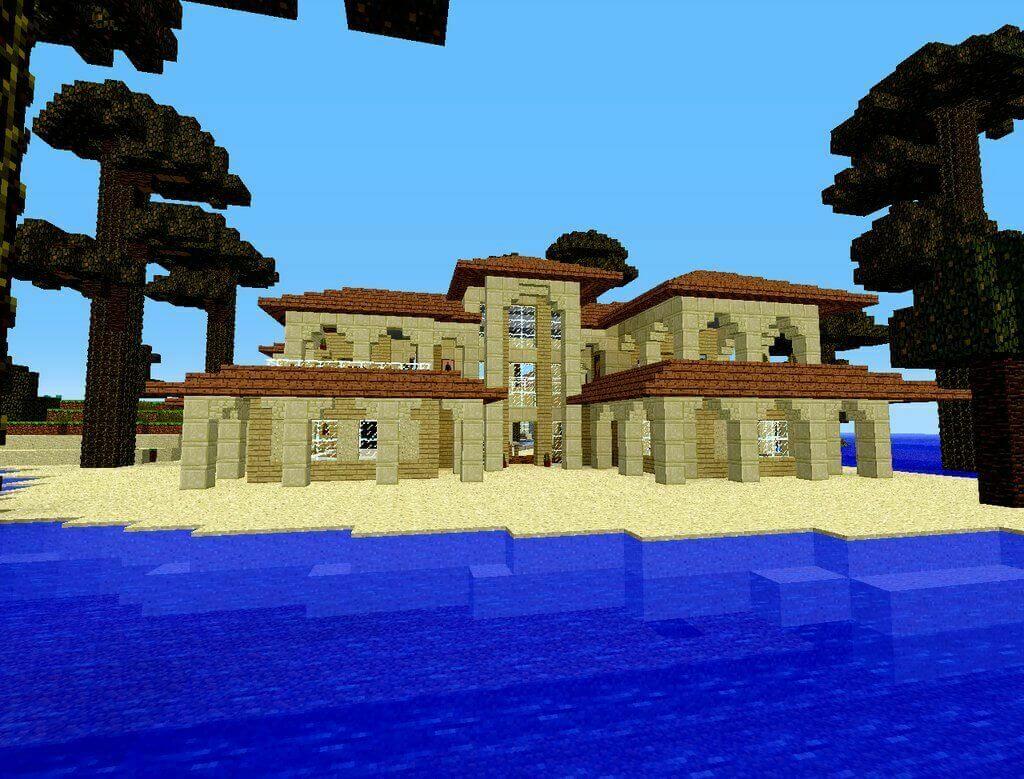 Source: pinimg.com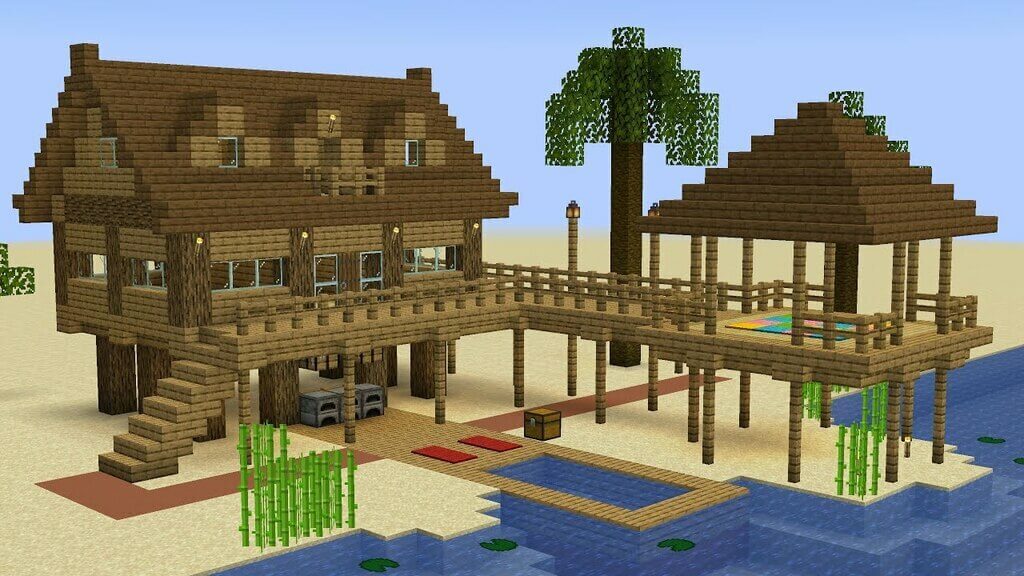 Image Source: ytimg.com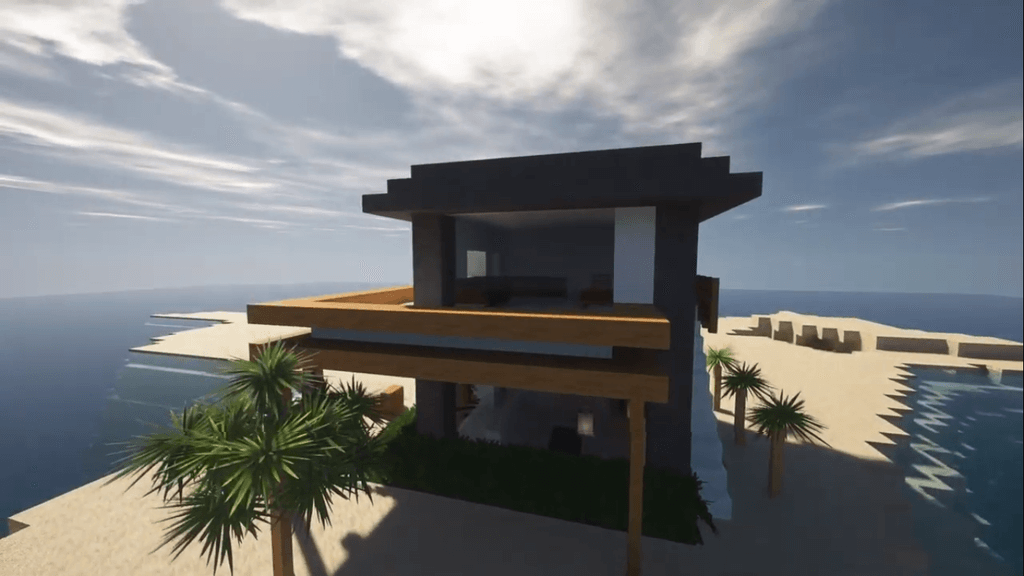 Source: youtube.com
Keep Building! 
Now you know how to make a small beach house in Minecraft. You can literally create any type of beach house or structure with this procedure. Just make sure that your structure looks realistic. It should look like a real house, not like an imaginary residence in any game, right?
I hope this step-by-step guide has given you some ideas and inspiration for your next Minecraft project. If you find this blog helpful, don't forget to share it with all the Minecraft fans so that they too can make a perfect Minecraft Beach House! 
For more architectural guidance and home decoration ideas, keep coming to Architecturesstyle.
Also, do follow us on our Instagram page, Architecturesstyleideas, to get daily updates.
Himadri Shakya
Himadri Shakya is an enthusiastic Content Writer and Editor. She loves to create creative, engaging, and SEO-friendly content. Through her extensive research skills and practice, she has been generating high-quality and informative articles, and blog posts for over 4 years.
Related posts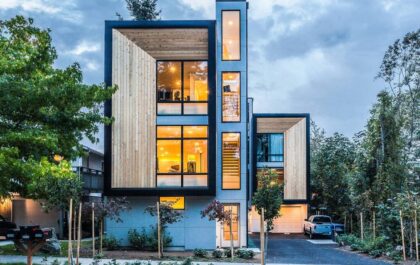 27+ Stylish & Modern Townhouse Designs for Urban Living.
The townhouse's first impression is normally too small, too compact, too narrower, and the list is endless. Well, let us…