COVID-19 had hit us hard in 2020, and since then, we have been forced to think about our way of living. From morning tweets and calls to late-night work meetings, we continuously use cell phones and laptops. That's why our lives only revolve around a hectic work lifestyle. Modern technology and innovations made our lives easy, but are we using them in the right way?
If you are also tire of the urban noises and want an escape from the chaotic lifestyle of the city, Mirador House will be a great getaway for you! What makes this house so special and unique? Keep reading to find out!
Mirador House
Project Title:

casa mirador

Architects:

RAMA estudio

Location:

Pichinch,

Ecuador

Area:

190 m²

Year:

2021
During the global Covid-19 pandemic and even after that, many families re-evaluated their way of living. Since we all live in a rush and hectic lifestyle, we don't take out time even for ourselves.
However, due to this pandemic, many people are now thinking of living a sustainable and eco-friendly lifestyle, which is not only good for humans but also for the earth.
We've already seen many sustainable architectures worldwide, and the Mirador House is one of them! It is actually not a completely new construction, but some new parts have been added to the existing building!
The Original Construction: A Small House
The owners of this house always lived and maintained a "nomadic" lifestyle. They usually come to Ecuador to spend their holidays with their kids, so this place serves as their holiday destination. That's why they had a small home, as their stays in Ecuador were generally short and sporadic.
Originally, it was a small dwelling of just 65 square meters. This suite featured a master bedroom with a full bathroom and a multifunctional space that also included a "bedroom" for their two daughters.
Right after the lockdown, the family decided to stay for longer periods of time in Ecuador. So, they made a decision that their existing house should be spacious and it should be more thoughtfully design. It will make their living more cozy and comfortable, and they can conveniently perform their daily activities.
After this, they contacted RAMA estudio and explained their desires and requirements. As a result, casa Mirador or Mirador House has been construct as an extension of the pre-existing house.
The Creative Idea: Casa Mirador
RAMA estudio came with the idea that they will construct a house "Casa Mirador" that will be a retreat in the forested region of Pichincha, Ecuador. It can be said that this house was first conceptualized as a response to the COVID-19 pandemic.
On this project, the entire construction work was done by RAMA estudio, and the lead architects were Carolina Rodas, Felipe Donoso, and Carla Chávez. To make this concept into reality, these architects had a team of designers and structural engineers that included brilliant people like Felipe Donoso, Carolina Rodas, Carla Chávez, Jefferson Camacho, Ma. Fernanda Ayala, Daniel Merchán and Ing. Pedro Ospina Larrea.
Design & Construction
Architects took a sensitive approach while designing this project, and that too with respect to the natural context. The surrounding and natural environment is a part of the main design and works as an envelope of the building, which is place over the slope, overlooking the valley.
The new construction doesn't include any type of soil disturbance and vegetation degradation. Do you know that this house was constructed in only three months? Yes, the newly extended part of the house was built with prefabricated elements, and everything was installed in just less than three months
Homeowners specifically told the RAMA estudio that they wanted to expand their existing living area and entertainment zones. They also wanted comfortable and independent bedrooms for their daughters and large glass windows to enjoy the breathtaking neighborhood views.
Architects said, "We thought about an industrially prefabricated piece that blends well with the environment and subtly sits on the ground, attaching itself to the existing construction."
The Transparent Exteriors
Let's talk about the exteriors and facade of the structure. Instead of constructing and renovating the entire house, architects have installed a new house attached to the existing structure.
RAMA estudio designed the casa mirador extension as a system of metal channels supported by two porticoes. These channels also work as the structure for both the floor and the roof. These two things are thermally insulate and also allow residents to grow vegetation.
This structure is install in such a way that it requires only a minimal foundation. The benefit of this is that there is almost no soil disturbance, and also, the whole manufacturing and assembly process took very little time.
You might be wondering why we have called the exteriors transparent? The reason behind this is that there are three openings in this house, and each of them is entirely covered with tempered glass.
The whole glass structure is frame beautifully by the floor and ceiling elements. Residents can enjoy the natural views as trees and water bodies surround this property.
These trees and vegetation also provide enough privacy to maintain transparency around the entire perimeter of the area. To link the existing and new constructions, the walls of the front façade of the existing building have been eliminated.
The most surprising thing for the residents is that the entire work is completed and ready to be inhabited in just three months. Also, there is no wastage of vegetation and materials on the site.
All those materials which are left behind from the demolition of the façade is later use to improve the ground in areas surrounding the building. This building is smartly designed.
This house also has a septic tank for wastewater. It is independent of the sewage system, and a stormwater system is also there to improve the drainage of rainwater in the surroundings.
Another feature of this house is the underfloor heating system in the social area and kitchen. This is use to maintain comfortable temperatures in the space without sacrificing the transparency of the facades.
Modern & Cozy Interiors
Interiors are as magnificent as the exteriors. The entire space is adorned by a series of regular modules built with plywood panels. These panels are long, narrow, and have been place from one end to the other end of the wall. They can be use as storage units, decorative surfaces, as well as a permeable and semi-transparent screen towards the bedrooms.
A similar kind of five sliding panels of the same material is install at the front of this furniture. Residents can place or move these panels anywhere according to the needs of the users.
The most eye-catching furniture is situate in the center of the house, aka the living area. This is a single-piece piece of furniture with a metal element. It has a storage space and a module in which the stove and the television are embedde.
When you enter the kitchen and dining area, you can see a similar kind of paneling but in plywood material with stainless-steel surfaces.
The open concept kitchen has only one module. It has all the appliances and cabinets. This single unit has an island also that works as a countertop and a dinette.
Bathrooms and bedrooms also have similar light paneling made of plywood and metal sheets. Not only do they look luxurious, but they also contain thermal acoustic insulation to improve comfort in bedrooms and bathrooms.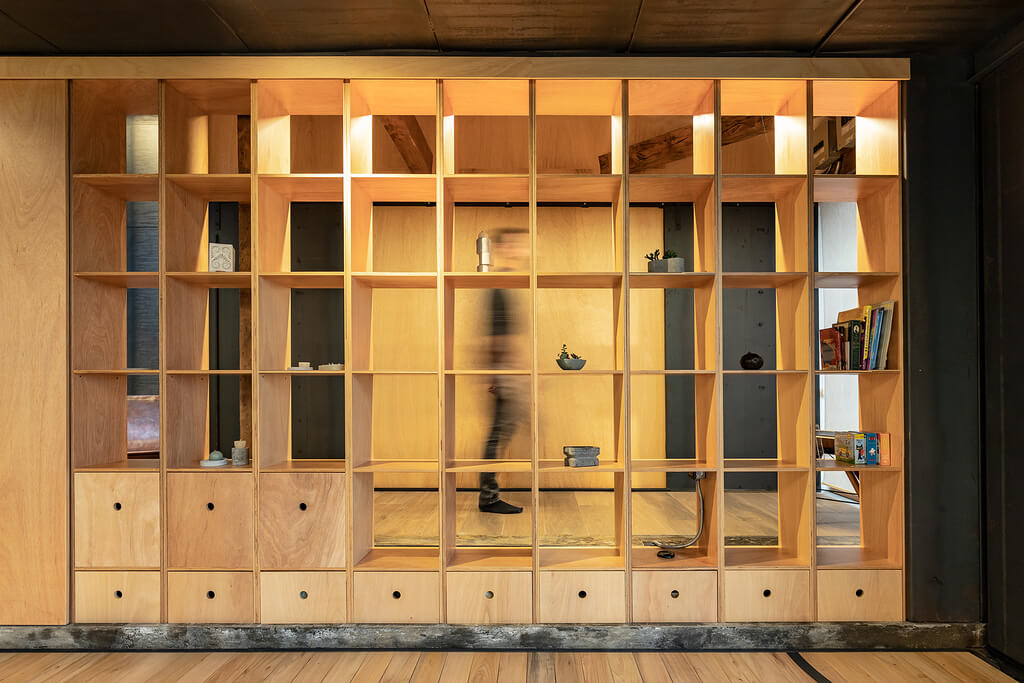 In these areas, only a single piece of furniture is place containing a desk, storage space, and a murphy bed. The reason behind this is to utilize the space efficiently and take advantage of the internal space of the bedrooms.
The Bottom Line
So, this is all about Casa Mirador, designed by RAMA estudio. For people who have a desire to escape from the bustle of cities and the lifestyle of the suburbs, this house will be the perfect spot for staying.
If you want to know more about these types of unique and unusual houses or places to visit worldwide, read our previous blogs such as Crazy Futuristic Houses, 5 Smallest Houses In The World, Casona Sforza Hotel, and many more.
I hope you liked this blog about the Mirador House. Don't forget to share it with your family and friends to inspire them to live a sustainable and environment-friendly lifestyle.
More Information:
Himadri Shakya
Himadri Shakya is an enthusiastic Content Writer and Editor. She loves to create creative, engaging, and SEO-friendly content. Through her extensive research skills and practice, she has been generating high-quality and informative articles, and blog posts for over 4 years.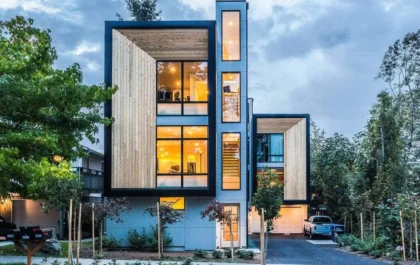 27+ Stylish & Modern Townhouse Designs for Urban Living.
The townhouse's first impression is normally too small, too compact, too narrower, and the list is endless. Well, let us…