Typically, the kitchen is one of the most vital areas of your home since it's where your family starts their day-to-day living. For example, it is where you cook meals for your family members in the kitchen. If your dining area is also located in the kitchen, then it is where you and your family gather together to share a delicious meal. When your family is looking for the best way to begin their day, they usually think of staying in the kitchen to consume a cup of coffee.
With all these things said, there's no doubt why having a beautiful kitchen is essential. In most cases, a functional and aesthetically inviting kitchen can help tie your loved ones together. However, building or renovating a great kitchen requires a lot of considerations. Aside from the design, you may also need to consider the color theme of your kitchen.
Generally, the colour you select for your kitchen tiles can set the whole tone for the space, so it's important to choose something that you will want to keep for years to come to protect your investment. Whether you're choosing ceramic tiles, glass mosaic tiles, or porcelain floor tiles, colour plays a huge role. So you might be wondering what the best tile colour for your kitchen floor even is, and how you can make the right decision.
When it comes to choosing the best tile colour for your kitchen floors, it really comes down to personal preference and the amount of space you have. This article will discuss the specific things you need to consider before choosing a tile colour, which tiles will work best for your specific needs, and how to plan a purchase.
Kitchen Size & Lifestyle
The first thing you should do is take into consideration the size of your kitchen. If you have a smaller kitchen, you're most likely going to want to stick with brighter colours or neutrals like creams and pastels. This is because brighter floor colours can make a space appear open and larger.
Darker coloured flooring ideas will make a space appear smaller than it actually is. Lighter colours can attract the sunlight and give the space a more open and brighter feel.
Think about your personal lifestyle and aesthetic along with the size of your kitchen — if you prefer darker floor colours and want that dramatic edge, you might risk making the space appear smaller.
If you have an open floor plan, or an open concept kitchen, opting for darker coloured flooring would be a nice added touch of drama. It can also make a space feel more inviting if the tones you choose are slightly warmer.
However, it's harder to hide scratches, chips, dust, or marks on darker coloured floors. If you have pets or young children, or the kitchen is just a high-traffic area in your home, this is something you'll want to keep in mind.
Bold Colours
If you know that you want to stay away from neutrals or shades, regardless of the size of your room, then let yourself be creative! Bold kitchen floor tiles are always in fashion and can liven up a space. You can play with colour by either selecting a solid colour or opt for a mix.
Choosing a solid colour floor tile asserts your individuality and makes a statement. The tile colour trends at the moment include rich blues like azure, earthy greens, yellows, and crimson reds.
If you want to incorporate patterned tiles or mosaic tiles into your kitchen, you're in luck. Mosaic and patterned tiles are timeless and great for those who are drawn toward Mediterranean decor. They're perfect for backsplashes or accent walls and give a space more character, which is nice if you want your personality to shine through in your home.
Vibrant colours and intricate designs can make your home feel more welcoming, which is perfect for a space like a kitchen, the heart of the home. The one thing to keep in mind with colourful mosaic tiles is that they really draw the eye's attention.
You might want to make sure that the rest of the kitchen, like the walls and countertops, is a muted colour and texture so the space doesn't get too busy.
If you want to play around with patterns, but still want to keep the colours of your tiles neutral, consider experimenting with different shapes, like hexagons or smaller squares. You get vibrant and unique textures from the tile, but the colours stay muted and more natural.
Muted-toned tiles that get their complexity from their shapes pair incredibly well with jewel tones, natural wood, and clean lines. They're also wonderful to install as a backsplash.
The Bigger Picture
Above all, before you make any decisions, it's important to take into consideration your kitchen as a whole. This can help prevent you from making decisions too quickly and landing on a tile colour or pattern that really doesn't go well with your space.
The last thing you want to do is plan a tile colour in an empty kitchen. Make sure you factor in the wall colours, the countertops, and the furniture that is going to be placed in the room while making your decisions.
When looking at different tiles, it's a good idea to take along a paint chip or something that represents the different colours that will eventually be in your kitchen. This includes wall colour, but also your countertops, tables and chairs, dish towels, or even certain dishes you know you want on display.
By taking in references to a tile supplier or retailer, you can directly compare it to the tile samples and see if it would complement the space. Retail associates and tile specialists will also be more than happy to work directly with you to make a decision and offer their professional advice on how to move forward.
This is important to remember because certain things like glazes or tile finishes might alter an in-store sample once it's implemented into your home.
However, aside from tile experts, you may also seek help from reliable kitchen renovation experts when looking for the best tile colour for your kitchen. Given their experience and expertise in renovating or upgrading kitchens, they know which type of colour theme will complement your kitchen's design and style.
Not only that, but they're also familiar with the best methods to use to ensure your chosen colour is applied beautifully. Lastly, renovation contractors may have partnered with various tile companies, making it easy to pick the perfect tile colour for your kitchen upgrade.
It's All About Preference
Final Words
The best tile colour for your kitchen floors is a personal decision that comes down to preference, aesthetic, and the amount of space you have. Since it's not a one size fits all scenario, you're allowing to break the rules a little bit.
By thinking about the style you're looking to emulate and the different colours already found in your kitchen, the best kitchen floor tile colour for your unique space will naturally fall into place. Add on a great team of professionals that can help guide you in the process, and you're all set to go.
If you're ready to make a decision or need more inspiration, check out Sarana Tile. As tile suppliers in Ottawa, Toronto and Hamilton, they have a wide selection of flooring for you to choose from so you can plan your next home renovation.
Discover More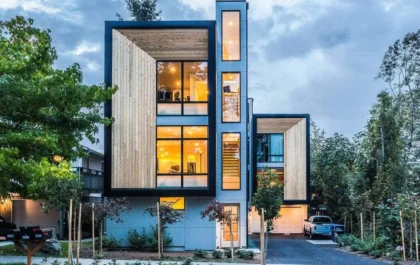 27+ Stylish & Modern Townhouse Designs for Urban Living.
The townhouse's first impression is normally too small, too compact, too narrower, and the list is endless. Well, let us…