Do you have a smaller lot and are not able to decide on your house plan? If yes, don't think much and go with a two story house plan! Today, there are several options available in home design. However, these days, two story house plans are becoming more and more popular. From offering ample space to elegant aesthetics, these house plans have many benefits. This is why they have become the most popular choice among homeowners.
Two story house plans, or 2 story house plans, are traditional house designs that feature open concept layouts, space-saving floor plans, small kitchens, and extra space across two levels. Everything here is designed in a way to utilize every single inch of space with excellent functionality.
So, if you are building on a narrow lot or want to maximize your existing space, keep reading!
In this blog, we will explore the different types of two story house plans and their advantages. These two floor house designs will give you fabulous ideas for your two story house plan project. Here are the different types of 2 story house plans:
1. Two Story House Plan with Basement
House plans with a basement are quite common these days. This house plan has two levels above ground and one below ground. Add a basement along with two bedrooms, a living room, and a kitchen to your house.
A basement level in your home will provide extra space below ground, which can be used in many different ways. From a home office and additional living space to an entertainment area and guest bedroom. After that you can utilize the basement area according to your needs.
2. Two Story House Plan with Balcony
A balcony in the house is a fantastic way to enjoy the surrounding landscapes and add extra value to your two story house plan. The above simple two floor house design features large windows and a covered balcony on the upper floor.
On the lower level, residents can enjoy the privacy of the bedroom and use their balcony area for hosting parties and entertaining guests. Add floor-to-ceiling windows with sliding glass doors to your balcony space for a seamless indoor-outdoor flow.
3. Two Story House Plan with Garage
Look at this fabulous modern two story house plan. It features four bedrooms, 2 bathrooms, a spacious kitchen with an island, a dining room, and outdoor space. This home also has a two-car garage attached to it. You can include drive-up garages at the front and back of your house design, as they're easy to access.
A garage is a recreational space which can be used in several ways apart from parking your vehicles. You can use the garage as:
Studio or workshop
An extra family room
Gym
A kid's playroom
Extra storage space
Games room
Man cave
Guest suite
4. Two Story House Plan with Upper Deck
This beautiful contemporary 2 storey house design has two bedrooms, two bathrooms, and an expansive kitchen with an island. With an area of 924 sq. ft, this home features a covered front porch and a large deck on the second floor. The house's overall design is modern and minimal, which is one of the most growing demands among homeowners.
Imagine having late-night dinner parties and family get-togethers in your upper deck area. Doesn't this sound amazing?
You can also add a large deck on your second floor to optimize your space efficiently. The master suite has direct access to this deck that can be used for relaxing, entertaining, or simply enjoying the view.
5. Two Story House Plan with Front Porch
Do you want to make your entryway more inviting and attractive? If yes, add a front porch to your two story house plan!
Porches are an excellent feature to add in two story house plans. They not only add a curb appeal to the property but also offer a sitting area to enjoy the outdoors. Take inspiration from the above classic country-style 2 storey house design. This house is built on a 2,445 sq ft area with two bedrooms with attached bathrooms, a huge living room, and a kitchen with a breakfast nook. These rooms are divided into two levels and are spacious.
You can use your front porch for alfresco dining or an entertainment family area to enjoy meals together. With so many benefits, adding a front porch to your 2 story house plans is highly recommended.
6. Two Story House Plan with Detached Garage
If you have more space on your lot, you can go with a 2 storey house design with a detached garage. In this type, a separate area is attached on either side of the main property. Compared to a two-story house plan with an attached garage, this one gives you more flexibility and security. Another major benefit of houses with detached garages is that you can customize them however you like.
Above this garage, you can add additional living space, a workshop, or storage units. This space provides complete safety and privacy. So, even if you have limited front yard or backyard space, you can utilize this garage area.
7. Two Story House Plan with Walkout Basement
Does your lot is situated in sloppy or hilly terrain? Don't worry; here is the perfect solution for you: choose a two story house plan with a walkout basement.
This floor plan will make your hillside lot into a luxurious living space. This would be a great idea for people planning to build a home near mountains or a lake. These basements have one or more doors leading to your backyard to directly access it from the outside. These 2 story house plans bring plenty of natural light and create an airy atmosphere. This walkout basement will act as an indoor/outdoor living space for entertaining guests.
8. Two Story House Plan with Sloped Roof
Homeowners struggling to find storage space in their homes should consider building a two story floor plan with a sloped roof. In recent years, there has been an increase in homes with sloped roofs. This type of roof not only looks great but also offers various advantages.
Two storey house designs with slightly sloped roofs provide natural ventilation and protect the property from extreme weather conditions like heavy wind, snow, and rain. These roofs also maximize the space in the attic, which you can use for other purposes, including additional storage, living room, etc. Also, as compared to flat roofs, sloped roofs are more cost-effective.
9. Two Story House Plan with Wrap Around Porch
A wrap-around porch is another architectural element that can elevate your two story house plan. The above house, designed in a two story floor plan, has four bedrooms, five bathrooms, and a three-car garage. Apart from these things, one noticeable feature about this property is the wrap around porch!
A spacious wrap-around deck welcomes visitors to this amazing family dwelling. These types of porches cover the entire front and side parts of the house. you can use this space for numerous activities such as sitting, dining, entertaining, and relaxing. If you're planning to build a two story house plan, consider adding a wrap around porch to create a harmonious blend between indoors and outdoors.
Advantages of Two Story House Plan
2 story house plans offer more space vertically, even on a narrow lot. It maximizes the living space by adding more bedrooms.
Traditional two story homes have living areas and bedrooms on different floors providing more privacy.
These types of house plans offer the residents elevated views of the surroundings.
This floor plan also gives you the design flexibility to create something unique and diverse.
2 story house design is more energy efficient and provides excellent cross ventilation.
Compared to one floor house plan, the two story house plan has a higher resale value.
FAQs
What Is a 2 Story House?
A two story house plan consists of two floors of living space connected with stairs. The main level usually has an entrance hall, living room, kitchen, and dining area. The second floor is used for master bedrooms, bathrooms, and additional rooms.
What Does a 2 Story House Look Like?
2 story house plans can look different depending on several factors such as architectural style, materials, size, and design. These homes have a taller exterior profile with features like a front porch, basement, staircase, and large windows.
How Tall Is an Average 2 Story House?
On average, the height of a two floor house design is about 18 to 30 feet. However, the height can vary depending on factors like architectural style, ceiling height, local building regulations, and type of roof.
Why Are 2 Story Homes Cheaper?
Compared to a one story house plan, the construction of two story homes costs less per square foot. A two story house plan usually has smaller blueprints, requiring less roofing and foundation materials. This is why 2 story homes are cheaper nowadays.
Are Two Story Houses Safer?
When two story house plans are built with high-quality materials with good architecture and according to the local building codes and regulations, they are considered safer than the one-story homes. Two floor house designs also offer more privacy and added security.
Conclusion:
Today two story house plans are a popular choice among homeowners as they offer several benefits such as affordability, added privacy, and security. From traditional 2 storey house design to modern 2 story house plans, you can select any architectural style. You can also add features like a balcony, garage, and wrap around porch to make it inviting and attractive. You can even customize the design according to your needs and preferences.
Explore Further: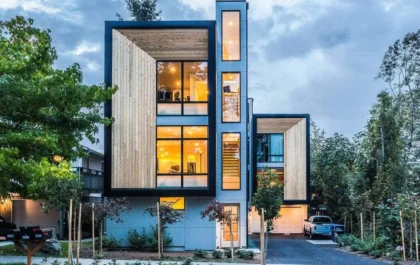 27+ Stylish & Modern Townhouse Designs for Urban Living.
The townhouse's first impression is normally too small, too compact, too narrower, and the list is endless. Well, let us…