Almost every summer resident has bushes; a funny and, at the same time, banal fact! They can be "abandoned" and located behind the plot or be well-groomed and be a "living" hedge. In the latter case, garden furniture is often placed in the landscaping area, like a suspended rocking chair. If you hang it in the shade, you can have a good rest, even on a hot summer day.
Responsible summer residents always keep an eye on their plot and try to keep it clean and tidy. If there are bushes on the territory or nearby, they can not be mowed down but beautifully decorated. Here are the most win-win options for how to place ornamental shrubs in the garden.
The basic rules for creating a beautiful garden are as follows:
The main color is green;

Shrubs with bright and variegated leaves should only be spectacular spots against the background of natural greenery;

When choosing plants, it is necessary to take into account the illumination of the garden. First of all, this applies to variegated forms since their color fades in the shade;

Contrasts should not be abused. Bright colors should be diluted with white and silver tones;

It is important to take into account the frost resistance of each shrub;

Take care with

bushcraft equipment

.
1. Solitary Planting of Shrubs
Source: architecturaldigest.in
Spectacular specimens are so self-sufficient that they do not need company. Shrubs with an original crown, fancy leaves, or lush inflorescences deserve to be the center of attention. As tapeworms, dogwood, Tunberg's barberry, spiraea, hawthorn (if its crown is regularly formed), scumpia, viburnum, and turf look good.
2. Group Planting of Shrubs
Source: hearstapps.com
Plants of the same species are used in simple and mixed groups – two or more. In both cases, shrubs should tolerate the neighborhood with other "relatives" well. Hydrangea and rhododendron perform well in the duet. In a mini-group, you can plant spiraea, Deutzia, and Weigela.
To diversify the planting, ornamental trees can be planted next to shrubs. For example, variegated birch bark, evergreen rhododendrons, golden spruce, and fiery red maple look good in one composition. Quite an original group of finely sawn cherries, fan maple, and birch bark. The combination of chub, turf and Japanese birch bark also looks good.
3. Shrubs for Hedges
Source: hearstapps.com
Hedges are placed around the perimeter of the garden. Lilac, pemphigus, hawthorn, and chub are suitable for this role. If you want to save space in the garden, give preference to molded (shorn) hedges made of spirea, brilliant dogwood, barberry, and snowberry.
4. Bush Mixborder
Source: futurecdn.net
In mixed plantings, beautiful flowering (weigela, lapchatka) and decorative-deciduous (turf) shrubs are good. They go well with herbaceous plants. But do not combine too large specimens with powerful roots (birch bark, hazel) with planting flowers. It depresses small plants.
All shrubs achieve maximum decorative effect in open areas, although some are able to tolerate partial shade. But still, good lighting is preferable for them. Hawthorn, karagana, and almonds are especially demanding of the sun, so you should not place them near tall buildings that create shade.
Also Read: Best Outdoor Patio Heating Ideas to Keep Your Guests Warm
Decorating the Shrubs with Additional Vegetation
One of the simplest options is to additionally decorate the dacha vegetation with flowers and ornamental trees. Of course, they can be grown from seeds, but it is better to purchase ready-made copies if possible. When selecting flora, the growing conditions are taken into account: shading, soil type, and features of the local climate.
Some useful tips for decorating suburban bushes:
First, try to trim them using special garden shears;

On the periphery, it is better to prepare flower beds for flowers or trees, laying them out with stones or pebbles;

Then plant additional vegetation, watering the beds and, if necessary, protecting them from damage;

In the future, you need to monitor both the bushes themselves and the rest of the flora.



Today, the direction of decoration for cultivating shrubs for home garden decoration is actively developing. Vegetation options are selected depending on the shape, appearance, and other requirements for landscaping.
Garden Furniture Is a Great Addition to the Suburban Area
Landscaping is good but it is better when the garden offers the owners and their guest's exemplary comfort. Such amenities can be achieved if you get comfortable furniture like a swing or an armchair. It can be placed in the shade or beside the fountain for rest. Once you get comfortable, you can read a book or have another tea party. You can order excellent furniture for the cottage from us, which will be beautiful, comfortable, and quite durable.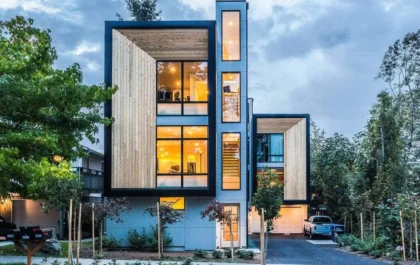 27+ Stylish & Modern Townhouse Designs for Urban Living.
The townhouse's first impression is normally too small, too compact, too narrower, and the list is endless. Well, let us…