When it comes to house curb appeal, landscaping is one of the major factors that can be responsible for it. There's something magical and irresistible about nature. The sights, sounds, and scents of the natural environment can attract many people to be interested in your property.
Today having a home without some beautiful plants in the garden, yard, or on the borderlines is considered incomplete. That's why having shrubs in front of house is quite important!
Are you looking for ways to upgrade your house's outside area? If yes, you should think about the best bushes for front of house!
Yes, don't neglect your front yard! That's because this place is the first thing that gives your guests and neighbors the first impression of your home. Planting one of the best shrubs for front of house in your front yard will add some character and personality to the overall appearance of your home.
A wide range of foundation and flowering plants are available on the market. That's why it sometimes seems difficult to select the plants, as creating a perfect landscape requires proper plants and planning.
Are you also facing the dilemma? No worries, keep reading!
Today in this blog, we've gathered some of the best foundation and flowering plants for the front of your house. These gorgeous shrubs and bushes can go with any home and borderline. So read till the end to know which one is best for your yard!
Low Maintenance & Best Bushes for Front of House
So basically, you can choose between the foundation and flowering plants or go with both! Foundation plants are planted beds which are mostly planted along the house foundation in the front areas. You can go with low shrubs, bushes, or dwarf trees as they're evergreen. Boxwood, Dwarf Gardenia, Rosemary, and Rhododendron are some of the popular low-maintenance shrubs.
However, if you want your house to be more eye-catching, go with flowering plants! Adding a few flowering shrubs and other plants can make your front yard look more appealing and beautiful.
Flowering plants are known for bringing beauty, texture, and sweet smells. That's why they're great to add a touch of drama to the yard space. You can plant them in suc a way that they create a path to guide visitors to the main entrance.
In the below list, we've included both foundation and flowering plants. So you can select the ones you like the most.
So are you ready to put in some time to up your landscaping game?
Let's begin.
1. Winter Gem Boxwood
Source: stadlergardencenters.com
Source: thespruce.com
Boxwood, also known as box or Buxus, is one of the most popular foundation shrubs. This low-growing shrub with uniform green leaves is perfect for colder regions as it remains green in winters. Boxwood has many species; one of them is Winter Gem Boxwood. They only grow 6-8' as it has a slow-growing rate.
These low growing shrubs for front of house are super easy to cultivate, and you can easily shape them with some hedge trimmers. They grow well in partial to full sun; that's why these bushes are perfect for the base or backdrop for the landscaping. You can also place other colorful specimens around them to create a fantastic visual interest.
Apart from winter gem boxwood, you can also go with other types of boxwood such as:
Japanese Boxwood (Buxus Microphylla)

Dwarf English Boxwood (Buxus sempervirens 'Suffruticosa')

Korean Boxwood (Buxus Sinica Insularis)

Green Gem Boxwood

American Boxwood (Buxus Sempervirens)
2. Rhododendron
Source: birdsandblooms.com
Source: gardeningknowhow.com
Are you looking for an evergreen, flowering specimen? Rhododendrons will be the best option for you! These are low-maintenance evergreen and attractive flowering shrubs that can grow 2 to 4 feet tall.
This low-growing shrub is perfect for those who love to include colors in their foundation plants. From white and pink to purple and orange, you can pick the Rhododendrons in your favorite colors. These dramatic, multi-colored flowers always appear on top of irregular foliage. These shrubs grow between 2 to 4 feet in height. That's why they're ideal foundation plants that will completely change the look of your landscape.
The best thing is that there are so many different species of rhododendrons out there, so you can get the ones according to your yard and budget. They go with many other types of flowers and foliage plants.
3. Rosemary
Source: oregonlive.com
Source: pinimg.com
Rosemary, also known as Salvia Rosmarinus, is an evergreen plant that can also be added to your landscape. Yes, it's the same rosemary which is known as a famous herb used in many recipes.
This shrub is actually part of the mint family, along with many other culinary herbs.
It has needlelike leaves and produces small flowers (edible) in warm climates. This plant blooms in spring and summer.
This lovely shrub grows about 3 feet to 4 feet in height. To grow rosemary healthy, loamy or sandy soil is required.
4. Azalea
Source: hearstapps.com
Source: themarthablog.com
Another flowering plant idea for you is Azaleas! This is actually the close cousin of the rhododendron family. The major difference between these two is that azaleas have smaller leaves and are also smaller in size than a rhododendron plant.
Still, they are also one of the favorite spring-blooming flowering shrubs. These shrubs come in so many vibrant colors, which are perfect to light up any shady or dark spots in the yard. You can get from whites to pinks and multiple shades of purple, to orange, and sometimes yellow. Azaleas have a different bell or star-shaped or umbrella like clusters of elliptic-shaped flowers, which are ideal for adding to your curb appeal landscaping.
Usually, these shrubs grow 4 to 6 feet in height and bloom from spring through June. If you're confused while selecting flowering plants for the front of the house, go with Azalea shrubs.
5. Hydrangea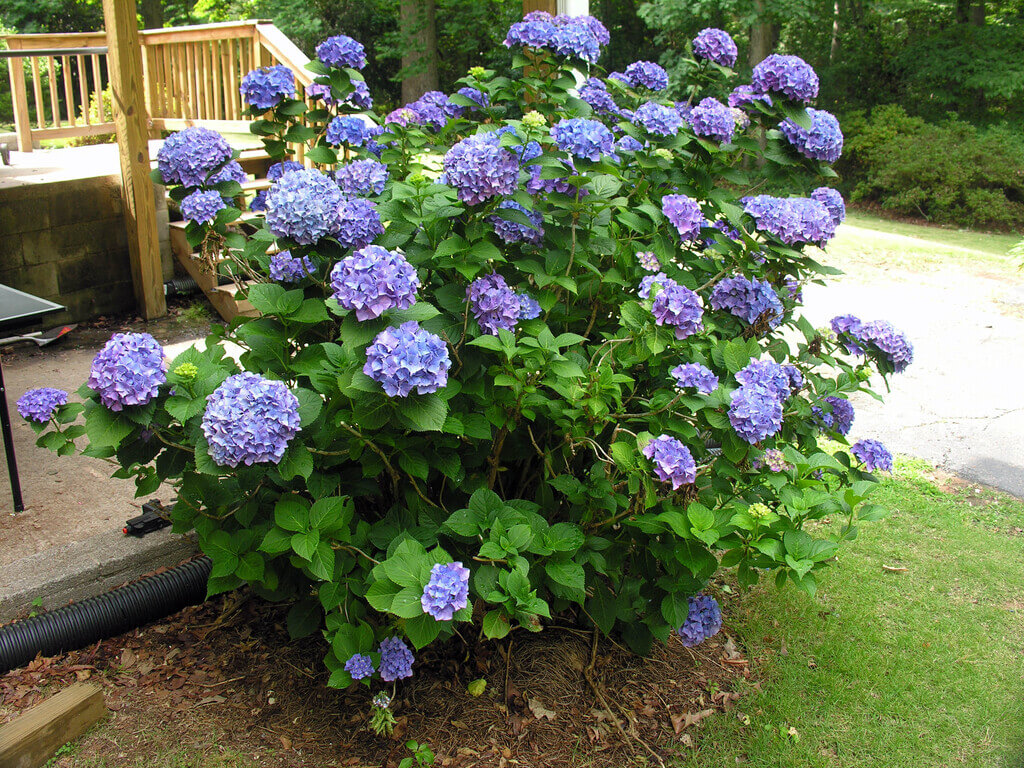 Source: clemson.edu
Source: gardeningknowhow.com
Does your front yard look boring and plain? Introduce some splash of colors with the help of a few Hydrangeas!
Hydrangea is a deciduous shrub with dimensions from dwarf to tree-sized. This is a popular bush for both southern and northern gardeners. So what's the reason behind its popularity?
People prefer Hydrangea as a landscaping plant because it is super easy to grow and survive in a large variety of climates. They bloom with showy flower heads in an array of forms and hues.
Hydrangeas are available in different varieties, and each of them has different flower shapes and colors, shrub sizes, and growth requirements. Its flowers bloom in the late summer or early fall. The most common flower colors are pink, blue, purple, green, and white.
Below are some varieties of Hydrangea:
Big Leaf Hydrangeas

Oak Leaf Hydrangeas

Panicle Hydrangeas

Smooth Hydrangeas

Climbing Hydrangeas
Also Read: Naturescaping for a Sustainable Life
6. Roses
Source: lovethegarden.com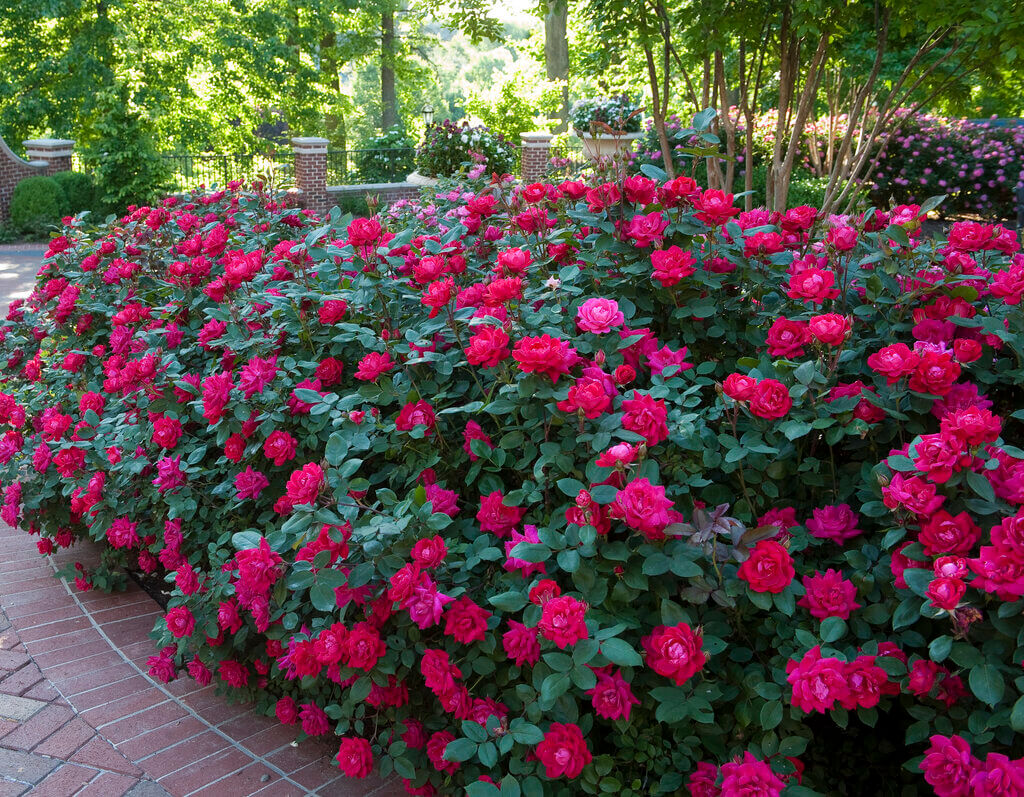 Source: squarespace-cdn.com
What's a more classic and timeless flower plant option than Rose? Nothing, right!
Rose is well known for its beauty and aroma. It immediately brings calmness and positivity around. However, the best thing about roses is that they're easy to grow and come in so many various colors. With a little bit of care and maintenance, you fill your front yard with gorgeous roses.
Rose bushes come in a bunch of different shapes and sizes. From pink or red to yellow, orange, and even shades of white, blue, or purple, you can get roses in any possible color today. The shrub roses are one of the varieties; they are only 3-5 feet tall and only 3 feet wide.
Here are some of the easiest roses to grow all season long:
Knock Out Roses

Little Mischief Roses

Flower Carpet Scarlet Roses

Snowdrift Roses

Paint the Town Roses
7. Emerald N Gold Wintercreeper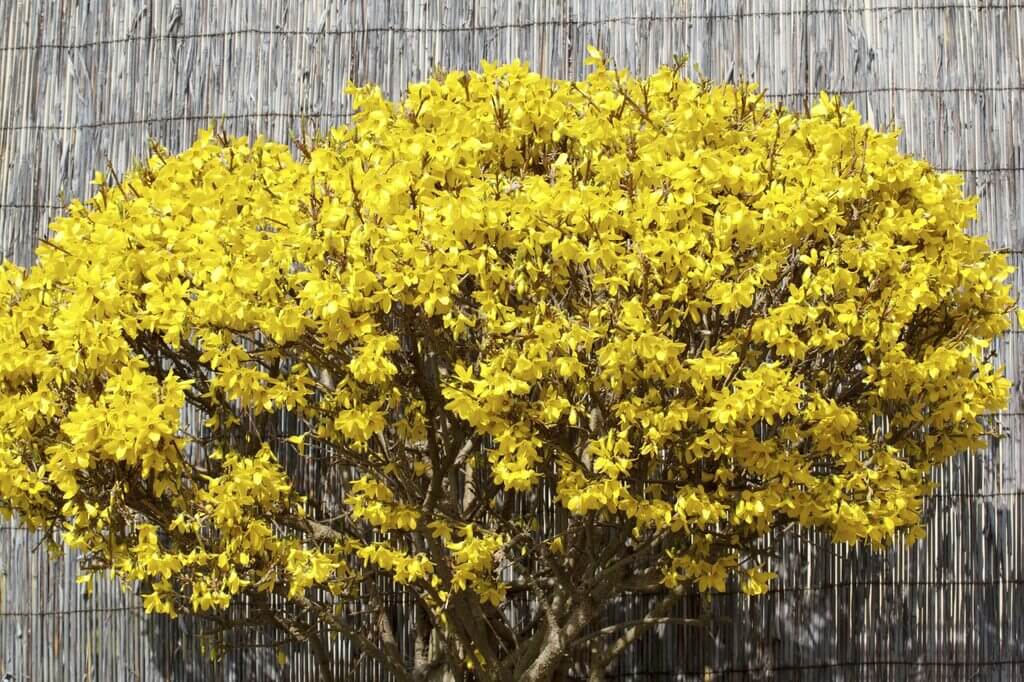 Source: wikimedia.org
Source: smsmarmaragroup.com
This plant belongs to the family of Wintercreepers. Yes, Emerald N Gold is an evergreen plant that also survives in harsh cold weather. This shrub has the most alluring bright yellow and green foliage, which looks so unique. Wait, there is more! In autumn and winter, the leaves change their color to red and pink! What a lovely surprise, right!
You can use them as foundation plants and transform your boring-looking space into an inviting area. Easy to grow and maintain, these multi-stemmed shrubs are considered hardy in zone 4b. These shrubs only grow 1 to 2 feet in height, making them perfect for edgings, garden borders, and house borders.
8. Lilac
Source: extension.umn.edu
Do you have a large front yard space and don't know what to do with it? We've got you! Instead of regular foundation plants, you should go for Ornamental Trees like lilac!
Lilacs are taller, and they grow quite large. These gorgeous scented shrubs have good-cut flowers. So when you have ample space, you can grow this tree or go with dwarf varieties that stay much smaller!
The lovely green foliage and sweet aroma of beautiful flowers will make your front yard look stunning.
9. Camellia
Source: thespruce.com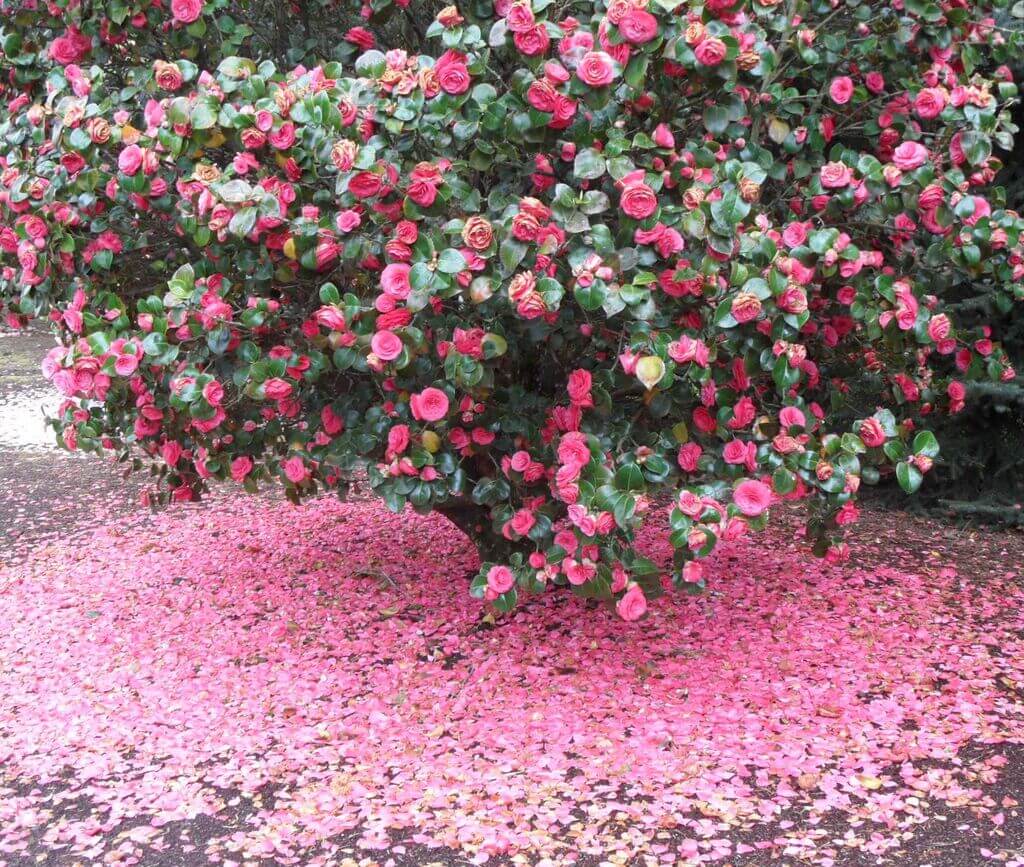 Source: pinimg.com
You may have already seen Camellias in your neighborhood, as they're pretty common. In past years, the popularity of these plants has quickly increased, and now they have become one of the favorite shrubs for the front of the house.
These shrubs are also hybridized to create more durable flowers and longer bloom times. So if you're living in colder parts of the globe, camellias are one of the best plant options for you. You can also install them in various pots and containers and put them at your front door.
10. Forsythias
Source: lowes.com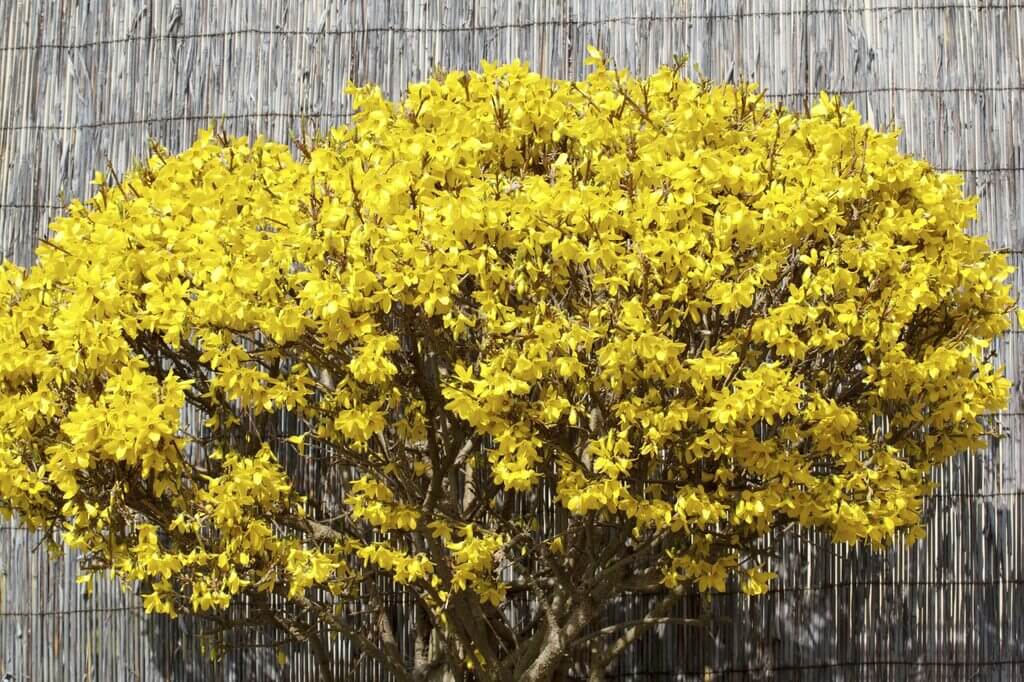 Source: gardeningknowhow.com
Just one glance at these shrubs, and you'll feel yourself already loving them!
The brilliant yellow blooms gracefully scattered around its branches are actually the ultimate part of this shrub. They can make any space look alive and natural with their beautiful appearance. This fast-growing, low-maintenance shrub makes them an ideal bush in front of house.
Do you want to know more about shrubs for front of house? Scroll down!
Here are some more foundation shrubs and flowering plants that you can use in your landscape to make it more beautiful:
Moonshadow

Cavatine Dwarf Japanese Pieris

Inkberry

Japanese Skimmias

Bird's Nest Norway Spruce

Dwarf Black Spruce

Dwarf Golden Oriental

Smoke Bushes

Burning Bush

Blue Star Juniper
Final Thoughts About Shrubs For Front of House
So this is all about the Shrubs For Front of House. Now you know various types of foundation shrubs and plants. The last thing to do is to pick the one you like the most! All of the above best bushes for front of house gives your front yard a stunning makeover without spending a fortune!
I hope this post has given you some landscaping shrub ideas and inspiration to you. If you find this guide helpful and informative, share it with your family and friends. To know more about the various types of architecture and home improvement techniques and decoration ideas, explore Architecturesstyle.
For daily updates about architecture, don't forget to follow us on our Instagram page, Architecturesstyleideas.
Himadri Shakya
Himadri Shakya is an enthusiastic Content Writer and Editor. She loves to create creative, engaging, and SEO-friendly content. Through her extensive research skills and practice, she has been generating high-quality and informative articles, and blog posts for over 4 years.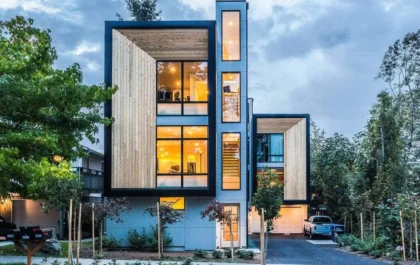 27+ Stylish & Modern Townhouse Designs for Urban Living.
The townhouse's first impression is normally too small, too compact, too narrower, and the list is endless. Well, let us…