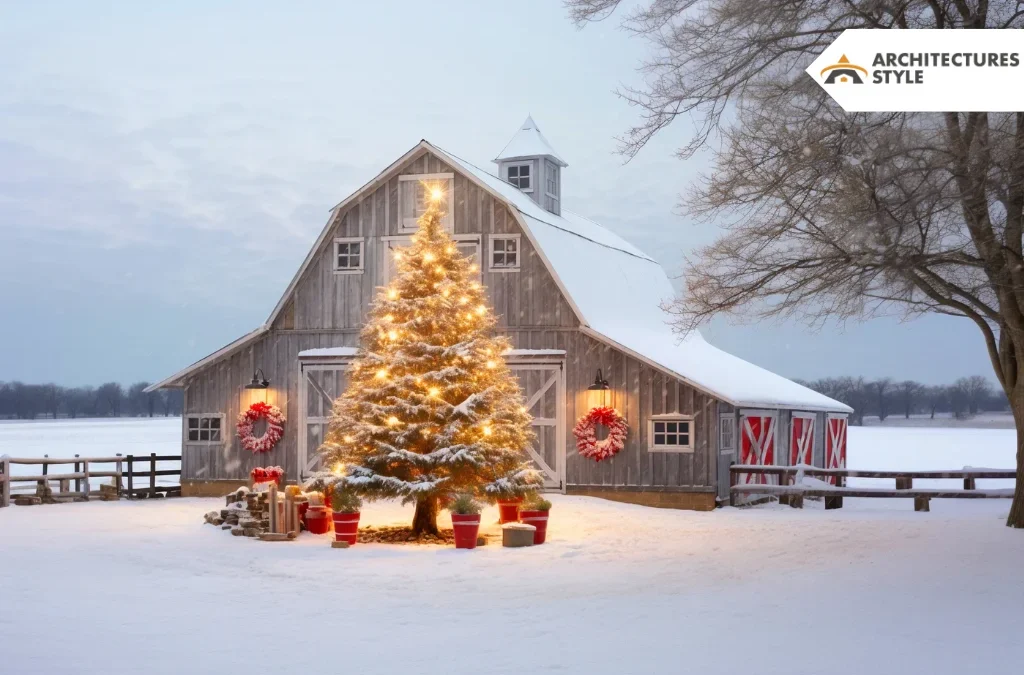 Winter is almost here, and that means a few things: The days will get shorter, Hallmark Christmas movies will light up your screens, Starbucks will bring back its cranberry bliss bars, and it'll soon be time to set up your outdoor Christmas decorations. Decorating your home for Christmas is one of those delightful annual traditions.

This holiday season, you don't have to stick with the usual red and green if you want your home to stand out in the neighborhood. Of course, if you prefer the classic colors, that's perfectly fine, too. We've discovered a variety of creative outdoor Christmas decorating ideas to suit your style, whether you lean toward a maximalist look, a sophisticated touch, or something tastefully understated. From the front porch to the pool area and the fire pit, we've gathered 25+ best outdoor Christmas decoration ideas that will inspire you for years to come.
1. Integrate Faux and Natural Together
Get ready for the holidays by adding a cozy touch to your porch. Place small evergreen trees in big crude baskets to create a textured woodland atmosphere as your outdoor Christmas decoration. When crafting Christmas wreaths and garlands, follow a simple rule: begin with a sturdy foundation of artificial verdure and then add natural features like magnolia stems, pine branches, and bunches of juniper berries. This mix of faux and organic elements ensures that her Christmas decorations stay colorful and beautiful for a longer time.
2. Keep your Guests Snug
You can continue to enjoy outdoor dining in the winter; only make sure to have some fire and cozy blankets. We recommend adding warm lighting and vintage elements for a lovely atmosphere. You can also include vintage items like pails with Christmas trees, old sleds, and vintage symbols to lift the ambiance of your outdoor Christmas decoration.
3. Wreath-up Twice
If you have double doors at your home, it's a great chance to use two wreaths! Add a festive touch by hanging posies in the front yard and loading pots with juniper trees and additional evergreen plants.
4. Oversize Your Decor
Large decorations will take your Christmas décor to the next level. These oversized outdoor Christmas decor ideas not only occupy the space beautifully but also provide a dramatic burst of color. At the back, you can use Santa or nutcrackers to greet your family and friends.
5. Holiday Spirit
Evoke the spirit of Christmas with the cavalry of garlands, lights, wreaths, bulbs, trees, you name it! You can go for a timeless look by using the green and red color scheme and wrapping garlands on your patio columns.
6. Reindeer Entry
Reindeers are the quintessential Christmas symbol. To create an enchanted forest atmosphere, adorn your entryway with these lovely creatures.
7. Prop the Red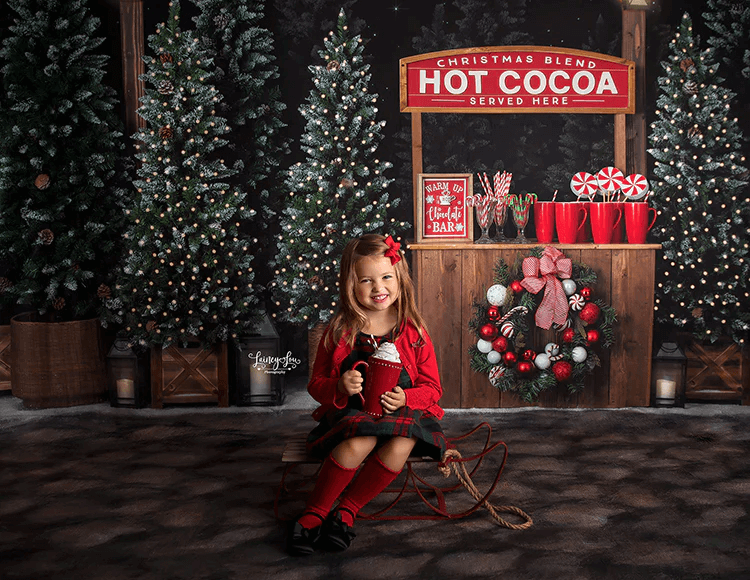 Don't rush to store away your patio furniture just yet. With the proper elements, like heat lamps or a firepit, you can transform your exteriors into a cozy apres-ski retreat. Add touches of red with blankets, pillows, and decorations to give it a festive feel. You can go for a Christmas plaid composition for a classic look. You can also place a sizzling cocoa bar to keep visitors comfy, and if you want to spike it up, you can add some alcohol for a little extra cheer!
8. Style A Forest
You can make your own winter wonderland, even without actual snow. The combination of an exuberant garland, a cute little tree, and a cluster of verdant greens creates an ideal scene that's not overly extravagant.
9. Chalet Vibes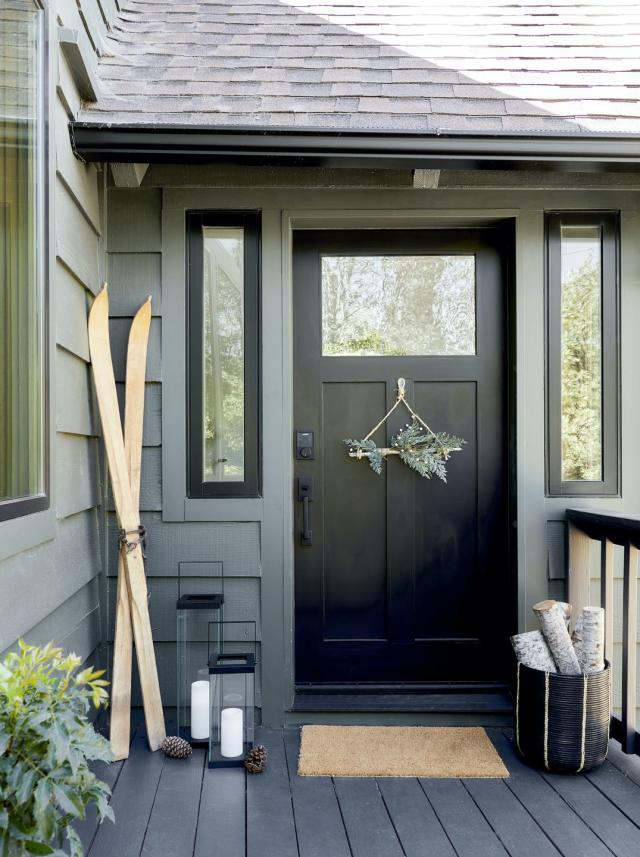 Transform your front yard into a trendy ski chalet. You can go with modern geometric lanterns, abstract wreaths, and a classy wooden ski decor that adds a contemporary flair to your front porch. The best part? It's not overly Christmassy, so you can keep the Christmas porch decorations up throughout the winter.
10. Surprise Everyone
Give your Christmas a unique twist. You can blend traditional elements with unexpected touches and surprising elements to encourage people to pause and appreciate the decor.
11. Make Cozy the King
Throw blankets and sheepskins are a real game-changer here. Arrange your table with a sheepskin on each chair and place fluffy wool throws on every chair. Blend the elements with a bunch of bouquets and candles. These additions can even turn the chilliest December day cozy and cheerful.
12. Layers, Layers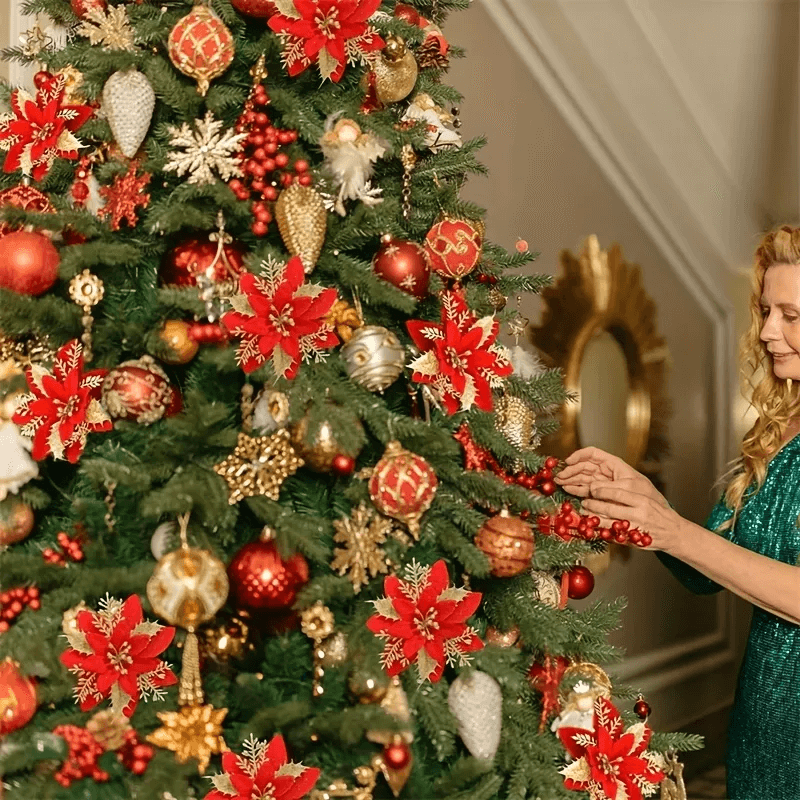 The holidays are a special occasion, so why not go all out with the decorations? Go overboard with the festive touches, adding gilded trees and poinsettia plants. To complete the look, adorn the topiaries with ornaments and ribbon.
13. Simple is the Best
If you think that Christmas outdoor decorations are all about greenery, you are wrong. You can also have a more straightforward approach with wood trees of different heights and strings of twinkling lights.
14. Take A Seat
If you want to enjoy your beautiful decorations, consider adding a seat to your outdoor Christmas display. It looks inviting, plus you can blend in with your Christmas decor by spending cold winter mornings on it.
15. Light up your Porch
Add some light to the scene! Brighten up your front veranda by adorning the area around the door with a garland of twinkling lights. The combination of the brilliant white leis and contemporary lanterns below completes the space with style. You can apply these Christmas lights easily.
16. Plant a Tree
Contrary to what many people think, Christmas trees can be a great addition to your outdoor decor. You can have two dense trees in rustic wooden planters to give your outdoor space a festive touch.
17. Frosty and Bright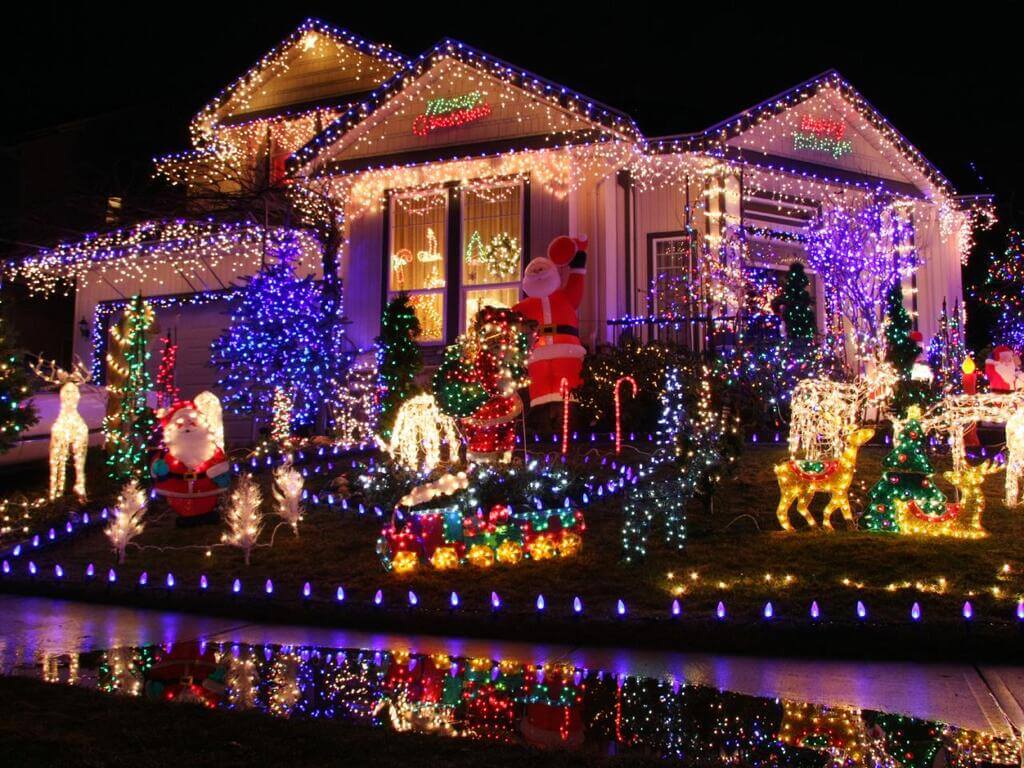 You can add a touch of glamour to your front porch by using flocked decorations and a burst of kaleidoscopic embellishments, creating a cheerful and inviting atmosphere.
18. Go with Symmetry
To achieve a balanced look, make sure to decorate both sides of your patio to match. Whether it's with garlands, wreaths, or trees, be sure to purchase duplicates of everything!
19. Go, Designer
When you decorate during the holidays, think designer. Use large natural baskets for miniature Christmas trees placed on the floor. It adds texture and warmth to the decor. You can also combine real small trees with artificial ones. When you make Christmas bouquets and garlands, always begin with a sturdy base of artificial greenery on your garland or wreaths, and then incorporate real or organic elements such as genuine flora. Mixing artificial and natural elements not only extends the longevity of Christmas decorations but also keeps them looking fresh.
20. Use Tropical Colors
If you're weary of the traditional red-and-green holiday theme, consider getting creative. Decorate the entryway with unique colored bulbs and add freestanding sisal trees and toy soldiers that are spray-painted to match the shorter ones within the wreaths, giving it a distinctive and fun appearance.
21. Go Rustic
Make sure your porch isn't overloaded with Christmas decorations but it still exudes a festive atmosphere. Go with a vintage buggy on your porch throughout the year and dress it up to match the season.
22. Decorate with a Brood of Reindeer
If the facade of your house still seems a bit empty, even with all your Christmas lamps up, these sparkly reindeer would make a perfect addition.
23. Choose Ethereal Stalks
If you prefer a more understated holiday scenery, you can choose a simpler and more natural look. Just add little lights to a few towering branches to create a lovely frame for your door, and this fashion will endure throughout the entire winter season.
24. Try Black-and-white Theme
You can have a stylish and inviting neutral holiday scene. Go with a black-and-white theme and include earthy tones for accents. The dangling wicker basket on the entrance, full of fresh foliage, adds a touch of elegance.
25. Make A Front Yard Forest
Christmas wouldn't be complete without a Christmas tree, or better yet, thrice the quantity! Set up the most delightful display of mini trees outside your house. Place them in different colorful pots and even a simple bucket for a charming touch.
26. Outline your Door
This outdoor arrangement shines with holiday cheer, from the string-lit archway to the radiant red wreath.
27. Wrap your Door
The best gift of all is being the ultimate host, and this front door, inspired by gift wrap, offers a suitably festive welcome.
28. Place Pinecones and Greenery Everywhere
Fill in your outdoor Christmas decoration with abundant forest greenery, turning the winter space into a tranquil holiday wonderland.
29. Go Pastels
A pastel decor departs from the usual Christmas colors and instead opts for coordinating light pastel accents.
30. Choose Classic
This impressive front patio is fully adorned for the holiday season. From the posy to the wreaths decorated with berries on every window, your outdoor Christmas decorations can't get any more spectacular than this.
31. Light Up Lanterns
Add a touch of city glamour to your front entrance by loading lanterns with glossy adornments and decorating them with monochromatic ribbons. It's a stylish touch, very much in the spirit of Kate Spade.
32. Choose A Bountiful Wreath
A wreath is always a charming outdoor Christmas decoration, and you can give it a fresh twist by adding a generous number of goodies like cranberries, pine cones, and other wintry elements.
33. Choose the Gingham
This wonderfully simple door decoration includes new bunches of pine instead of a traditional wreath, enhanced with a string of bells and a plaid scarf.
34. Wrap your Columns
Don't let the Christmas presents steal all the spotlight. Decorate your home as well with garland. This decoration showcases garland adorned with ornaments wrapped around the house's columns. It's truly a picturesque sight.
Conclusion
Invoke the spirit of the holiday season by incorporating these outdoor Christmas decoration ideas. These ideas are sure to turn heads. You can DIY your way out or hire a designer to amp up your porch and front yard. This Christmas, go all out with the decor.
FAQs
How can I decorate my outdoor Christmas?
There are a plethora of ways that you can go about with outdoor Christmas decorations, like a winter wonderland theme or an enchanted forest. You can also go in for a rustic minimalist tone.
What is the lucky color for Christmas tree?
As per experts, Forest Green is the lucky color for outdoor Christmas decoration.
What color is best in Christmas?
The classic red and white colors are in trend for Christmas.
Explore Further