Thinking of renovating your property in the new year? While the real estate market grows more and more advantageous for sellers by the minute, homes with top-notch outdoor spaces are ranking supreme in the current housing market. Since March of 2020, the housing market drastically changed thanks to COVID-19. When the pandemic forcibly locked families away at home, private outdoor spaces were no longer considered a want, but a need. Buyers who've entered the market recently are on the lookout for ultimate outdoor living. An outdoor fireplace — not to be confused with the more casual outdoor fire pit — is often considered the epitome of outdoor luxury.
Who wouldn't want to spend their evenings sipping wine while warming your toes by a crackling fire?
Outdoor fireplaces aren't a cheap investment, but they're a sure way of attracting buyers to your home in masses. Since home prices are extremely high and outdoor living is a top buyer priority, building an outdoor fireplace in your backyard may be the perfect investment to be competitive in the housing market.
The Rise of the Outdoor Fireplace Explained
Source: wixstatic.com
The COVID-19 pandemic brought with it one huge change for workers. While most Americans were commuting to work each day during pre-pandemic times, now most non-essential workers are opting to transform their kitchen table into an office. As we approach the second anniversary of the pandemic, many companies all around the country are making remote work the new norm.
After a busy day of Zoom meetings, who wouldn't enjoy closing the computer and heading outside to unwind in their private outdoor space? Top-notch outdoor spaces have become a top buyer priority in the current housing market, and properties with outdoor fireplaces will have buyers knocking down their doors.
As home prices have surged recently, so have certain outdoor amenities. In HomeLight's Top Agent Insights for End of Year 2021, 65% of the top real estate agents noted that buyer interest in outdoor fireplaces has significantly increased since March of 2020. Clearly, buyers are now looking for complete indoor and outdoor living, and there's no better way of adding a touch of splendor to your backyard than by building a brand new outdoor fireplace.
How Much Value Will an Outdoor Fireplace Add to Your Home?
Back in March of 2020, an outdoor fireplace was valued at approximately $3,337 nationally. Since then, the value has increased by about 72%, and homeowners can hope to get an extra $5,753 for their property with the addition of an outdoor fireplace.
If your property resides in a warmer region, the value is even greater. For example, the Pacific region of the country saw a dramatic increase of 123% in the value of outdoor fireplaces since March of 2020 — from $4,254 to $9,497.
However, there's always a downside to any investment. Real estate agents have estimated that custom work for an outdoor fireplace can easily reach $20,000 depending on the cost of materials and extravagance. Renovation materials are high at the moment, so you'll want to carefully consider whether or not the risk is worth the gain. If you're only building the outdoor fireplace for investment purposes, you might be better off with less exorbitant outdoor renovations.
Complete Outdoor Living Becomes a High-Demand Feature
Source: hearstapps.com
There's no need to break the bank in order to please your buyers. While outdoor fireplaces are the cream of the crop when it comes to outdoor living, there's plenty that can be done with a smaller budget. Since the housing market is undeniably favorable for sellers, you'll surely sell quickly in the current housing market so long as you have a trusted real estate agent on your side.
If you have an outdoor space already, a few small investments will attract plenty of buyers. Top outdoor amenities include fire pits, built-in grills, outdoor lights, and comfortable outdoor furnishings. If you have the budget, adding a full outdoor kitchen — complete with a grill, sink, mini-fridge, wet bar, and a flat-screen TV — will cost about $5,500. Despite the cost, outdoor kitchens are currently valued at approximately $9,751, so they are great investments for those looking for the best price for their property.
Next, consider your curb appeal. First impressions are important in the real estate industry, and you'll want to start impressing your potential buyers the second they pull up to your property. Try mowing the lawn, trimming the hedges, planting some flowers, and giving the front door a new coat of paint. A few small investments like welcome mats, prominent house numbers, and a modern mailbox may also go a long way when it comes to dazzling your buyers!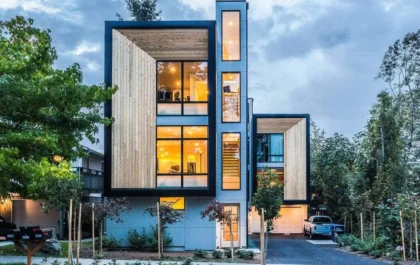 27+ Stylish & Modern Townhouse Designs for Urban Living.
The townhouse's first impression is normally too small, too compact, too narrower, and the list is endless. Well, let us…