7 Reasons to Renovate Your House in a Modern Architectural Style
archistyladmin, 7 days ago
0
5 min

read
42
If you are thinking about renovate your house, especially the exterior, and giving it a completely new, fresh look you are going to need some ideas to nudge your creativity and reveal your preferences.
You have probably fallen in love with a particular style already, but you should be open to new ideas, especially in the period of research, when you are exploring your options, like right now. To help you out, here are X reasons why the modern architectural style should be very high on your list of options.
Modern Architectural Style Lacks Ornaments
Source: pinimg.com
One of the most noticeable features of the modern architectural style is the lack of ornaments. There are no decorative moldings and elaborate trims that make the look perfectly clean and simple. The visual appeal is still very high because the final look oozes with a well-executed design. Best of all, it is cheaper than having ornaments that are delicate and hard to create.
Modern Materials
Source: goodshomedesign.com
Another feature that makes every house-owner happy is that this style is achieved with the use of modern materials and systems. These include steel columns, concrete blocks, and concrete floors. Moreover, radiant heating systems are incorporated in the home and these enable the ultimate comfort of the owners.
When it comes to the all-time favorite materials – wood, brick, and stone, these materials get a whole new meaning in the way they are used. Nature is brought within the design in a new way that reflects the modern aesthetic. For example, wood is not painted. It is usually stained to express its natural condition.
Lots of Glass and Natural Lighting
Source: wixstatic.com
The modern architectural style is characterized by the use of lots of glass elements. This enables natural light to pour in the house. In this manner, the windows can be very big – from the floor to the ceiling offering breathtaking views and consuming as much natural light as possible.
Form Defined by Function
Source: pinimg.com
This is probably one of the features that set the modern architectural style apart from the other design styles. The function of the elements' design dictates the form; meaning, the look of the house should reflect its comfort.
The design is, without a doubt, functional. A few examples are asymmetrical compositions with heavy use of geometric forms with flat roofs and horizontal lines are much appreciated.
Open Plan Interiors
Source: home-designing.com
When it comes to the interior, it is all about keeping everything in one, grand opened area. The modern style is all about space – the more the better. Plus, lots of natural lighting coming in from those huge window solutions.
The likability of the open plan interiors is their grandiosity and the feeling of luxury. The space is flexible, and offers endless possibilities for furniture arrangements and placing focal centerpieces. It gives off vibes of wholeness and comfort.
Beyond Aesthetics
Source: home-designing.com
In Nordic countries, the modern architecture style is accepted into the regulation of buildings and town planning due to the vast influence of the modernistic era. As the architectural design in these countries is all about functionality, the modern style fits perfectly.
Of course, the Nordic, and especially, the Scandinavian design is even more developed and it goes in detail that brings a new life on the concept of modernism.
Real Estate Loves Modern
Source: vandebuurt.nl
Now you are renovating your house to get a fresh look so you can enjoy its comfort in the days to come. However, one day you might decide that you don't want it anymore and want to sell it. If the house is done in a modern style, potential buyers will likely be more interested in checking it out.
The statistics say that more than half of the Americans looking to buy a place in an urban area want the place to be designed in a modern style. By renovating your house according to modern principles, you not only get a completely comfortable house to enjoy but also a house with an increased value of the price.
Before you start your renovating project
Source: familyhandyman.com
Renovations aren't cheap. They cost a small fortune, last long, and take a lot of energy. Things could turn in the wrong direction at the very beginning – extra costs you haven't planned, more things to fix, furniture pieces that don't match (even though they did in your head), and so on. To avoid such problems you need to make a detailed plan listing the money from the budget for every phase you have at disposal and have a clear overview of the final look.
A lot of real estate agents virtually stage the homes they want to sell completely transforming the home digitally in the style they want the house to be shown. Virtual staging for real estate is done by virtual stagers who receive a photo of the space of the rooms or exterior of a house and transform it into the house according to the desires of the agent.
You can do the same with your home, asking a virtual stager to create the final look of your home according to your instructions so you can see whether you are happy with the result. If yes, you can go on and make it happen. If not, you can make a couple of changes until you like what you see.
Related posts
Subscribe Now
* You will receive the latest news and updates on your favorite celebrities!
Cadillac House by Gensler: A Structure with a Bizarre Angled Steel Facade!
Cadillac House Source: archpaper.com Location: Jin Qiao, Pu Dong, Shanghai, China Architect: Gensler Type: Commercial Status: Built Year: 2019 Size:…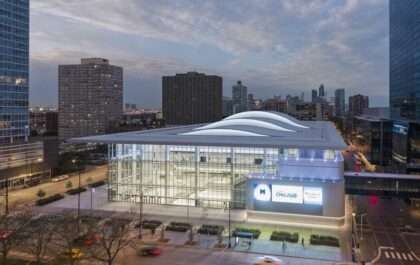 Wintrust Arena, Chicago: Get an Overview of This Amazing Structure
The Wintrust Arena is a multi-purpose event space famous for hosting wonderful basketball matches. Not only basketball matches but it…
Instagram
Instagram has returned invalid data.