Susan and Fayez Sarofim Hall
Official Project Title: Sarofim hall
Design Architect: diller scofidio + renfro (DS+R)
Location: 2030 University Boulevard, Houston, Texas
Expected Completion: 2024
Client: Rice University
Ranked one of the top universities in the world, Rice University is a well-known undergraduate education institution. Located in Houston, Texas, it is named after the Houston businessman William Marsh Rice. Why? This is because he provided the money in his will to begin the university.
Recently a part of it has been redesigned and upgraded by Diller Scofidio + Renfro (DS+R). The new architecture will honor the former Rice Media Center and Art Barn, which was previously commissioned in 1969 by Houston art patrons John and Dominique de Menil.
Concept & Theme of the Sarofim Hall
Source: adsttc.com
The new structure will be named Susan and Fayez Sarofim Hall, and it is a part of Rice University's New Arts Building. The building will contain the Film, Media, Photography, Printing, Drawing, Painting, Sculpture, and Performance departments.
This new home for visual art students will provide them with more facilities with new advanced technology. They are designed by a team led by Charles Renfro and helmed by an alumnus with a deep appreciation for the arts at Rice and in Houston.
The more surprising thing is that this design is following a national competition. We already told you that the new architecture would honor the former Rice Media Center and Art Barn. The new structure's design is actually an inventive take on the prefabricated building. It incorporates exhibition areas, labs, studios, shops, and faculty offices. All these and many more facilities are situated in a prefabricated expandable building. This also serves as collaboration points for artists across mediums.
According to the architect, "The new Sarofim Hall design will serve as a new gateway to the university's campus."
"What's really unique about the site for this project is the history of the former Art Barn and Media Center buildings—two simple yet iconic metal buildings whose significance cannot be ignored," said University Architect George Ristow in a statement.
He further added, "DS+R's initial concept for the new building cleverly weaves the symbolism of that history with the scale, materiality, and porosity of the broader campus fabric. With the building being at the outward-facing perimeter—and at an entrance into campus that has evolved into one of the most active and dynamic access points—it will undoubtedly have a different kind of visibility beyond the hedges that will be leveraged as a new and unique gateway to the Rice arts corridor."
Design & Construction of the Sarofim Hall
Source: glasstire.com
Do you know Butler Buildings? Yes, pre-engineered buildings! The Sarofim Hall project will exactly remind you of these butler-style buildings. These architectures are well popular for their versatility and durability. These butler or metal buildings have been made from high-quality roofing, structural, and insulating materials to achieve a durable and long-lasting building solution.
The Diller Scofidio + Renfro Architecture along with the Jackson & Ryan Architects (executive architect), Martinez Moore (structural engineer), and Walter P. Moore Civil engineer) design the main floor plan. Apart from these people, OJB (landscape designer), Fisher Dachs Associate (theater consultant), Thresold (acoustics + AV), and Wylie Associates (MEP engineer) also helped the lead architects to achieve the dream art building for the university.
As explained by Renfro, "the building shell is thought of as a piece of infrastructure: simple, durable and timeless, while the insides can transform as needs change."
"With DS+R helming the design of a building that will provide a flexible space for new thinking around the making of contemporary art and performance, Rice will be poised to activate dynamic interdisciplinary as well as interdepartmental collaborations, mindful of the tradition of aesthetics and social justice that the de Menils began locally," said Bruce Hainley, incoming chair of Rice's Department of Visual and Dramatic Arts. "Soon, the new building will allow a vital humanities department to resituate itself and the arts as central to the university, making for one of the most compelling sites of invitation to the greater community of Houston."
ArtStreet and The Front Porch
Source: archpaper.com
Let's talk about the main attraction of the Sarofim Hall. It includes a glass-lined ArtStreet and a dynamic pedestrian corridor. This corridor bisects the building diagonally and also serves as a "Bridge between Rice and the City." This provides a platform where public and university students can hang out together.
According to the design team, "This will create a new central social gathering hub that inherits the DNA of the Rice arcades and courtyards."
Apart from this, another major public-facing element is the West Porch! It is an outdoor extension made of a steel frame that extends outward. This functions as a social front porch that can be used to host classes, exhibitions, screenings, or reclining beneath the so-called 'Warhol Tree' and other outdoor programming activities.
Rice University new building by DS and Rembraces prefabricated construction techniques. This will promote seamless interaction across artistic disciplines and will also pay homage to Rice's iconic, now-demolished Institute for the Arts: Art Barn and its sibling structure, the Rice Media Center.
Source: archpaper.com
"What we're hoping to do is bring an anchor to the art programs. Art Street is a shared space that will cut through the middle of the building and be both indoors and outdoors," Renfro said of a wide, open walkway in the building's initial concept drawings. "It's not owned by any particular department or teacher but shared by everyone, casually and more formally. That will become a psychic heart for the program and will also become a proving ground for their work."
The architect and his design team know that this new building will function as a machine for the production of art across disciplines. Each space, including both indoors and outdoors, will serve a specific purpose. That's why they decided to make each wall and niche a surface that can be used for display.
"The building shell is thought of as a piece of infrastructure: simple, durable and timeless, while the insides can transform as needs change," Renfro explained.
This also includes a transparent and barn-like structure. You'll be surprised to know that it is composed of pre-engineered steel portals spanning 160-feet. Architects try to give a common platform by merging maker spaces and exhibition spaces for the students and professors at Rice University.
Also Read: Sustainable Design In Vernacular Language: St. Andrews Girls Hostel by Zero Energy Design Lab
Amenities & Facilities in the Sarofim Hall
Source: adsttc.com
The architects and design team at DS+R use the fundamentals of butler building style and reinvents this hermetic building type. They have created a unique steel frame that liberates it from its skin. By doing this, the structure has transformed into an exterior mini-campus that provides covered exterior spaces. This space welcomes everyone, including all students, faculty, and the general public.
The architect explains, "Every space and surface, whether indoors or outdoors, serves a promoter of 'making, thinking, discussing, experimentation and innovation' all under one roof."
Along with the glass-lined pedestrian ArtStreet, there will be a 230-seat cinema and 125-seat performance space. All the art facilities will include box-in-box acoustic separation and will also have the most advanced technical systems.
"Cross-disciplinary discourse is a hallmark of the arts in the 21st century, but it has been difficult at Rice since its facilities are scattered all over campus," Renfro explained in a statement, recollecting the long walks across campus that were required between art classes of different disciplines while he was a Rice student. "Sarofim Hall will not only bring these programs together for the first time but also facilitate experimentation and collaboration between disciplines through the use of open, transparent, indoor/outdoor and public-facing space."
The Bottom Line
So, this is all about Rice University's new architecture art building: Susan and Fayez Sarofim Hall. This project is technically not the first time DS+R did work for Rice. Before this, in 2014, the firm also designed a 600-seat opera house at the site. However, they did not complete it, and later the project was given to Allan Greenberg Architect.
With a target completion date of 2024, the Sarofim Hall will surely be one of the remarkable structures at Rice University. I hope you liked this blog about Rice University's new building by Diller Scofidio + Renfro Architecture. Share this blog with your family, friends, or anyone who is studying or about to take admission to this university. Tell them all the new features, advanced technology, and overall how cool the new visual art building is.
To know more about the various types of architecture and home improvement techniques and styles or decoration ideas, explore Architecturesstyle.
For daily updates about architectures, don't forget to follow us on our Instagram page, Architecturesstyleideas.
Himadri Shakya
Himadri Shakya is an enthusiastic Content Writer and Editor. She loves to create creative, engaging, and SEO-friendly content. Through her extensive research skills and practice, she has been generating high-quality and informative articles, and blog posts for over 4 years.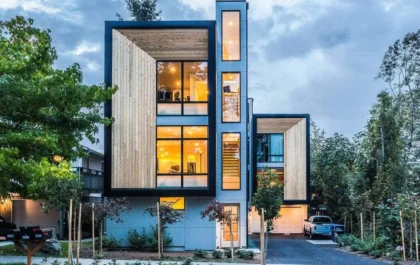 27+ Stylish & Modern Townhouse Designs for Urban Living.
The townhouse's first impression is normally too small, too compact, too narrower, and the list is endless. Well, let us…