Bungalows are style homes that have gained a lot of fame over the years. They have a rich history and are a favorite among many due to their adaptability. Bungalows have multiple possible uses, feature a simple floor plan, and come in unique designs. Are you moving to a new bungalow and want to save on moving costs? There are various ways to achieve this. Check them out;
Hire a Professional Mover Company
Source: 15westhomes.com
You'll come across many mover companies but hiring the best goes a long way. Reputable movers have spacious vans and trucks to fit your belongings. Also, they have adequate staff to avoid delays. The teams are experienced and will pack, lift and ferry your valuables with minimal damage. That's not all; the movers will employ proper tools and equipment to minimize breakages.
Examples of tools& equipment used by professional movers include;
Moving dolly:

Helps lift and move bulky items, which avoids injuries and breakages.

Furniture sliders

-Sliders are made of plastic or hard rubber and come in handy when moving heavy furniture. They also help prevent floor damage which can result from scratches and abrasions. With such a tool, you can effortlessly slide the furniture across the room.

Moving blankets and pads

-Blankets and padding will wrap and protect your furniture and valuables from breakages. They also come in handy when moving large household items.

Moving straps& ropes-

There are different types of straps; these include Elastic straps, Ratchet tie-down straps, and braided nylon twine. They help secure the loaded items on the dolly and the moving truck.

Protective gloves-

Safety is vital, and protective gloves guard your hands against injuries when packing. They will protect your hands against sharp edges and bulky items that can scratch and hurt your hands.

Toolbox-

A toolbox includes different tools that you may need when moving. The toolbox may include; scissors, a flashlight, a utility knife, measuring tape, and more.
Be Realistic About the Moving Time
If hiring professional Removalists, choose the right moving time. Doing this will significantly lower your moving costs since every company has peak times. For most movers, you expect this to be on weekends, end months, or holidays. Many people will likely be moving during such times, and you expect to pay a higher price for the services.
Compare Different Mover Companies
Source: capitalone.com
All moving companies offer varying prices, and you can get amazing deals by comparing the service providers. Get quotes from various movers, and examine the services provided versus the costs.
Quality Packing Supplies Will Go a Long Way!
You need different packing materials; these include packing boxes, packing paper, plastic wrap, bubble cushioning, labels, and many more. The quality of these materials will determine the safety of your belongings. You then need the best quality supplies to avoid breakages.
If unsure where to acquire them, contact the mover company; many offer packing services and will supply the best quality materials. Also, shop around for offers on packing supplies and buy in bulk. You will likely get great deals on packing boxes and tape, saving you a significant amount of cash.
Find Local Packing Materials from Nearby Shops
Source: cloudfront.net
If moving many things, you may find it costly to acquire all the packing supplies from leading stores. The good thing about this is that you can get cheaper materials from your local shop or supermarket. For instance, your shopkeeper may be willing to give packing boxes for free. You may be lucky to get piles of boxes waiting to be recycled. Take advantage of this and use the boxes to pack your items. Moreover, keep newspapers for months before the move; use them as padding when packing delicate items.
Consider Using a Moving Container
You can hire a moving van, truck or container. If doing a DIY move, a container will go a long way. It allows adequate time to load and unload. The moving company will deliver the container to your home, and you'll have all the time to pack at your own pace.
Once you're done packing, the movers will pick it up and ferry it to your new home. They will also pick it up when you're done unloading. Therefore, if you lack time to load and unload quickly, a moving container will make a cost-effective option.
Reduce the Moving Load/ Declutter
Source: meredithcorp.io
There's no need to pay for things you won't use in your new bungalow. Therefore, set adequate packing time and sort your items accordingly. Donate or sell the unnecessary items and remember to select a flexible moving date to allow for de-cluttering.
Be Organized
Set adequate packing time and avoid rushing at the last minute. Also, pack your things in advance and disassemble bulky furniture beforehand. Doing this will save a lot of time and prevent scratches and breakages. Label all the boxes and ensure that there are no sharp pointing edges. These can cause abrasions to other valuable items. Lastly, be cautious when packing delicate items and consider moving them in your car.
How Can I Locate a Professional Moving Company?
There are different mover companies in your state. Conduct an online search and list down the movers depending on the services offered. Narrow down your choices to a few service providers and contact them for a meeting. Inquire about the cost and get a quote.
Moreover, compare different quotes to make an informed selection. You can also seek referrals and recommendations from loved ones. You can easily locate the best and affordable movers from people who have hired such services before. However, do a thorough background check on the movers, and don't rely on referrals only.
The Bottom Line
Moving a house isn't a cheap exercise. You need to plan appropriately and budget in advance. The good thing about moving is that there are various things you can do to save costs. These include hiring a reputable mover company, acquiring quality supplies, and planning right. To save more on your bungalow move, consider the mentioned tips and only engage reputed movers.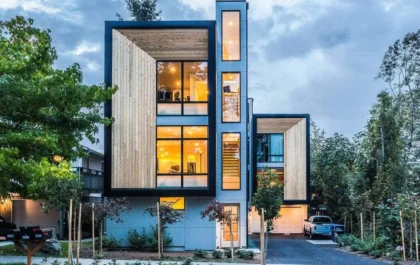 27+ Stylish & Modern Townhouse Designs for Urban Living.
The townhouse's first impression is normally too small, too compact, too narrower, and the list is endless. Well, let us…