Recently, many people are looking for extra spill-over space for additional functions like storage, home office, or other diverse functions. Expanding the house may not always be possible or feasible, hence outdoor sheds prove to be a viable option. It allows them to have an additional space, away from the chaos of the house, yet within the boundary of their space.
Modern sheds can on average cost you around $2500 for a small 10×10 ft basic shed to up to $35,000 for a large 10×20 ft shed with customizations. The price range is broad as several parameters decide the shed building costs. Let's take a look at the various factors that determine its cost.
Parameters Affecting Shed Building Costs
Size of the Shed
The size of the shed significantly determines its cost. A smaller shed uses less material and naturally will be cheaper to construct. A large shed generally has an elaborate design, uses more material, and is hence expensive. It's not just the floor space that counts, it is also the height of the structure that affects the cost, same logic of the amount of material it uses applies here as well. A typical 6×4 ft shed may cost you a minimum of around $480 and a large 12×20 ft shed may cost around $4800.
Components of a Shed
1. Foundation
The foundation of the shed needs to be durable and must be constructed properly as it determines the strength of the shed. Shed foundations are mainly divided into two categories – on-grade or temporary foundation and frost-proof or permanent foundation.
On-grade foundation
These foundations sit on the ground and leave the possibility of shifting the shed later open. Mainly they are constructed using the following materials.
Concrete blocks – a series of solid concrete blocks aligned in straight lines, placed on soil (along the edges and center of the shed). Over these concrete blocks, floor joists are laid, making the base foundation for a shed.

Skids – parallel timber joists are laid on the ground over which the joist floor assembly of the shed rests, making the easiest and the quickest type of foundation.

Timber frame – a wooden frame is constructed over a gravel bed and makes a timber frame on-grade foundation. The biggest advantage of this is the flooring of the shed can be filled with any material from brick to engineered decking.
Frost-proof Foundation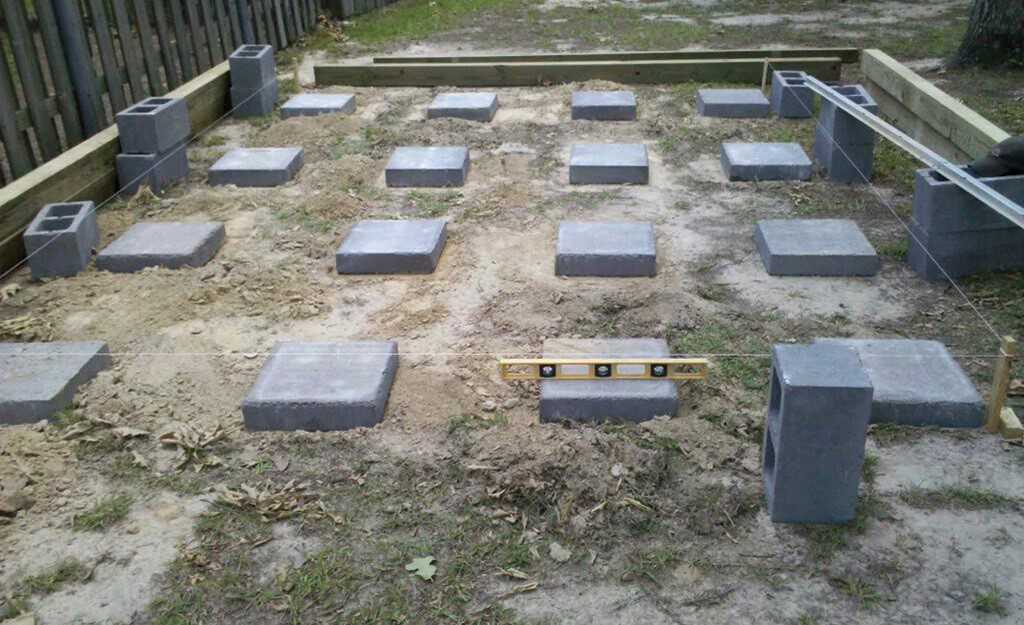 These foundations require excavations, go below ground, and are permanent in nature. They are used for larger sheds, where heavy loads are going to act on the foundation. It is beneficial to use this method in colder regions where freezing temperatures may damage on-grade foundations.
Concrete piers – concrete piers are simply concrete columns below ground level. These piers are positioned along the edges of the shed, floor frame is anchored over them.

Concrete slab – this is a poured-concrete slab foundation that is ideal for large storage sheds.

Pole barn – this is a very different type of foundation, here concrete footings are cast below ground along the edges of the shed and timber poles are fixed into them. Beams are anchored between the poles and walls are erected on them. The floor space is covered with any available material.
The average cost for constructing a foundation will be determined by the type and material chosen, it may range from $4-$16 per sq. ft.
2. Walls
Generally, sheds have external walls only, the external siding counts for another significant chunk of money required to build a shed. With plenty of material options to choose from, your choice of external siding must depend on budget, aesthetics, local availability, etc. Here are a few common siding materials:
Wood
Wood is a very common external siding option that falls in the mid-price range. You can choose from the traditional or modern siding. Tradition wood siding includes – shingles, bevel siding, etc. Whereas, modern wood siding includes engineered wood, plywood, etc.
The traditional ones are expensive compared to the modern ones and have a couple of drawbacks like being prone to termite attacks, moisture-related problems, and rotting, if not sealed properly. This makes traditional sidings high-maintenance. Most of the flaws are overcome by modern wood sidings making it an ideal cost-efficient option that offers the same classic wood textures.
Average cost: $1 to $15 per sq.ft., depending on the type of wood siding
Vinyl
Vinyl siding is a very cost-efficient alternative to wood. It comes in different colors and textures, looks aesthetic, and does not have drawbacks like wood. It does not rot, is termite resistant, and never needs painting or varnish polishing. It may not look natural and earthy but it is still a very affordable elegant siding option.
Average cost: $4 to $5 per sq.ft.
Metal
Metal sidings are very common, they have features similar to vinyl, but it isn't as sturdy. It is a pretty affordable and widely used external siding option. However, you may want to avoid using these in cold regions with heavy winds and snow.
Average cost: a wide range starting from$1 to $35, depending on the type of metal
Brick
Brick walls are the most expensive to make. Although, it has several advantages like durability, sturdiness, strength, fire-restitant, anti-termite, anti-rot, etc. This is great if you want a permanent shed.
Additionally, you will also need skilled masons to lay the bricks properly. This essentially increases the labor cost and the shed building costs rise.
The average cost of material: bricks cost around $ 2.5 to $ 8 per sq. ft.
Fiber Cement
A very durable option includes the fiber cement siding. It has many special features like anti-rust, termite-resistant, fire-proof, etc. and about aesthetics, it has a superior appeal and can look similar to wood. The composition consists of making fiber material like cement of sand, cement, and fibers.
The average cost of material is $3 to $5 per sq. ft.
3. Roof
Asphalt shingles are the most common roofing material, that is easy to install, and are affordable roofing options. They are being replaced by metal roofing that is available in a diversity of different colors and textures.
Average cost: $1.16 to $ 625 per sq.ft., depending on preferences
Labor Costs
Labor costs may fluctuate drastically, depending on your chosen method. Whether you build the entire shed on your own, get an entire built-out or hire a professional to build it, costs will vary.
Doing it on your own, or with the help of your friends and family means a lot of responsibility and manual work, however, it saves all the labor costs and you get to build it on your own and at your pace.
If you hire professionals to build a shed, firstly be sure about their expertise, they should be skilled and licensed professionals. You can be depended on them for the safety of the shed and the perfect assembly, in case anything goes wrong, these contractors will know what to do, hence they're reliable. However, they may burn a hole in your pocket as the charges are typically high. Some may even charge by the hour, making it costlier to build a shed.
Average labor costs may range from $50 to $100, sometimes higher.
Land Preparation
Most of the time, the site selected for building a shed will need some amount of preparation. The land grade may need to be evened out before, grass or weed may need to be removed, etc. Anything on the specific location of the shed, be it a rock, shrub, or tree, must be cleared out before building a shed.
Clearing the site may require a lot of work, you may even have to hire professionals to do the job if the size is too large. Thus, the cost of land preparation may vary significantly, range starting from a couple of hundred dollars to thousands.
Permit Costs
Depending on the area you stay in, municipalities may charge a certain specific fee to allow you to build a shed, it is not mandatory in all regions, but some places are chargeable. The cost of approval may vary from $50 to $2000, depending on the size of the shed.
Utilities
Utilities include additional features of the shed, for example, electric or plumbing works in the shed. It is always better to add utilities at the time of construction, rather than adding it later. Electrical works may cost around $44 to $100, while plumbing may cost around $45 to $150.
Types of Shed
The purpose of building a shed may be different for everyone, functionally sheds can be divided into the following types:
1. Storage Shed
Storage shed, as the name suggests is meant to store all the surplus supplies and mechanical equipment. It is also known as a garage shed, has shelves, and also serves as a workshop space. The shed building cost may vary from $300 to $15,000, governed by the several parameters mentioned above.
2. Garden Shed
A garden shed is a smaller storage shed that has the minimal function of storing basic gardening equipment. It is relatively inexpensive, ranging from $100 to a few thousand dollars.
3. Home Office Shed
These are relatively modern sheds and are also called she sheds. Home office sheds are advanced sheds with utilities like electric supply, the interiors of the space are also refined thus acting like an extension of the home. Naturally, they are expensive, price range starting from $ 5000 to $ 15,000.
Prefab Kit or Custom Design?
A prefabricated shed is a more economical way to build a shed, as it comes with a fixed cost and is easy to install on your own. It comes with parts of the shed like walls, windows, doors, and roof, and precise instructions on how to assemble the shed. A pre-assembled kit can also be purchased directly or one can hire professionals to assemble it.
The disadvantages of a prefabricated shed are the lack of customization options and they may not always come with a foundation. They can cost around $1500 to $4000.
Custom Design
Custom design sheds are difficult to construct and these shed building costs are higher. Building a custom shed requires sourcing raw materials and precision in building design and details.
Most of the time, you will need professional help as the method is work-intensive and requires technical knowledge. The resulting shed is, however, a permanent intricate and aesthetic structure. This may cost around $40 to $75 per sq. ft.
Other Expenses
Furnishing
The shed may require a few additions here and there in the interior, depending on the type of shed building. A storage shed may need storage shelves, a home office may need a desk and a chair, etc.
Outdoor Landscaping
After building the shed, to merge it with the surrounding landscape, a few elements could be added as outdoor landscaping.
Pathways

Grass

Patio and decking

Flowerbed

Outdoor lighting
Shed building costs greatly vary, increasing as per the size and complexity of the design. Even the most simple and basic sheds can be great assets to your home and backyard.
FAQs
1. How to Save Money While Building a Shed?
The best way to save money is to go for a prefabricated shed. You can also DIY the shed and save the cost of hiring professional help. Having a detailed plan of action helps avoid mistakes, thus saving money. You can also use the existing wall of a garage and save the resources required to build a shed.  
2. Is It Better to Construct a Shed or Purchase One?
In terms of shed building costs, purchasing a prefabricated shed is better as it is less expensive compared to a custom-built shed. In terms of design and customizations as per your needs, it is better to construct a shed. 
3. Do I Need to Hire a Professional to Build a Shed?
If you are constructing a shed from the ground up, chances are you may need professional help to get the technical details right, and also it requires a lot of labor work, which may be difficult. You will also need to ensure that the structure is safe and stable and that again may seem like a task a professional should do.
Discover More