Today in this blog, we will tell you about a house situated in a forest. Yes, with a really interesting roof and architecture, this little house big shed has been a topic of talk. Are you excited to know about this unique residence in the woods?
Little House Big Shed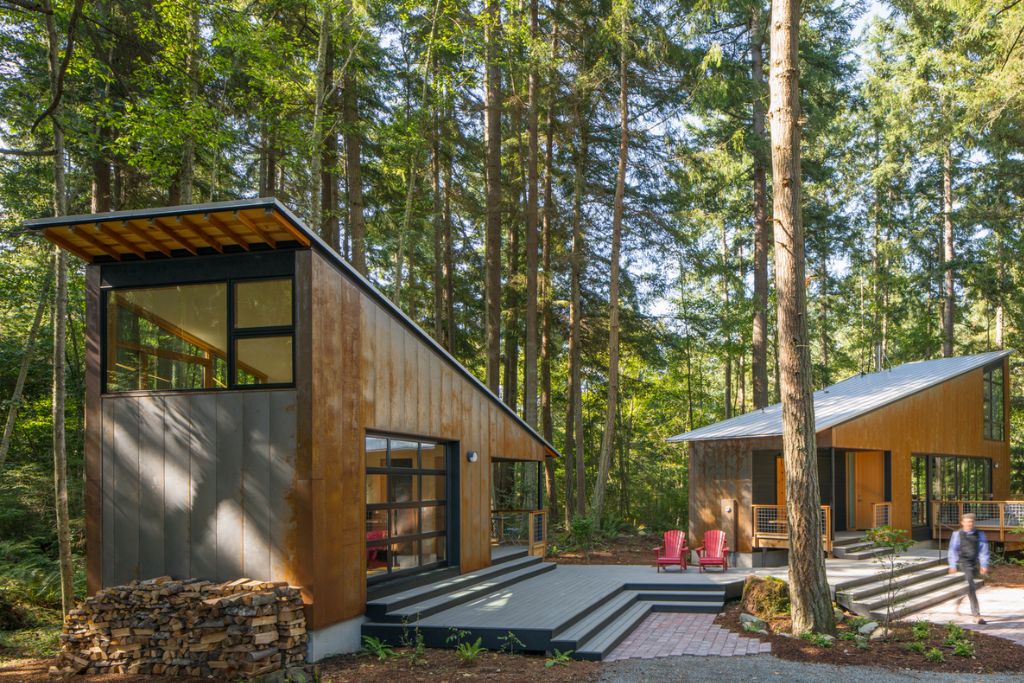 Architects:

David Van Galen Architecture

Location:

Whidbey Island, Washington, United States

Area:

1141 ft²

Year:

2019
When you're an architect, it's quite obvious that your place of living will be fantastic. The same thing happened with this house. The Little House Big Shed belongs to David Van Galen, who is a Seattle-based commercial architect.
This residence belongs to David and his wife, Jane. They came to visit this place in Whidbey Island, Washington around the wintertime, and immediately fell in love with the forest, breathtaking views, and natural landscapes.
David said, "We found this site about 1.5 miles out of Langley. It's off a road with a rolling meadow that goes back to the woods. In the distance is a wall of Doug firs, and then the land drops into a ravine. All these things were happening on a 5-acre site."
Structure Design
After this experience, they've decided to build a private residence: The Little House Big Shed. David is a commercial architect, so working on a residential project was a little fascinating and unknown for him.
That's why he consulted with a local residential architect and collected all the information like residential house construction rules and codes. Everything goes smoothly and perfectly; that's why he also hired a fantastic custom builder, Dan Neumeyer. He guided David with all the production and the process of constructing a private home.
According to David, "Dan made us walk the site while we talked about the project." He continues, "One of the primary drivers was that we wanted the thing to set real lightly into space. We wanted to make a gentle place in the woods—get in touch with the seasons."
For David, Little House Big Shed is a peaceful getaway in the woods. He constructed two Cor-ten clad structures, a large shed as an art studio and an adjacent small house, for himself and partner Jane.
Interior & Exteriors
This structure seems old-fashioned as it is located in the middle of the forest, but in reality, it has all the modern technology and equipment. From 9.3kW solar panels with battery backup, a high-efficiency wood stove to an air source heat pump with in-floor hydronic loop, and a hybrid heat pump water heater with recirculating pump, everything is available in this house system.
Other than this, low-flow fixtures, high-efficiency appliances and fans, all LED lighting, and insulation is provided for a comfortable and convenient living lifestyle. Dan Explains, "Our specialty is building smaller, more sustainable houses with an emphasis on craft—on the things people touch."
Final Verdict
Imagine how interesting it will be to live in residence in the middle of the forest. No noise, no distractions, only you and your family! You can spend peaceful and memorable moments with your loved ones in a tranquil environment, in nature.
If you're keen to know more about these types of unique and unusual houses, read our previous blogs such as POP-UP House by FIGR Architecture Studio, An Eco-Floating Hotel in Qatar, and many more.
As we have always said, you can also take inspiration from these kinds of remarkable structures like the Little House Big Shed house, which are constructed with the latest modern architectural style.
Also, for daily updates about new architectures, follow us on our Instagram page, Architecturesstyleideas.
Discover More: