On June 14th, Henning Larsen and Fritz Hansen together unveiled the design of a luminous pavilion. This collaboration is presented at the Designmuseum Denmark to celebrate the 150th anniversary of the interior design brand Fritz Hansen.
Through the pictures and news, the pavilion looks stunning and luminous. Located in Copenhagen, Denmark, this project is part of an exhibition of the city's 3daysofdesign events from June 15th to June 17th, 2022.
The pavilion is becoming popular due to its unique and sustainable design. Moreover, this structure is specially designed for disassembly. Isn't it a questionable but interesting fact about this building?
Are you also planning to visit Fritz Hansen pavilion? Or want to know more about this fascinating architecture? If yes, keep reading! Today in this blog, we'll take you on a virtual tour of this pavilion while explaining all the details, including its design, concept, exteriors, and interiors.
Let's dive in.
Fritz Hansen Pavilion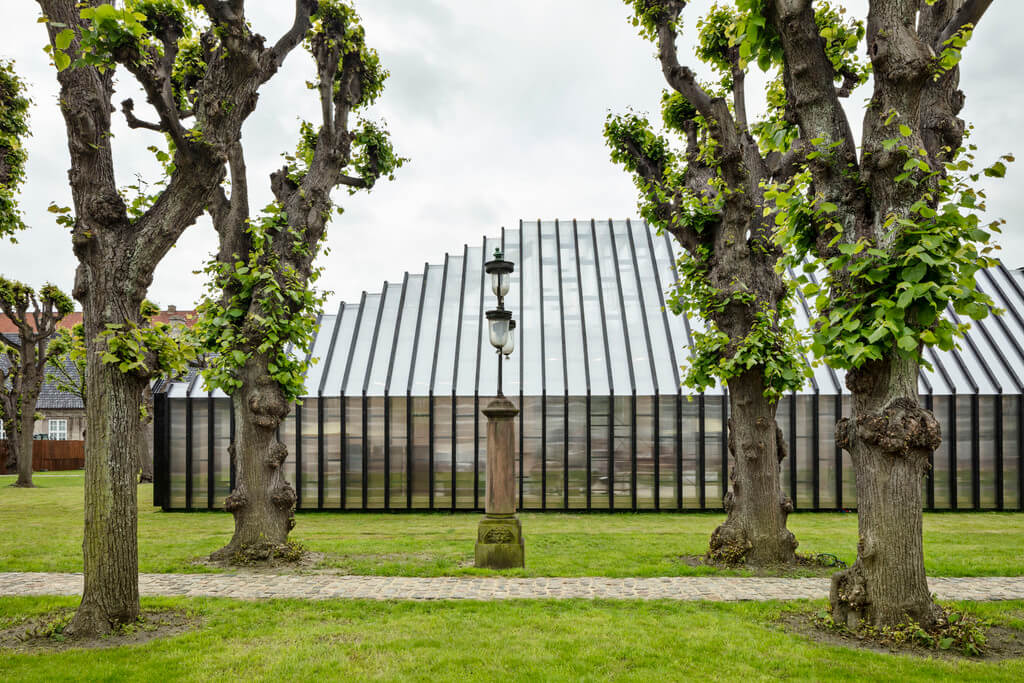 Source: adsttc.com
Official Project Name: Fritz Hansen Pavilion
Architect: Henning Larsen | @henninglarsenarchitects
Location: Designmuseum Denmark, Copenhagen, Denmark
Client: Fritz Hansen | @fritzhansen
Year: 2022
Area: 350m².
The renowned architecture firm Henning Larsen opens Fritz Hansen Pavilion," a sustainably-designed structure, as part of the 3daysofdesign event. Located exactly at Designmuseum Danmark, Grønnegården. Bredgade 68, 1260 København, Denmark, this place is currently one of the hottest tourist spots in the country.
Source: adsttc.com
Everything is unusual, from its architectural style to design and materials, which makes this building unique. The entire structure is developed with a Nordic approach by using low-carbon materials. With the circular design principles, the Fritz Hansen Pavilion revolves around daylight.
However, the most interesting thing about this architecture is that it is designed to be disassembled. This simply means that all the materials and elements used in the structure can be reused elsewhere.
Source: adsttc.com
Let's know more amazing things about this pavilion.
Fritz Hansen Pavilion: Concept & Design
Source: design-milk.com
Henning Larsen opens Fritz Hansen pavilion' with a simple, shell-like structure. This place is the perfect spot for Fritz Hansen's furniture exhibition. Architects follow a Nordic approach and have used natural elements and high-quality materials to create a natural and sustainable design.
The entire building is made from standardized parts that are later bolted together to form a shape. As we already told you, it is specifically designed for disassembling, and this construction method will simplify and speed up the disassembly process.
Source: design-milk.com
The project's main theme is to build a sustainable project, and with that mindset, all the construction elements and materials have been selected. Every part of the pavilion can be reused and even reassembled again into a smaller version in the future.
Source: adsttc.com
Eva Ravnborg, Market Director Denmark, Partner at Henning Larsen, said, "Celebrating the 150 years anniversary of Fritz Hansen, we wanted to create a spatial experience that makes a sustainable home for the furniture it exhibits. A facilitator for the design of Fritz Hansen. Built-in solid wood, the pavilion is inspired by the garden it is situated in, creating a hybrid space with fluid transitions between inside and out."
Fritz Hansen Pavilion: History
Source: design-milk.com
Source: design-milk.com
Since the 1920s, Designmuseum Danmark has been considered one of the finest Rococo buildings in Copenhagen. Originally this building was built in 1752 to work as a Royal Frederik Hospital. In 1926, architects Ivar Bentsen and Kaare Klint repurposed and transformed this space into a museum.
And around a century later again, the space was transformed into Fritz Hansen Pavilion by Henning Larsen. Today this structure is introduced as a modern take on its historical surroundings while incorporating natural elements. What do you think?
Source: adsttc.com
The 3daysofdesign event was from 15 – 17 June, and until mid- Autumn, the space will be used by Designmuseum Danmark. In the summertime, the pavilion will be used for extracurricular activities and initiatives, such as summer exhibitions, schools, and workshops.
Fritz Hansen Pavilion: Architecture Design
Source: adsttc.com
Source: adsttc.com
Fritz Hansen Pavillion's architecture is highly inspired by the timeless design of the interior design brand Fritz Hansen. It's all about having a modern approach with sustainability and simplicity.
Source: adsttc.com
Source: design-milk.com
This shell-like structure is mostly transparent. You might be wondering why architects did this. The reason behind this is to invite plenty of natural light into the space. This will also increase plant life, a part of an exclusive exhibition of Fritz Hansen's furniture.
Source: adsttc.com
Eva Ravnborg explained, "We wanted to create a pavilion that reflects the Fritz Hansen design philosophy of design that stands the test of time while at the same time minimizing the use of virgin materials. Therefore, the pavilion is crafted from standardized parts that are bolted together using standard tools, which helps to simplify and speed disassembly. All parts can be reused, and the pavilion can also be reassembled in a smaller size if needed."
Fritz Hansen Pavilion: Materials (Exteriors & Interiors)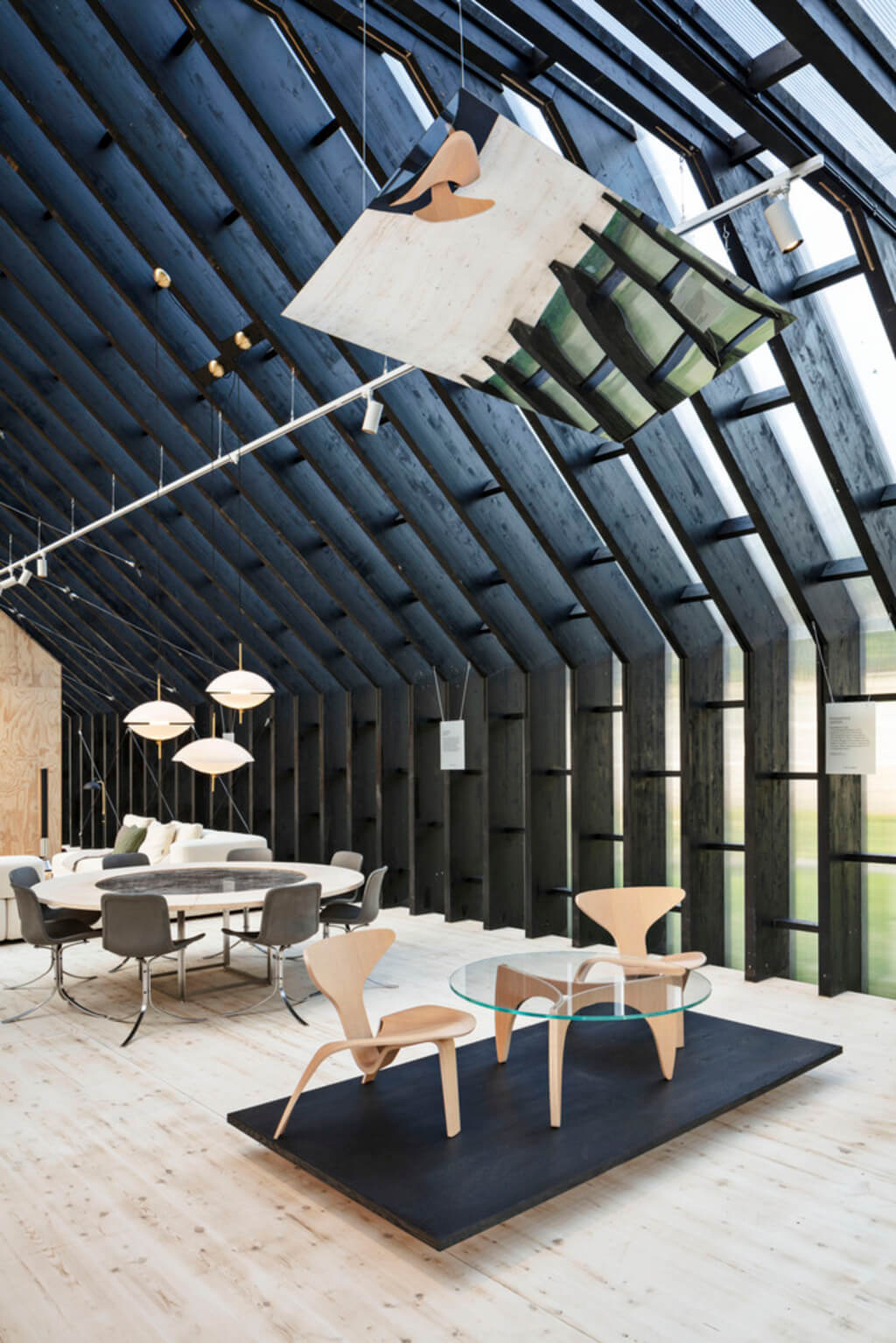 Source: adsttc.com
Source: adsttc.com
The architects chose a special type of timber known as Glulam or Glued laminated timber to construct the 350-square-meter pavilion. Glulam timber is widely known for its sustainability and is traditionally used for buildings in Nordic countries.
Source: adsttc.com
Let's talk about the exterior or facade materials. To build transparent skin on the outer surface, translucent polycarbonate was used. This material will allow natural light in. on the interiors, plywood is used to form walls and various built-in furniture.
Source: adsttc.com
To ensure minimal waste, low-carbon materials have been used so that in the future, they will be reused again. Nothing is glued or welded, so all the parts can be easily disassembled and could be used to create some other structure like in the reconstruction of Fritz Hansen's headquarters.
Source: adsttc.com
Source: adsttc.com
Source: adsttc.com
Source: design-milk.com
Source: adsttc.com
Source: adsttc.com
Source: design-milk.com
Source: adsttc.com
Also Read: Sordo Madaleno Arquitectos Built Doughnut-Shaped Clubhouse
The Bottom Line
So this is all about the henning larsen opens Fritz Hansen Pavilion. I hope this post has given you more information about this unique translucent pavilion in Copenhagen. If you find this guide helpful and informative, share it with your family and friends.
To know more about the various types of architecture and home improvement techniques and decoration ideas, explore Architecturesstyle.
For daily updates about architecture, don't forget to follow us on our Instagram page, Architecturesstyleideas.
Himadri Shakya
Himadri Shakya is an enthusiastic Content Writer and Editor. She loves to create creative, engaging, and SEO-friendly content. Through her extensive research skills and practice, she has been generating high-quality and informative articles, and blog posts for over 4 years.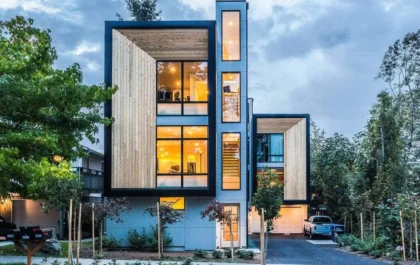 27+ Stylish & Modern Townhouse Designs for Urban Living.
The townhouse's first impression is normally too small, too compact, too narrower, and the list is endless. Well, let us…