Shingles add an enormous amount of value and curb appeal and value to your home. The type of shingles roofing can also affect your durability against hail, wind, rain, and other weather events. There are various shingle roof types, and like any other roofing material, there are many advantages to this kind of roofing material.
Shingle Roofs Advantages
Many homeowners prefer the new asphalt roofs when they replace their old roofing because of the reasons:
Affordability
Shingles roofing materials are one of the most affordable in the market. And It can also last up to 20 years, making this roofing material a worthwhile investment, especially if you have no plan to live in this home forever.
Variety
Aside from such affordable roofing material, many different asphalt shingles colors, styles, and prices are available. It means you can undoubtedly find a color or style that matches your home's and your energy-efficient roof hatches themes at a price that perfectly suits your budget.
Easy Installation
The easy installation means that it has a quick process installation for a new roof. The overall time the expert roofer will take to install the new shingle roofing will range from one to several days, depending on several factors such as weather, the size of your roof, and the roof's underlying structure condition. Furthermore, any repairs you need in this type of material are easy and quick to complete.
Versatility
Shingles are suitable for almost any type of underlying roofing structure. It does not require any specialized accessories, like a home structure with those chimneys, vents, and steep-sloped roofs.
Safety
Most roofing companies offer composite shingles that have Class A fire protection. It means that shingles are fire-resistant, which allows your entire family to have additional time to leave home during fire breaks out.
Different Styles and Types of Shingles Roofing
Architectural Shingles Roofing
Architectural shingles, or we call them dimensional shingles or laminated shingles, have two layers of shingles laminated together to give a dimensional look. Because of its sizes and shape variations, roofs covered with architectural shingles provide an aesthetically pleasing appearance.
Asphalt Shingles Roofing
It is an affordable, popular, and most reliable roofing material in use today. Some specific designs will accommodate unique roof designs and regional weather.
According to the report, 70 percent of the total volume of roofing materials used in both multi-family and single residential, whether new construction, roof replacement, and roof repair projects, are Asphalt shingles. It also has varieties of styles and shapes available in the market today.
3-Tab Shingles Roofing
3-tab roofing shingles are widely used in the United States and Canada
It features three equal sizes of different tabs that give a symmetrical look across the roof.
This traditional asphalt shingle has a repeating separated rectangular shape and is typically less expensive than any other asphalt option. It requires care during the installation of this material to ensure it has straight slots created by the shingles.
Cool Shingles Roofing
Cool shingles have solar-reflective granules cover, which decreases the heat absorption through the roof and makes your home more energy-efficient.
Impact-Resistant Shingles Roofing
These shingles have reinforcement on the backside to withstand an impact from hail or any other debris that possibly falls on your roof. It has two types of support at the back; some shingles have fabric, and some have asphalt mixed with polymers that add a rubberized effect. These modifications and enhancements increase the shingle's ability to withstand impact, which helps to reduce the density of denting and cracking.
Specialty Asphalt Shingles Roofing
Specialty Shingles have bolder styles and colors that mimic other roofing materials, like wood shake or tile, and offer affordability and practicality with a slightly different look.
Non-Asphalt Shingles Roofing
Tile Roofing
Tile roofing is typically concrete and ideal for historic property roofs and used in American Southwest region homes.
It is much heavier than asphalt shingles, requiring the roof interior structure to have reinforcement to hold up the extra weight.
Wood Shingles
These shingles existed and were used for hundreds of years as home roofing. Mostly it is made from redwood or cedar, and it has a smaller size than traditional wood shakes, which provides a distinct look.
Slate Tile Shingles
These materials are made of thin pieces from natural stone or slate, making them quite heavy when installed. It requires reinforcement of roofing structure to add the complexity of their installation and handle the weight of slate tile shingles. This material is a more expensive roofing option.
Wood Shake Shingles
This material is also made from either cedar or redwood but not precisely cut compared to wood shingles; it provides a more homespun look.
Whatever type of roofing you have or plan to have for your roofing renovation project, taking care of your roofing and having a regular inspection can help prolong the life of your roofing.
And some roofing material requires special roof deck reinforcement or preparation structural elements to have enough strength to handle the extra load of the shingle roofing materials.
Find Out More: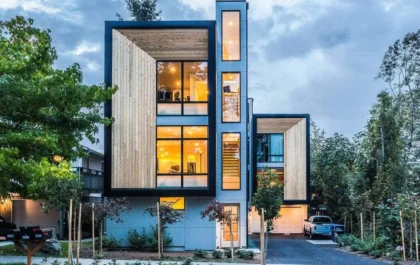 27+ Stylish & Modern Townhouse Designs for Urban Living.
The townhouse's first impression is normally too small, too compact, too narrower, and the list is endless. Well, let us…