Eye-Popping and Mind-Blowing Modern Architecture  
archistyladmin ,

Updated on 2nd June, 2021
7 min

read
1780
More often than not, designers are just kids with big dreams. Fortunately for us, we get to see those big dreams when these designers manifest their passion through their incredible works of art. They fill the world with inspirations, further pushing the boundaries by creating mind-blowing structures for all to enjoy. These are some of the modern buildings around the world:
Cube Berlin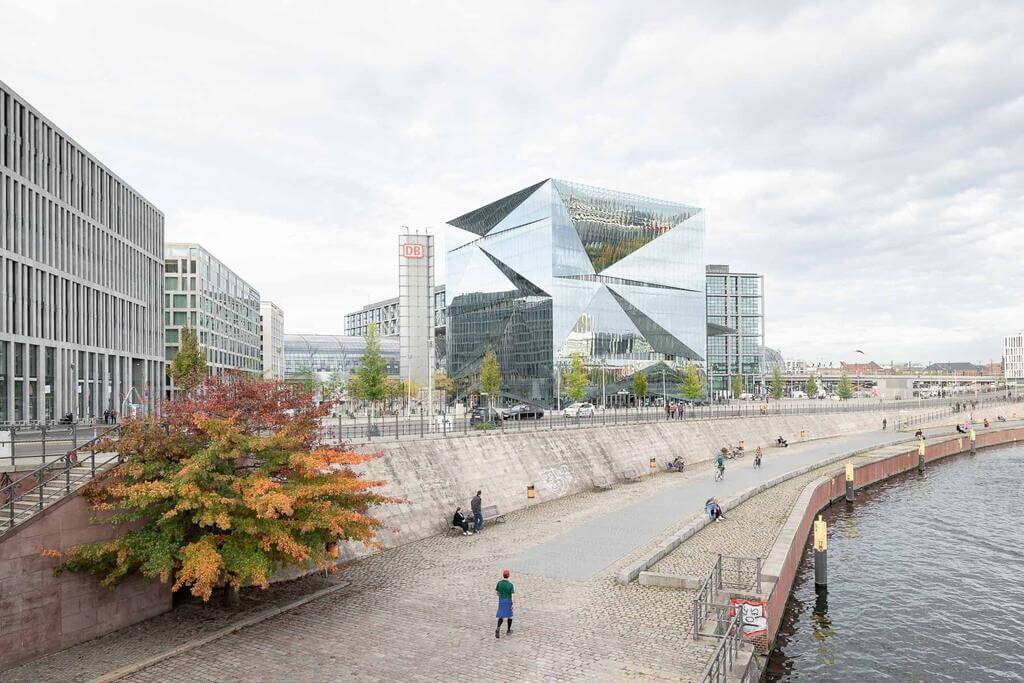 Source: artconnect.com
This incredible building is not just modern; it also contains many thoughtful details aiming for sustainability. It is one of many masterpieces of this modern age situated at Washington Platz, Berlin, Germany. This building aims to promote life and activity and provide opportunities for people residing in it through knowledge sharing.
The best feature of this structure is its integration of 21'st century technology that makes the building at least 25% more energy-efficient than other green buildings. It can also incorporate "Internet of Things" concepts to optimize everything from access and indoor climate control to maintenance and energy supply and even user behavior. 
The building, designed by the Danish architectural firm 3XN, first opened its doors in March 2020. This innovative office building looks like a cube, albeit a fractured one, as its name suggests.
The Bank of America's Office in New York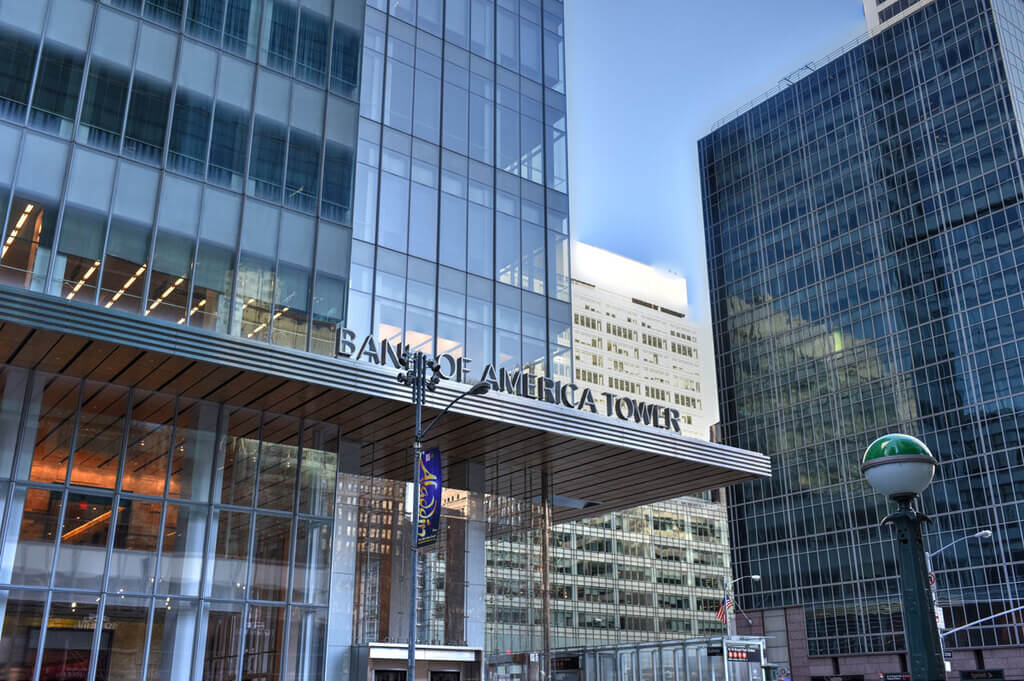 Source: lightviewcapital.com
This structure is one of the most valuable office buildings in New York City. Appraised at over $3.5 billion in July 2019, it is one of the world's most environmentally friendly and efficient modern buildings. The building's design incorporates technologies such as floor-to-ceiling insulated glazing to keep heat in and natural light out, as well as an automatic daylight dimming system. 
The Tower also has a greywater system that collects and reuses rainwater. This Tower is the world's first skyscraper to achieve LEED Platinum certification. An excellent way to have a high LEED certification rating is to install general-purpose access doors with access cover, especially if the building needs regular maintenance.
Salesforce Tower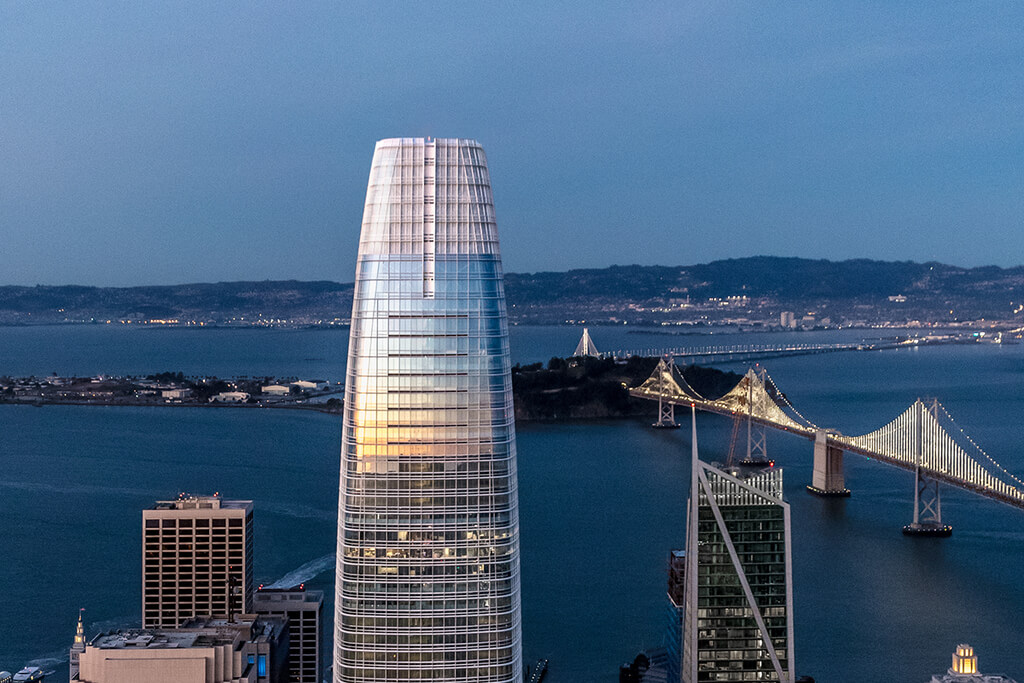 Source: cdnassets.hw.net
This modern building was awarded as the "Best Tall Building Worldwide" for 2019 at the 17th Annual CTBUH International Best Tall Building Awards Symposium. A glass and steel curtain wall surrounds a structural steel frame, which encompasses a reinforced concrete core in the Tower's construction.
The building's design reduces mechanical HVAC requirements by utilizing 100% natural air on each story. It also has large wind turbines on its roof and solar control sunshades. Because of these elements, the building was able to achieve LEED Platinum certification.
BMW Welt Building Munich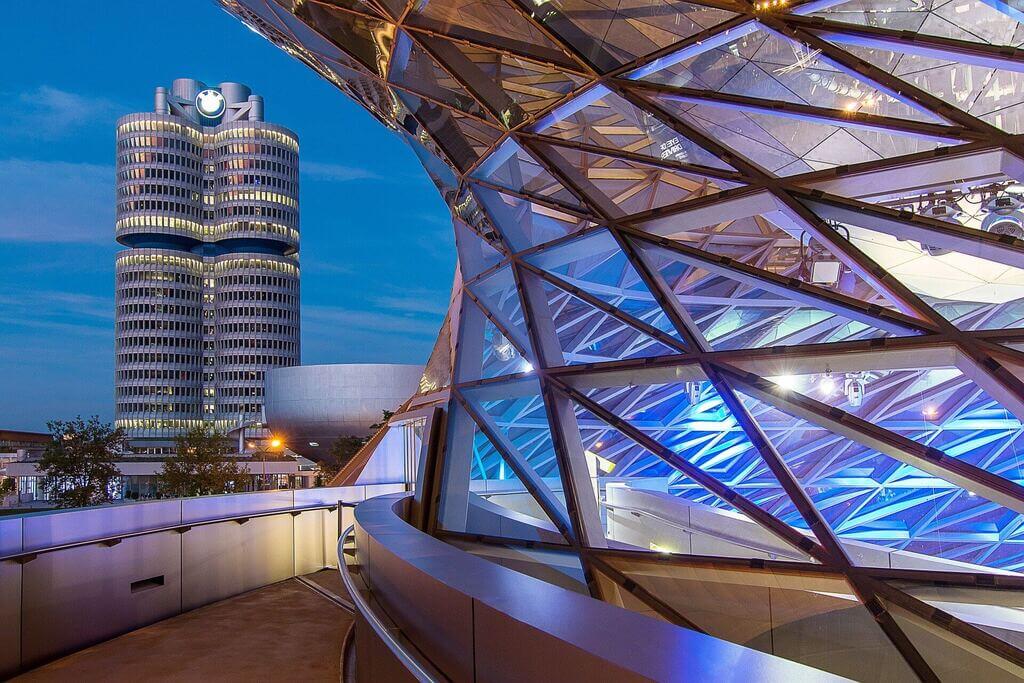 Source: kryptoszene.de
This structure is a great and a leading example for many modern buildings to follow. The best feature of this structure is the roof area, where an extensive cover of photovoltaic array capable of producing over 800 kW of renewable energy.
The unique design makes it stand out, and even now, it is still aesthetically pleasing. Its steel paneling also converts the sun's heat partially to warm the building.
Indira Gandhi Planetarium, India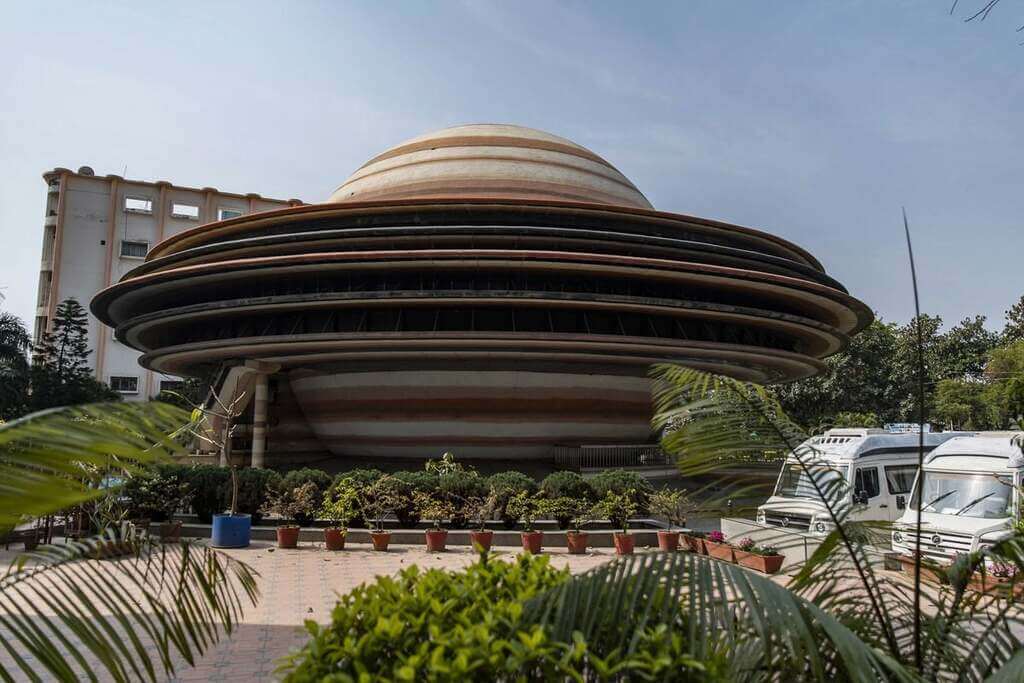 Source: redd.it
This structure resembles the planet Saturn at first glance, complete with rings. It is one of the biggest planetariums in Asia. The namesake of this building comes from Indira Gandhi, former Prime Minister of India.
The planetarium hosts regular film programs on astronomy-related topics. It also hosts exhibitions that draw a large number of people. The planetarium employs classic celluloid film projection using optomechanical means.
Montaña Mágica Lodge, Chile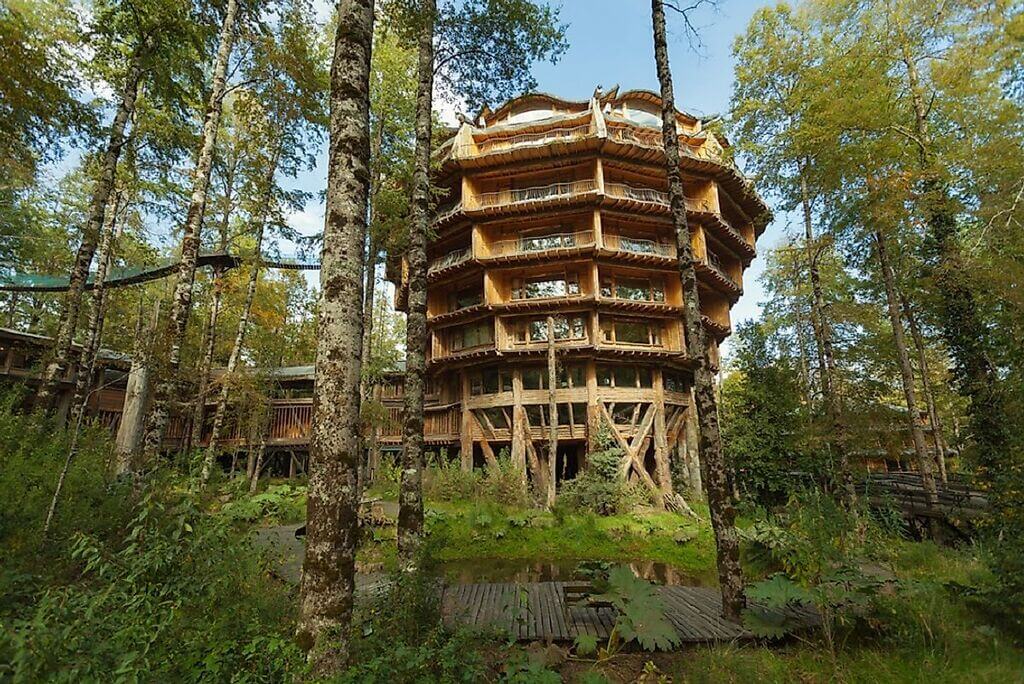 Source: worldatlas.com
If you want to be near nature, there is nothing closer to it than this hotel in Chile. It only has nine rooms, but this volcanic-shaped structure is a magical place for people looking for a beautiful experience. It will surely give a one-of-a-kind holiday experience for stressed people. A restaurant, conference facilities, a gaming area, and a ticket service are available at Montaña Mágica Lodge. 
Cycling, skiing, and horseback riding are just a few sports available on site or in the nearby area. Parking is available for free at the premises. The hotel's entrance is relatively standard, with a treetop walkway leading to the lobby via a monkey bridge.
Toilet-Shaped House, South Korea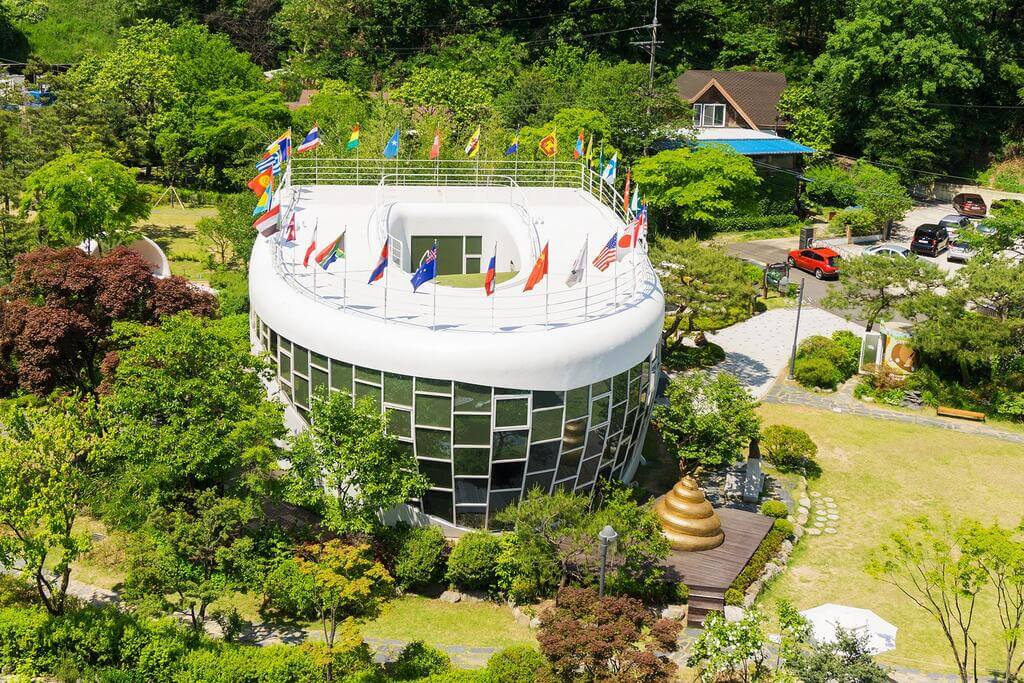 Source: fodors.com
The building aims to promote proper sanitation and hygiene. The owner of this odd structure seeks to shed light on many people worldwide about the dangers of not having adequate restrooms. According to him, it causes epidemics, and many people are dying for something avoidable.
The toilet-shaped building is currently in South Korea and rentable at around $50,000 a night. Steel, white concrete, and glass make up the whole structure. The roof also includes a symbolic bowl-like aperture. Today, it functions as both a museum and an art gallery, telling the tale of the history of toilets.
Piano and Violin Building, China
Source: pinimg.com
For music and architecture lovers, this building is a concrete example of how artists say, "I love you." It has been dubbed "China's most romantic building" because of its unusual architecture, and newlyweds flock to have their photographs shot in front of it.
The Piano Building is an incredible architectural concept that incorporates a 50:1 ratio of a grand piano and a violin and is nearly entirely composed of black and translucent glass.
Nautilus House, Mexico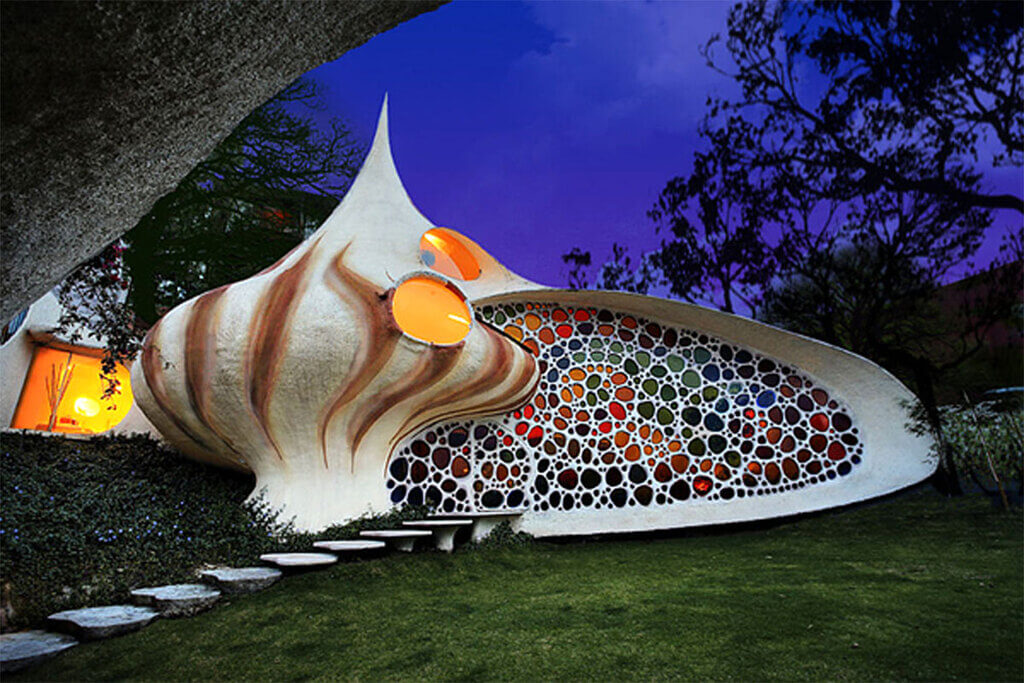 Source: emlii.com
This building is an excellent instance of a technique known as Bio-Architecture. The design is genuinely incredible, and the shells reinterpret the rounded forms and curves that mirror architecture.
Steel frames cover the tiny diameter wire mesh with a thin layer of concrete covering four to five inches thick. The interior has spirals, circles, and organically designed spaces that resemble the concave cameras found within an enormous snail.
Cor, United States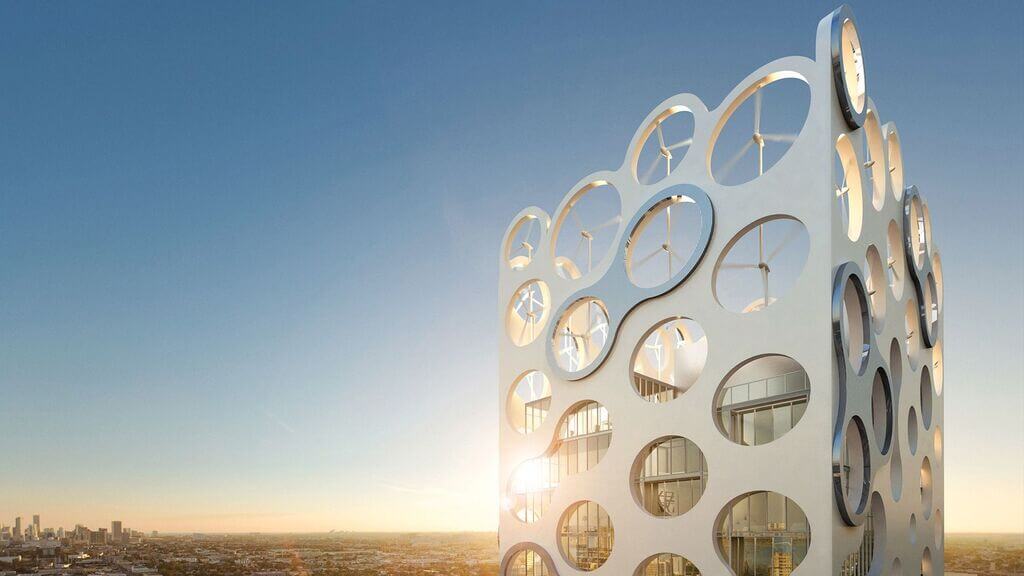 Source: pinimg.com
The design might make you remember the image of bubbles because of how the modern buildings look. The polka-dotted exoskeleton shell serves as a building framework, providing thermal mass for insulation, enclosure for terraces, turbine armatures, shade for natural cooling, and ground-level loggias.
It depicts a dynamic interplay between architecture, structural engineering, and ecology, standing 400 feet tall. It uses the latest advances in wind turbines, photovoltaics, and solar hot water generation to harvest energy from its surroundings. COR will pursue LEED Platinum certification upon the project's completion.
Cubic Houses, The Netherlands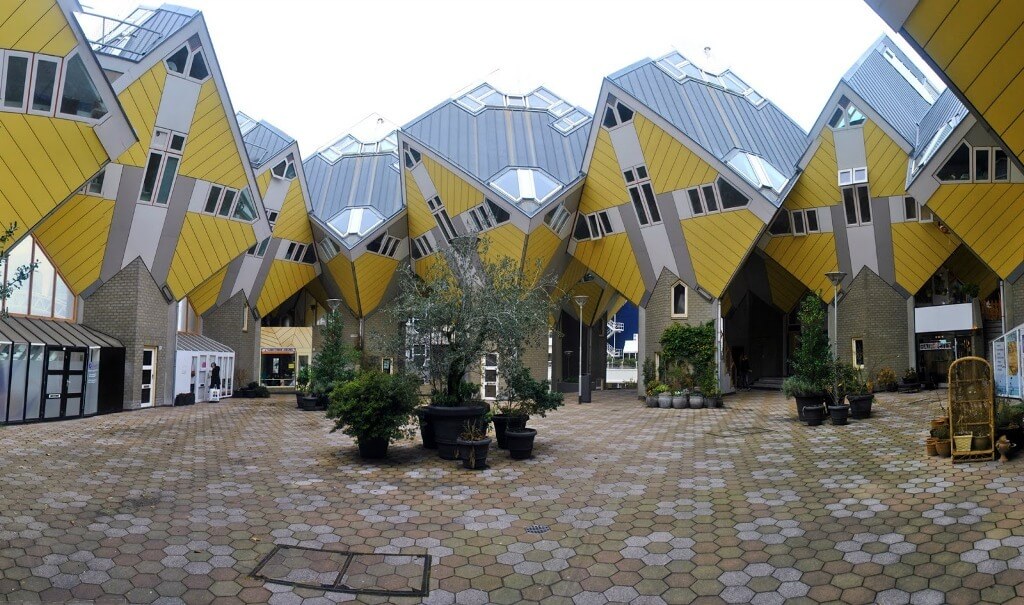 Source: designingbuildings.co.uk
The structure is one of the best manifestations of the word iconic. This residential complex, designed by Dutch architect Piet Blom, distinguishes out because the dwellings are cubes, slanted over 45 degrees. These structures look, feel, and act differently from anything else you'll find anywhere else in the globe since they are making the most of the available space.
In Rotterdam, the homes are on Overblaak Street, directly above the Blaak metro station. There are 38 little cubes and two 'super-cubes,' all of which are connected. Because tenants are frequently disturbed by curious passers-by, one business owner decided to build a "show cube," which is outfitted like a regular house and makes a profit by giving tours to tourists.
House Attack, Austria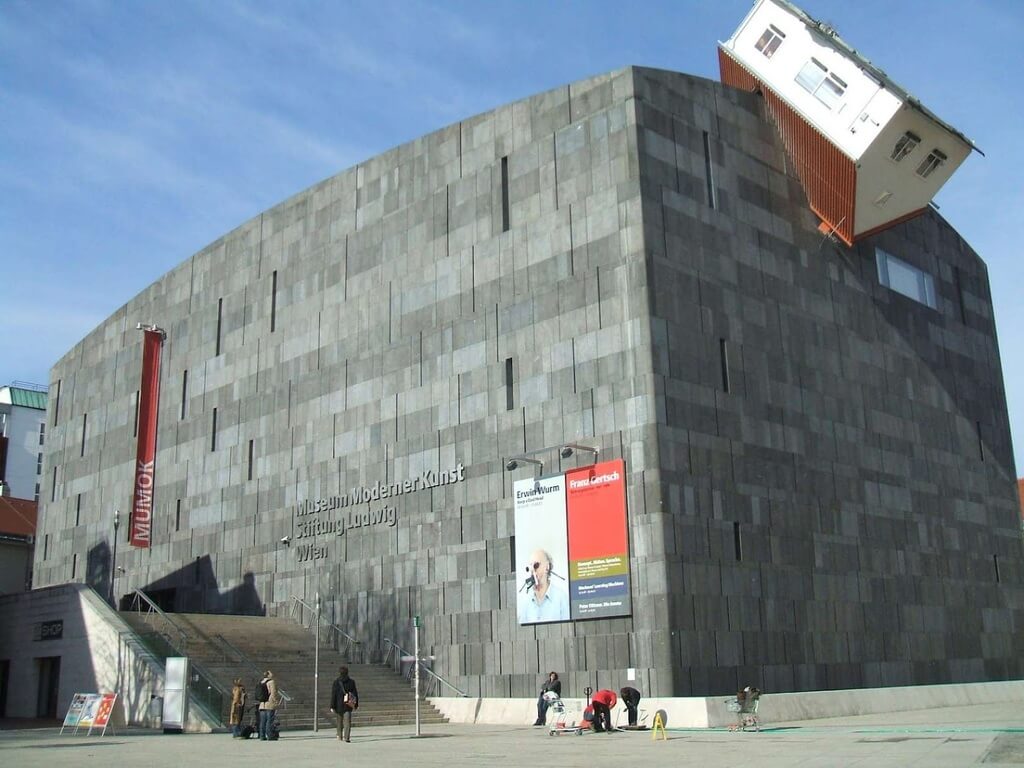 Source: blogspot.com
This whimsical and fun building is a publicity stunt by Austrian artist Erwin Wurm in collaboration with the Museum Moderner Kunst (MUMOK). The building's completion in October 2006 made it looked to have fallen from the skies and landed in the museum. House Attack is a representation of a regular event as well as small-mindedness, the artist explained.
House Attack, located in the middle of Vienna, is the first modern art object you'll encounter when you enter the museum. Stepping inside, and you will discover the vast collection of world art, ranging from classical modernism, Cubism, Surrealism, and Futurism through the 1960s and 1970s art movements, Pop Art, Nouveau Réalisme, and Fluxus.
Conclusion
These modern buildings remind us that art can bring beauty to a weary heart and a fire of inspiration to continue and pursue something even more extraordinary. These structures allow our souls to believe that dreams do come true and there are more good things than bad in this world. If you want to build your dreams, consider working with a professional who can manifest them.
Related posts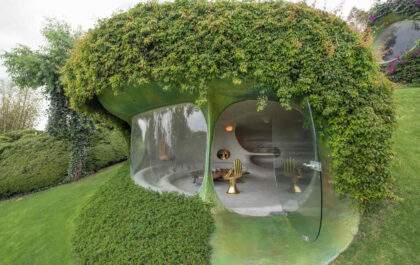 Javier Senosiain's Organic House: A Unique Architectural Wonder 
Project Credits: Project name: Organic House Architecture firm: Javier Senosiain Location: Acueducto Morelia 26, Vista del Valle, 53296, Naucalpan de…