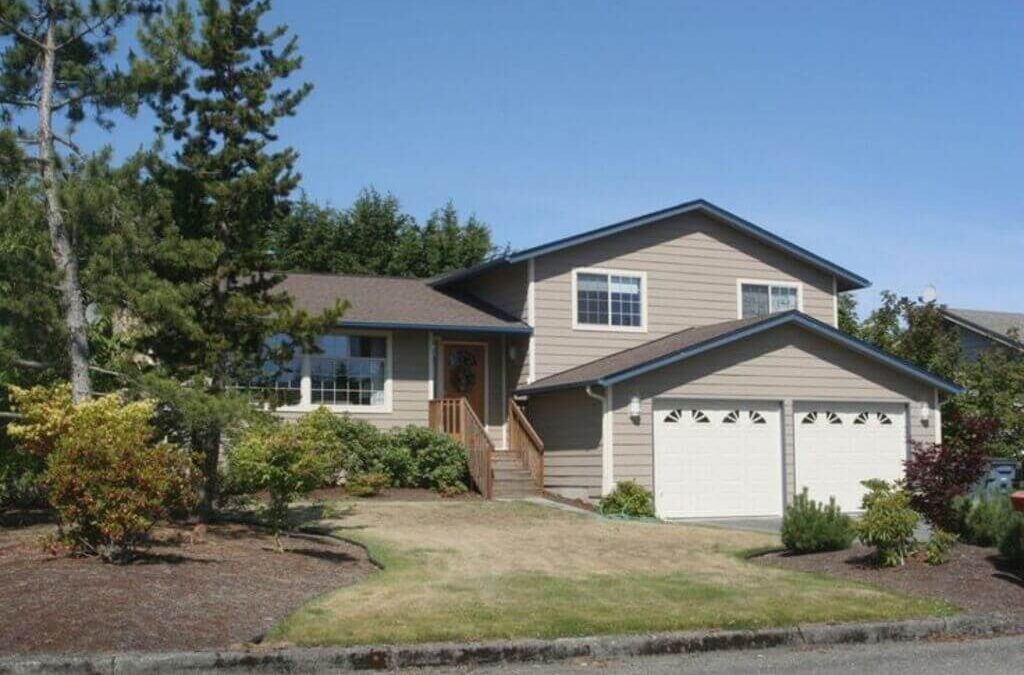 Staggered Home Planning: Split Level House Pros and Cons  
archistyladmin ,

Updated on 2nd June, 2022
8 min

read
2108
The history of a split level house dates back to the 1950s when homes with triple staggered floors were introduced in American suburbs. These reached the peak of their popularity in the 1960s.
No matter where your next house is going to be located, whether it's countryside, suburb, or somewhere close to the city, split level homes are common and quite popular for various reasons. 
What is a Split Level House?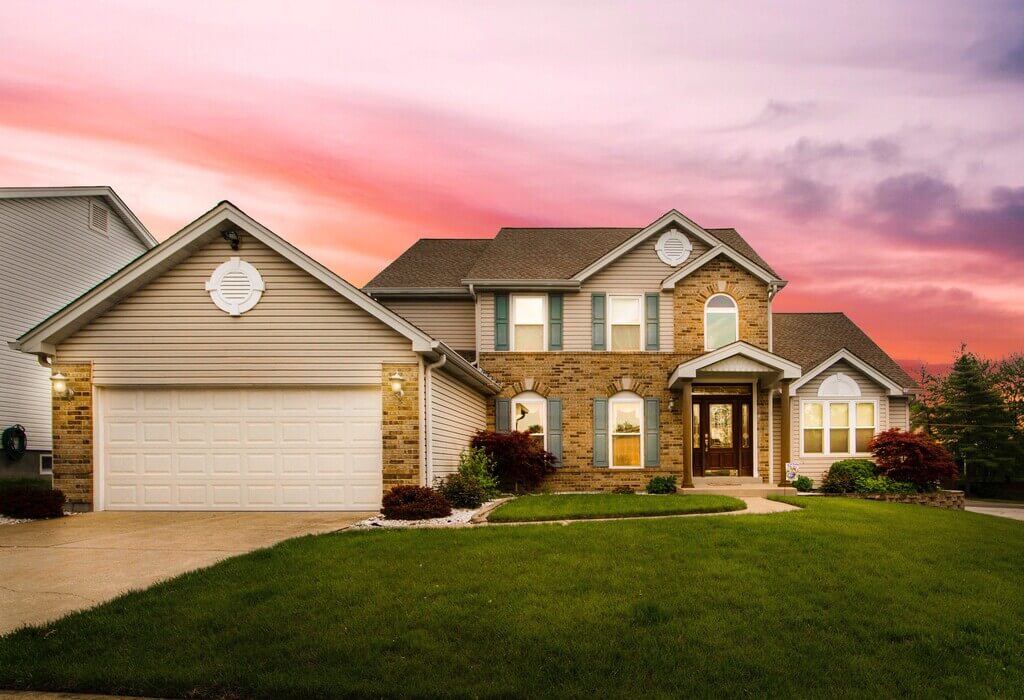 Source: medium.com
To answer this question in simple terms, a split level house is a home that is built with staggered levels. This means that once you enter the house through the main door, you'll be welcomed with a staircase going up to the level of the bedroom. Another level staircase will lead you to the basement.
The basement is a finished space that can be used for multiple purposes. Usually, a basement accommodates one bedroom and a laundry area. Most of these homeowners also utilize the basement of split level homes as main living rooms or entertainment rooms.
Another prominent feature of these homes is that in a split level house plan, no single floor spreads on the span of the whole footprint. The floors are staggered, unlike a typical house with perfectly aligned floor levels.
Some of the designs feature spacious primary floors with dining areas and kitchens, but they ultimately leave room to place a staircase leading to the other levels.
How Does a Split Level House Differ from a Bi-Level House?
Split level houses can often be confused with a bi-level house, however, these are not the same. A split level house has a minimum of three levels. The initial level is the one on the entrance which generally includes the kitchen and dining area. The other two levels accommodate other spaces of the home.
A bi-level house is built with two-floor levels. The entry of the house gives access to both levels. The ground floor of the house is usually made big enough to make all the spaces easily approachable. 
Split Level House Typologies
A split level house can be designed in various sizes, layouts, shapes, and architectural styles. It's not mandatory for all the split level homes to be triply leveled, these may be stacked up to five or six-floor levels.
There are two main typologies of split level homes, these are:
1. Side Split Level House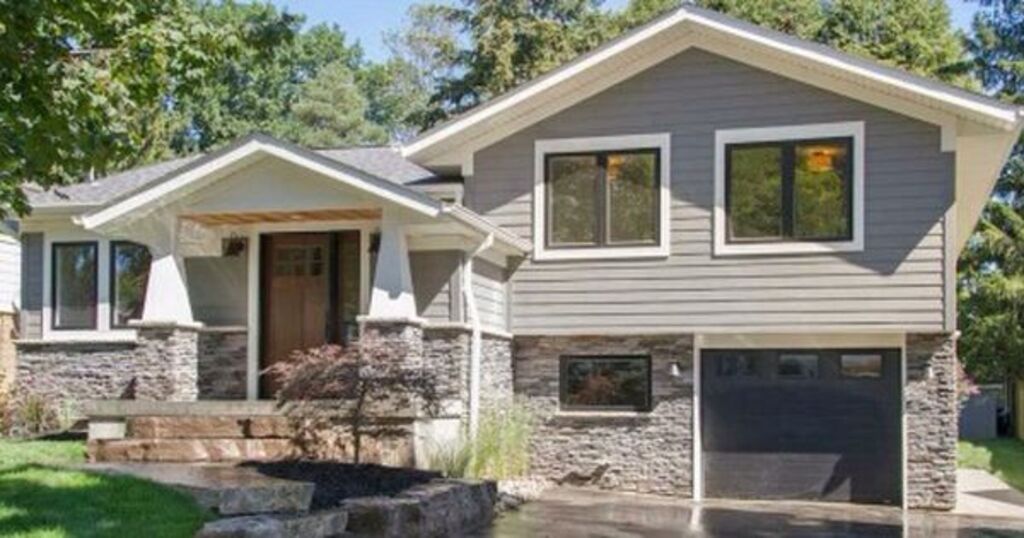 Source: pinimg.com
This type of split-level house is the one in which all the levels can be seen from the curb. The front of the house allows you to peek at the other split levels on either side of the house.
2. Back Split Level House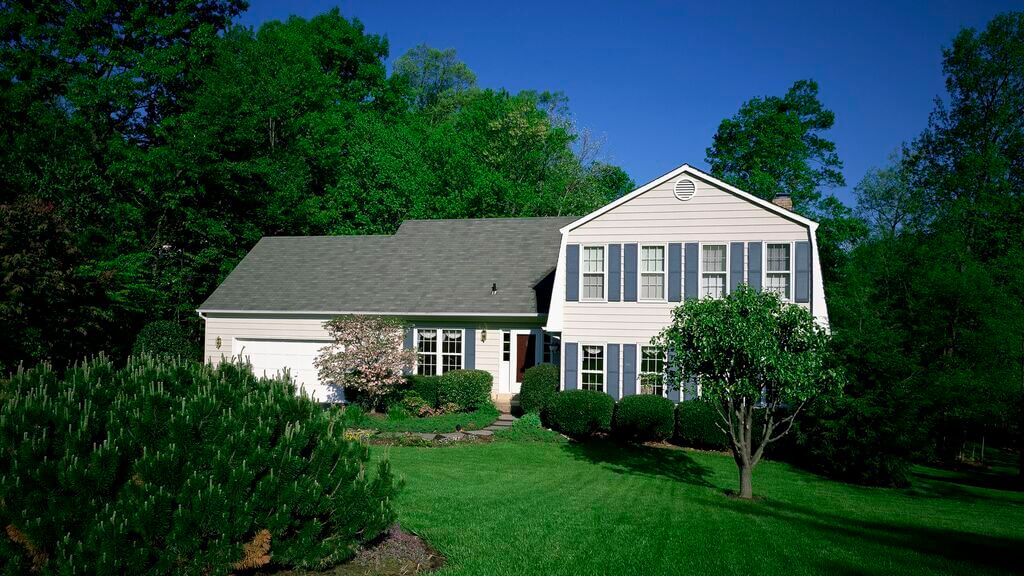 Source: thespruce.com
A back split level house is the one in which only one level can be seen from the curb. The front makes just one level visible, however, if gazed at from the sides, the other levels can be seen.
Characteristics of Split Level Homes
Various types of split level homes come with a common set of features that make them easily identifiable and stand out from conventionally planned homes. The noteworthy characteristics of split level homes are:
1. Short Steps
One of the notable features of a split level house is the series of short steps leading from one level to another. The flight of these stairs inside the house normally consists of about three to four steps.
2. Bay Window
Most of the split level homes are designed with large bay windows. These windows allow the view to exteriors and welcome natural light to the interiors. These are equipped to form an indoor-outdoor relationship between the spaces.
3. Furnished Basement
The basement of these houses is not left unused. These are properly designed and finished to be utilized as additional spaces as entertainment rooms or utility areas.
4. Low Pitched Roof
Split level homes feature a low-pitched roof to enable the rainwater and snow to exit the roof.
Advantages of Split Level Homes
1. Defined Floor Plans
While open floor plans have been ruling the market for their spacious layouts, now, most of the homeowners go for definition. It's convenient to furnish properly defined plans with distinctly marked rooms.
2. Best out of a Small Lot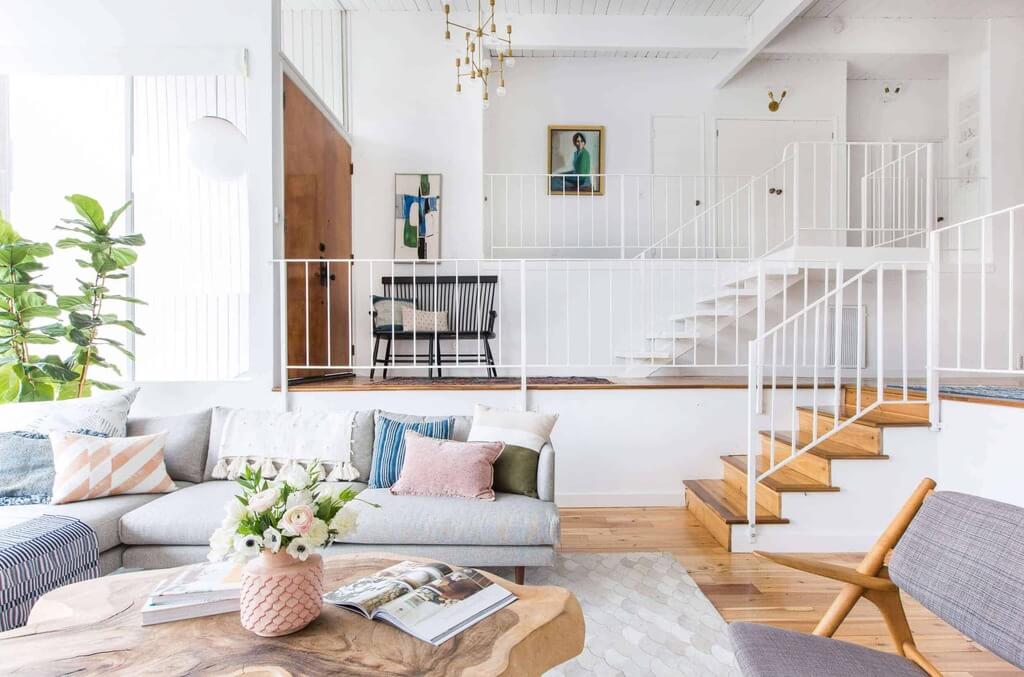 Source: stylebyemilyhenderson.com
Split level house plans make the best out of compact spaces. Instead of double levels, a split level house offers three or more levels and a multi-purpose basement area. The plan marks a distinctive feature for each properly defined room.
3. Closely Packed Spaces
It is an easy task to navigate through a split level house layout. Defined spaces are arranged next to each other which makes it easy to move around the home without being distant from any room.
4. Better Separation between Levels
A split level house plan allows properly defined segregation between upper levels and lower levels. These designs are perfect for homeowners who desire various spaces with a sense of privacy between each space. The planning also assists in co-living with various generations of a family.
5. More Exterior Space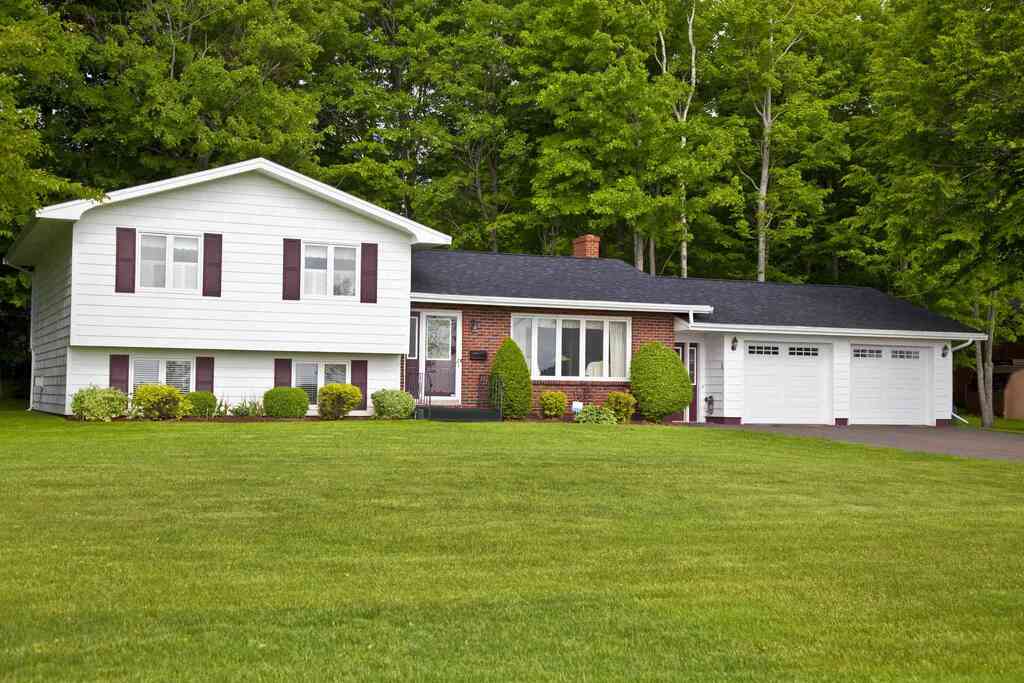 Source: thoughtco.com
As split level homes make the most of vertical zoning and planning for the interiors, it leaves great room for the outer lawn.
6. Affordable
These are smart and cheaper options for the homebuyers with ensured privacy and allocated spaces to fit the building program. 
7. A Quiet Home Office Setup
Work from home can be a challenge in an open-plan house. However, a split level house shines out in this case by offering space to set up a home office in any of the levels. The level separation acts as a buffer zone for the noise from the primary level. 
8. Great for Sloped Sites
Cut and fill is the best option for sloped sites or hilly terrain. Split level houses are the best solution to construct a house in such sites. The split level house plan can be worked on to fit the spaces in the natural topography of the site. 
Disadvantages of A Split Level House
With various pros of these types of houses, they have potential drawbacks as well. These are listed below:
1. Too Many Steps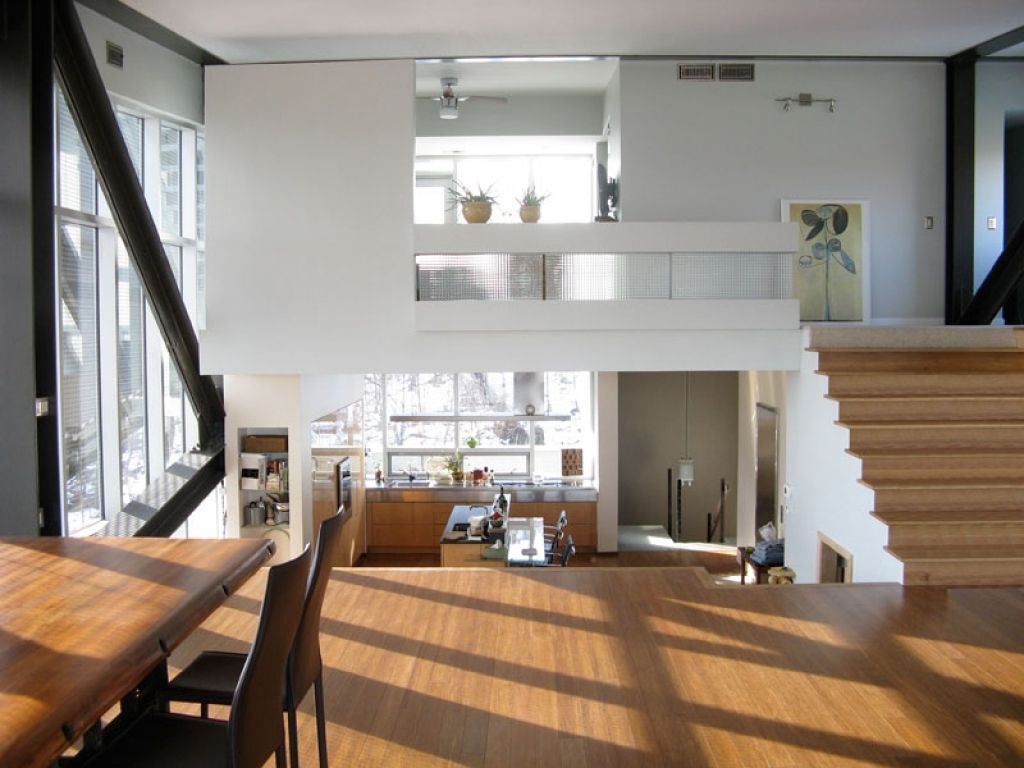 Source: watismijnhuiswaard.com
With spaces segregated on different levels of the house, the split level house inside is filled with lots of steps to climb. The users need to climb up or down each time they need to use a space.
This type of planning is not suitable for elderlies. Apart from the climbing part, the cleaning and carrying laundry baskets, etc becomes a task in itself.
2. Alien Look
Split level homes were popular in the 1960s, however, with the modern and contemporary homes today, these might look outdated and alien in the neighborhood.
3. Difficultes in Remodeling
The planning of a split house doesn't leave many options for the renovation. With defined spaces on every level, the rooms cannot be switched.
These homes have defined floors for every activity like entertainment on the lower level, dining on the main floor, and resting activities on the upper floors. With such great definition in the floor plans, there are very few chances to make any major alteration. 
4. Exterior Steps as a Hindrance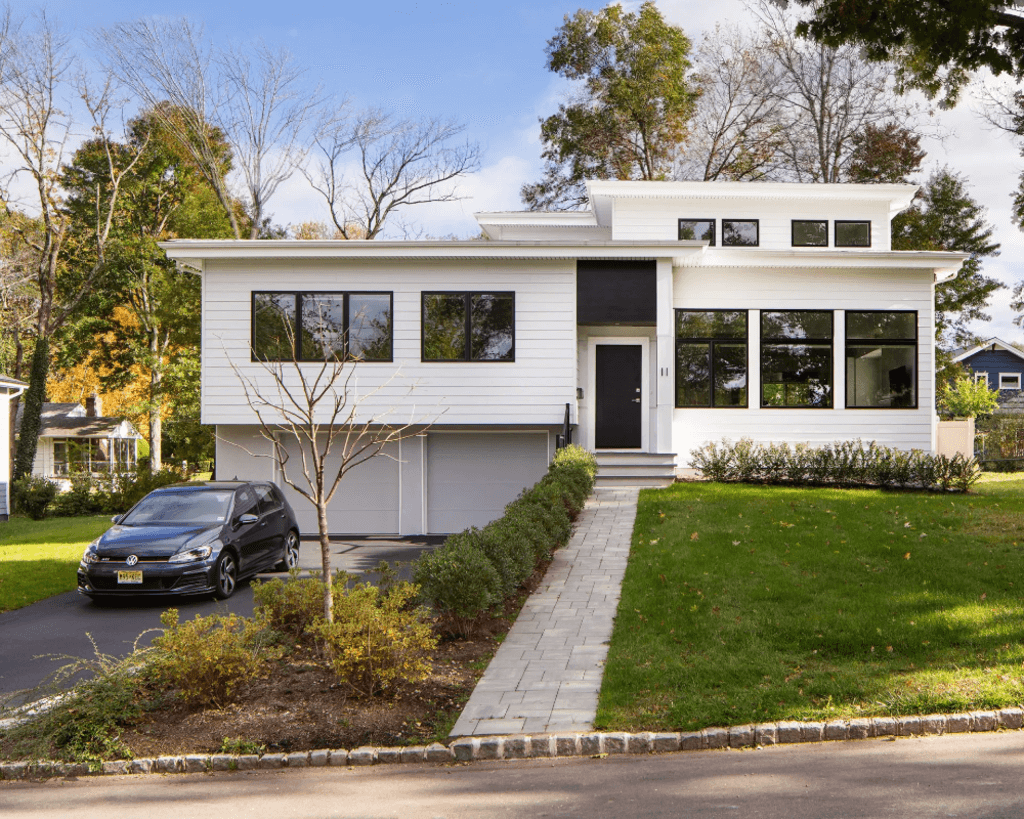 Source: pinimg.com
The outdoor steps of the split level house can act as a hindrance for various common activities. As the design depends on the site features and requirements, these homes feature a set of external stairs leading to the entrance of the house.
With a varying number of steps, it can be a challenging task to clean and remove snow in winters. It can also prove to be an obstacle for older people and can be challenging for younger ones to go to and fro with so many steps to climb. 
Also Read: Modern Chinese Architecture: Top 10 Incredible Modern Houses in China!
Is It Advised to Buy a Split Level House?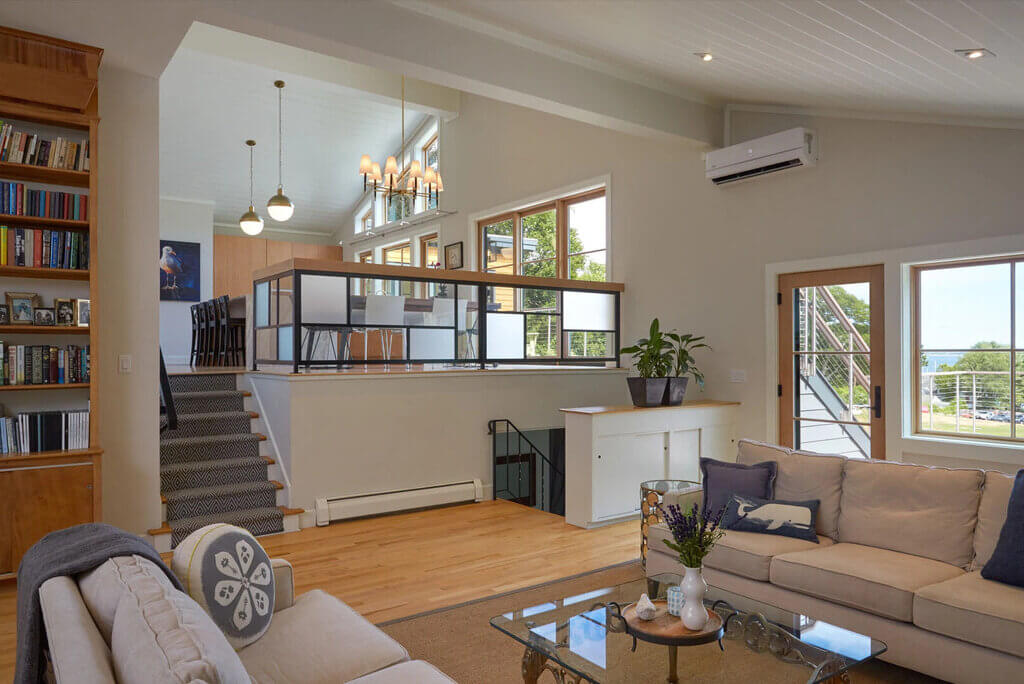 Source: squarespace-cdn.com
A split level house offers the benefits of ranch houses with additional space offered with multi-level planning. The plan and design of these houses leave enough space to accommodate various rooms and support the close-knitted living of a family. Investing in a split level house can serve an excellent value for the money invested. It is a smart choice for families who want to stay together but with split common and private areas.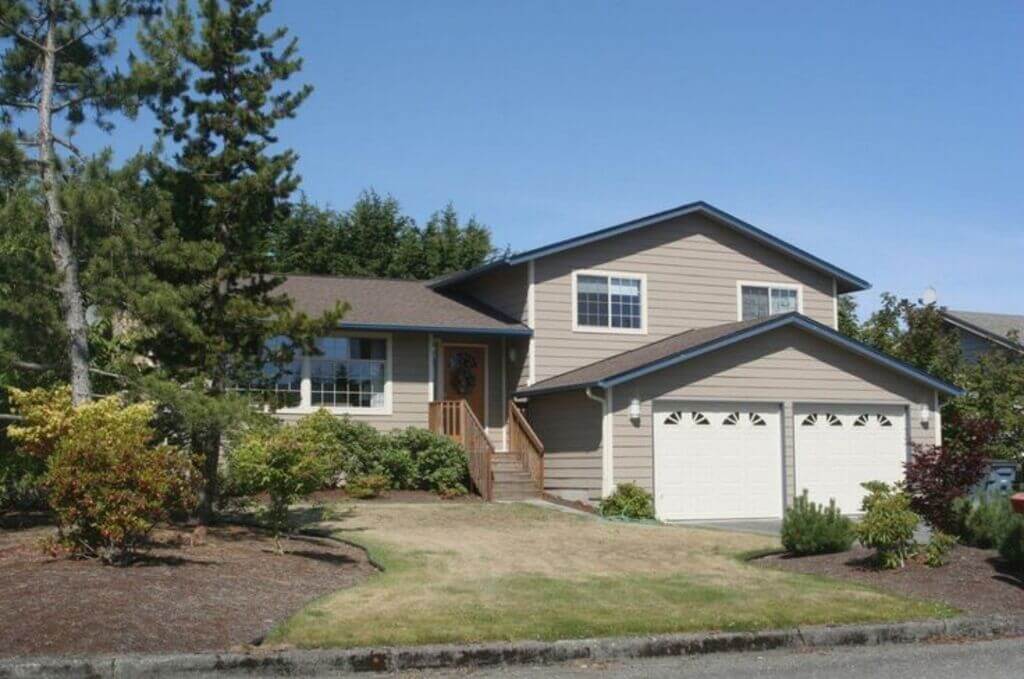 Source: pinimg.com
As split level houses are considered out of fashion, there is a low demand for these homes which means they come at an affordable price. These highly functional houses offer great living space at a low cost.
If you desire a mansion but have space and privacy concerns, split level homes are the best options. These offer great privacy with abundant open space in front. They are uniquely designed homes that play with the horizontality and verticality of a home. The challenge of designing on sloped sites has been eased out with the introduction of split level homes. The design enhances the spaces allowing the interesting visual appeal in every area.
For more information about the latest architectural development, keep coming to Architecturesstyle.
Also, do follow us on our Instagram page, Architecturesstyleideas, to get daily updates.
Related posts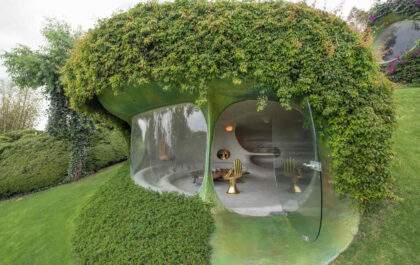 Javier Senosiain's Organic House: A Unique Architectural Wonder 
Project Credits: Project name: Organic House Architecture firm: Javier Senosiain Location: Acueducto Morelia 26, Vista del Valle, 53296, Naucalpan de…