What is a Ranch-Style House? Usually, a ranch style homes is a single-storied house that's designed with a low pitch roof, casual-open layout, huge opening, and dedicated front yard. In a few ranch houses, homeowners can also incorporate garages and basements for easy access to all the spaces in the ranch house. Another feature is their low-pitched roofs along with eaves that protrude out from the walls of the house.
Although every ranch house would not be laid similarly, they do share common parameters that make them a rancher house. Even if the plot of the size is small, ranch-style homes always have outdoor yards—front yard, backyard, deck, or patio.
There are various features and styles of ranch-style homes, they all have unique elements and we're delving into 15 such ideas and styles for a ranch-style house in this article.
15+ Ideas for a Ranch Style House
1. Colorful Accents to Exteriors
An unexpected pop of color to the mostly neutral exteriors can make a good contrast by highlighting the opening like the windows and doors. Further, a collection of shrubs and plants on the front yard can soften the feel of the color and the low-pitched overhang of the ranch house.
2. Flowy Dining Room
Ranch style houses mean there's always an easy transition with its open plan. Open dining and kitchen make it perfect to entertain guests and families, as no one is away in a different space cooking. The dining room can be further designed into something that brings everyone together.
3. Patterned Facade
Patterned ranch facades can be designed with monochromatic hues by incorporating a subtle texture or symmetrical patterns. This will help the ranch house not become too bland and boring.
4. Small Yard Fix for a Ranch Style House
A small yard does not necessarily mean surrendering on your curb appeal. Design solutions like boarded flower beds with sculptural shrubs and plants can add to the visual interest of the ranch style house plans.
5. California Ranch Style House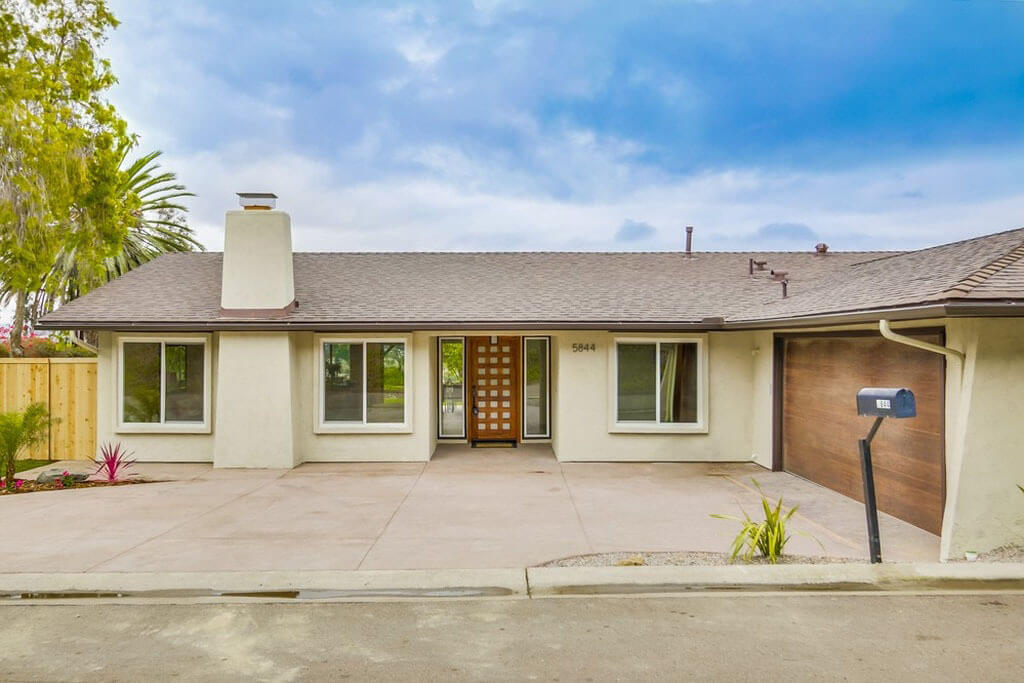 California ranch is known for its L and U-shaped configuration that is usually built low to the ground surface. This can help the California ranch to blend with the front yard and nature, making front yards and patio the principal features here.
6. Suburban Ranch
After world war two, the suburban ranch house style got most popular, as it caused a shortage of housing. Suburban houses are small and simpler versions of ranch-style houses. They feature minimalist exteriors, tract material, an open floor plan, and connectivity with the outdoors.
7. Bright Interiors for a Ranch Style House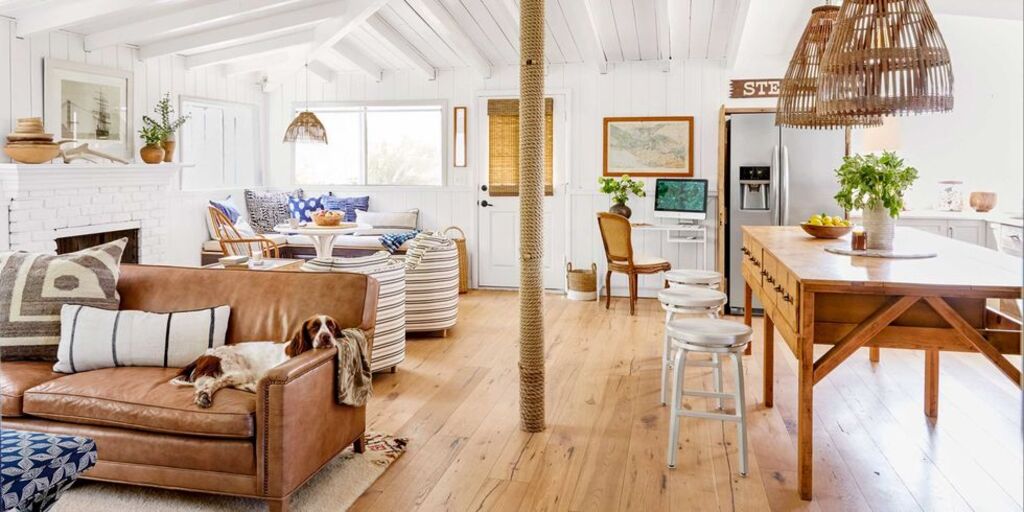 A ranch-style house can be designed with a good amount of sunlight and ventilation. Design alterations like large windows and glass patio doors can make the interior more bright. Other features are—skylights, outer sunroom, and more openings.
8. Favor a Neutral Palette
Since the ranch-style is usually an open layout concept, a hue owns the power to set the theme for a space. If the design theme is to keep it open and airy, stick with versatile neutrals, from beiges to soothing greys, the options are endless.
9. Traditional Ranch Style House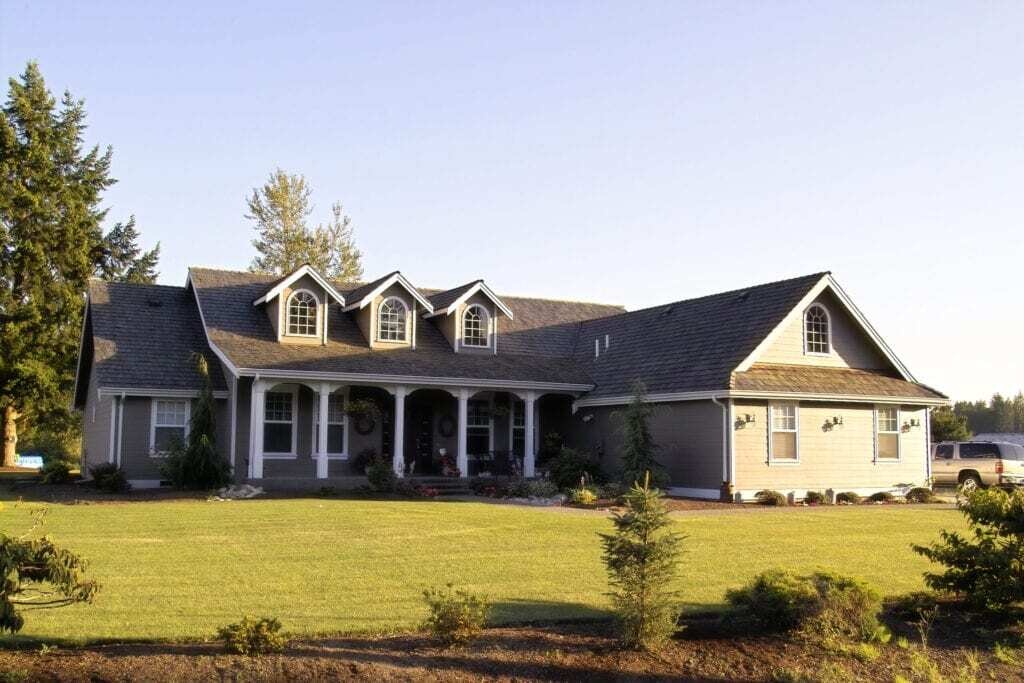 Traditional style ranch houses featured two-story home elements in the single-level structure. The sense of drama is created by an expansive opening that adds to the verticality of the exterior facade. To counter that, one can keep the landscaping symmetrical and subtle.
10. Emphasis on the Open Layout
Want to get most out of the ranch-house? Emphasize the open layout of the house. Avoid partitioning and separating the spaces by dividers and bookshelves. The open layout can allow the space to become airy and form an easy flow between each other. Though the visual of different spaces can be created by breaking the zones with multiple rugs.
11. Climate Friendly Ranch
Ranch style houses can be a solution through challenging warm climates, and their green lawn can address the micro-climate and environmental concerns too. Plant the yard with greens that gently flows with design and help block the harsh rays of the sun.
12. Cozy Living Room
What is a ranch style house without some relaxed space? Here a living room can be designed into a comfortable space, where you can just chill and relax. A soft sofa that envelopes into a warm hug and is beautifully combined with a throw rug and cushions of multiple colors and materials.
Additionally, to add in your personality, accent elements coffee tables, wall arts, side tables, plants, etc can be added.
13. Privacy-focused Ranch
Landscaping in ranch-style houses can cater to multiple levels of privacy, especially if the bedrooms are facing the roads directly. Tall and mid-height trees with good foliage can shield the room without blocking the view. Whereas, small shrubs can align with the walkway, directing the pathway towards the entrance.
14. Brick Ranch Homes
Brick is low maintenance and durable, therefore the most preferred finish on the exterior walls of a ranch-style house. Traditional ranch housing were designed with full brick interiors and now one can save money and time by installing these bricks only on one side of the exterior that is facing the road.
15. Embrace the Outdoors
One of the key elements of the ranch-style home is bridging the gap between outside and indoors. Thus, the outdoor decks, patio, and front yards should be incorporated with the design–treat them just like another room in the house. Design should aim to make the outdoor space welcoming and comfortable surrounded by nature.
16. Farmhouse Ranch
A farmhouse ranch can be either traditional or modern design representing a farmhouse decor. In a farmhouse ranch, common elements of design are vertical and horizontal use of wood and bricks on the facade. A wrap-around porch can get out the farmhouse feel to the ranch house plan.
17. Split Level Ranch
Why go for one when you can get more? Split-level ranches were popular in the 1960s and 1970s to save up on square footage with another level. The split level ranch can be a good option for families who wish for more privacy, here one needs to take stairs to reach the bedrooms or other rooms.
18. Cozy Bedroom
In every residence, a bedroom is a more private space than any other space, for ranch-style homes the rule remains the same. This space has to be designed separately against the open layout communal spaces in the house, you can show your individuality from beds to rugs here.
19. The Raised Ranch Style House
Often two-story ranch, split-level, and raised ranch can be thought of as the same thing, but these ranch styles have visible differences. Split level ranches can be designed with multiple levels, on the other side raised ranches are limited to only two stories.
20. Touch of Modern
Ranch style houses with some contemporary and modern touch will give your design more depth. You can do this by combining blue and white themes, making it look polished. While clean sleek design elements will make it look more classy and updated.
21. Make it Natural
By designing them with natural features you can get a more natural feel to the house. The neutral color palette, simple colors, utilization of natural elements like trees and shrubs, space allocation for natural bodies are some of the ways to make the ranch-style house more natural.
22. Wood for Ranch
Wood is the best material for a cottage feel ranch house. Design with wood to add on more depth and you would not need any other decorative element. To bring more freshness into interiors and exteriors is to bring in the neutral shade.
3 Benefits of Ranch Style Houses
1. No Need to Trek on the Stairs
Living in a ranch style house means you don't have to run or trek up and down the flight of stairs, as ranchers are known to be single-storied. This makes the ranch-style houses ideal for old residents, who have difficulty navigating around the house. The ranch house plan allows more living space with the lack of stairs that frees the first floor.
2. an Open and Comfortable Ranch Floor Plan Concept
Though the ranch-style houses were designed and originated during world war two, the 1920s, they were always ahead of their time. The design feature of the open and wide layouts plan is currently in many magazines. This open and comfortable layout makes the house easy to host and entertain the guests, by binding the kitchen, dining, and living space. This further helps in getting natural sunlight from every space of the house.
3. Easier Maintenance
The low-profile roof, single floor, no stairs, and backyard, make ranch-style houses easy to maintain and repair. Cleaning the huge windows and gutters would not need extra effort or even a ladder.
These primary benefits of residing in ranch-style houses make no room for doubt as to why people still prefer living in one.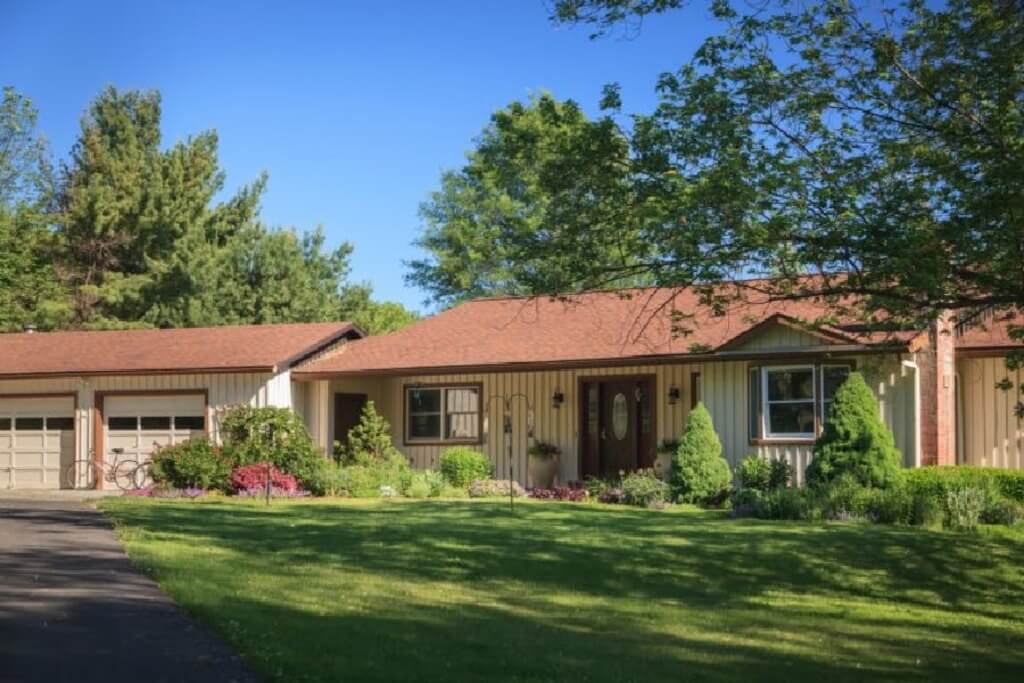 FAQs
1. What Makes a House Ranch-Style?
Ranch style houses were more popular in the 1930s and 1950s that helped bridge the gap between the exterior of the house and the interior of the house. They are defined by low-pitched roofing style, single-level dwelling, open layout, patio, deck, front yard, backyard, and an attached garage. Other elements are eaves, huge windows, and a basement. The common layout of the ranch house is either a "U" or "L" shaped layout.
2. What Are Ranch-Style Homes Called?
Ranches are commonly also known as ramblers. The different styles of ranch houses define their different names, which include, suburban, raised ranch, split level, California, and fairytale/storybook. 
3. How to Update the Exterior of a Ranch Style Homes?
Old ranch-style houses can be easily updated with a fresh coat of paint, with any neutral color theme. Colors that are light can give you a more modern appearance. Other updates in a ranch style house can be making the door and the large windows a feature element by painting them with a bright color or using contemporary elements
Finally Is the Ranch Style House Right for You?
For some people, staying in ranch style is completely logical, as the big eaves, low-pitched roofs, and large windows can make the living comfortable and airy in a hot and warm climate, preventing the house from getting warm.
The ranch-style homes also feature inbuilt pools and patios, making it perfect to cool down the house during summer. Other than that, for those who are looking for less maintenance and do not want to deal with stairs, a single level ranch style house fits best for them. And for the rest, a smaller house is always easier to live in, bigger is not always better.
Discover More