You can easily transform your home into an efficient and comfortable living space with the help of various technological upgrades. Smart doorbells can provide an added layer of security by letting you see and speak with visitors from your phones, and modern, energy-efficient kitchen appliances offer reduced energy usage and save you money. With the following 10 tech upgrades to improve your home, you can create a personalized and streamlined home experience that meets all your needs.
1. Never Answer the Door When Using a Smart Video Doorbell
Source: futurecdn.net
A smart video doorbell offers unparalleled convenience and security. With high-definition video, motion detection, and two-way audio, you can see, hear and speak with visitors at your doorstep from anywhere using your smartphone.
The SimpliSafe Doorbell Pro features a 162° field of view, smart motion detection, and heat-sensing capabilities to ensure you're always aware of who's at your door. Enjoy peace of mind with a device that enhances your home security and simplifies your life.
2. Maintain the Right Temperature with a Ductless Mini Split
Source: sndimg.com
A 3-zone mini split system can improve your home's comfort and energy efficiency. The ductless mini split allows you to customize the temperature in each room, providing heating and cooling as needed.
A smart thermostat learns your preferences and adjusts settings accordingly, maximizing energy savings. Control your system remotely with your smartphone and enjoy a consistently comfortable home environment that caters to your needs.
3. Establish a Smart Lighting Schedule
Source: cloudfront.net
Smart lighting systems can revolutionize the way you illuminate your home. Control your lights remotely, create customized schedules, and set the brightness and color temperature to match your mood or the time of day. The Philips Hue Smart Light App has geofencing technology, which lets your smart lighting system detect when you're approaching or leaving home and adjust the lights accordingly. Smart lighting can improve energy efficiency, enhance your home's ambiance and simplify your life.
4. Stay Safe with a Smart Smoke Detector
Source: viphomelink.com
A smart smoke detector is an essential safety upgrade for any modern home. These advanced devices can send alerts to your smartphone if smoke or carbon monoxide is detected, allowing you to take quick action to protect your family and property. Some models can even differentiate between different types of fires, providing more accurate information to emergency responders. With smart smoke detectors, you can enjoy peace of mind knowing your home is protected around the clock.
5. Smart Blinds
Source: accentverticals.com
Smart blinds are an innovative home technology that allows you to control your window coverings with a remote or voice commands. With features such as automatic scheduling and light sensors, smart blinds can be programmed to open and close at specific times of the day and respond to changing sunlight levels.
Smart Day and Night Blinds use Apple HomeKit technology and an EveMotionBlinds motor for automated window coverage. They can save energy by reducing heat gain and loss, lowering your utility bills, and adding an extra layer of security and privacy to your home.
6. Smart Plugs
Source: toiimg.com
Smart plugs are an excellent addition to any home automation system. They allow you to control your devices with a simple app on your smartphone, and some even work with voice commands. With a smart plug, you can schedule your appliances to turn on or off at specific times, monitor their energy consumption, and even receive notifications if a device is left on for too long.
Smart plugs are a great way to save energy, reduce your carbon footprint, and lower electricity bills by automating and controlling your home's electronic devices.
7. Energy-Efficient Appliances
Source: loveenergysavings.com
Installing energy-efficient appliances in your home is a smart way to reduce your energy bills and decrease your carbon footprint. Energy Star-certified appliances, such as a Thor Kitchen Stainless Steel Dishwasher, use less energy than standard models without sacrificing performance. Energy-efficient ranges use induction technology that heats pots and pans directly, reducing wasted heat.
Refrigerators with advanced compressors and insulation, use less energy, and dishwashers with efficient water and energy usage can save gallons of water over their lifetime. By upgrading to energy-efficient appliances, you can save money on your energy bills while doing your part to protect the environment.
8. Clean Up with a Robot Vacuum
Source: s-nbcnews.com
A robot vacuum cleaner can make maintaining a clean home easier than ever before. These devices, like the Shark 2-in-1 Vacuum and Mop Robot, can be programmed to clean your floors according to your preferences, navigate obstacles, and automatically return to their charging stations when needed. Many models include advanced features like smart mapping, allowing you to create virtual boundaries or designate specific areas for cleaning. Embrace the convenience of automated floor care and enjoy a cleaner home with minimal effort.
9. Stay on Top of Laundry with a Smart Washer and Dryer
Source: design-milk.com
Smart washers and dryers can turn laundry day into a more manageable task. Control your laundry cycles remotely, receive notifications when loads are finished, and monitor energy usage from your smartphone. Advanced features such as automatic detergent dispensing, custom cycle settings, and load-sensing technology make laundry more efficient and effective. With a smart washer and dryer, you can spend less time on chores and more time enjoying your home and family.
Also Read: Infrared Heaters – Fast Heating and Energy Efficient
10. Complete Lawn Care with a Smart Mower
Source: washingtonpost.com
A smart mower can help you maintain a beautifully manicured lawn with minimal effort. Program your mower to cut the grass on a schedule that works for you, considering factors like weather conditions and lawn growth rate. Advanced features like GPS navigation and obstacle detection ensure an even, precise cut, while smartphone integration allows for remote control and monitoring. Invest in a smart mower for a pristine lawn that enhances your home's curb appeal and outdoor enjoyment.
Embrace a Connected Lifestyle with Energy-Efficient, Smart Upgrades
Integrating smart home upgrades into your daily life can significantly enhance your living experience. These cutting-edge devices and appliances offer increased convenience, security, and efficiency, allowing you to focus more on enjoying your home and spending time with your loved ones.
By embracing a connected lifestyle, you'll benefit from seamless control and automation and the peace of mind that comes with a safer, more energy-efficient home.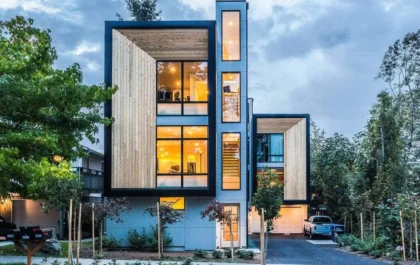 27+ Stylish & Modern Townhouse Designs for Urban Living.
The townhouse's first impression is normally too small, too compact, too narrower, and the list is endless. Well, let us…