Getting weary of your old kitchen's design?
If yes, it may be the best time to go for a kitchen revamp. There are hundreds of options for best kitchen upgrades to pick from. However, it can be difficult to decide, but we have got you covered!
In this post, you will learn about the hottest trends of 2023 that will breathe new life into your kitchen, and improve its efficiency, look, and feel.
Ideas for Kitchen Upgrades in 2023
1. Quartz Countertops
Source: cdn.com
Quartz is still considered a premium material for kitchen counters. Thanks to technological advancements, it is now available in a wide range of hues and designs. The quartz counters are non-porous, highly durable, and easy to clean. It also adds a rich visual appeal to the kitchen without spending huge money.
The best thing is — engineered quartz counters can also be created with intricate swirls and other eye-catching patterns. Their quality, ideal thickness, etc., are a few things to consider before making an investment.
2. Open Shelves
Source: houselogic.com
Ripping out the old kitchen cabinets and replacing them with more spacious, open shelves is a growing trend this year. These shelves help make the kitchen look more spacious, brighter, and flawless.
3. Wooden Cabinets
Source: sndimg.com
Wooden cabinets are one of the best kitchen upgrades for those who don't prefer open shelving. Wood adds warmth and richness to the kitchen while increasing the home's market value. Since cabinets take up a huge space in the kitchen, any changes you make to them will significantly make an impact on the overall look.
4. Pop of Colour
Source: hearstapps.com
Yes — the all-white kitchens look squeaky clean and classy and will never go out of fashion. But you can uplift the look a little more with a pop of colour in your kitchen. Go for green, blue, or your favourite bright colours in the form of upholstery, kitchen mats, or even appliances. Trust us; your friends and family will enjoy walking into the white kitchen graced with just the right splash of colours.
5. Smart Kitchen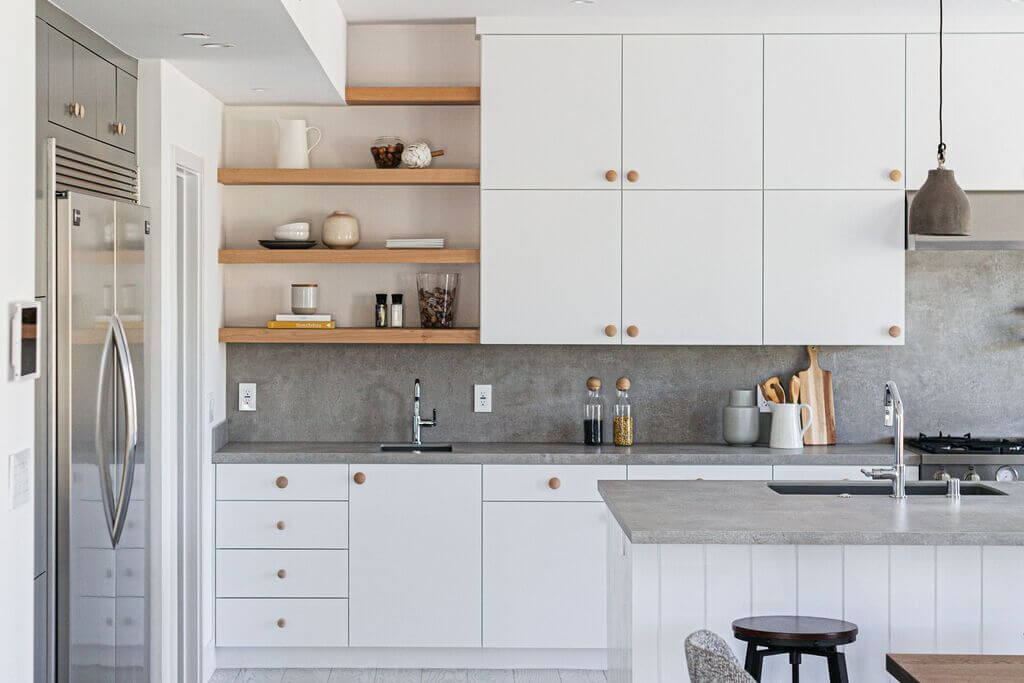 Source: thespruce.com
Technology-integrated smart kitchens are all the rage nowadays. They allow you to blend technology into every function and object in the kitchen, from the fridge and faucets to the lighting.
Smart add-ons for your new look kitchen include motion-sensing kitchen faucets that detect the presence of hands beneath to operate. Also, you can go for a gadget that monitors the eggs and warns you when they will spoil. Finally, remember to upgrade your lighting system so that you can control all of it from anywhere, anytime.
6. Dark Colours Have Arrived!
Source: forbes.com
Colour is an essential element of kitchens. It can help achieve a sense of rustic charm and be used to create a space that looks super stylish. In addition to the natural colours, dark colours like navy blue and dark green are also becoming popular this year.
Dark tones are perfect for creating contrast between different elements in your kitchen. Many homeowners are opting for different elements such as backsplashes, counters, and cabinets in dark tones. Black and brown kitchen cabinets are best for their dramatic and sumptuous effect. However, don't forget to tone down the look with some subtle contrasts to make it look lively and easy on the eyes.
7. Resurfacing Kitchen Countertops
Source: kitchenmagic.com
You can resurface a stone or concrete countertop in your kitchen to give it a fresh look. Have a limited budget for the kitchen renovation? Going for counter resurfacing is one of the easy kitchen upgrades as it allows you to achieve desired aesthetics while saving money. However, the cost of resurfacing a countertop is determined by its size. Also, you will have to pay for supplies like liquid paints, laminate sheets, and other similar items.
8. Connect Your Kitchen with Nature
Source: architecturaldigest.com
Do you have a drab and uninteresting kitchen? If you're thinking of refreshing it but aren't sure where to begin, why not start with windows and doors? Kitchens and designs inspired by the outdoors go hand in hand to create a feeling of nature in your kitchen.
For example, by simply installing a glass door or window, you can cherish your home garden while cooking your favourite food! Another perk of glass doors and windows is that it helps brighten up your space.
9. Kitchen Island
Source: trendir.com
Kitchen islands are an up-and-coming favourite because they can make a significant difference in practically any space. Not only does it open up the space, but also provides immense efficiency. The kitchen island is a boon to party lovers as it allows them to cook food while still being a part of the conversation.
10. Stainless Steel Appliances
Source: cloudinary.com
Most appliances nowadays come with a stainless steel body for its durability. These appliances are sleek, super durable and add a contemporary feel to the kitchen.
They can effortlessly withstand excessive heat as well as cold temperatures. Also, they can be easily cleaned — all you need to do is wipe the stain with a damp cloth, and voila!
11. Flooring
Source: cdn.com
Upgrading the kitchen floor can be both a money and time-consuming task, but it is a sure-fire way to supply your space with a new sense of energy and life. Hardwood is one of the most loved kitchen upgrades this year.
There is a huge variety of hardwood flooring, from thick solid timber to engineered plank.
Also, hardwood floors are best at handling humidity and temperature changes. Light-coloured hardwood flooring is the ideal option for Homeowners who admire nature. However, you can go for dark colour too if you want to use it in contrast with the existing interior.
Closing Words
Every homemaker's heart is in the kitchen. It's where families gather after a hard day to prepare meals and share tales. From creating a comfortable space for socializing to introducing much-needed efficiency, there are plenty of ideas for easy kitchen upgrades to turn it into the most happening place in the home. We hope that the inspirations shared above will help you make an informed decision!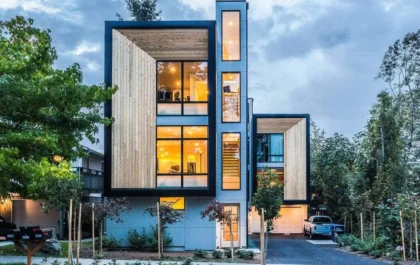 27+ Stylish & Modern Townhouse Designs for Urban Living.
The townhouse's first impression is normally too small, too compact, too narrower, and the list is endless. Well, let us…