According to Angi, homeowners, in 2022, spent nearly $8,484 on home remodeling.
What is surprising here, despite the skyrocketing interest rates, more than 50% of people express to spend the same amount in 2023 as well — with 28% planning to spend less and 22% expecting to spend more.
No need to mention, having a spacious, pleasant, and well-planned home is the dream of millions.
Indeed! Home remodeling can be a big and exciting project. But it can also be overwhelming. There is so much in between (Debt-To-Income Ratio, Local market indicators, Mortgage rates, Monthly Budget and so much more) to look for before you commit to any specific property deal. Throughout the entire process, the role of home builder plays a great role in making or breaking things.
They come as super savvy for all – investors, buyers, and sellers. If you're on the same ship and looking for home builders in Canada to remodel your home, this post has great stuff for you!
Do You Really Need a Home Builder & If Yes, When to Look for One?
Source: canadianhometrends.com
Whether you need a home builder or not depends on your individual circumstances and the type of home you want to build. If you have the skills and resources to build a home yourself, you may not need a home builder (which is quite rare). However, most people hire a home builder because building a home is a complex and challenging process that requires specialized knowledge and expertise.
Home builders have the experience and skills to manage the construction process from start to finish. They can help you design and plan your home, secure necessary permits, coordinate with sub-contractors, manage construction schedules, and ensure that all work meets local building codes and regulations. Plus, they can also help you stay within your budget and make recommendations to help you make informed decisions about materials and finishes.
Ultimately, whether or not you need a home builder depends on your individual goals and priorities. If you want to build a custom home and don't have the experience or resources to do so yourself, it's likely that you'll need to work with a professional home builder.
What Are Those "Key Factors" You Can't Ignore When Looking for Home Builders in Canada?
Source: squarespace-cdn.com
Choosing a home builder is a big decision, as they will be responsible for creating the place where you and your family will live. Here are some key factors to consider when choosing a home builder:
Research Potential Contractors:
Start by checking online reviews, asking for referrals from friends and family, and checking the builder's website.
Verify Credentials:
Make sure the builders you are considering are licensed, insured, and have a good reputation. You can also check with local organizations such as the Better Business Bureau. It is one of the finest ways to check their legal history or if there have been any complaints filed against the builder.
Ask for References:
Talk to the builder's previous clients to get a sense of their work quality and customer service.
Reputation:
Research the builder's reputation in the industry and the local community. Read online reviews and ask for references from past clients to ensure the builder has a history of building quality homes and satisfied customers.
Experience:
Look for a builder with a proven track record of building homes similar to what you are looking for. Consider the number of years they have been in business and their experience in building homes in your desired location.
Design Capabilities:
The builder should have the capability to build your desired home design. Check their portfolio of completed homes and ask if they have experience building homes with features that are important to you.
Budget:
Choose a builder who has a clear understanding of your budget and can provide you with a detailed estimate for building your home. Make sure they are transparent about costs and any additional fees that may arise during the building process.
Communication:
Effective communication is key to the success of any home-building project. Choose a builder who is responsive, easy to work with, and who will keep you informed throughout the building process.
Warranty & After-Sales Service:
Consider the builder's warranty and after-sales service policies. Make sure they stand behind their work and are available to address any issues that may arise after you move into your new home.
Look at Their Portfolio:
A professional builder should have a portfolio of their previous work that they can show you. This will give you an idea of their experience and the quality of their work.
Get Written Estimates:
Ask each builder to provide a written estimate that outlines the scope of the project, the timeline, and the cost.
Communicate Your Vision:
Make sure the builder understands your vision for the remodeling project and that they are able to provide the services you need.
Choose a Builder You Can Trust:
Trust is key when choosing a builder for your home remodeling project. Make sure you feel comfortable communicating with the builder and that they are transparent about their processes and costs.
Overall, take your time to choose the right home builder, and don't hesitate to ask questions and gather information to make an informed decision. By following these steps, you can find some noted home builders in Canada who will help you turn your remodeling vision into a reality.
Important Questions to Ask a Home Builder
Source: builderfinders.com.au
Here are some questions you can ask to help make an informed decision:
Can you provide references or a list of past clients I can contact for their experience with your company?

How long have you been in business?

What is your building process like, and how will you keep me informed and involved throughout the project?

Can you provide a detailed estimate or quote for the project?

How do you handle unexpected occurring in the whole process?
What Is the Warranty on a New Home Built by a Home Builder in Canada?
Source: amerex.com.au
The warranty on a new home built by a home builder in Canada typically covers defects in materials and workmanship for a period of one year. Some home builders also offer additional warranty coverage for specific systems and components of the home, such as plumbing and electrical. It's important to carefully review the warranty offered by your builder to understand what is covered and for how long.
Top 3 Frequently Asked Questions About Home Builders in Canada
What Are the Top Home Builder Companies in Canada?
There is no definitive answer to this question, as the top home builder companies in Canada vary depending on a number of factors such as size, geographic location, and the type of homes they build. However, some of the most well-known home builder companies in Canada include Sterling Homes Edmonton, Mattamy Homes, and Minto Group.
How Much Does It Cost to Build a House in Canada?
The cost of building a house in Canada varies depending on a number of factors, including the size of the home, the location, and the materials used. On average, the cost of building a single-family home in Canada is between $200,000 and $500,000. However, it's possible to spend more or less, depending on the specific circumstances.
What Is the Process for Building a New Home in Canada?
The process of building a new home in Canada typically involves several stages, including obtaining financing, finding a suitable building lot, choosing a home design, obtaining necessary permits and approvals, hiring a builder, and overseeing the construction process.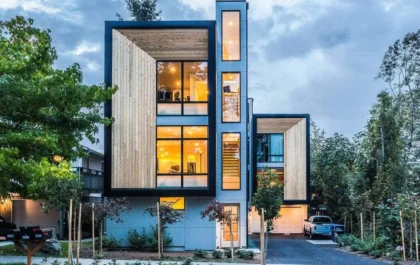 27+ Stylish & Modern Townhouse Designs for Urban Living.
The townhouse's first impression is normally too small, too compact, too narrower, and the list is endless. Well, let us…