Asphalt shingles, clay, slate, or concrete tiles were the main roofing choices not long ago. But today, the scenario has completely changed. Advanced roofing materials are now available in an unrivaled range of options and offer fresh designs for traditional materials. This article will disclose some types of roofing materials you can think of using for your next re-roofing.
Solar Tiles
Source: viridiansolar.co.uk
Advanced solar tiles can be merged with existing shingles and generate up to 1 kilowatt of electricity per 100 sq. ft. They're especially useful on sunny roofs where traditional solar panels are forbidden by homeowners' associations. While they may help reduce energy expenses through solar power but are pricier than typical solar alternatives.
Solar roofs and solar tiles offer a similar residential application. Solar roofing, however, is more economical than solar tiles because its power production can be split among multiple homes.
Wood Shakes and Shingles
A wooden roof might not look like the best fit for your home but it has to last for decades with minimal maintenance. Wood shakes and shingles are particularly attractive in areas with heavy rain. They can actually drain water better than metal roofs, which accumulate condensation that might eventually lead to leaks.
Cedar shakes and shingles were once the preferred choices for homeowners but due to their high price, they're now used only on select projects. Concrete tiles
Concrete tiles are a cost-effective solution for home roofs. In fact, the materials used to manufacture these tiles are often recycled from old concrete slabs and roadways. The best thing about them is that they're weather-resistant and require little maintenance.
Metal Roofing
Source: acehome-kanazawa.com
Metal roofing is available in shingles or vertical panels that look like tile, slate, or shake and may last up to 60 years. Metal can slough off heavy snow and rain, doesn't catch fire, and can withstand severe winds. It's light and you can install them on your old roof without having to worry about the pressure it is going to exert on your existing one.
The only disadvantage is the loud noise it will create during rainstorms, and it can get dented by hail. Let a reputed roofing company like Benchmark Roofing & Restoration inspect your roof first to suggest the needed course of action in case you need a new roof.
Cedar Shingles
There is a widespread myth that cedar roofs just don't last long. In reality, they can endure for more than 20 years with proper maintenance and can also help reduce heating costs in the winter. Also, they have greater fire resistance compared to other shingle options. However, you need to be ready for some pricey repairs when needed.
Cobblestone
Source: roofle.com
Unlike other stone tiles, cobblestones are much lighter. This makes them easy to install on roofs with low pitch angles. They are also cheaper than stones like slate or bluestone, but still have the same rustic look that adds an elegant touch to your roof.
Check out the qualities of these types of roofing materials to decide which one you want for your unique home.
Asphalt Tiles
Asphalt shingles are perhaps the most widely utilized roofing material in the US today. They have asphalt-saturated bases which comprise organic or fiberglass materials. Organic shingles are made from waste paper, salt coatings, asphalt, and ceramic granules. But fiberglass shingles are produced from asphalt-coated glass fiber and minerals like schist, mica, quartz, ceramic, slate, or stone.
The waterproof and fireproof properties of the shingles are due to the mineral and asphalt coatings. Asphalt shingles are often cut in a "three-tab" design. They are also available in many forms, patterns, and tints.
Slate Roofing
Source: bravarooftile.com
Slate roofing may survive for almost a century. In damp areas, slate is useful, but it is costly, heavy, and gets easily damaged when someone steps on them. Avoid using slate tiles for your roofing project if you live in a region where hail is a common occurrence.
Clay Tiles
Studies show that clay roof tiles can survive damage from hurricanes, tornadoes, or winds up to 125 miles per hour. They are effective against earthquakes as well and they are a good choice for roofs of hot and dry regions. They may require additional support to carry their weight and are prone to breaking when trod on.
Built-Up Roofing
This heavy roofing is only meant for flat roofs. It consists of layers of tar, asphalt, or glue covered with gravel. These roofs can grow sticky in the summer, and shoveling snow off of them is difficult. They have 20 to 25 years of lifespan.
Concrete Tiles
Source: vertexeng.com
These heavy and expensive tiles last up to half a century and can resist harsh weather conditions like hail, hurricane winds, or earthquakes. They come in many colors and patterns. They are not the best choice for roofs with steep angles because they can crack due to their weight.
Metal roofing has been around for some time now. Whether you are looking for metal roofing systems or steel roofs, they are the perfect choice because of their durability and affordability.
Conclusion
The decision of choosing the material for roofing will depend on your budget, the type of region, and the sort of house you live in. You can choose any of these materials for your roofing work.
Roofing materials should be chosen carefully by looking at their suitability towards the environment. It is also important to see that they are low priced, durable, and appropriate in style to give protection to your house from extreme weather conditions. If you want all the above qualities in your roof then why not choose metal roofing. Metal is strong, durable, stylish, and comes in various types like steel roofs, etc., all of which make it the best choice for your home.
But before you do that give us a call to help you with metal roofing installation at an affordable price. We are the experts who can help you with material selection and installation. Also, we offer roofing restoration services to help you overcome any problems that your old roof might have gone through. We have been in this business for a long time and have the knowledge and expertise to help you out.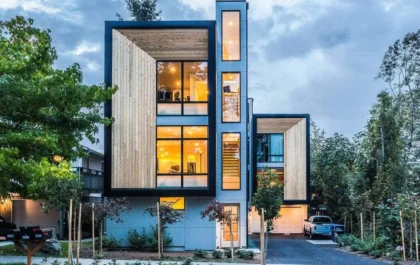 27+ Stylish & Modern Townhouse Designs for Urban Living.
The townhouse's first impression is normally too small, too compact, too narrower, and the list is endless. Well, let us…