If you are worried that your home looks a little tired and outdated, and you're keen to transform it into a property you can be proud of, never fear. There are several things you can do to boost the curb appeal of your home – several of which are surprisingly low-budget.
Read on to learn more about effective ways to enhance your house exterior.
Update Your Entrance
Source: theglassguru.com
Your home's entryway is vital for forming positive first impressions of your property and lifting your spirits when you come home from work. If it looks shabby, damaged, or dated, you may feel embarrassed about welcoming people in for a visit.
Fortunately, plenty of options are available to you regarding updating your entrance and adding some extra wow factor. For instance, simply replacing your front door with a shiny new one is an easy way to improve the exterior of your house.
There are several types of doors for you to choose from, which can vary quite dramatically in price, so you must go for the option that suits your home and fits within your budget too.
Veneered timber doors are the cheapest, while doors made of solid hardwood can save you more than two thousand pounds.
Of course, if you have a sizeable budget, then updating your house's front door – and possibly even your windows too – won't be a problem and could add some extra value to your home.
Having new, stronger doors and windows bring other benefits, too, including enhanced security and greater protection against common household problems such as water ingress.
Add Some Window Boxes
Source: bhg.com.au
If you don't have the budget to replace your windows, you can improve the appearance of your existing windows by adding some window boxes. You can find a variety of styles and materials for very affordable prices. Once installed, you can fill them with your favorite blooms, creating vibrant pops of color that will instantly uplift the exterior of your home.
When choosing which plants are ideal for window boxes all year round, the selection is extensive and can even include edibles such as brassicas, peas and beans, and overwintering onions.
Looking for species that will keep your windows beautiful even in the cold and the gloom? Be sure to choose cheap and cheerful winter bedding plants such as colorful pansies or introduce robust dwarf conifers for year-round greenery.
Fix Up Your Fencing
Source: bhg.com
If you have fences around your property, a simple and cost-effective means of giving your home a facelift is to provide those fences with a fresh coat of paint or varnish. This job doesn't require professional help as you can do it yourself in your spare time, so you won't have to worry about putting any dents in your bank balance.

Painting or varnishing your garden fences will also provide additional protection against the ravages of the elements, which will improve the strength and longevity of your fencing – while making them look more attractive into the bargain.
Introduce a Garden Room
Source: smartgardenoffices.co.uk
Garden rooms and garden offices are increasingly popular these days and for a good reason. Not only do they add an extra dimension to your outdoor space, but they also provide a charming combination of form and function.
In particular, insulated garden rooms can provide you with additional living space all year round. They can offer a warm and cozy place to read, work, or relax while enjoying the views of your garden. 1st Choice Leisure Buildings offer a range of designs for you; whichever one you pick, it's sure to add instant appeal to your garden and home.
Fix Any Faults with Your Roof
Source: bobvila.com
Fixing up a damaged, shabby, or moss-covered roof can be a highly effective means of updating your home's exterior. However, if you don't have the budget for an entire roof replacement, don't worry. Regular roof maintenance can produce a similar transformative effect, particularly if you are consistent.
For example, if your roof has become rather mossy of late, giving it a regular pressure wash is a cheap and efficient way of clearing the overgrowth and making your roof as good as new.
In addition, if your roof has several chipped or damaged tiles or slates, replacing them with new ones won't cost the earth and will bring you several other benefits besides improved aesthetics. You may also want to consider swapping out your guttering if yours is rather dingy and worn to prevent any blockages and spruce up the outside of your home.
Also Read: Roof Repairing Guide
Conclusion
When it comes to upgrading the exterior of your home, there are plenty of ways to work transformative magic on your property and give it extra curb appeal.
Of course, the methods you use will depend on your budget – but even if you don't have much money to spare, you can do several simple and cost-effective things to make your home a sight to be proud of. All it takes is a little time and effort, and before you know it, you'll have a house that your neighbors will envy.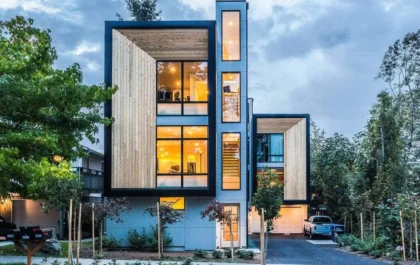 27+ Stylish & Modern Townhouse Designs for Urban Living.
The townhouse's first impression is normally too small, too compact, too narrower, and the list is endless. Well, let us…