We tend to choose the most cost-effective aspects when buying or building our first home so that we don't go over budget. When it comes to doors, this is often the case. However, after a few years, we must determine whether to replace or renew them based on their appearance.
Also, it is very important to consider the security of your interior doors. This article will provide you with tips on how to renovate doors in the 7 best possible ways.
​Restoration
If the doors can be repaired, we propose that you do this step. If the door has a layer of paint or varnish that you want to remove, sand it with thicker grit sandpaper to open the pores of the wood. Using special wood putty, level the surface and fill in any gaps or cracks so that when you recoat the wood, it is smooth with no uneven surfaces. Sand it with finer sandpaper once again. Keep in mind that you should always sand it up with the grain of the wood. After that, it's time to varnish.
If you're painting the door, one or two coats of primer are recommended. You'll be able to keep the paint from being damaged by even the tiniest of touches this way. For a smoother finish, sand a third time with fine-grit sandpaper (220 or 300) after priming. After that, you can apply the finish according to your choice.
Spruce Up the Front Door
Source: assets-news.housing.com
Make your front door stand out because it is the main entry to your home. You can either replace the entrance door with something more appealing or repaint it. You can go with light paint colors for a clean and elegant look, or go with a brighter hue to provide a flash of color and excitement. With a wreath, you can make the front door even more beautiful. Look for wreaths that have dried or preserved greens and blooms, and pick something that can be utilized all year.
Update the Hardware
On an old door, a new doorknob, door knocker, and hinges can make all the difference. Many times these parts are prone to rust and deterioration. Replace them with brighter, more modern, or classic pieces if needed. This is a short project that takes only a few hours to complete. Change the accessories if you think the door is in good shape and just needs a little uniqueness. It will have a one-of-a-kind look with new handles or an old-fashioned one from an antique store.
Highlight its Antiquity
If you have an ancient door, make it stand out. Sanding the rough edges and removing the old coats of paint and varnish will assist in removing the worn-out and dry wood so that it may be covered at a later stage. Apply paint or varnish in a distressed finish similar to that of ancient or antique cabinets.
Add Lighting
Lighting up your front door and entry properly is a terrific way to make your house stand out. Exterior lighting on both sides of the door or mounted above the door is both attractive and functional. If you already have lighting in these locations, you can always upgrade it or clean it.
Give it an Artistic Touch
Source: sharperimpressionspainting.com
Making stained-glass panes, if you're an artist at heart, will give your room a fresh look without having to modify it. Use special acrylic paints for glass to paint a pattern or design you found on the internet.
Try a New Paint Color
A front entrance should be nice! Don't be hesitant to use a color that you like. You are not obligated to follow the mob. If you're a fan of pink, go for it! If a yellow door has always been a dream of yours, then go for it! If you're going to color your door, make sure it's a color that makes your heart sing! The most important thing you can do is paint your door a bright color!
Aside from being practical, proudly displaying your address can also help streamline various design elements at the front entrance. The gold numerals on the address plate compliment the chartreuse-colored door in this imposing entryway. However, the oval shape of the plate stands out enough from the rectangle door and wreath to attract attention on its own.
Wrapping Up!
Above we have listed a few of the important tips that can help you update your house doors. You can also do similar things to the interior doors of your house. When it comes to replacing your doors, make sure you stay within your budget. If you're on a budget, consider replacing or repainting the hardware and giving the door a fresh coat of paint. Replace the doors with new ones that fit your design and if your budget permits it.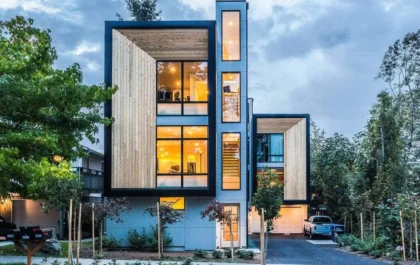 27+ Stylish & Modern Townhouse Designs for Urban Living.
The townhouse's first impression is normally too small, too compact, too narrower, and the list is endless. Well, let us…