Transforming a place into your dream home is a tiring process. You have to invest money, time, and energy to succeed. Multiple aspects of a property can be improved from time to time.
For example, you could add a new coat of paint or change the interiors of your home. Another thing that could add to a home's beauty is a new roof. Yes, the right roof option complements your property. There are numerous options to choose from. You can improve your home's curb appeal and monetary value with sensible options.
Roofs offer protection and beauty simultaneously. Therefore, updating them in time is of utmost importance. Here are five trending roof styles to make your homes look unique.
Asphalt Shingles
Source: tornadoroofing.com
A feasible roofing option to lift your home's appearance is asphalt shingles. For a long time, these shingles have been an ideal option for all. From durability to strength, shingles have it all. However, the best thing about them is their price.
Asphalt shingles are a budget-friendly option. You will not need to spend much money, and your entire home will get a new look. Moreover, the installation won't take much time or experience. Anyone roofer can install asphalt shingles.
So, when in need of roof replacement, opt for this option. The change doesn't take more than a few thousand dollars. While you are changing your roof, opt to get a chimney cap replacement as well. That way, the entire rooftop will look brand new.
There is no harm in investing in a new roof because it provides more protection to you and increases the price of your home.
Curved Roof
Source: discourse-cdn.com
Another popular option for your roof could be a curved design. Curved roofs are in fashion and create a unique look. They are similar to sheds or skillion roofs but have curved planes. This feature makes them more attractive.
If you are planning to give your home a luxurious look, nothing can be perfect than a curved roof. It is created from metal sheets because metal is easy to mold and curve. Therefore, they cost more than other options. However, you won't regret spending the extra dollars on it once you see the final look.
These roofs are in demand and give an edge to an average home. Still, the installation is much more complicated than a simple roof. You will need professional help to install a curved roof. Doing it yourself without prior experience results in problems in the future.
Sloping Roof
Source: hzcdn.com
Sloping roofs are popular in places experiencing snowfalls or heavy rain. The design allows snow and water to flow downwards instead of accumulating at the top. It helps prevent waterlogging as well. These reasons make sloping roof ideal for every home.
If you plan to change your roofing style, opt for a sloping roof. It looks attractive, and the sloping design keeps your home's structure safe from water damage. There are multiple options for sloping rooftops. You could find suitable roofing material for your home.
Some might think of a sloping roof as an old and outdated option, but it is always a suitable choice.
Metal Roofing
Source: prairieexteriors.com
You could always go with metal roofs while renovating your homes. With time, roofs get damaged and need replacement. Even if your roof is in good shape, it might be outdated. In such circumstances, a new roof could positively impact your home's appearance, especially metal roofs.
Metal roofs are nothing new. These have been in fashion for years. However, now there are trendier designs in the market. Therefore, making it an ideal pick. Apart from looks, metal is durable, long-lasting, and comes in several colors. The best part, metal roofs don't absorb water.
All these factors make metal a better choice. Nothing can make your home more luxurious than a metal roof. Still, not everyone can afford metal roofing. In comparison to other options, metal roofs are expensive. In fact, it is the most expensive item on the list.
So, affording a metal roof won't be easy on a tight budget. It all depends on how much you are willing to spend to make your home look luxurious.
Also Read: 11 Types of Vents Used on a Roof
Eco-Friendly Roofs

Source: prairieexteriors.com
Lastly, we have eco-friendly roofing options. These are the latest trends of 2022. Several individuals are becoming aware of their surroundings. They wish to be mindful of the carbon footprint they are leaving behind. In such conditions, eco-friendly roofs come in handy.
You could opt for recycled or synthetic materials for your roofs. For example, recycled rubber or plastic could be transformed into a beautiful rooftop. It might sound unattractive but isn't. Eco-friendly options can look equally elegant and classic.
Before finalizing any option, do consult experts. They will recommend you the best option according to your home conditions. Whatever option you choose, make sure it fits your budget and needs.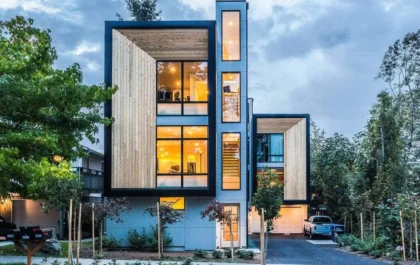 27+ Stylish & Modern Townhouse Designs for Urban Living.
The townhouse's first impression is normally too small, too compact, too narrower, and the list is endless. Well, let us…