The white bathroom has been with us for quite some time now, mainly for its ability to make a smaller space seem much bigger. White bathrooms can be mixed and matched with various designs, the result often being very elegant and clean. That being said, how can you add white to your bathroom and make it look cool and not hospital-like? Well, here are just a couple of ideas that you might want to try out. Let's get started!
Vintage Pieces
Do you want an all-white bathroom? That's very good – but bear in mind that if white is the only thing you see when you go into the bathroom, it might give you a headache. This is why you may want to accessorize as much as possible. Due to the elegance of white, vintage pieces are the most popular options.
With that in mind, you also need to be creative and follow your own personality, as interior designer Barbara Sallick suggests. "The reason you have decided to do an all-white bath is for its classic and elegant style, so your accessories should follow the same template. If your style is traditional, it is an adventure to find vintage pieces to layer into space," Sallick adds.
White with Wood Tones
Wood tones in a white bathroom can add a bit of interest and depth to this area, without necessarily adding any actual color – just the wood. Go for light-colored wood cabinets and if your mirror needs a frame, use the same material for those frames. This will create a timeless room that feels airy and bright, bringing out the white of the room.
Warm Lighting
The thing about white bathrooms is that if you use the wrong lights with them, they might look cold and impersonal. Barbara Sallick also says that the best way to make a white bathroom feel warm and inviting is to upgrade your lighting game.
"In any case, lighting softens the bath and adds that all-important texture. Controllable light in the form of high hats delivers light for putting on makeup or shaving. Choosing the right light bulb for warmth is essential," Sallick adds.
White Marble Walls
Do you want an all-white bathroom but still look for some kind of pattern on your walls? Well, in that case, you might want to go for marble tile walls. The final design will look timeless, but at the same time very modern. Plus, marble has a way of reflecting light, so if your bathroom happens to have a window, you will be getting a lot of light along with an impression of extra space.
Shiny Tiles and Glossy Layers
Many people turn their bathroom into a white oasis simply because they want to bring the light in – and the best way to do that is to add some gloss surfaces into the design. This will reflect the light even more and will make the room seem even more airy and elegant.
"Many people use matte tiles these days, but the lustrous spa-like finish of polished tile is better – it feels expensive," says Jim Howard, interior designer. In the end, if you want your bathroom to seem bigger while making it feel luxurious, you might want to go for glossy white surfaces.
Wood Paneled Walls
If you thought that wood had no place in the bathroom, it is time for you to rethink your decision. Wood gives off a rustic look, so if you are looking to create a traditional white bathroom, then you might want to paint the wood panels white and add them to the walls.
If the wood has been treated properly, you will not have any problems because of the moisture. Add some green plants in, and you will have the perfect coastal-meets-rustic white bathroom.
The Bottom Line
In the end, once you get a white bathroom, you need to determine which style works best for you. Some like to have plants around to add a touch of green, others might like an accent wall, and some might want to go for a luxurious-looking marble wall. Consider all these options with their pros and cons suggested by Cabinet Set professionals and see which one you like the most.
Discover More: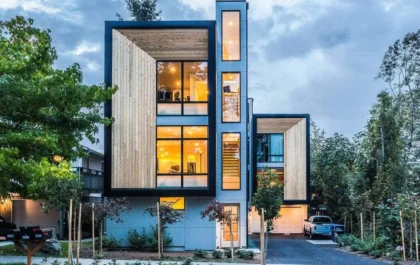 27+ Stylish & Modern Townhouse Designs for Urban Living.
The townhouse's first impression is normally too small, too compact, too narrower, and the list is endless. Well, let us…