Project Specifications
Project Title: East 17th Street Residences
Architect: Logan Architecture
Project Location: Austin, Texas
Project Year: 2021
Fabrication: ICON
Developers: 3strands, DEN Property Group
Interior Design: Claire Zinnecker
Structural Engineer: Fort Structures
MEP Engineer: Positive Energy
By the looks of it, 3D printing seems to be the future of the architecture and construction industry with advancements in technology and innovations stepping into the market. Owing to the latest software, one can convert his ideas into a 3D model and that design language can now be printed as a full-scale 3D model. One such visualization turned into reality is ICON'S latest 3D Printed Houses in Austin.
A total of four homes comprise this development. Out of the four, two have sold since they were unveiled in March. The remaining two houses are still for sale, being offered by 3strands and DEN Property Group.
"3D-printing technology provides safer, more resilient homes that are designed to withstand fire, flood, wind, and other natural disasters better than conventionally built homes," said ICON.
These 3D printed homes situated in the heart of Austin, Texas are a design of Logan Architecture. They range in size and typologies from two bedrooms to four bedrooms with each layout being divided between two stories.
ICON's Vulcan construction system is used to 3D print the first level, which is made of a strong and long-lasting material that is more durable than conventional materials. In addition to being safer, this strategy also remains resilient even in the face of fires and floods.
These 3d printed homes demonstrate the possibilities associated with additive manufacturing in the sector of mass-market housing. This design in East 17th St Residences, amid a neighbourhood, fulfillingfulfil growing at a fast pace, consists of a quartet of houses the tectonics of which throw a reflection on the building technology.
These four residences have common architectural features like huge covered front porches, shaded parking, an open layout floor plan, and customized interior design.
"They are the first 3D-printed homes for sale in the US and ready for move-in," says ICON
The master bedroom in all the units is vaulted, and the house is oriented with large north-facing windows to let in natural light. The design language of these 3D printed homes can be considered minimalist. Each 3D printed element for the housing with typologies of two-bedroom and four-bedroom houses took about five to seven days to get printed and completed.
According to Gary O'Dell, the CEO of 3Strands, the housing crisis is an issue of supply and 3Strands is attempting to tackle this situation by pushing the frontiers of emerging technologies and innovations to address the underlying reasons for the supply shortage. East 17th Street has made a big contribution to the future of building by 3D-printing these dwellings. With an overwhelming response from the buyer's interests, the housing by ICON has created attractive, energy-efficient, and robust houses that cater to the current demands in housing.
The architectural firm believes that 3D printing technology offers a safer and more resilient living environment with a solid design that is capable of withstanding fire, flood, harsh winds, or any other natural disaster. These advanced homes are much stronger in these conditions than the traditional homes built with conventional materials.
Despite their differences in size and layout, the four 3D-printed houses all share the same exterior and interior characteristics. The timber-framed upper floors and roofs are covered in black standing-seam metal, while huge porches feature red cedar undersides.
The interiors of the residences were developed by Claire Zinnecker of Austin, who drew inspiration from the southwestern style. The mood board for the homes is a simplified colour palette with hues of green and white. The material palette of terracotta is enhanced with fixtures that fulfil the role of natural materials.
"Drawing inspiration from the homes' natural structural materials, wood, metal and concrete, she chose a simplified colour palette of green, white and terracotta and fixtures that play off the natural materials," ICON claims.
Claire Zinnecker brings soft greens, terracotta, and marble into the bathroom to maintain the idea of "natural inspiration." Each bathroom is both distinct and complementary to the rest of the design.
With wood cabinets, woven carpets, and accents of greenery, the open-plan areas have a neutral tone. Some of the residences also include glazed saltillo tiles from Zinnecker's collection for local firm Clay Imports.The flooring on the lower level is completed with a concrete overlay, while the flooring on the upper level is engineered wood. To aid with energy efficiency, double glazing, water heaters without tanks, and variable capacity air conditioning systems are all incorporated.
The concept ensures that homeowners are immediately inspired and comfortable when entering each one-of-a-kind house. The two-bedroom residences in the tiny subdivision are presently under contract, but the four-bedroom typology is still fully available.
3D-printed houses are springing up around the world, made from a variety of materials like bioplastic, clay, and even rice trash. ICON's 3D-printing innovation is now being used to construct a prototype dwelling for Mars, which was created in conjunction with NASA by architecture firm BIG. In addition, the business is collaborating with NASA on robotic building techniques for the Moon, and with Fuseproject, it is planning a village of inexpensive printed dwellings in Latin America.
In the construction sector, 3D printing offers a significant reduction in manufacturing time. That's because the machines are extremely quick. 3D printers are also completely automated, removing the possibility of human mistakes. The machine just has to be watched, although the majority of the manufacturing process is automated. Furthermore, 3D printers do not require any special tooling. They have the structure encoded and just build it; there is no need for extra assistance, new materials, or other considerations that conventional methods necessitate.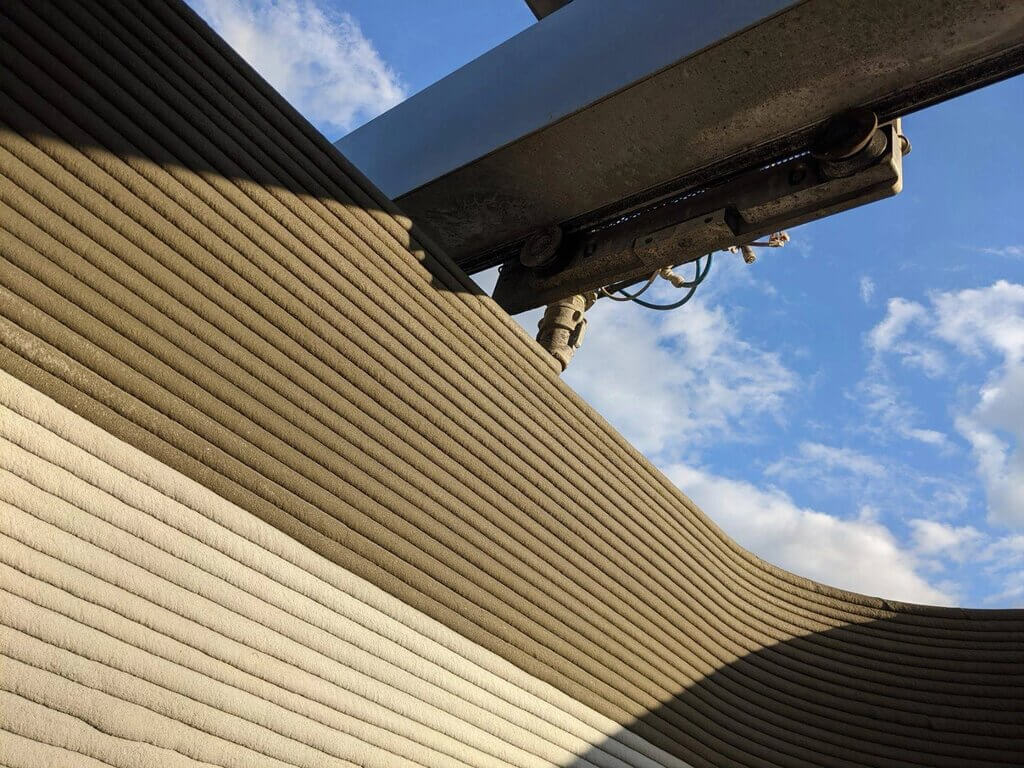 The major benefit of 3D printing in the building sector is that it saves a lot of money on material waste. This is because a 3D printer, such as one used in robotic arms, only utilizes the precise quantity of material required. Buildings that are built layer by layer and with lattice systems on the interior can save a lot of money. Not only that, but they can also work with recyclable materials. This is also good for the environment. 3D printing has a considerably lower environmental effect than conventional production methods.
Because 3D technologies may be utilized at the design stage, they can help in better and practical planning of the design project. Starting with CAD building designs, which are technical blueprints that include all of the information. A 3D model of the structure may be created based on those designs to satisfy the clients' expectations and offer them the optimal design choices. It's critical to address the client's concerns and provide the correct answers to their queries. This is when additive manufacturing comes in handy. 3D visualizations of design can be offered in terms of 3D models and printing of the exact model can take place with the help of advanced technology today.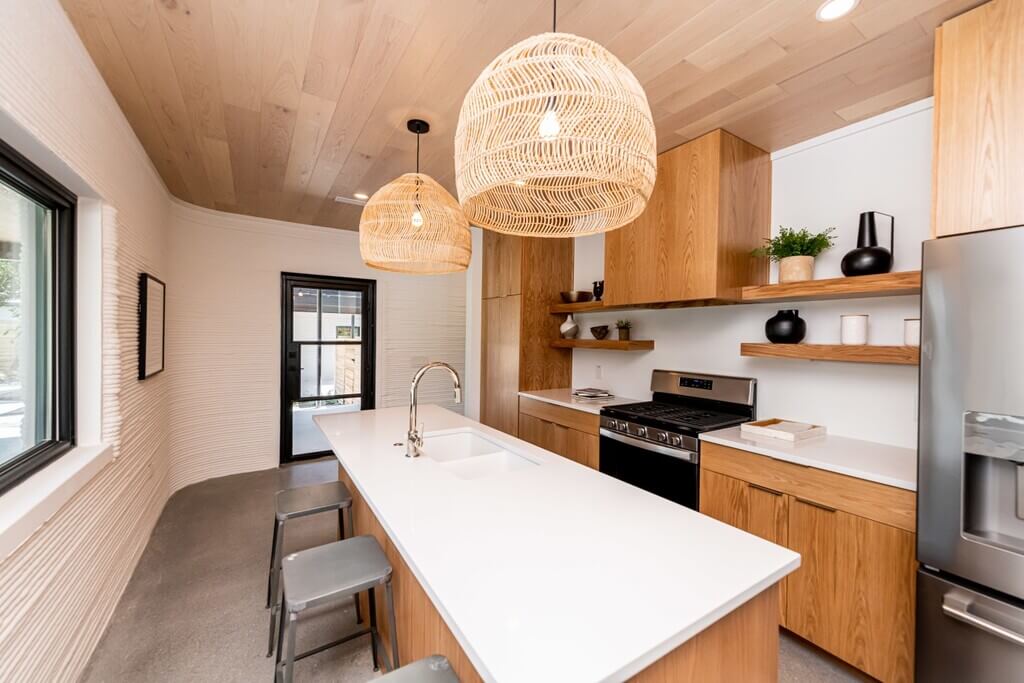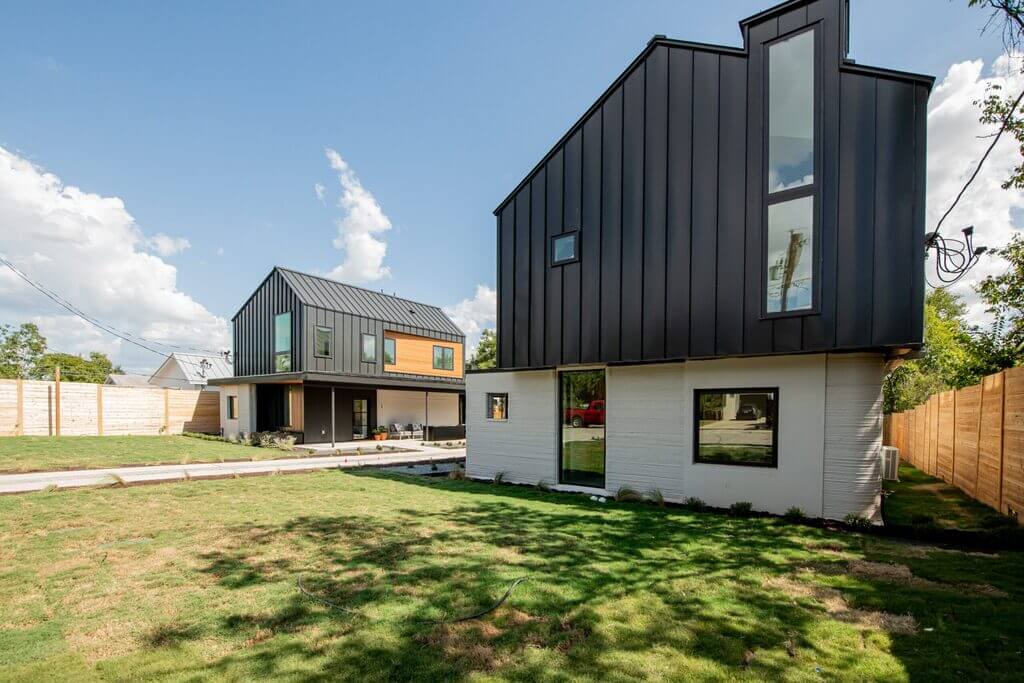 Conclusion
This architectural design offers high technology-influenced solutions to housing that can face natural calamities and housing complexes that will cater to the shortage as well. Even though the houses are designed with 3D printing technology, the roots of the design stay intact with natural influences. That is a pro point of this technology that it offers natural materials and design elements as well. The incorporation of a natural palette in terms of colour and materials led to a design that does not look alien in the setting and merges well with the neighbourhood context of the site.
Discover More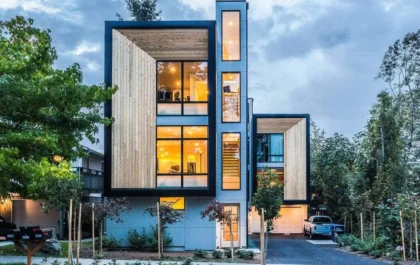 27+ Stylish & Modern Townhouse Designs for Urban Living.
The townhouse's first impression is normally too small, too compact, too narrower, and the list is endless. Well, let us…