Exhibited at the Giardini Della Marinaressa, Italy, is a 3D printed arched bridge whose method of construction is the first of its kind. The 16 x 12-meter footbridge is made of unreinforced 3D printed concrete blocks assembled without mortar. The Striatus bridge was designed by Zaha Hadid Architects + Block Research Group in collaboration with Incremental 3D.
The Striatus bridge combines advanced computational design and engineering with conventional materials to create a perfect synergy of traditional techniques with futuristic methods of manufacturing.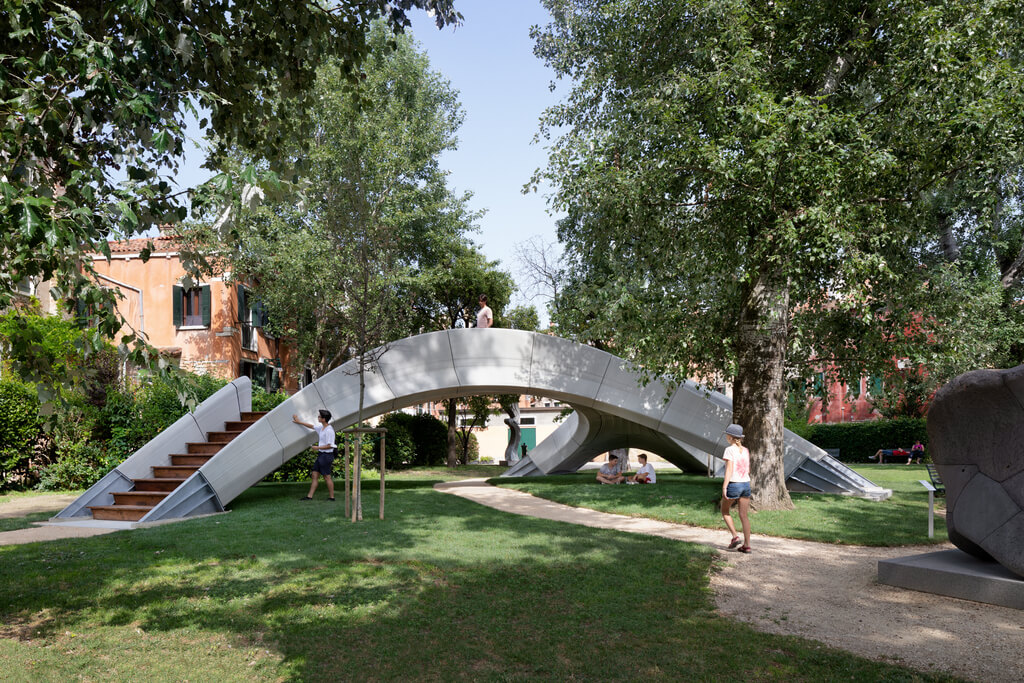 The name "Striatus" is derived from the fabrication process of the concrete blocks and the structural logic behind them. The blocks 3D printed for this bridge are made of concrete printed in layers that are orthogonal to the direction of load transfer to create a "striated" structure that undergoes the only compression. The word striated is used to define something that is marked by long thin parallel streaks. The most unique aspect of this design is the lack of requirement of reinforcement.
Zaha Hadid Architects + Block Research Group's architects and engineers devised a method of construction that revolutionizes concrete construction. This idea arose from the need to reduce the carbon footprints of Reinforced Cement Concrete construction. While the design of the Striatus Bridge by Zaha Hadid Architects + Block Research Group not only reduced steel consumption in its unreinforced structure, it also uses much less material than one might assume for a footbridge that occupies an area of 50 m2.
Using significantly less material and no steel or mortar, this type of concrete construction is extremely economical and time-saving. Most importantly, because of the lack of mortar, these blocks can be disassembled and reassembled in different locations as needed and can be dismantled to recycle when there is no further use.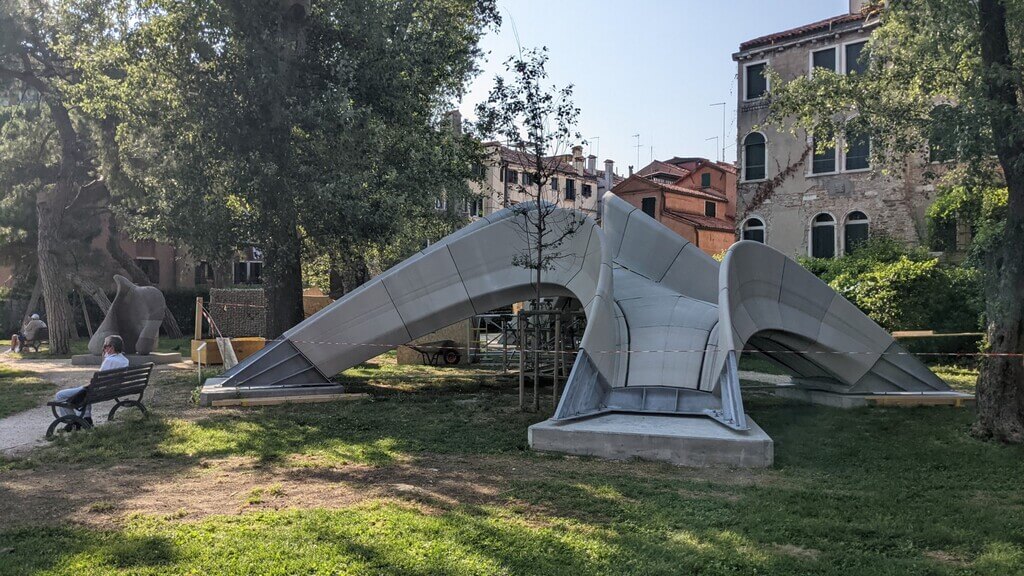 Lack Of Reinforcement In Design
Each day, millions of buildings are constructed using Reinforced Cement Concrete. RCC construction generates massive amounts of CO2 emissions but the use of Reinforced Cement Concrete is only ever on the rise because of its incomparable structural qualities.
The main problem arises from the use of steel for tensile reinforcement in concrete structures. Structural steel manufacture uses up a large amount of non-renewable resources and emits a large amount of Carbon dioxide into the atmosphere. ETH researches of Block Research project address this problem and provide a solution via the design of the Striatus Bridge.
Lack of reinforcement made the Striatus bridge a compression-only structure. The loads are transferred to the footings which are tied together on the ground. The stability of this no-mortar, no-steel, concrete structure is owed entirely to its geometry. The use of 3D printed concrete blocks and a lack of mortar makes this type of construction extremely clean and is termed "Dry assembly" construction.
The most unique aspect is the material used in the process of 3D printing. Concrete is typically not used as ink for 3D printing structures because it tends to clog the printing nozzle and its inability to adhere to the other layers. So, for the Striatus Bridge, a special concrete ink was invented by the company Holcim to serve the required purpose.
Along with Incremental 3D, ETH researchers developed a new method of printing the concrete that would remove the need for tensile reinforcement or the process of post-tensioning. The concrete is not applied horizontally like the usual method of 3D printing. Instead, it is applied at specific angles to ensure that they are orthogonal to the direction of load transfer and compressive forces within the structure. This ensures that transfer of load only acts to compress these layers closer together, compacting them and removing the need for post-tensioning.
"Striatus stands on the shoulders of giants: it revives ancestral techniques of the past, taking the structural logic of the 1600s into the future with digital computation, engineering, and robotic manufacturing technologies. Its tactile quality, aesthetics, and strength reflect our principal partner Patrik Schumacher's vision that beauty is a promise of performance," says Shajay Bhooshan, Head of CODE, Zaha Hadid Architects' Computation and Design research group.
"Striatus represents the perfect synergy of architecture and engineering that comes together with printing technology and material innovation. The beauty of 3D Concrete Printing is the delicate layering and precision you can apply to reflect perfect geometry. Our collaborative work makes the Striatus bridge greater than the sum of each of its blocks." says Johannes Megens, co-founder of Incremental3D.
"Striatus was designed by some of the best architectural and creative minds in their fields. It demonstrates the infinite possibilities of 3D Concrete Printing to enable more sustainable, faster, and effective building structures, without compromise on aesthetics and functionality, says Jan Jenisch, CEO of Holcim
He continues, "Its digital and circular design uses concrete at its best, with minimal material use and blocks that can be repeatedly reassembled and infinitely recycled."
"The name "Striatus" reflects the bridge's structural logic and fabrication process. In arched and vaulted structures, the material is placed such that forces can travel to the supports in pure compression. Strength is created through geometry, using a fraction of the materials used in conventional concrete beams." says ETH co-director Philippe Block.
He continues, "This, furthermore, opens a breadth of opportunities to build with lower-strength and in a more ecologically friendly way. This precise method of 3D concrete printing allows us to combine the principles of traditional vaulted construction with digital concrete fabrication to use material only where it is structurally necessary without producing waste."
Concrete Ink By Holcim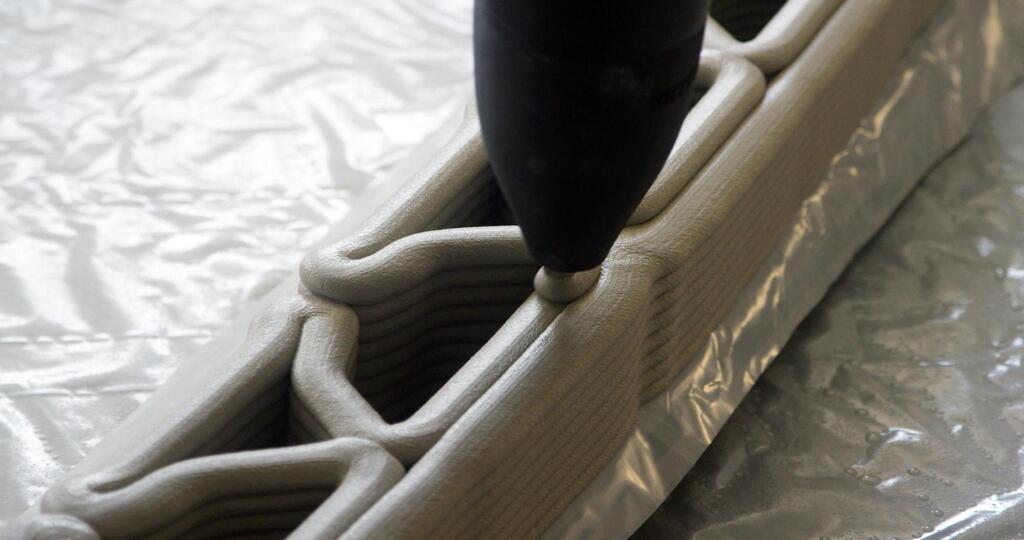 The important thing to note is that the Striatus Bridge by Zaha Hadid Architects + Block Research Group couldn't have been built if not for the custom-made ink developed by the 3D printing research team of Holcim's TectorPrint Range. Think ink truly sets the Striatus bridge apart from all other 3D printed structures purely because of its concrete language.
With sustainability at its core, Holcim devised this ink for the bridge that stands firm with its own beliefs of enabling smarter infrastructure and net-zero ideology. Extensive research is paving the way towards ink designed for as green building solutions, from ECOpact green concrete to ECOPlanet green cement.
Conclusion
Displayed during the Venice Architecture Biennale, the Striatus Bridge will be exhibited until November of 2021 and open to the public. Zaha Hadid Architects + Block Research Group used the bridge as a display of their own prowess in computational technology as well as their advancement in architectural design and construction.
The Bridge design takes prefabricated construction to the next step and by using computational design, paves the way towards a future of building construction that still exploits the qualities of concrete- the wonder material.
Discover More: