Are you an investment property owner of an older townhouse? Renting out property is one of the oldest forms of obtaining a passive income, which is a goal of many people in modern life. Earning money that is separate from your employment and doesn't require active labor is a goal worth achieving. But what if your investment townhouse is a bit run down, in need of some repairs and TLC due to its age? Naturally, homes do start to show wear and tear as time goes on and the space is used. To get the most out of your rental property, hire a licenced property manager who knows what steps must be taken to ensure that it is adequately prepared for a new tenant. In this helpful article, we'll share a few tips on how to prepare an older townhouse for renting out.
Engage a Property Manager
This is one of the tips for landlords who own different types of rental property, not just older homes. Whilst it may sound easy to manage the day-to-day preparations of renting out a property.
You'll find that it quickly becomes a full-time job; especially if you don't have a lot of experience in the field. A property management agency is a real estate agency that will manage all aspects of your rental property.
This is an essential part of owning older investment properties, as these agents are skilled at dealing with tenants, understand the relevant legislation, and can coordinate all the maintenance and repairs required for an older home.
A Lick of Paint
It's almost a cliche to say that many things can be fixed with a fresh coat of paint, but in reality, this is a fantastic way to prepare an older townhouse for renting market. As a rule of thumb, an investment property should get a fresh coat of paint every five or so years. This is because even the most careful tenants will cause wear and tear to walls, especially if they have children.
Give the internal walls a good few coats of new paint. It considers employing a professional painter to do the job – so it's done right. This will also avoid a considerable amount of time being spent on a task that will usually be done faster and more effectively by professionals.
If the townhouse has some external weatherboards, ensure these get a good coat too as this will immediately make your facade appear fresher. 
Fix or Replace Old Appliances
Does your older townhouse have any appliances installed? These could include a dishwasher, split system air conditioning, ducted heating, or other household appliances.
Ensure they are in full working order, and if they need repairs arrange these. Some may be so old that they need a replacement.
It is your duty as a landlord to ensure the home is liveable and tenants can have quiet enjoyment of the property, so heating and cooling systems are especially important to remedy if there are any issues.
A Thorough Clean
Before you get new tenants in, ask yourself when was the last time your townhouse had a deep clean?
Chances are there is some built-up dirt and grime, such as along skirting boards, on door frames, and other nooks and crannies.
Engage a professional cleaner to do a deep clean, and your home will be looking brand new and be ready for the next set of tenants.
Window Dressings and Other Miscellaneous Items
Inspect your blinds, curtains, shutters, and other miscellaneous items (like carpets) that come with the property. If they are worn out, torn, ripped, or have holes in them, replace them with brand new items.
This will make a world of difference as to how each room presents; which in turn will net you good tenants who are attracting to nice homes.
Other Minor Repairs
Do a final inspection of the home for any minor repairs required, such as holes in the wall or chipped or broken windows.
Summary
In this blog, we've explained how to prepare an older townhouse for Renting.
Engage a property management real estate firm to manage the heavy lifting for you.
Give the home a lick of paint, inside and out.
Fix or replace broken or old appliances, and give the home a deep clean.
Next, replace any broken or worn-out window dressings or other items included in the home.
Finally, conduct any minor repairs as needed.
Now your townhouse has a new lease on life, and a new lease – hopefully. 
Discover More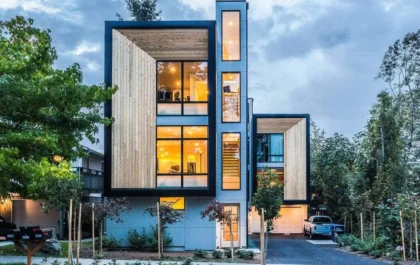 27+ Stylish & Modern Townhouse Designs for Urban Living.
The townhouse's first impression is normally too small, too compact, too narrower, and the list is endless. Well, let us…