Through the development of virtual design assistants, artificial intelligence (AI) is now increasingly being employed in ai interior design. Designers can use AI technologies to enter their design ideas and preferences and receive ai interior design suggestions such as color schemes, furniture, and other design components. These virtual assistants can also help you get 3D representations and floor layouts.
Here are some artificial intelligence interior design tools you should try to create your ideal home.
Foyr Neo
Source: Foyrneo.com
Foyr Neo ranks first on our list of AI interior design software. It is an all-arounder since it is suitable for all types of people. This program's best feature is its easy-to-understand and browse user interface. It is so simple that even a novice may immediately use it for house design and renovation.
So, if you are new to ai interior design but are intrigued by it, look no further than Foyr Neo. It's a fantastic resource for designers, homeowners, and real estate speculators. The design technology is robust, supporting a variety of forms such as 3D views and 3D images with specifics such as construction material, paint color, room arrangement, space planning, and many others.
The characteristics of good software are limitless. Foyr Neo provides all users with a 14-day no-questions-asked free trial version. After using the software to its maximum extent, a monthly cost of $49 is levied. The software uses cloud rendering capability to ensure all processes occur in the cloud. It means that the software is device independent, which means that you may access your data from anywhere and on any device.
You can use this software to help understand CAD or CAM because it requires no prior expertise and contains 50,000 pre-built models/templates in the library. Simultaneously, if you are a competent designer, it has numerous powerful capabilities that allow you to mold the tool to your whim.
Planner 5D
Source: Planner5d
It is one of the most used AI-powered home design tools allowing anyone to create floor plans effortlessly and ai interior designs. It has around 40 million users and has been used to design approximately 80 million projects. It is also accessible on the web, iOS, Android, Mac OS, and Windows. You may also use its clever neural network to convert the 2D blueprint to 3D.
Homestyler
Source: foyr.com
Autodesk, a well-known design software firm, invented this tool. It is a simple program that requires no prior understanding of technology. It is an excellent tool for beginners since it allows you to construct rooms using drag-and-drop functions to create proportions, angled walls, etc. You can also select from a selection of doors and windows for large and small dining rooms, living rooms, bedrooms, etc. Professionals can also purchase a premium version.
Smartdraw
Source: fixthephoto.com
It is one of the essential tools for designing, customizing, and planning office spaces, apartments, rooms, and even building elevations available online. Individual use is ideal, as you can choose from an infinite number of furniture, building materials, and preset plans. All users have access to a free trial period, after which they can purchase the entire program if they enjoy it. It can also assist you in organizing all of the main parts of your floor layout.
Home by Me
Source: cloudfront.net
It is another free application for home décor planning with an easy-to-use layout. You can start in 2D and build your room, then design it in 3D with furnishings and accessories for a better view and real-time knowledge of the design. If you want expert help to create your floor plan, you may also subscribe to the premium edition.
Heavenly
Source: 3dbrute.com
This software is a personalized version of self-help ai interior design apps. With Havenly, you may collect your design ideas and hire an interior designer cheaply to give them a more realistic spin. In addition, to choose an ai interior designer, you must first take a style survey, after which the algorithm will select the most appropriate ai interior decorator based on your preferences.
Hutch
Source: businessofhome.co
It is yet another user-friendly virtual home décor design program for beginners. Upload a photo or use a custom template to create the room by swapping out different furniture elements. You may also buy things straight from the app rather than exploring markets for comparable options. It's like a home dressing room where you can try numerous décor ideas without purchasing them.
RoomsGPT
Source: fastcompany.net
Another ai interior AI design program that allows consumers to redesign their fantasy rooms is roomGPT. According to its creator, Hassan El Mghari, it is free and open source. This application lets users photograph their space and make a new version based on their chosen themes. It may be done in seconds for various house rooms using the application.
Leaperr
Source: pinimg.com
Leaperr is an Artificial Intelligence (AI) system that creates ai interior designs using deep learning, image processing, and complex algorithms. Users can snap a photo of their room, choose their favorite styles, and the system will generate custom pictures for the location.
Also Read: 6 Ways to Embrace the Natural Decor Trend in Your Bedroom
Home Story AR
Source: wired.co.uk
Homestory AR is an AI-powered ai interior design application that allows users to visualize how various furniture and decor components might look in their homes. The software scans the room and utilizes AI technology to properly analyze the size and shape of the space before recommending things that might be a suitable match.
Furthermore, the software allows users to share their designs and photographs with others and provides a 3D virtual room view for a thorough look at the space from various angles.
Conclusion
Artificial intelligence (AI) is rapidly being used in ai interior design thanks to the emergence of virtual design assistants. Designers can employ AI technology to input their design ideas and preferences and receive AI internal design recommendations such as color schemes, furniture, and other design components. Additionally, these virtual assistants can help you obtain 3D representations and floor plans.
Foyr Neo is the most excellent 3D rendering program for ai interior design tools. AI allows designers and engineers to solve complex problems by creating intelligent algorithms. It can involve using data to predict outcomes or having AI systems that can learn for themselves and develop new ideas.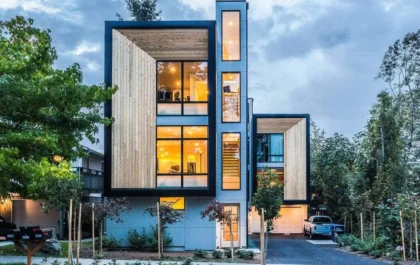 27+ Stylish & Modern Townhouse Designs for Urban Living.
The townhouse's first impression is normally too small, too compact, too narrower, and the list is endless. Well, let us…