Moving into a new home is always exciting. We anticipate how our lives will change with our address and spend hours planning home décor. Everyone wants a beautiful and luxurious décor in their home – especially in the living room.
Contrary to popular belief, making your living room look luxurious and beautiful does not depend on money but on ideas and creative thinking. There are many ways to include high-end features in your home decor without spending a significant amount that can give you higher quality, comfort, and elegance. Here are the top 9 interior design ideas to help you create a luxurious living room for your home –
Create Symmetry and Balance
Source: foter.com
Keep it simple and symmetric when designing your home. It helps create neatness and balance in your home decor. Perfect symmetry may not be realistic, but if you start with the intention to create a balanced space – it will help your living room look classier and neater. Opt for furniture that compliments each other in style and size. It will give your living room a sleek and streamlined look.
Use Superior Materials
Source: luxury-houses.net
It is not every day that you spend on a makeover for your living room. Choose high-quality materials, like imported marble, solid wood, velvets and leather – to add a touch of luxury to your living room.
Using fine materials lends opulence and richness to the room more than anything. Remember that superior materials don't just look better; they also last longer than their inexpensive counterparts.
Luxe Accents
Source: architectandinteriorsindia.com
Include luxe accents like gold finish, gleaming metallic looks, glossy table tops, and high-quality ceramics to elevate your interior design. Experiment with materials such as glass and mirrors to add a shine to your living room's overall look. Coffee tables with a glossy top, or flower pots made of bright gold material can help brighten your living room.
Choose an Elegant Colour Palette
Source: homedsgn.com
Most people believe in neutral colour palettes. Neutral colours can make your space look bigger and brighter. However, choosing elegant colours like wine red, royal blue, and purple can make an ordinary living room look luxurious. Maintain the same colour theme around your home to keep it coherent and sophisticated.
Statement Lights
Source: dk-decor.com
Use lights to define the ambience of your living room. Statement lights like chandeliers, wall sconces, and table lamps can make a significant difference to your space. Layered lighting can make your living room look relaxed and luxurious.
Luxurious Textures and Fabrics
Source: futurecdn.net
One of the simplest ways to add a slice of luxury and sumptuousness to your living room is to choose your fabrics wisely. Luxury house décor calls for materials like soft suede, plush wool, rich velvets, and chiffons for your furnishings. Opt for a luxurious velvet sofa and orient your entire living room around the sofa set for a beautiful set-up.
Add Artwork
Source: decorilla.com
Adding some classy artwork to your walls and furnishings can make your living room stand apart. When designing your home to look luxurious, the artwork is an affordable way of elevating your home décor. While purchasing original artwork can be extravagant, you may find beautiful art pieces in thrift stores and yard sales.
Styling the Room
Source: homestratosphere.com
There is no use trying to create a luxury room if you are not going to style it. Think about the colour scheme of the room and use the layering technique to create a space that set the right mood for your living room. Keep your living room as tidy and clean as possible. Use storage solutions to clear the clutter and organize your living space.
Also Read: 6 Essential Furniture Pieces for the Modern Living Room
Add Greenery
Source: decoist.com
Plants can make any part of your home feel fresh and cheerful. Plants are an inexpensive way to add detail and brightness to your living room and make it more luxurious. Choose from various indoor plants to add a pop of green to your living room.
Conclusion
The best way to think about designing a luxurious living room is to keep it simple. Find affordable alternatives where you can find high-quality materials at affordable prices or use your resources creatively. Your home must reflect your personality and your idea of luxury. There is no one-size-fits-all solution to creating a luxurious living room. The best way to ensure your living room feels curated and organized is to utilize all of your available space.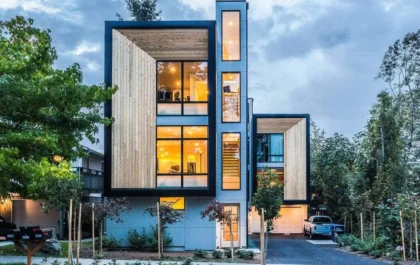 27+ Stylish & Modern Townhouse Designs for Urban Living.
The townhouse's first impression is normally too small, too compact, too narrower, and the list is endless. Well, let us…