Interior decorating and designing is not an easy job at the least. Not only do interior designers need to manage client expectations and perfectly understand the style that inspires them, but they also need to procure décor items and pieces that are unique and high quality.
No wonder it takes qualification, natural acumen, and years of experience for an interior designer to become renowned and respected! Here are some tips for interior designers to maximize their productivity and stay organized and on top of their projects and contracts.
1. Have an Effective Planner
Source: bostonseaport.xyz
Accurate and effective scheduling is at the heart of a successful career as an interior designer. Schedule each day into work blocks and for each individual project you can construct a timeline, it will be completed with the people and resources involved.
In order to run your business well you need to make the best possible use of your time which means balancing client demands with business administration tasks.
A considerable part of an interior designer's work life is dedicated to correspondence, networking with vendors and other designers, and holding meetings and/or interviews with clients.
Without laying down a daily, weekly, and monthly schedule, all these engagements will overlap and it would reflect poorly on you and the company.
2. Don't Be Afraid to Get Help
Source: squarespace-cdn.com
New interior designers underestimate the admin tasks that can start piling up once you are booked for more than one project. Everyone needs a good assistant or secretary and a talented team to take over some of the responsibilities.
Delegating to people you trust goes a long way in establishing yourself as a successful business. Sharing work and tasks can prevent burnout, delay, and other losses so it is a system that should be perfected early on.
A great dream time is undoubtedly built up over time so network regularly and keep a sharp eye out for gifted people you can include in your company.
When you will delegate entire projects to them, they will really be taking work off your plate and propelling your business forward. Not to mention dynamic and versatile team members will incorporate innovation and creativity and bring forth new ideas for different clients.
A good interior design project management software is invaluable when you're working in teams and having to delegate sets of tasks to each member.
3. Have a Space Worthy of the Name
Source: homedecorbliss.com
A killer workspace is very important because it determines how creative you will be, the amenities you and your employees will have access to, and generally how productive your company will be. A workspace should be open with ample lighting and storage options and comfortable seating.

Furthermore, it should inspire people to bring their personal best while protecting their mental health during long work hours. An interior designer's office needs to have amazing, modern furniture and plenty of eclectic touches to show clients what to expect!
Be wary of clutter and invest in cleanliness and storage solutions so that files and project information such as large plotting charts are kept organized. If you have expensive computers and other machinery around, you will need to maintain charts of their functioning as well as repairs so there are no breakdowns in the middle of a difficult project.
4. Be Strict About Deliverables
Source: hearstapps.com
Setting deadlines and sticking to them marks the difference between a seasoned interior designer and a new one who is still getting organized.
Be very clear about the specifics of deliverables to clients as they will value clarity and good communication. Share projections, models, ideas, and concepts with clients before you begin work so they know you have paid attention to their personal vision for their space.
Setting deadlines and being clear about expectations gives clients peace of mind and encourages them to write a shining testimonial.
5. Timely Correspondence
Source: mydecorative.com
Clients want to be kept in the loop especially if they are not regularly visiting the house and have left it to the design prowess of the interior designer in question.
Keep them updated through video calls, emails, text messages, or their preferred mode of communication. If the project is a large one such as decorating an entire home and creating zones, you may want to consider creating and sending progress reports.
These will also shed light on the day-to-day expenditure of employee hourly rates and new materials and décor pieces being bought. If you are contacting a local artist or procuring décor pieces or furniture from a specialty store, in some cases you may need prior client approval.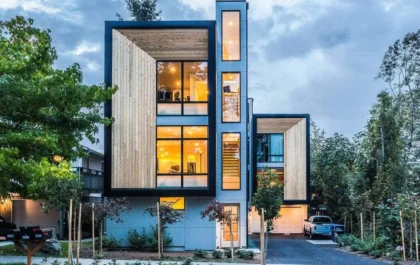 27+ Stylish & Modern Townhouse Designs for Urban Living.
The townhouse's first impression is normally too small, too compact, too narrower, and the list is endless. Well, let us…